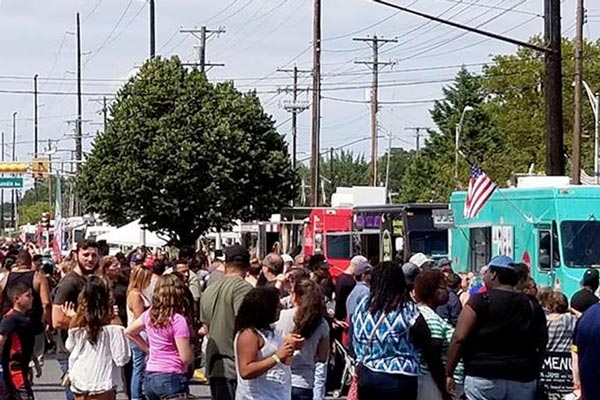 (VINELAND, NJ) -- Come hungry as the Food Truck Festival on The Ave returns to downtown Vineland for the second consecutive year on Sunday, August 26, rain or shine, from 11:00am to 7:00pm, at Landis Avenue and the Boulevard. This sizzling mega-event, admission to shich is free, is organized by Main Street Vineland and sponsored by Members 1st of NJ Federal Credit Union. It will feature almost 20 food trucks, a beer and wine tent, and a packed line-up of continuous entertainment and activities highlighted again this year by popular request by singing sensation Dawson Coyle of "The Voice."
Choose from a wide variety of delicious foods available from the food trucks—B Delish on the Go, Beast of the Street, Brilliant Beverages, Chimney Cake Factory, Dan's Waffles, Good Mood Truck, House of Cupcakes, Kono Pizza, Mama's Meatballs, Mannino's Cannoli Express LLC, Nick's Roast Beef, Outlaw's Burger Barn, Pirate Pete's Soda Pop Co., Stewart's Root Beer, The Cannoli Café, The Little Sicilian, Top Shelf Mobile Cuisine LLC, and Torta Truck. Wash the great food down at a beer and wine tent set up at the festival.
Besides Coyle, a packed line-up of non-stop entertainment and activities on the Entertainment Stage will begin with a free yoga class by Peace Love Yoga, and will also include live music by the Funkylicious Band, Funwave Band, Dylan Calvelli, Soliloquy, Rob McMahon, DJ Zach, the Embassy House of Zion Gospel Choir, senior dancers, and a talent showcase from the recent "Diamond in the Rough" Talent Competition. 
All-day fun activities will include Face Painting by Tina, a dunk tank, a bounce house, a stilt-walking clown, balloon clowns, a super size cornhole game, and a fire truck display with Sparky the Fire Dog.
Activities in the Kids Corner will include Derick "D" Clown, a dance party, a Limbo contest, as well as games and prizes.
---
The article continues after this ad
---
---
Funding for the Entertainment Stage has been made possible by sponsorship from Newfield National Bank. Little Lamb Preschool of Vineland is the sponsor again this year of the Kids Corner.
"Last year's Food Truck Festival proved why the concept is so popular—a wide variety of great food and a festive atmosphere," said Main Street Vineland Executive Director Russell Swanson. "We're also so excited about having Dawson back to head up our entertainment package for our festival," Swanson said. "He left the crowd cheering last year and his star has been rising steadily since. You'll be in for a great treat this year."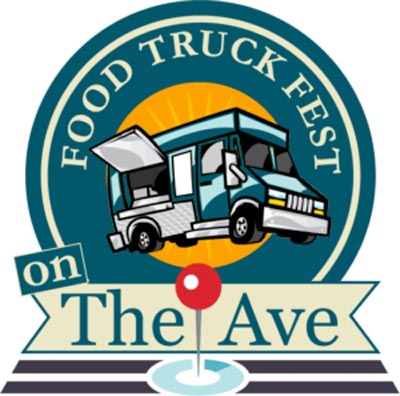 Last year's Food Truck Festival on The Ave surpassed the first-year expectations of everyone, including the experts, according to Main Street Vineland Associate Director Robert Scarpa, and the intention is to make this year's event even bigger and better.
"We brought over 9,000 people to The Ave at last year's event—phenomenal for a first-year festival—and so many of the participating vendors want to come back this year," he said. "We're building on that success to surpass what we did before. Come early, stay late, and enjoy!"
For more information on this and all Main Street Vineland events, call the Main Street Vineland office at 856-794-8653, visit the organization's website at www.TheAve.biz, or visit it on Facebook.
A schedule of events for the Food Truck Festival on The Ave and a list of food trucks and their specialties follow. For up-to-date information on the festival, visit www.foodtrucksontheave.com.

 
---
Opening Ceremony

11:00 a.m.: Ribbon-Cutting

National Anthem sung by Derick Glenn

 

Entertainment Stage

11:15am: Free yoga class with Peace Love Yoga

12:00pm: Funkylicious Band

1:00pm: DJ Zach

1:30pm: Dylan Calvetti

2:00pm: Funwave Band

2:30pm: Embassy House of Zion Gospel Choir

3:00pm: Soliloquy

4:00pm: "Diamond in the Rough" Talent Show Showcase

5:30pm: Rob McMahon

6:00pm: Dawson Coyle of "The Voice"

6:45pm: Joy Senior Dancers

 

Kid's Corner  - Derick "D" Clown (12:00pm – 3:00pm) Dance Party / Limbo Contest / Games and Prizes
All Day - Face Painting by Tina; Dunk Tank; Bounce House; Stilt-Walking Clown; Balloon Clowns; Super Size Cornhole Game; Fire Truck Display, with Sparky the Fire Dog
Food Trucks - B Delish on the Go; Beast of the Street; Brilliant Beverages; Chimney Cake Factory; Dan's Waffles; Good Mood Truck; House of Cupcakes; Kono Pizza; Mama's Meatballs; Mannino's Cannoli Express LLC; Nick's Roast Beef; Outlaw's Burger Barn; Pirate Pete's Soda Pop Co.; Stewart's Root Beer; The Cannoli Cafe; The Little Sicilian; Top Shelf Mobile Cuisine LLC; Torta Truck