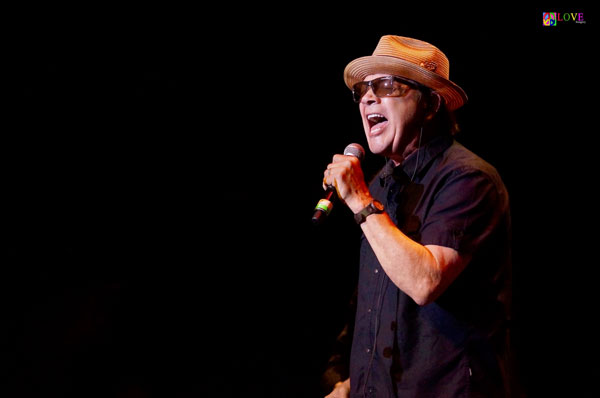 A light summer rain is falling outside Englewood, NJ's BergenPAC this Wednesday July 25, 2018, as music lovers decked out in peace signs, tie-dyed shirts, and bell-bottomed jeans arrive for tonight's Hippiefest concert event starring Vanilla Fudge, Rick Derringer, Mitch Ryder, and Badfingers' Joey Molland.
One member of the tribe waiting for the show to begin is Tommy "Purple" Hayes, a drummer from Saddlebrook. Wearing his brightly colored tie-dyed "Make Love Not War" T-shirt, a feather earring, patched shorts, and a doo-rag, Tommy is hoping to get a conga drum personally signed by the members of Vanilla Fudge.
"I'm a hippie," explains Tommy, "one of the original flower children. I went to the original Woodstock concert and I go every year to Woodstock. I've also been to Hippiefest about ten times since 2017."
Confessing, "I've got a lot of rock blood in me," Tommy reveals that he runs a charity drum circle, 'Drums from Heaven,' and was supposed to have the group's members perform on the street outside the BergenPAC theater tonight, but had to cancel due to the drizzly weather.
Next, we chat with Patty from Congers, NY, who is here wearing her rose colored gold-trimmed glasses, matching peace sign earrings and necklace, a fringe jacket, bell bottom jeans, and flowers in her hair.
---
The article continues after this ad
---
---
Acknowledging, "I've never been to Hippiefest, but I've been to various festivals in Woodstock," Patty says, "I'm looking forward to hearing some great music tonight," explaining, "because the music was just better back then!"
Patty's friend, Marilyn from Clifton, agrees, declaring, "The music was better in the '60s and '70s, and life was easier, too — those were just simpler times back then," before adding, "Since Patty and I both love to dance, we thought it would be fun to come to Hippiefest on this July summer night."
As we make our way inside the beautiful BergenPAC auditorium, we see a stage set with a double drum set, assorted microphones, and a Hammond B-3 organ just as a group of four musicians take the stage on guitar, bass, drums, and organ.
These musicians are here to support the first artist on tonight's bill — Joey Molland from Badfinger.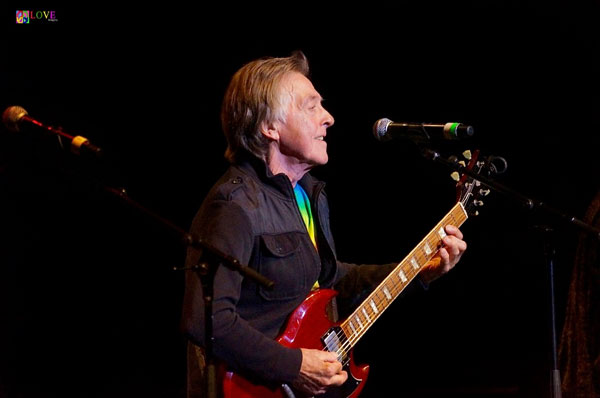 Opening with "Baby Blue," Molland sings, "Thought you'd realize, that I would know, I would show/The special love I have for you, my Baby Blue," his guitar twanging to the power of the band, the overhead screen flashing swirling psychedelic shapes and colors.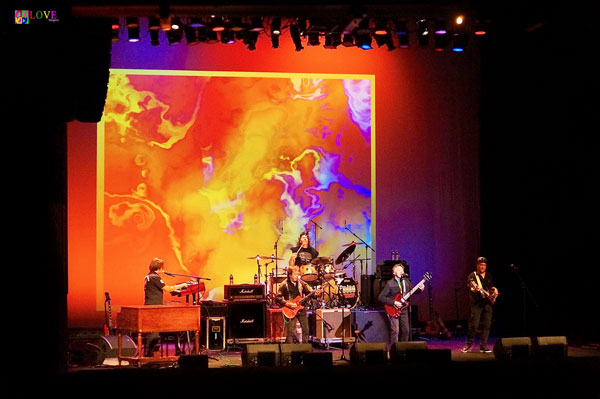 The crowd loves Molland and responds with whistles and applause!
In his endearing Liverpudlian accent, Molland welcomes the crowd and tells them about how The Beatles' Paul McCartney wrote the group's next song. Happy that it became a big hit, Molland jokingly laments, "But now we have to play this song every day for the rest of our lives!"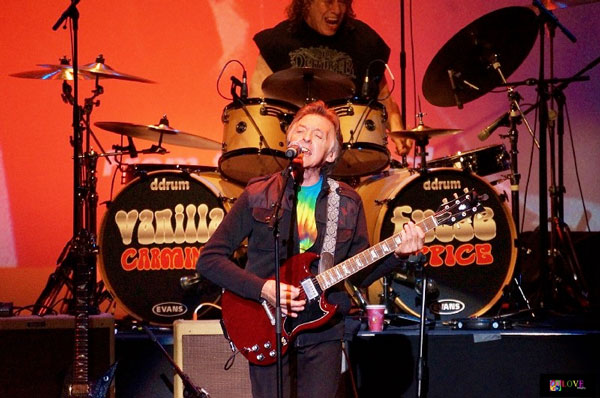 Launching into Badfinger's 1970 Top Ten smash, "Come and Get It," the beat of the drum drives the song as the band plays this delicious pop confection which gets audience members' heads nodding and toes tapping!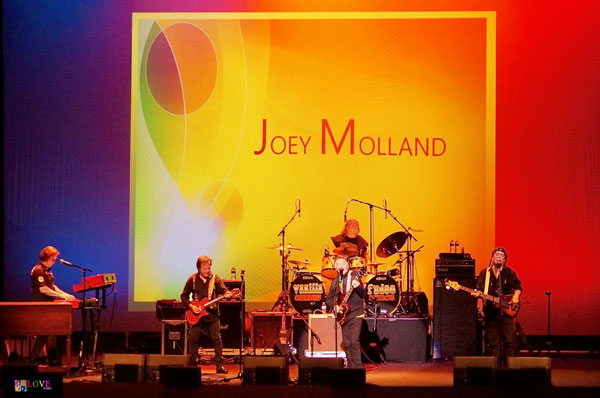 Following up with the group's 1971 Top 5 hit, "Day After Day" — a song Molland says was written by band member Peter Ham — the crowd whistles and cheers for this catchy rocker featuring tight vocal harmonies, a wailing slide guitar, and precision bass playing.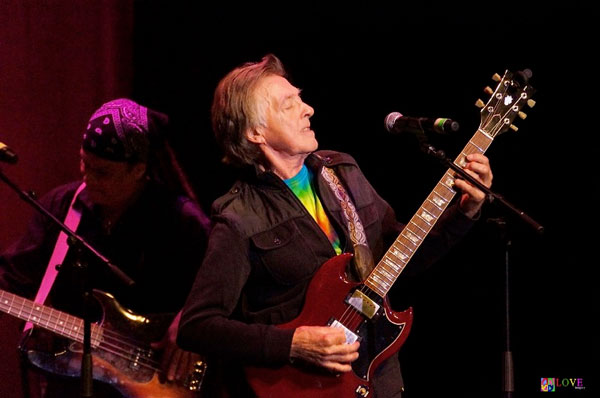 Closing his portion of the show with a bang, Molland performs Badfinger's Top 10 power pop single, "No Matter What You Are," a number which brings the hippies in the audience back to their younger days and to their feet one last time for Joey Molland!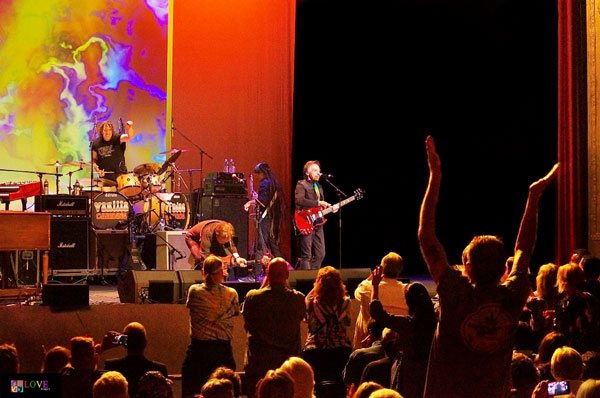 Following Molland is the lead singer from the iconic '60's group, Mitch Ryder and The Detroit Wheels — Mitch Ryder. Sporting a hat and sunglasses, Ryder opens his portion of Hippiefest with a rockin' rendition of "Shake a Tail Feather," looking great and sounding incredible with his deep, strong, and soulful voice!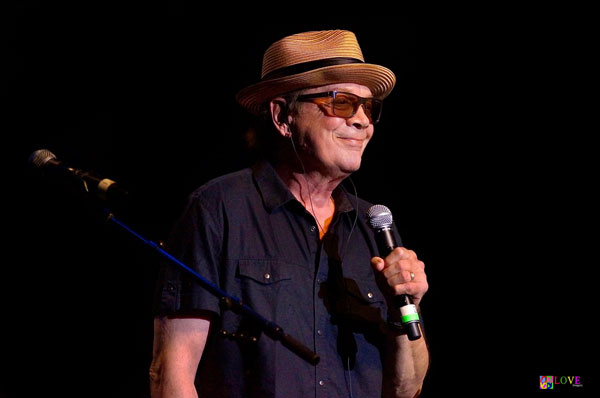 After greeting the crowd, Ryder says, "I'm from Detroit and I just moved to Georgia where my wife is from — the deep South — culture shock — whew!"
Announcing, "I've been inducted into the Rhythm and Blues Hall of Fame," Ryder acknowledges, "I'm proud and happy to be in it," before introducing one special member of his backup band tonight — keyboard player Pat Harwood — who Ryder reveals, "is the only Detroit Wheel on the stage!"
Moving on to The Detroit Wheel's first hit record, 1965's Top 10 single, "Jenny Take A Ride," the driving rhythm gets audience members' feet tapping, before Ryder sings the tune's iconic lyric, "Oh see/See see rider/I said see/What you have done now."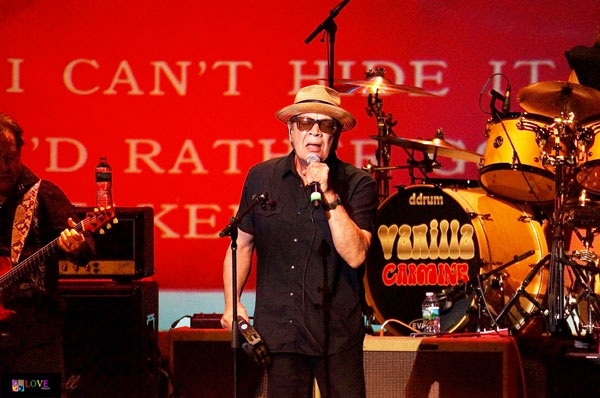 Featuring harmony background vocals, high-octane guitar, walking bass, and Harwood's honky-tonk sounding piano, the song drives along supporting Mitch's soulful vocal.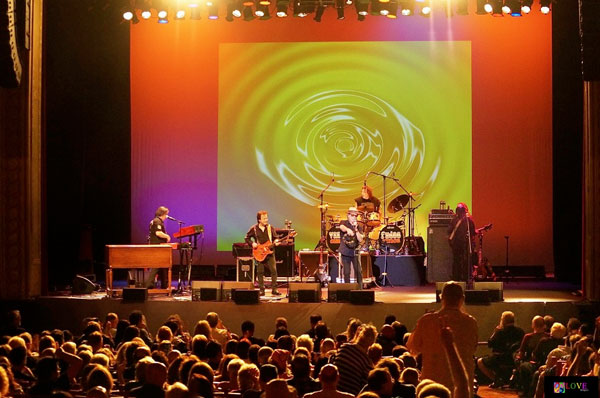 The audience applauds and cheers for this talented singer's supercharged performance.
Next up is a number which Ryder says "was banned with its original lyrics," 1967's "Sock It to Me Baby."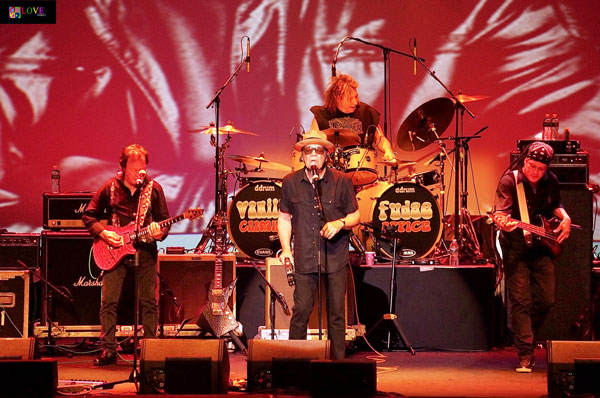 His tambourine rattling and the band rockin' and rollin', the tune features Ryder's electrifying vocal as he sings, "Sock it to me baby/Sock it to me baby baby/Gotta sock it," as well as a screaming electric guitar solo by guest guitarist Rick Derringer!
Ryder concludes his set with his 1966 Top 5 single, "Devil with a Blue Dress On." Harwood's keyboard swirls as the band plays and audience members dance at their seats while Ryder gives a tour de force performance!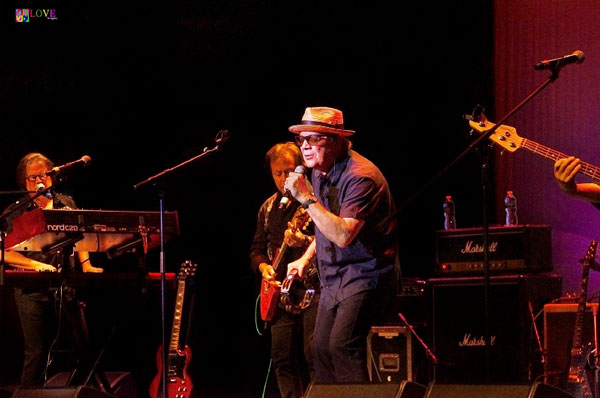 Background vocals rock out on the infamous "Devil with the blue dress, blue dress, blue dress" chorus, before Ryder and the band segue into Little Richard's "Good Golly Miss Molly."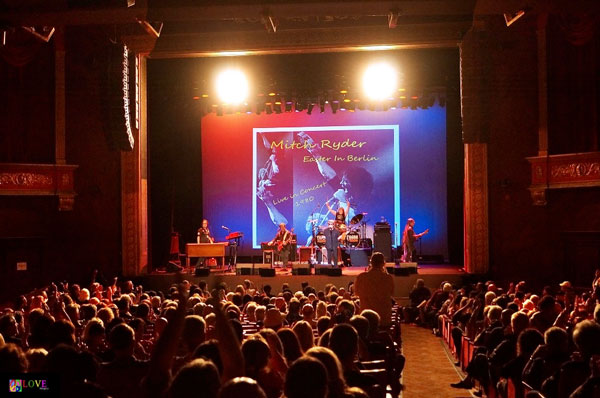 The songs builds in intensity as the vocals become more frantic, ultimately spurring audience members to their feet cheering!
Following continued applause for Ryder's top-notch performance, drummer Kenn Moutenot starts a beat as Rick Derringer's All American Boy album cover flashes on screen. Opening with "Still Alive and Well," Derringer looks and sounds fantastic singing, "Every now and then its kind of hard to tell/That I'm still alive and well," his brilliant electric guitar solo proving he's one of the best to have ever played the instrument.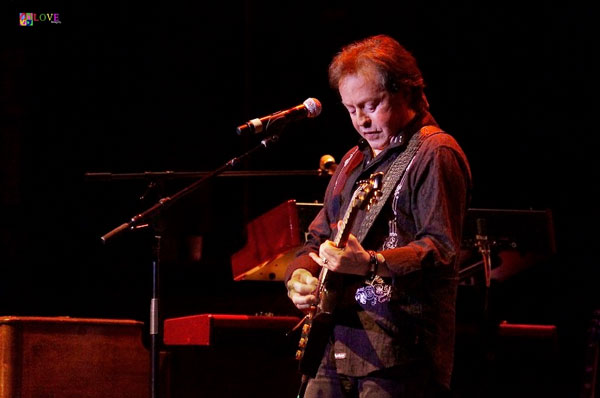 Inviting the audience to join in on the next number, Derringer exclaims, "This is the only rock and roll state anthem — from Ohio!" Here, he and his trio launch into a rockin' rendition of a song about which Derringer reveals, "The second verse was edited out of the original recording." Performing The McCoys' "Hang On Sloopy" in its entirety, the audience happily joins in on the "Come on, come on" backup lyric, clearly appreciating and enjoying Rick Derringer's timeless music and sound.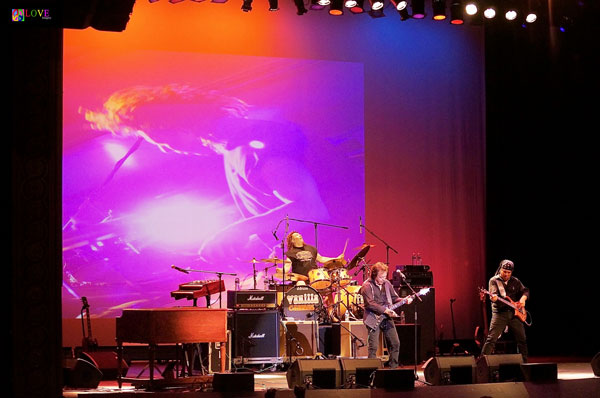 Moving on to a newer piece, Derringer and Co. perform "Sometimes" — a cookin' tune from his 2009 album, "Knighted by the Blues." Singing, "Sometimes I'm weak/Sometimes I'm strong/Sometimes I'm right/Sometimes I'm wrong," Derringer's guitar wails as lights flash to the infectious rhythm.
As audience members cheer, Derringer responds directly to them declaring, "We're about communicating with you! If you weren't here, this would just be a rehearsal!"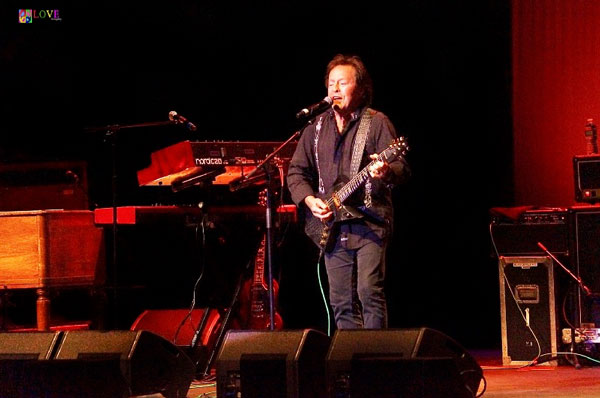 After announcing, "I had the pleasure of producing one of Edgar Winter's biggest records — They Only Come Out at Night," Derringer performs a smokin' version of a hit from that album, "Free Ride." As audience members rock out to the drivin' '70s sound, Derringer plays a screaming solo much to the crowd's amazement.
Before launching into another Edgar Winter hit from the same album, Derringer explains that as they recorded the next song, it required so many edits on the reel-to-reel tape — where they had to constantly cut the tape and splice it back together — one band member said that it reminded him of Frankenstein!
Here, he and his group perform Winters' 1973 #1 hit, "Frankenstein," killing this instrumental with only a guitar, a bass, and top-notch drumming from Kenn Moutenot.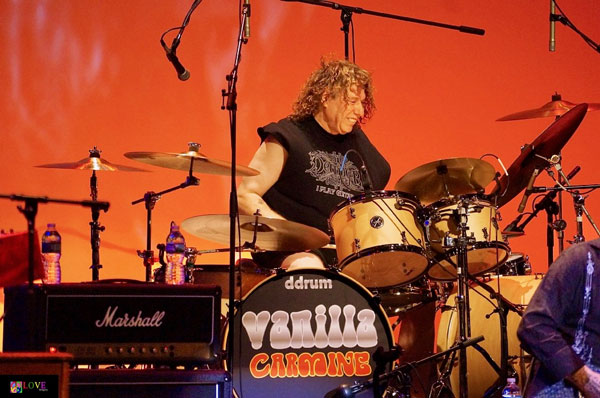 Standing and cheering, the crowd shows how much they love Rick Derringer, his musicians, and his classic form of rock!
After introducing his bandmates — acknowledging that "newest member" drummer Kenn Moutenot has been in the band for six years, but that his bass player, Charlie Torres, "has been with me for 40 years!"— Derringer and Co. perform his biggest hit, "Rock and Roll, Hoochie Koo," as Torres' dreadlocks fly!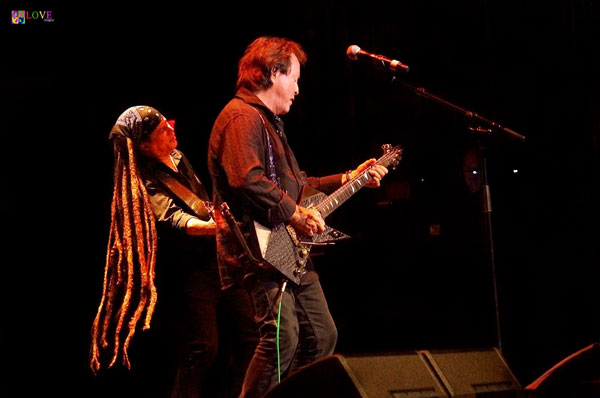 Lights flash on the crowd as the group plays this driving rock song and the audience dances at their seats. Playing up, down, around, and over his guitar, Derringer shines on this number, impressing the audience with his sheer rock and roll talent.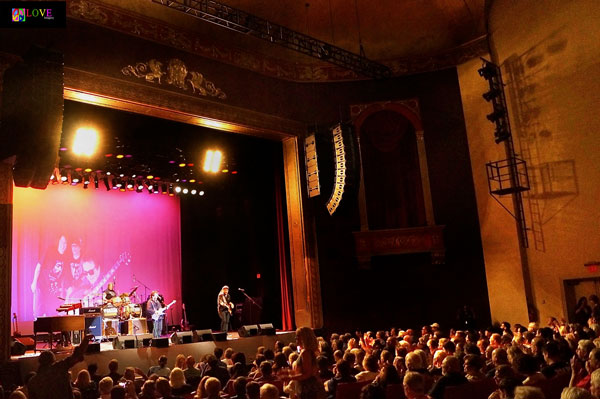 Shouting "Keep on Rockin'!" Derringer leaves the stage to audience cheers and applause!
Following a brief intermission, the beat of Carmine Appice's drums quickly brings the BergenPAC crowd back to their seats. Taking the stage saying, "You are New Jersey! All right!" Vanilla Fudge — Mark Stein on keyboards, Vince Martell on guitar, Pete Bremy on bass, and Carmine Appice on drums — open their portion of the show with a cover version of the Neil Diamond-penned hit for The Monkees, "I'm a Believer."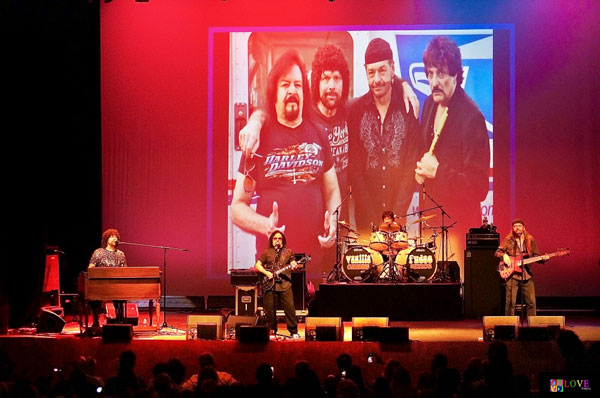 The sound of the group is powerful — Carmine Appice's brilliant drumming laying down the beat while bassist Pete Bremy solidly holds down the bottom.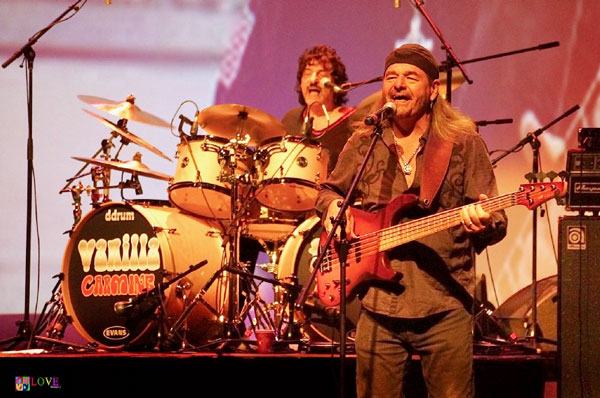 Vince "Vinny" Martell rocks out on guitar, while keyboardist Mark Stein sings lead and accompanies himself on the organ.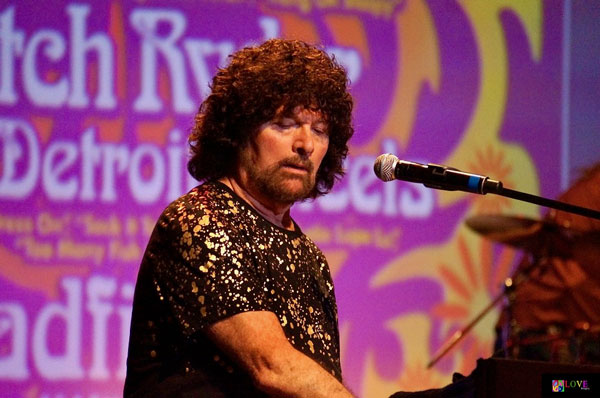 After a cover version of Trade Martin's "Take Me for a Little While" which features Pete Bremy on bass, Stein introduces a tune from Vanilla Fudge's 1967 debut album, talking about the "civil rights movement" which was going on at the time, and dedicating the song to "Dr. Martin Luther King — and all the other people who love this song."
Following an extended instrumental introduction, Carmine Appice stands behind his drum set to sing lead on this number as he and the rest of the band provide a poignant tribute to Dr. King on Curtis Mayfield's "People Get Ready," a performance which features four-part vocal harmonies and elicits a standing ovation!
Dedicating the next number to our veterans and troops, in addition to all of our police officers and firefighters, Vanilla Fudge performs its own unique rendition of the Spencer Davis Group's 1966 Top Ten hit, "Gimme Some Lovin.'"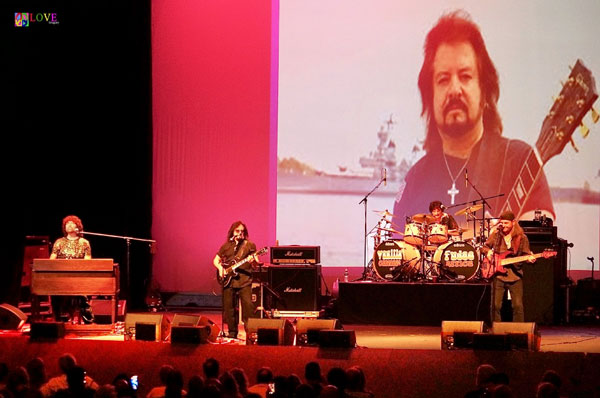 Featuring an impressive Vince Martell guitar solo, drummer Carmine Appice stands, clicks his sticks together, and invites the crowd to stand and clap, which they happily do as he and the crowd sing together, "Gimme gimme some lovin.'"
Following enthusiastic applause, Vanilla Fudge performs a soulful version of Junior Walker and the All Stars' 1965 Top 5 tune, "Shotgun," on which Vince Martell cleverly intersperses a wailing motif from "Greensleeves" played on his electric guitar.
"Shotgun" is followed by a jaw-dropping drum solo by Carmine Appice. At one point, Appice keeps the beat despite the fact that he's seamlessly alternating the use of a single drum stick between his two hands. Playing with precision and power, Appice provides ample evidence that he is one of the premiere rock drummers of all time.
"Are you with me?" asks Appice.
"YES!" cries the riveted crowd.
"Then repeat after me," he says, singing "Hey, hey, hey, hey," to which the audience cheerfully responds by both singing and clapping.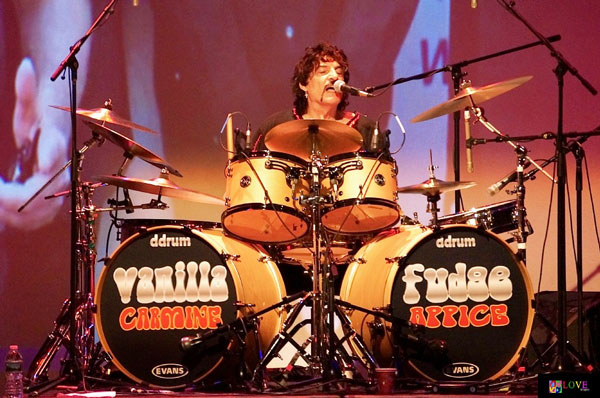 "You having a good time?" he asks, after which the audience screams its approval.
Appice replies by exclaiming, "It's great to be here in Jersey! We love you guys."
Vanilla Fudge concludes its performance tonight with a stunning rendition of the band's all-time most popular number — a cover version of The Supremes' "You Keep Me Hangin' On."
Rockin' the BergenPAC auditorium to the rafters, the crowd responds with cheers and applause, to which Stein replies, "Thanks so much for supporting everyone in the show! Peace to you!"
As we make our way out of the BergenPAC auditorium, we chat with several audience members who share their thoughts with us about tonight's Hippiefest performance.
Comments Joe from Harworth, "I loved this show!" explaining, "Rick Derringer is awesome — the guy's incredible — he's like Jimi Hendrix," before adding, "and all of the musicians on the stage seemed so happy to be here that it made all of us in the audience feel really great!"
Lori from Nutley exclaims, "Every one of these acts is a classic! Joey Molland was fantastic. Mitch Ryder blew me away with his voice. I saw Rick Derringer 40 years ago — and he's still fantastic, too. The whole show was awesome — it just brought me back!"
Mike from Ridgewood remarks, "It's 2018 and Rick Derringer is not only still playing — he's still sounding great! All of these guys were great, and I truly loved it, as this is the music I grew up on!"
Diane from Brooklyn agrees before adding, "Yeah, and Mitch Ryder was a refreshing treat!"
We also happen to catch up with hippie Tommy "Purple" Hayes who declares, "Vanilla Fudge was awesome! 'You Keep Me Hanging On' is one of my all-time favorite songs and they ended with that" before noting with a smile, "And I got my drum signed by everyone in the band for charity!"
But perhaps it is Andy from Westwood who best sums things up for many of the fans of classic rock here tonight when he exclaims, "These Hippiefest musicians are legends," before emphatically concluding, "They are all rock and roll icons!"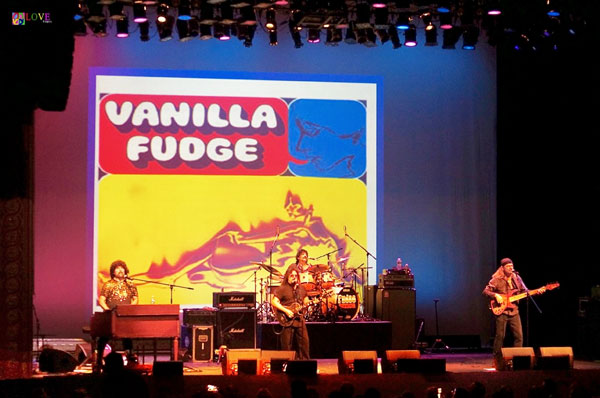 For more information on Vanilla Fudge please go to vanillafudge.com. To learn more about Rick Derringer, please click on rickderringer.com. To find out more about Mitch Ryder, check out mitchryder.net. For further info on Badfinger's Joey Molland, go to badfingersite.com. For more on upcoming shows at BergenPAC — including Paul Anka Sings Sinatra on Oct. 3, Three Dog Night on Oct. 14, John Fogerty on Nov. 8, and Herman's Hermits & The Buckinghams on Nov. 17 — please go bergenpac.org.
Photos by Love Imagery
Spotlight Central. Your source for Jersey entertainment news and reviews
Love Imagery Fine Art Photography. all you need. peace/love/flower/power