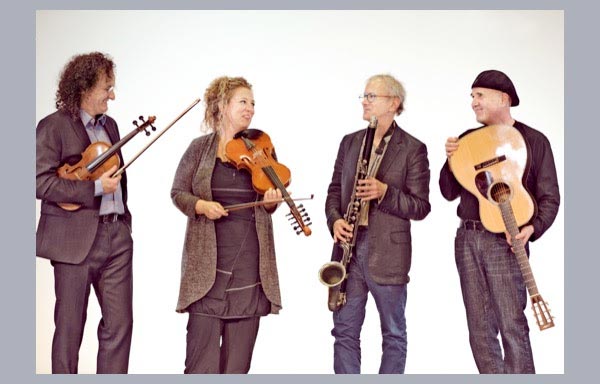 (HOPEWELL, NJ) -- The Martin Hayes Quartet, a new ensemble from one of Ireland's foremost musicians, will perform unique interpretations of traditional Irish music at the Hopewell Theater on Friday, October 12th at 8:00pm. Irish fiddler Martin Hayes is known worldwide for his soulful interpretations of traditional Irish music. The award-winning artist has collaborated with Paul Simon, Sting, Cassandra Wilson, Bill Frisell, and with Yo-Yo Ma's Silk Road Ensemble on the Grammy-winning album "Sing Me Home."
His new Martin Hayes Quartet is called "a highly resonant coming together" by the Irish Times. The group expands upon many of the musical ideas Martin has pursued in his renowned and longstanding partnership with guitarist Dennis Cahill. Their legendary explorations and arrangements of Irish music now push into new territory with the deep mellow sound of bass clarinet, played by the virtuosic Doug Wieselman (Laurie Anderson, Lou Reed, Antony & the Johnsons), and the warm tones of the viola played by the brilliant Liz Knowles (Bobby McFerrin, Bang-on-a-Can Orchestra, Riverdance). Cahill, a classically-trained guitarist from Chicago, provides his groundbreaking Irish accompaniment.
"I love the chemistry we share as a group. Each performance is unique, spontaneous and buzzing with energy!" says Hayes. Born and raised in County Clare, Hayes began learning fiddle from his father at age seven. He is regarded as one of Ireland's most influential traditional musicians, known for his soulful and adventurous approach to the music.
Hayes launched his new quartet in the U.S. in 2016 with a sold-out four-night residency at the Irish Arts Center in New York City. It later toured Ireland and the U.K. Their first album "The Blue Room" was released there to great acclaim by the Irish and English press: "absolutely essential listening when it comes to the very best of contemporary Irish music" (Arts Desk UK), "especially divine" (The Sunday Business Post), and "nothing short of revelatory" (Glasgow Life). "The Blue Room" will be released in the U.S. in October as the quartet makes their first American tour.
With a wealth of musical experience and exciting new ideas, The Martin Hayes Quartet is simultaneously ancient and contemporary, innovative and authentic.
---
The article continues after this ad
---
---
"We are excited to welcome these masters of Irish music to Hopewell," says Sara Scully, executive director, Hopewell Theater. "Bringing talented musicians from diverse genres to our audiences helps to fulfill our mission of bringing the best eclectic and extraordinary programming to the region."
Tickets to The Martin Hayes Quartet performance are available online and start at $50.
---
About the band:
Martin Hayes (Violin) Martin Hayes' soulful interpretations of traditional Irish music are recognized the world over for their exquisite musicality and irresistible rhythm. He has toured and recorded with guitarist Dennis Cahill for over twenty years, and has collaborated with extraordinary musicians in the classical, folk and contemporary music worlds including Bill Frisell, Ricky Skaggs, Jordi Savall, Brooklyn Rider and the Irish Chamber Orchestra as well as many of the greatest Irish musicians over the past thirty years. He is the artistic director of Masters of Tradition, an annual festival in Bantry, Co. Cork and a co-curator for the Marble Sessions at the Kilkenny Arts Festival. Martin has been recognized as Musician of the Year (the Gradam Ceoil) from TG4, Irish language television; The Spirit of Ireland Award by the Irish Arts Center and Person of the Year by the American Irish Historical Society, both based in New York City. He founded the seminal Irish American band, The Gloaming, with whom he tours internationally and with whom he shared the prestigious Meteor Prize in 2015 for their debut album. 
Dennis Cahill (Guitar) is one of the most respected and innovative guitar players in the world of traditional Irish music. Not just content with accompanying tunes, he has developed a distinct approach to playing traditional Irish music, incorporating the ornaments and subtleties used by the various instruments utilized within the Irish music genre. He has performed and recorded with many acclaimed Irish traditional music practitioners including Kevin Burke, Liz Carroll, Seamus Egan, P.J. Hayes, Eileen Ivers, Arty McGlynn, Iarla Ó Lionáird, Liam O'Flynn, and Jimmy Keane. Dennis' long and legendary musical partnership with Martin Hayes both as a duet and as co-founding member of The Gloaming has brought him to concert halls and festivals around the world, playing for presidents and prime ministers as well as small villages throughout Ireland. Both on the larger stage and the village hall, Dennis is recognized as one of Irish music's most sympathetic accompanists, anchoring the rhythm with a unique, minimalist and mesmerising style. 
Liz Knowles (Viola/Violin) first distinguished herself as a violinist in New York City, performing in such prestigious venues as Carnegie Hall, the Kennedy Center and Broadway, with such artists such as Marcus Roberts, the Bang-on-a-Can Orchestra, Bobby McFerrin, Paula Cole, Steve Reich, Eliot Goldenthal, Rachel Barton, Don Henley, and Tim O'Brien. It was also in New York that she discovered her true passion for Irish music. Today, she is well respected on both sides of the Atlantic as a player, composer and teacher. Her compositions and arrangements of tunes and songs have been recorded by John Whelan, Liz Carroll, Beolach, J.P. Cormier, Michael Black, John Doyle, Dennis Cahill, and Flook.
Doug Wieselman (Bass Clarinet) has worked as composer, arranger and musician with a variety of artists in different fields – in theater - with director Robert Woodruff and the Flying Karamazov Brothers, in dance with Jerome Robbins and Paul Taylor, and as musician with Victoria Williams, Robin Holcomb, Wayne Horvitz, Lou Reed, Tricky, Anthony Coleman, Laurie Anderson, Syd Straw, Steven Bernstein, Joan as PoliceWoman & John Lurie, among many others. He is currently composing music for the animated Nickelodeon show "The Backyardigans" in association with Evan Lurie.
---
Hopewell Theater offers a range of unique cultural experiences, from independent film and live music to guest speakers, artists and performances. Patrons can dine-in on small plates from local restaurants or just come for the show. Film buffs will particularly enjoy a state-of-the-art movie theater in Hopewell, NJ with a dine-in menu. A landing spot, a launch pad, and an incubator, Hopewell Theater is also a place where artists can play, practice, perform or show their passion project on the big screen. The theater is available to rent, at both hourly and day-rates.