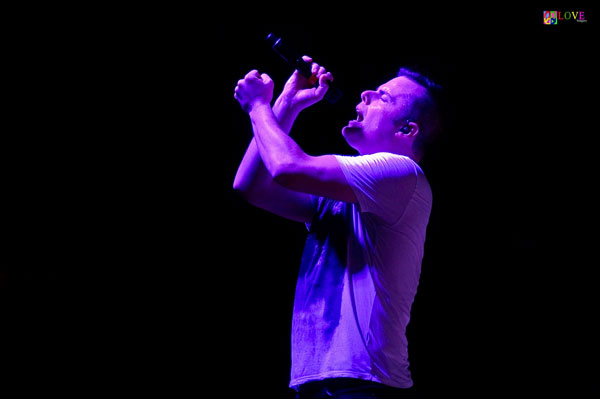 Outside pastoral Ocean Grove, NJ's Great Auditorium — a religious retreat at the Jersey Shore since 1894 — there's a palpable rock concert vibe in the air this summery Saturday, July 14, 2018 evening.
107.1 "The Boss" FM Radio is here pumping out classic rock tunes. Interspersing the hits with commercials, the station blasts out an advertisement for an upcoming concert here at the Great Auditorium starring The Beach Boys, coming on August 18.
Another ad, however, trumpets a message about tonight's performance by The Ultimate Queen Celebration starring Marc Martel.
Most music fans know all about Queen, the superstar band which brilliantly fused classical and rock music and topped the music charts in the 1970s and '80s with hits like "We Are the Champions," "We Will Rock You," "Another One Bites the Dust," and "Crazy Little Thing Called Love." Led by frontman Freddie Mercury, the group — which also included guitarist Brian May and drummer Roger Taylor — went on to become one of the world's most popular bands.
Following Freddie Mercury's passing, Brian May and Roger Taylor created an official Queen tribute band — The Queen Extravaganza — and after holding a worldwide video competition, they hand-selected a talented young singer to take the place of Freddie Mercury.
---
The article continues after this ad
---
---
The young man's name was Marc Martel.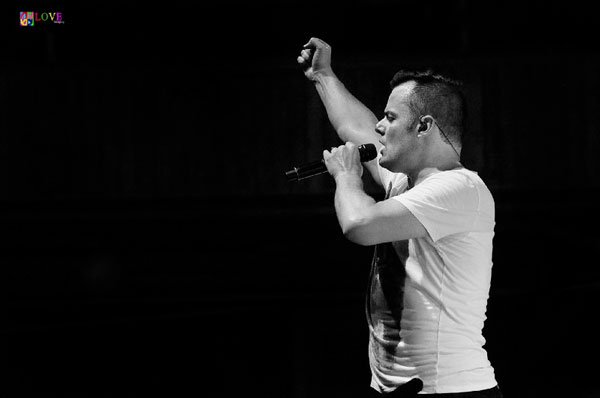 A musician from Montreal, Canada, Martel had spent the past dozen or so years touring with his contemporary Christian band, Downhere. With the encouragement of friends and family members, he submitted a video of himself singing "Somebody to Love." His audition not only earned him the job in the Queen Extravaganza tribute — it also made him a YouTube sensation, got him invited to appear on The Ellen DeGeneres Show, and was ultimately seen by over 14 million people!
After performing with May and Taylor in The Queen Extravaganza, Martel created his own Queen tribute band — The Ultimate Queen Celebration — the group that is poised to rock the historic Great Auditorium tonight.
As fans of all ages get in line, show their tickets, and have concert wristbands fastened to their arms, we take a moment to chat with several members of the crowd and ask them their reasons for coming tonight.
Says Joe from East Brunswick, "I'm 56 years old and I've been a Queen fan since I was 16 — we're talking 40 years!" Acknowledging, "I'm a big Stones fan, too," Joe asserts, "but Freddie Mercury could outdo Mick Jagger on stage any time! Freddie is fabulous — he could hit every note."
Confessing, "I haven't seen Marc Martel perform yet — but I've heard that he sounds very much like Freddie," Joe adds, "I'm really looking forward to seeing this show."
Michelle from Ocean Grove remarks, "I love Queen — I love all of their music — but I never had the chance to see them perform," before adding, "So I'm here to see the Ultimate Queen Celebration — it's the first time I'm ever seeing a Queen tribute band."
Says Michelle's mom, Carol from Ocean Grove, "Tonight's concert is really something different for Ocean Grove — they've never had this type of show here before," acknowledging, "I don't really know what to expect, but I'm really excited to be here!"
We take our seats inside the historic 6250-seat auditorium. Following a prayer and the singing of the national anthem, lights flash as The Ultimate Queen Celebration band — Ron Negro on drums, JR McNeely on bass, Andy Ascolese on keyboards, and Angus Clark on guitar — takes the stage along with frontman Marc Martel.
Here, they launch into a rockin' rendition of Queen's "Tie Your Mother Down."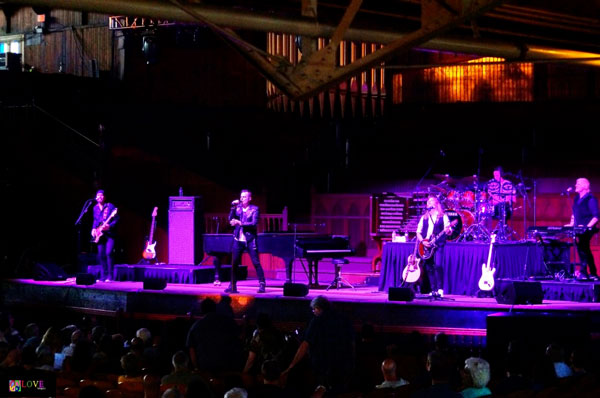 Drums crash and electric guitar wails as the band boogies to Marc Martel's spot-on Freddie Mercury lead vocal. Sounding rich, full, and energetic, Martel dances around the stage while lights flash and the crowd cheers for his thrilling performance.
Asking, "Are there any Queen fans in the house?" Martel says, "I want to hear you sing tonight!"
Fans oblige by clapping and singing along as Martell and Co. perform the bluesy intro to "Don't Stop Me Now." Shifting to a rockin' straight eighth note rhythm, Martell sings the catchy melody — his voice ringing out throughout the Great Auditorium as guitar and bass duel.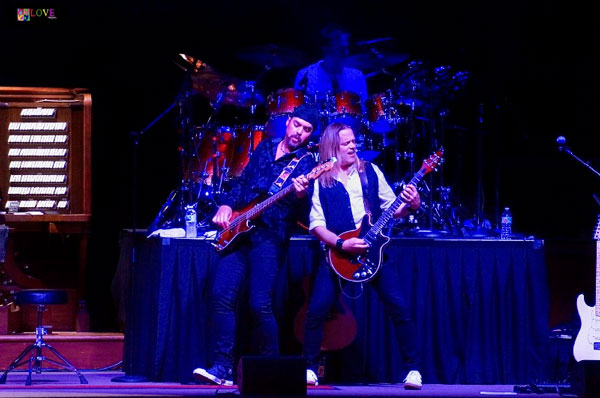 Everyone has fun as Marc emotes, his voice rising above the band with power and soul before shifting back to the bluesy feel for a dramatic conclusion.
Asking, "How about it, NJ — you want to try?" the audience joins in singing as the group performs the Tin-Pan Alley-sounding "Killer Queen." Channeling Freddie Mercury — yet clearly putting his own spin on this appealing tune — purple lights flash as background vocals support Marc's lead.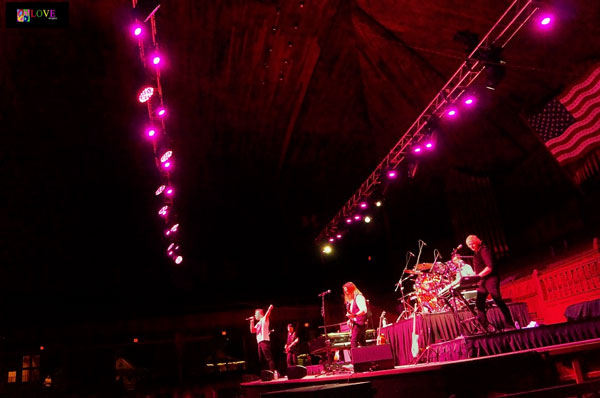 A soaring Angus Clark guitar solo fills the room as the Ultimate Queen Celebration Band trips along.
The crowd shows they love it and gives an audible "Ah" when they hear the unmistakeable "Ooh, you make me live/Whatever this world can give to me" intro to Queen's "You're My Best Friend." Three-part harmonies abound as Martel sings his heart out — his controlled vibrato on full display — as audience members move in time to the music.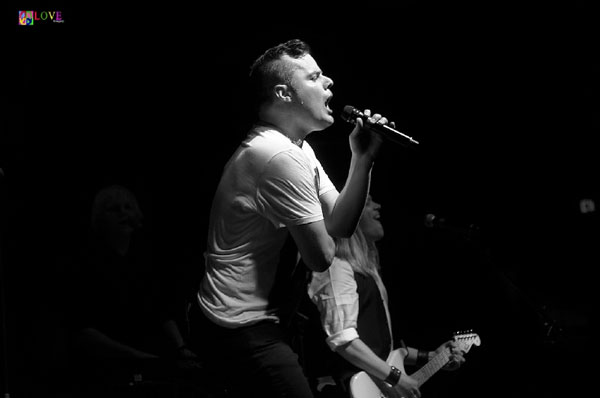 After excited cheers, Martel and the band follow up with the rockin' "Now I'm Here." Featuring a guitar countermelody to Martel's range-expanding vocal, heads bop to the infectious rhythm. Following guitar and drum solos, the audience screams!
Replies Martel, "There's such a range — that's why I love Queen," before announcing, "We're going to slow it down a little."
Here, he moves to the grand piano to sing the power ballad, "Save Me."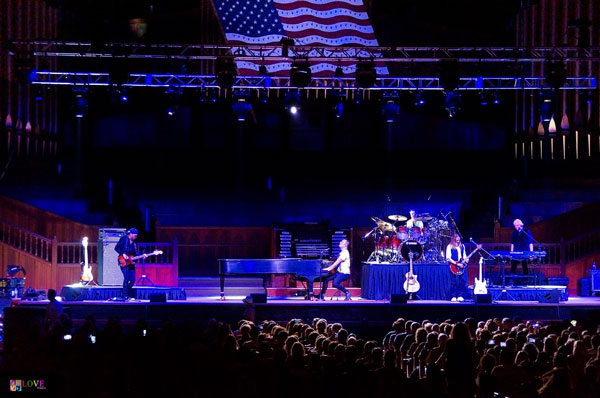 Crooning, "How I loved you/How I cried," Martel sings with emotion and power, lights strobing over the band and audience following a wailing guitar solo.
After announcing, "Queen had incredible songwriters," Martel and the band perform the finger-snapping "Under Pressure." A bass riff sets the tempo for this catchy song that builds in intensity as bassist JR McNeely shares the lead vocal chores with Martel.
Talking some more about Queen's songwriting, Martel points out that unlike many of today's contemporary musical compositions, "There's no repetition in it — there was no cut and paste."
Asking, "Has anyone here followed Queen from 1972 — the very beginning?" — and referring to these fans as "lifers" — Martel recalls, "In my 20s, I was told I sound like Freddie Mercury," acknowledging, "We would not be here if it were not for the genius of Freddie Mercury."
Here, he dedicates his next song, "Love of My Life" to him. Singing with deep feeling, Martel channels the genius of Freddie Mercury on this slow power ballad.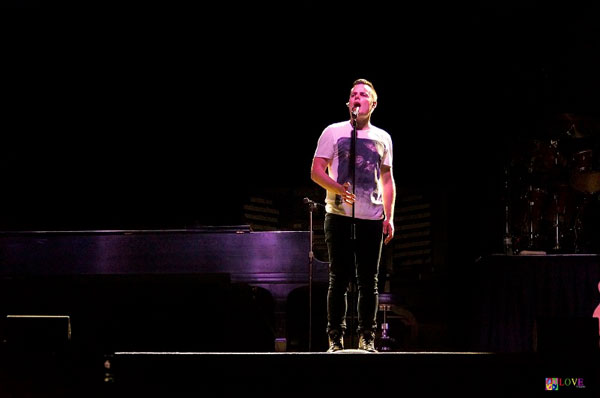 Bassist McNeely sings harmony and Andy Ascolese plays a beautiful classical piano solo on this number which feature Martel's passionate vocal.
Taking his place at the grand piano, Martel performs the ballad, "Play the Game." Singing, "It's so easy, all you have to do/Is fall in love/Play the game," Martel easily reaches stratospheric notes on the catchy chorus. The drums forcefully propel the song forward as Angus Clark plays a screaming electric guitar solo which elicits a standing ovation from audience members who leap from their seats shouting approval!
Explaining, "Freddie got into classical music," Martel wonders, "But what if Freddie got a chance to record some of the great arias?"
Here, the rest of the Ultimate Queen Celebration band leaves the stage and Martel presents one of the highlight performances of the evening — his rendition of "Ave Maria." Accompanying himself with arpeggiated chords on the piano, Martel's beautiful and controlled voice fills the auditorium on this eternal composition.
Band members rejoin him onstage as he segues into one of Queen's most recognizable hits, "Bohemian Rhapsody."
Playing hand-over-hand on the piano and singing with emotion, "Mama, just killed a man/Put a gun against his head/Pulled my trigger, now he's dead," Martel engages the audience as they enthusiastically sing along. Drums crashing and guitar wailing, the tempo changes for the next segment of this suite — the operatic passage — before segueing into the hard rock segment where the band creates its own wall of sound. Lights punctuate this live rendition of Freddie Mercury's modern masterpiece as the audience stands and cheers for an impressive performance!
Following a short intermission, Martel returns to the Great Auditorium stage to perform a solo rendition of "Nessun Dorma." Accompanied by the sound of an orchestra, Martel uses his range and rich tone on this lovely tune inspiring cheers and a standing ovation from the crowd.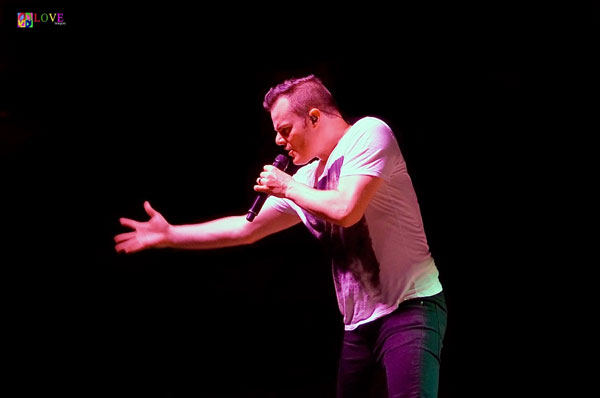 The band retakes the stage and Martel and Co. strut their stuff on the rockin' "I Want to Break Free." Singing, "I want to break free/I want to break free/I want to break free from your lies," the drum's backbeat drives the rhythm ever forward. Synth pad sounds fill in the middle while the bass boogies on the bottom to an electrifying Clark guitar solo which is clearly enjoyed by Martel who playfully relishes the moment.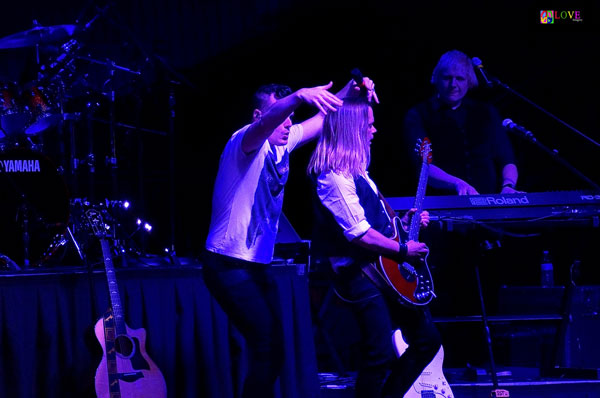 Harmony vocals abound on "Hammer to Fall," another driving rocker, after which Martel says, "It's not all about Freddie — Brian, Roger, and John all have writing credits, too."
Revealing that Queen's guitarist, Brian May, is still touring, Martel acknowledges, "I know him a little bit — he's an astrophysicist — a doctor. He asks questions like 'What is dark matter? or "What's the nearest black whole," before adding with a smile, "'Or are you going to take me home tonight, you fat bottomed girl?'"
Opening with its Southern rock sound and feel, Martel and the Ultimate Queen Celebration band perform their boot-scootin' rendition of "Fat Bottomed Girls." The audience sings along — heads bopping, clapping, and feet stomping — to this fist-pounding number, as Martel dances around on stage.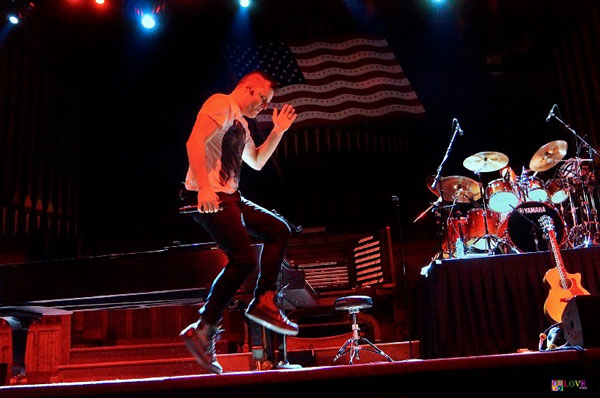 The audience reacts excitedly, after which Marc grabs an acoustic guitar and channels the sound of Elvis Presley as he and the band perform the snappy "Crazy Little Thing Called Love."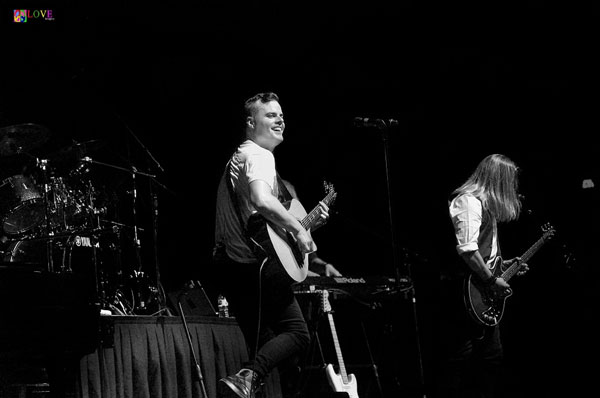 His vocal sounding suave and cool, Martel is accompanied by guitar, bass, and a swinging set of drums as the audience sings and claps along.
Following up with the rock anthem, "I Want It All," Martel croons, "I want it all/I want it all/I want it all/And I want it now." Bass and keyboards rock out together as audience members clap overhead to the booming bass drum.
Continuing to clap overhead, the iconic funky bass line to "Another One Bites the Dust" gets Martell and the crowd in the mood to party.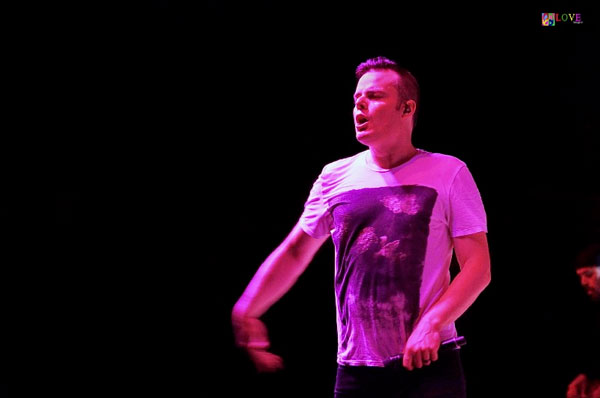 Here, Marc invites the audience to echo him as he scat sings to the funky beat of the band. The crowd happily sings along on the catchy lyric before excitedly cheering at the end!
Slowing things down, Martel performs "The Show Must Go On." With its rhythmic synthesizer accompaniment, Martel sings, "Empty spaces, what are we living for/Abandoned places, I guess we know the score/On and on, does anybody know what we are looking for?" as the audience stands for his tour de force performance featuring Marc's outstanding falsetto.
Responding by stating, "We are all children of the '80s tonight," and asking, "Do you like synthesizers and what not?" he and the band launch into "Radio Ga Ga," a disco-number with unique chord changes, slap bass, and electronic keyboard flourishes. Singing, "All we hear is radio ga ga/Radio goo goo/Radio ga ga," the audience claps along on the break of this number which shines with a dynamic Angus Clark guitar solo.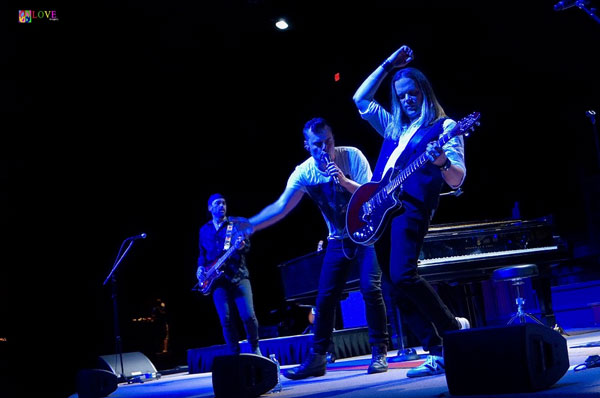 Hands in the air, Martel takes the audience on a ride inspiring cheers and applause!
Revealing, "My journey started six years ago with a song which was released the year before I was born," Martell says, "This song was special for Freddie Mercury." Here, he performs another highlight number of the evening — a live rendition of his Queen audition song, "Somebody to Love."
As his voice fills the auditorium on this prayer disguised as a pop song, the audience sings along with Marc as he stuns the crowd with his picture perfect performance.
Dividing the audience into three groups and teaching each group its part, Martell conducts the impromptu choir. Singing "Find me somebody to love," the choir sings in three-part harmony before Martel exclaims, "You finish it, Jersey!" and the audience belts out with enthusiasm, "LOVE!"
While the crowd stands and cheers, Martel and the band exit the stage, but soon return to the sounds of the unmistakable drum beat to "We Will Rock You." Everyone joins in on the ultimate rock celebration as the audience sings the title phrase and Marc handles the verses.
Cell phone lights shine and wave in the audience as Martel takes a seat at the piano and begins to sing, "I've paid my dues/Time after time/I've done my sentence/But committed no crime."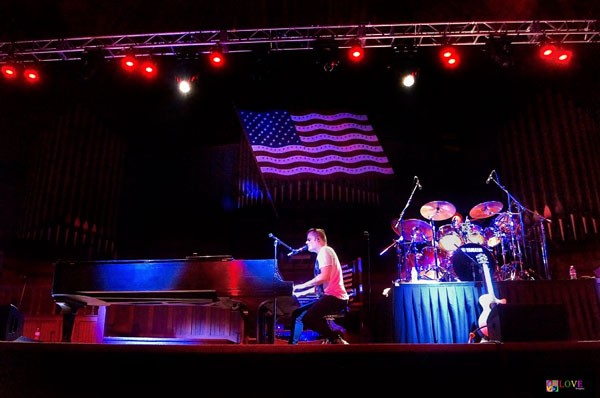 Audience members sing and wave their arms as they join in on the Queen classic, "We Are the Champions," everyone swaying to this timeless rock anthem which ends with yet another standing ovation!
As audience members begin to make their way out of the Great Auditorium, we chat with several in the crowd who share their experiences with us about tonight's performance.
States Joan from Glen Ridge, "I love this music. I'm a Queen fan. This is the music I walk to when I walk — it keeps me going when I've hit that fourth lap and I feel like I can't go on!"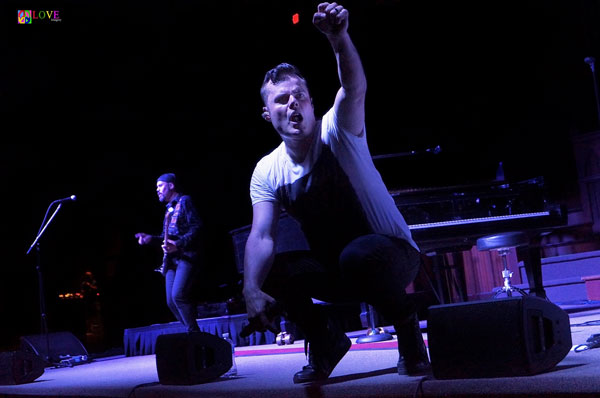 Marilyn from West Orange comments, "Marc Martel's voice is incredible, and his band is super talented!"
Hailey from Brick is a long-time Marc Martel fan. Says Hailey, "Marc's performances are 'out there'— they rank among the best I've seen. I've seen him several times and I enjoy each concert more than the one before," adding, "Oh, and his original albums are fantastic, too!"
Doug from Brick concurs, stating, "Close your eyes and you think it's Freddie Mercury. Marc is so talented — we've been following him for six years. This show was the best one I've seen yet! I think Marc Martel should be a household name!"
We also get a chance to chat with Marc Martell and ask him about his experience here at the Great Auditorium this evening.
Says Marc, "It was so awesome! I played here 10 years ago with my band, Downhere," recalling, "I also used to vacation here in Ocean Grove when I was a kid."
Adding, "It's so nice to come back here again," Martell adds, "By the end of each night, the crowd is always with us — but this Jersey crowd was just fantastic!"
Lastly, we catch up with two audience members whom we met before the show — Michelle and her mom, Carol.
Remarks Carol, "I loved it. I wasn't sure if I would, but Marc Martel is great and his band is great!"
Carol's daughter, Michelle, agrees, exclaiming, "Marc Martel is Freddie Mercury reincarnated," before concluding, "It's amazing — it's like having Freddie Mercury back!"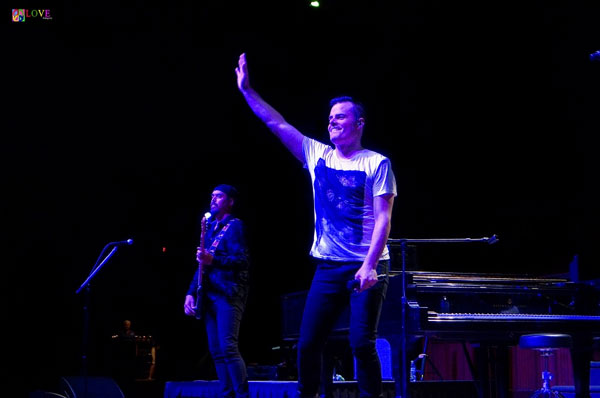 For more information about Marc Martel and the Ultimate Queen Celebration, please go to marcmartelmusic.com. To learn more about upcoming performances at The Great Auditorium — including The Beach Boys on August 18, 2018 — please click on oceangrove.org.
Photos by Love Imagery
Spotlight Central. Your source for Jersey entertainment news and reviews
Love Imagery Fine Art Photography. all you need. peace/love/flower/power