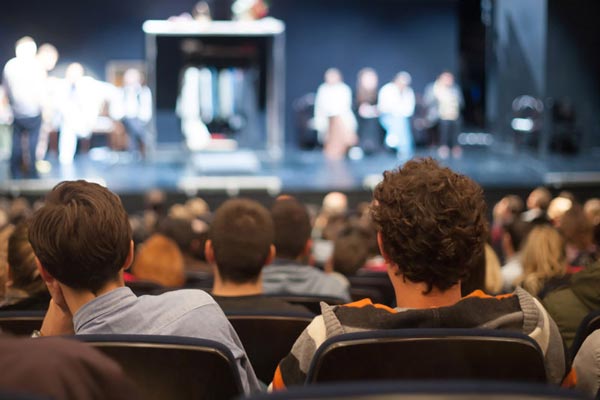 New Jersey may be a short ride to Broadway, but its home to great theatre as well.  In addition to wonderful revivals and productions of recent Broadway and Off-Broadway hits, the state offers audiences the first chance to see many plays each year.  The 2018-19 season lineups for many theatres have been announced and here are 15 World Premieres taking place in New Jersey that caught our eye.
Fern Hill by Michael Tucker, presented from August 9 - September 9, 2018 at New Jersey Repertory Company, Long Branch. Three couples in their golden years, thick as thieves, are gathered at Sunny and Jer's farmhouse to celebrate milestone birthdays that span three decades. The foundation of their long friendship is honesty and support – as well as a commitment to the enjoyment of food, wine and laughter. They're so close that Sunny suggests that they all move in together—to live and work and assist one another as they grow older. Their companionship is put to the test, however, when a marital betrayal is discovered. The bonds of loyalty and truth are explored in this mature comedy.
---
The Shuck by Shawn Fisher, presented from September 19 - November 9, 2018 at Cape May Stage. Constance has spent her life on the deck of a workboat. When her troubled son is lost at sea, and her long-lost daughter suddenly decides to visit, she is forced to face the truth about her family and the secrets that broke it apart so many years ago. A world premiere by a Cape May County native.
---
Brick City by Nicole Pandolfo, presented from September 6-23, 2018 at Premiere Stages at Kean. Jessie, a combative high school senior with a disability, and Darnell, the star player of the basketball team, find themselves together in extended study hall during the most important marking period of their lives. As Darnell inches dangerously close to throwing away a lucrative college scholarship and Jessie a potential career as an artist, both discover that things aren't always as simple as they may seem.
---
Pamela's First Musical by Wendy Wasserstein and Christoper Durang, presented from September 8 - October 7, 2018 at Two River Theater. With a combined total of more than 20 Tony Award nominations and 6 wins, the team behind Pamela's First Musical is bringing the theatrical event of the season to Two River Theater! It's Pamela's birthday and, to celebrate, her eccentric and fabulous Aunt Louise is taking her to the big city to experience her very first Broadway musical! 
---
---
The article continues after this ad
---
---
Wolf at the Door by Marisela Treviño Orta, presented from October 18 - November 18, 2018 at New Jersey Repertory Company. In this tale inspired by Latino folk lore and mythology, Isadora finds the strength to stand up to her abusive husband, but there is a price she must pay for her courage.
---
Liberty Live: Black Tom Island by Martin Casella, presented from October 11-21, 2018 at Premiere Stages at Kean University at the 1882 Carriage House. Based on an actual incident that took place in Jersey City in 1916, Black Tom Island explores the first documented terrorist attack on American soil through the lens of a fictionalized Slovak immigrant and his wife who may or may not be involved in the attack. Liberty Live is a unique new partnership with the Liberty Hall Museum that features a production of a new play that celebrates New Jersey history, tours of the museum, interactive displays, workshops for children and talk-backs with local historians. 
---
Apples In Winter by Jennifer Fawcett, presented from November 9 - November 18 at Centenary Stage Company. Miriam loves to bake Apple Pies and today she has a special request to make her signature recipe. But this day is going to be different, because Miriam has decided that this will be the last apple pie she ever bakes. Apples in Winter is produced at Centenary Stage Company as a part of a National New Play Network Rolling World Premiere. 
---
Little Girl Blue: The Nina Simone Musical by Laiona Michelle, presented from January 29 - February 24, 2019 at George Street Playhouse.  Following her critically acclaimed performance in American Hero, Laiona Michelle returns to George Street Playhouse to play Nina Simone in a new musical.  This exuberant premiere musical reveals a life in between the black and white keys—a passionate journey from classical piano child prodigy to the High Priestess of Soul, told through the words and music of American icon Nina Simone. ​     
---
My Very Own British Invasion  - Directed and choreographed by Jerry Mitchell. Book by Rick Elice, presented from January 31 - March 3, 2019 at Paper Mill Playhouse. The 1960s British music scene comes to life in this fable of young love as British Rock explodes around the world loosely based on the experiences of Peter Noone, who was just 15 when he rose to international stardom as the lead singer of Herman's Hermits—and England became the center of the rock and roll universe. Grab a pint and get a front-row seat to an electrifying moment in music history.
---
Roan @ The Gates by Christina Gorman, presented from January 31 - February 24, 2019 at Luna Stage. How far would you go to do the right thing? Against a backdrop of Cambridge Analytica and fake news, the play is a fictional investigation into cyber-security inspired by the shadowy figure of Edward Snowden's girlfriend. Roan, an NSA Analyst, isn't even allowed to tell her wife the location of her next business trip. When her personal life collides with national security, it launches launches a beautiful and high-stakes adventure that illuminates the cost of secrecy.
---
John Henry on by Elise Forier Edie, presented from February 8-10, 2019 at Growing Stage. Based on the traditional American folk-ballad about the "steel driving man," John Henry blends music, history and storytelling to tell the tale of the first African American folk-hero. Young Jayjay and his best friend Grace are the children of railroad workers, and live in a camp in the Allegheny Mountains, just after the Civil War. When their fathers' jobs are threatened by the invention of a steam drill, Jayjay's dad challenges it, by proposing a race though the mountain, to prove a man can work better and faster than a machine. The race is on, but when John Henry's conquest ends in sudden tragedy, Jayjay must find a way to honor his father's legacy, while still being true to himself. Despite setbacks, and with the help of his friends and family, he finds a way to go forward, and to take is place in the burgeoning, industrial world. Laurie Award winner from the 2017 The Growing Stage's New Play Reading Festival. Recommended Age: 7 years old and up
---
Psychodrama by Phoebe Farber, presented from February 14 - March 3, 2019 at Dreamcatcher Repertory Theatre.  Welcome to the weekly divorce group, held in the basement of the Unitarian church. The members are suddenly left stranded when Mitchell, their leader, leaves halfway through. Luckily, Barb has agreed to be the new group leader. Her unorthodox methods throw them all for a loop, but they eventually find that being off balance just might be the way to break through to a new understanding of their relationships. This seriocomedy has been developed over the past several years in the Lab at Luna and in readings at Writers Theater of NJ and Dreamcatcher.
---
A Better Place To Be by Stephen L. Fredericks, presented from February 15-17, 2019 at Growing Stage. An original piece commissioned by the New Jersey Performing Arts Center (NJPAC) and the New Jersey Theatre Alliance's Stage Exchange program, A Better Place To Be brings together the immigration journeys of two young women. First that of The Growing Stage Founder and Executive Director Stephen L. Fredericks great-grandmothers voyage to America in the late 1800's and that of a young Syrian girl coming today. Weaving poetry, music and folktales from each time and place, the play celebrates our similarities and opens the door for a better appreciation for our differences.  Recommended Age: 12 years old and UP
---
Theo by Martin Moran, presented from February 23 - March 24, 2019 at Two River Theater. When Margret Flynn's health begins to fail, her son Theodore returns to their Catskills home after many years away. And so, a family's reckoning begins. Long unsettled hurts rise up and we bear witness to the enduring power of kinship—the longing to love in the face of unstoppable change. Playwright Martin Moran performed his solo plays The Tricky Part and All the Rage in repertory at Two River Theater in 2014, at which time Theo, his first play for other actors, was commissioned by the Theater. Carolyn Cantor will direct this world-premiere production.
---
Gary by Bruce Graham, presented from September 19 - October 13, 2019 at Eagle Theatre. First, there was Siri…then came Alexa…Now there's Gary! Eagle Theatre creates a cybernetic fun-factory as celebrated playwright Bruce Graham invites you to takeoff on a futuristic journey to a world of endless possibility. This cheeky yet reflective parody puts convenience and comfort first as it begs the questions; What happens when communication has become obsolete? When human connection is a dream of the past? When technology takes over? Don't think… Just ask Gary! WARNING: Highly Irreverent & Contagiously Offensive!
Plus the year includes regional or NJ premieres of String Around My Finger, Native Gardens, Silent Sky, The Assignment, Heartland, and Benny & Joon! Visit NewJerseyStage.com for theatre news!