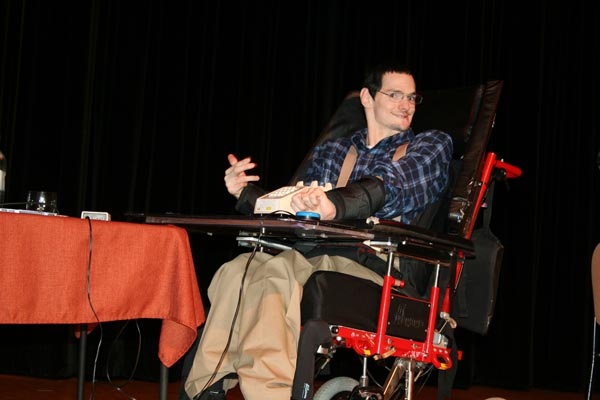 (FRANKLIN TOWNSHIP, NJ) -- Question: "What happens when a mailman gets old?" Answer: "He loses his zip." That's one of several riddles programmed into Chet Cheesman's augmentative communications device, and it's a peek into his personality. 
Chet was born in 1974 with a rare genetic disorder called Lesch-Nyhan Disease, associated with high levels of uric acid in the blood, kidney involvement, and involuntary self-injurious behaviors. At age seven, he was admitted as a residential patient and student at the Matheny School and Hospital, a special hospital and special education school in Peapack, NJ, for children and adults with medically complex developmental disabilities. Twelve years later, Matheny began a program called Arts Access that enabled people with disabilities such as Chet to create fine art, assisted by professional artists who functioned as their facilitators.
From the very beginning of the program, Chet was enthusiastic about Arts Access. He was one of the earliest participants, creating paintings by rolling his wheelchair on a canvas and sculpting with clay. Today, he not only paints and sculpts but also writes poetry, prose, and drama, choreographs, and dances in his wheelchair.
"When I work," he says, "I don't know what I want to do ahead of time. I decide on everything at once. It's much more fun that way." But when Chet comes into the studio, says Joe Matousek, his visual arts facilitator, "he sets high standards for himself, and reaches them. He loves to paint and enjoys creating whimsical stories about friends and family. He loves doing splatter paint and really enjoys watching the colors mix right in front of him and how the paint reacts to the canvas."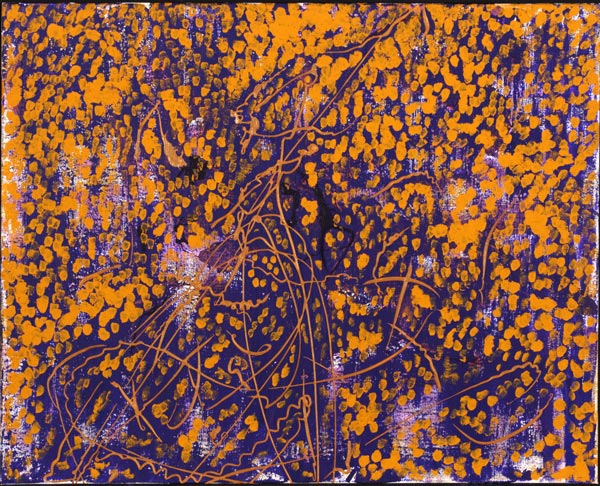 Chet's sisters  -- Amber, who lives in Ringwood, NJ, and Heather, who lives in Bordentown  -- are amazed by his ability as an artist. "The Arts Access Program," says Amber, "has been great for Chet. I've attended the annual Full Circle events, which celebrate the program, and I have enjoyed his poetry and a play he wrote." Heather describes her brother as "an accomplished writer, artist, and actor -- and so much more. He truly is remarkable and never lets his physical challenges stop him."
---
The article continues after this ad
---
---
In 2008, Chet created a painting called "Amber", which, of course, is his sister's "favorite piece of work." It's an acrylic on canvas with complementary hues of deep purple and burnt orange swirl that mesh and overlap to create an overall pattern of movement, sometimes resembling flowers. The painting has also been printed as a silk necktie, available for sale as part of Arts Access' merchandise selection, which includes scarves, necklaces, mugs, and cards.
Chet's visual art pieces have been shown in exhibits at such venues as the Rutgers Medical School in Newark, the Atrium Gallery in Morristown, NJ, and the Grounds for Sculpture in Hamilton, NJ.
In April 2017, Chet, who now lives at Matheny's community residence in Franklin Twp., NJ, began working on his biography with writing facilitator Sonya Kimble-Ellis. During the 30-minute writing sessions, which are held twice a month, he uses his communications device or board. He also has some limited verbal ability and will sometimes verbally relay what he would like to have written. In addition, says Kimble-Ellis, "Chet has a picture book of family and life photos that he created with a staff member at Matheny's Adult Learning Center in Hillsborough, NJ. We have been using that book as a reference for memories and milestones in his life."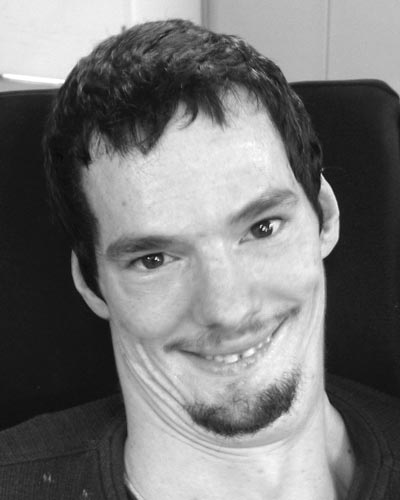 Chet's motivation for writing the book, Kimble-Ellis adds, was to raise awareness about Lesch-Nyhan Disease. "He feels it's important that more people are made aware of Lesch-Nyhan. Writing a biography about his life and his experiences with the disability is a perfect way to do that."
So far, Chet has done an outline for the book and has been working on the first two chapters, which deal with his childhood, family, and discovering he had LND.
Before embarking on the biography, Chet wrote several short stories. One of them, "Aliens Go to Earth", was adapted into a play and presented at Full Circle 2013: Reflections. Arts Access is also compiling a book of works by male writers in the program to be released later this year, and one of Chet's stories will be included in that book.
Former Arts Access drama facilitator Burt Brooks, who is now a marketing and communications specialist for Easterseals New Jersey, recalls an earlier short story converted into a play by Chet titled "Dream House". "It was about a retired cop dealing with the awful things he had seen and done," says Brooks. "Although not explicit in the text, it reflected some of the things Chet had to deal with in his own life. Chet likes lots of stuff with cops, FBI, crime, investigative sorts of things."
Kimble-Ellis says Chet still likes writing "adventurous, action-packed pieces, but he also likes humorous pieces. Chet enjoys laughter and likes making others smile, too. He is a hard worker, and his excitement for life comes through in his writing and the other art he creates."
This year, Matheny (now known as the Matheny Medical and Educational Center) will be celebrating the 25th anniversary of the Arts Access Program at Full Circle 2018: Then and Now, to be held on November 3 in the Robert Schonhorn Arts Center on the Matheny campus in Peapack. The event will feature a visual art gallery exhibition of paintings and digital art created by Arts Access artists such as Chet and a stage presentation showcasing performance pieces by Arts Access dramatists, writers, and choreographers.
For more information on Full Circle or Arts Access, visit artsaccessprogram.org.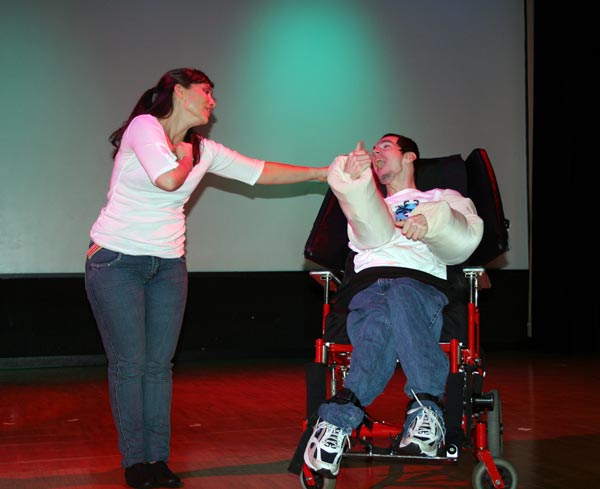 Photos courtesy of the the Arts Access Program at Matheny​​​​​​​