By Gary Wien
originally published: 07/18/2018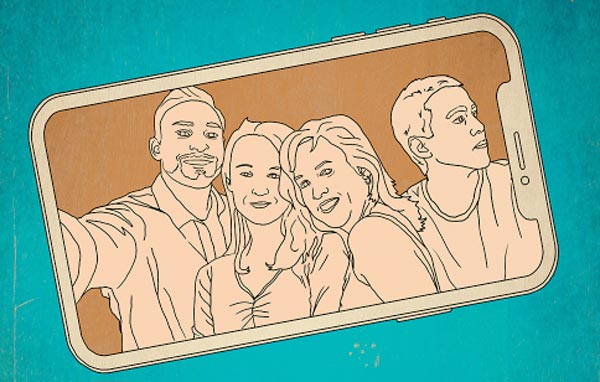 (UNION, NJ) — Craig Garcia's new play, Linger, gives new meaning to the term "nuclear family" and offers a powerful story, terrific performances, and fine direction by John J. Wooten.  Sadly, it has also changed the way I'll remember my favorite song by The Beach Boys.  I will never hear it without thinking of this play.
Linger opens with the family getting ready to go to a wedding and the father thinking about taking having the family take one final vacation together before their oldest child leaves for college.  Those plans change quickly when they see the flashing lights of a police car outside.  They soon realize the police are coming to their house.
James (the father played by Michael Frederic) and Mike (the son played by Robby Haltiwanger) are brought to the police station where Mike is questioned.  James calls home to tell his wife, Maryanne (played by Danielle Skraastad), that Mike is being charged with assault and possibly more.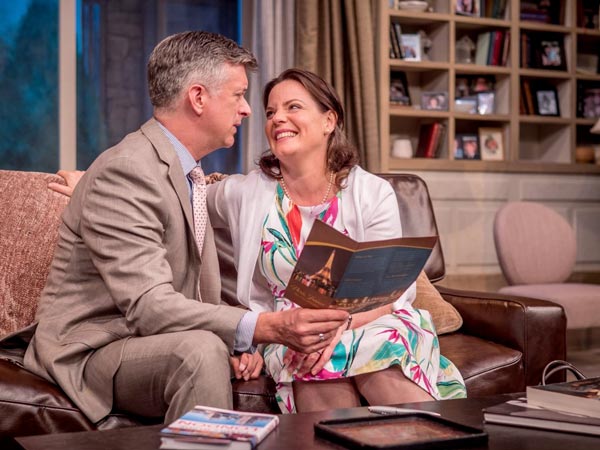 Maryanne immediately calls a friend for help with finding a criminal lawyer.  While she is on the phone, Mike's younger sister, Summer (played by Sarah Kathryn Makl), is both extremely upset and annoying as she tries to get answers from her mother while she is on an important phone call.
Mike is forced to spend the night in jail.  The play moves swiftly from the day Mike was arrested to when he's back home.  He was released on bail - a pretty significant amount that left the family moving money from their savings.  Neither of the parents can believe or even comprehend what is happening. They thought they lived in such a safe area. They don't believe their son could take part in beating someone.  But on social media…
---
The article continues after this ad
---
---
On social media, the story is everywhere.  Mike was one of many at a very big party in which a boy named Bobby Williams was beaten very badly.  The police think the attack was done because Bobby is gay.  Mike's mother asks him what he remembers. He says he came home at midnight and didn't see anything take place.  His mother recalls hearing him come in much closer to 2:30am though.
When Maryanne tells James about the discrepancy in time, the father doesn't understand what the big deal is.  "It's a difference between whether he was there when it happened or not," explained Maryanne.  "I don't think he's being completely truthful."
James describes the setting while Mike was being questioned.  "Every word was being manipulated," he recalled.  He said they tried splitting them up, but he wouldn't leave his son.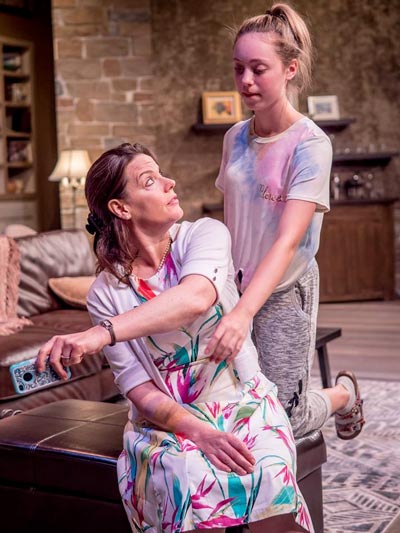 "You liked Bobby, right?" James later asks his son.
"What do you mean? Why would you ask that?" replied Mike.
Meanwhile, his sister keeps mentioning stories and photos appearing on social media sites.  Both Mike and Summer are rarely seen without holding their phone.  The world of social media and smart phones play major roles in this play.  They are like characters we somewhat see, but never hear, and their importance in influencing public opinion is well understood and feared.
"These kids have no idea what happened and they're writing this bullshit," says James in frustration.  "Can't you just say something to defend your brother?"
The playwright offers an insightful look at how difficult it is to remain private in a social media world. The parents wish they could just take away their phones and make everything go back to normal, but in reality the outside world is making threats to their children.
In a surprise twist, Bobby wants to see Maryanne, who was his pediatrician throughout his life.  Bobby's father (played by Jonathan C. Kaplan) visits Maryanne in her office.  She does not think it's a good idea to see him, but Bobby's father persuades her to.
Bobby (played by Will Ehren) enters the room, walking gingerly, and in a lot of pain. Maryanne begins to examine him.  He's suffered multiple broken ribs and a concussion. When he removes his shirt, we see bruises and scars covering his back, but that is nothing compared to what has happened from being forcibly raped by a bottle.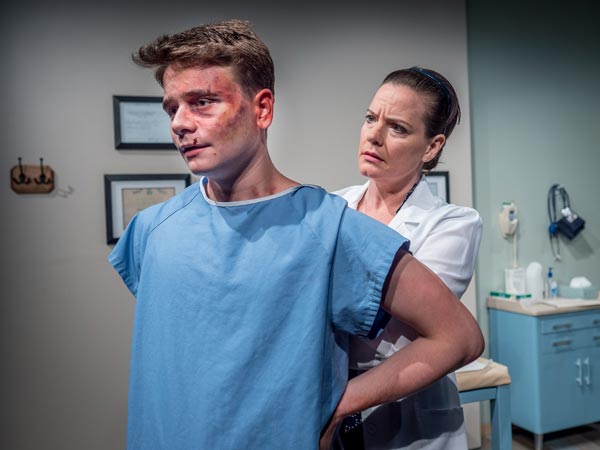 "Did Mike do this to you?" she asks while trembling in shock.
Back home, James still appears to be in denial of the situation.  He again brings up talk about visiting Europe for vacation.  Maryanne reminds him of how much they have just spent on bail and will spend on legal fees - not to mention that Mike isn't supposed to leave the state.  She also warns that this may not end anytime soon.
One of the most intense scenes occurs when Maryanne mentions that she saw Bobby in her office.  James immediately senses that this is a breakthrough for Mike — Bobby wouldn't possibly go see Mike's mother if Mike was guilty.  If anything, he knows they can use this to destroy Bobby's character.  Maryanne is firmly against the idea - because she is worried Mike is guilty and worried the news could ruin her career.
"If you do this, I am never going to forgive you!" she cries out.  "You will break everything!"
This is not your standard television family with a problem that gets wrapped up in thirty minutes or less.  The members of this family yell at each other; they physically push and even attack one another; and their problems go much deeper than any broadcast drama.  The family has real problems and acts the way you would expect a family to act when their son is in the kind of trouble Mike has landed himself in. 
Because of the way we have been trained to see and hear families on television or on stage, the yelling seems louder, more forceful, and more detrimental. We are seeing a family destroying itself. The family is so believable, it makes the fighting seem much worse.  And the questions it raises are very difficult ones for any family:  Is our son capable of committing such an atrocity? Did he do it? If he is guilty, but we find a way to get the charges dropped, can we ever live with ourselves?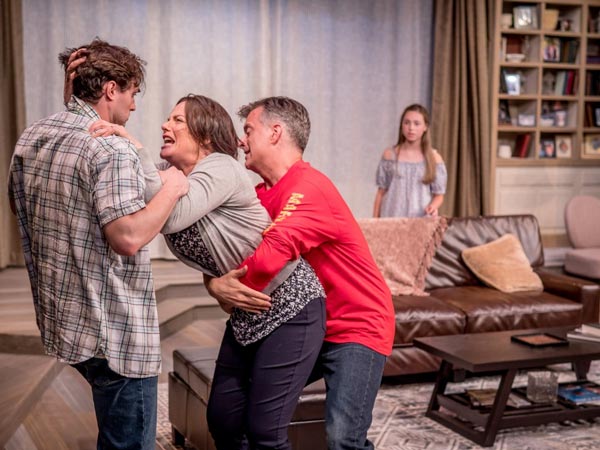 The play takes part in two acts.  The first act is so powerful, so draining, one wonders how it can keep up the pace in the second act, but it does.  It benefits from some truly remarkable performances led by Danielle Skraastad whose gut wrenching primal scream will haunt you as you leave the theatre; Robby Haltiwanger's nuanced portrayal of Bobby; Michael Frederic as the father who wants to help his son so badly that he ignores everything else; and Sarah Kathryn Makl whose character grows more complex as the play moves on.  Jonathan C. Kaplan (Bobby's father) and Will Ehren (Bobby) are strong in supporting roles as well.
Linger is an excellent piece of theatre by Craig Garcia.  It received this production by winning the 2018 Premiere Play Festival. Once again, I found myself extremely impressed by the work done at Premiere Stages at Kean University.  They consistently present powerful works led by impressive casts and Linger is among the best I've seen yet. Highly recommended!
---
Premiere Stages at Kean University presents Linger on Thursdays and Fridays at 8:00pm; Saturdays at 3:00pm and 8:00pm; and Sundays at 3:00pm.  It runs until July 29th in the Bauer Boucher Theatre Center on the Kean University Main Campus in Union.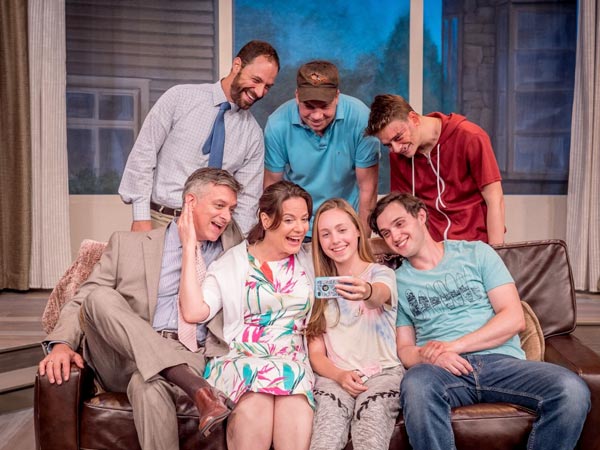 Photos by Mike Peters
---
Gary Wien has been covering the arts since 2001 and has had work published with Jersey Arts, Elmore Magazine, Princeton Magazine, Backstreets and other publications. He is a three-time winner of the Asbury Music Award for Top Music Journalist and the author of Beyond the Palace (the first book on the history of rock and roll in Asbury Park) and Are You Listening? The Top 100 Albums of 2001-2010 by New Jersey Artists. In addition, he runs New Jersey Stage and the online radio station The Penguin Rocks. He can be contacted at gary@newjerseystage.com.
---