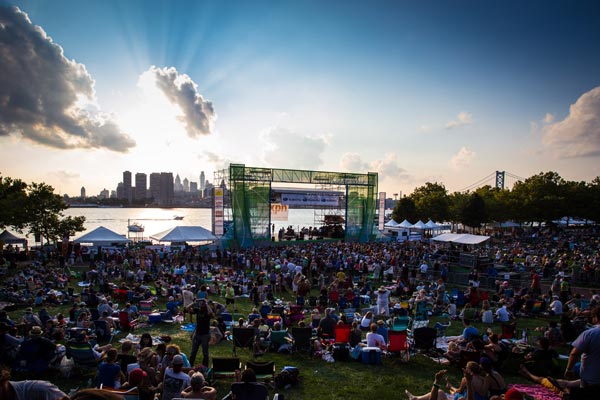 (CAMDEN, NJ) -- The set times for artists who will perform at its 2018 XPoNential Music Festival presented by Subaru, taking place July 27, 28 and 29, were announced by member-supported, non-commercial Philadelphia radio station WXPN 88.5 FM. The 25th anniversary edition of the popular, family-friendly XPoNential Music Festival will take place at Wiggins Park and the adjacent BB&T Pavilion, both located on the Delaware Riverfront in Camden, New Jersey.
This year's festival is the 25th consecutive summer music festival produced and presented by WXPN. The XPoNential Music Festival presented by Subaru is WXPN's signature annual concert event that draws audiences from throughout the Greater Philadelphia area, Mid-Atlantic region, and Northeastern US. Now in its 14th year at Wiggins Park and 7th year at the adjacent BB&T Pavilion, WXPN produces the XPoNential Music Festival in partnership with the Camden County Board of Freeholders. The festival features the expertly curated mix of established and new artists enjoyed by WXPN members and listeners. The preferred summer music event is known for convenient access via public transportation, natural amphitheaters that produce great sound, plenty of activities for kids, extensive food, drink and vendor selections, and festival seating and riverfront promenades that offer spectacular views of the Delaware River and Philadelphia skyline.
As part of the XPoNential Music Festival, kids can join WXPN's award-winning Kids Corner program host Kathy O'Connell and her special guests inside the Kids Corner Garden for free face painting, glitter tattoos, and more on Saturday, July 28 and Sunday, July 29 from 11:30 AM to 5 PM. The four-acre garden provides horticultural experiences for creative and imaginative play as well as shade trees, benches and a fun water "sprayground."
The 3-Day Go Everywhere Pass provides general access to Wiggins Park and lawn access to BB&T shows, with the option to upgrade to reserved seating at BB&T Pavilion for evening shows there on July 27 and 28. To purchase, visit http://xpnfest.org/passes/
As of July 12, tickets are on sale for single-day Wiggins & Garden passes and single-day Go-Everywhere Passes (available for Friday, July 27 & Saturday, July 28, and include lawn admission to BB&T pavilion)
---
The article continues after this ad
---
---
2018 XPONENTIAL MUSIC FESTIVAL SCHEDULE (SCHEDULE SUBJECT TO CHANGE)
FRIDAY, JULY 27
Wiggins Park (gates open at 3:30 PM)
Marina Stage
4:00-4:25 Swift Technique
4:35-5:00 Greg Sover Band
5:30-6:00 M.A.K.U. Soundsystem
6:55-7:45 Bermuda Triangle featuring Brittany Howard (of Alabama Shakes), Becca Mancari and Jesse Lafser
River Stage
5:00-5:30 The National Reserve
6:00-6:50 Lukas Nelson & Promise of The Real
7:50-8:50 The Lone Bellow
BB&T Pavilion (doors open at 5:30 PM)
6:30-7:00 Proper Dark
7:30-8:00 Cloves
8:30-9:30 Sylvan Esso
10:00-11:15 David Byrne
---
SATURDAY, JULY 28
Wiggins Park (gates open at 11:30 AM)
Marina Stage
12:00-12:25 Katie Frank
1:00-1:30 &More (Donn T & Chill Moody)
2:20-3:00 Jupiter & Okwess
3:55-4:40 Courtney Marie Andrews
5:45-6:30 Sunflower Bean
River Stage
12:25-12:55 Hurry
1:35-2:15 Natalie Prass
3:05-3:50 Mondo Cozmo
4:45-5:40 Femi Kuti & The Positive Force
6:35-7:35 Margo Price
BB&T Pavilion (doors open at 5 PM)
6:00-6:45 Fantastic Negrito
7:15-8:00 Preservation Hall Jazz Band
8:30-9:45 Sturgill Simpson
10:15-11:30 The War On Drugs
---
SUNDAY, JULY 29
Wiggins Park (gates open at 11:30 AM)
Marina Stage
12:25-1:00 Devon Gilfillian
1:55-2:35 Mt. Joy
3:30-4:10 Darlingside
5:05-5:50 Hiss Golden Messenger
7:00-7:45 JD McPherson
River Stage
12:00-12:25 Harmony Woods
1:05-1:50 Lo Moon
2:40-3:25 Phoebe Bridgers
4:15-5:00 Tank and The Bangas
5:55-6:55 Blind Boys of Alabama
7:50-9:05 Josh Ritter & The Royal City Band
---
All festival information can be found at xpnfest.org.
WXPN, the nationally recognized leader in Triple A radio and the premier guide for discovering new and significant artists in rock, blues, roots and folk, is the non-commercial, member-supported, public radio service of the University of Pennsylvania. WXPN produces World Cafe, public radio's most popular program of popular music that is distributed by NPR to more than 200 U.S. radio stations, and the Peabody Award-winning Kids Corner. WXPN serves the greater Philadelphia area at 88.5 FM, the Lehigh Valley at 104.9 FM, Worton/Baltimore at 90.5 FM, Lancaster/York at 88.7 FM, Harrisburg at 99.7 FM, North Jersey/Poconos at 91.9 FM, and the world via online streaming at www.XPN.org.? The WXPN app brings all of WXPN to any mobile device. WXPN produces XPoNential Radio on XPN2 as its secondary radio channel in HD, also available online.