---
BIG NEWS! Here's the latest Issue of NJ Stage Magazine -- Click here
---
Makin Waves Scene Report with Sonic Blume, ManDancing, Avery Mandeville and more
originally published: 07/11/2018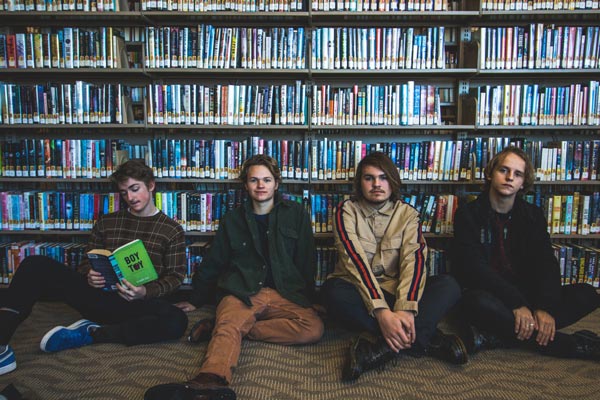 Sonic Blume will celebrate the release of their second record, "Beach Karma," on MOTO Records on July 14 at Asbury Lanes. From left, they are Danny Murray, Andrew Phelan, Max Connery and Chase Landgrebe. PHOTO BY JAMES WALTSAK.  Also featured this week are "OneMore with Brian Erickson," Lex Rex and The Dragons and Best Ex on the Warped Tour's Shiragirl Stage, Queen City Film Festival, The Skullers and We May Be Right.



Sonic Blume, 2018 Asbury Music Award Winners for Top Young Band, will celebrate the release of their sophomore album, "Beach Karma," on July 14 at Asbury Lanes. It will be Sonic Blume's first performance at the newly refurbished venue, which celebrated its own reopening with a performance by Bruce Springsteen on June 18. Also on the bill of the all-ages show will be Jersey Shore indie band, Shoobies, and Asbury Park's own Ragged Lines. 
Sonic Blume's self-titled debut album was released in November 2017 to rave reviews. It also was nominated at the 2018 Asbury Music Awards for Top Local Album Release, and its most popular song, "First Nite," for Song of the Year. 
"Beach Karma" will be released on all major music media platforms on July 13. It was recorded at Lakehouse Recording Studios and produced by Erik Kase Romero (Front Bottoms, Haunt Club). 
A video for a track entitled "Shotgun" is in production with director Anthony Yebra, who has made acclaimed clips for Deal Casino, the late, great dollys, and his own band, Haunt Club.
Sonic Blume's sound best can be described as dream pop or shoegaze with jangly, upbeat guitar melodies. Influences range from '80s favorites The Smiths, Joy Division and My Bloody Valentine to current day acts Tame Impala, Alvvays and The Strokes. The band are comprised of songwriter Max Connery on vocals, guitars and synths; Danny Murray on drums; Andrew Phelan on bass; and Chase Landgrebe on guitar.
The band recently opened for Deal Casino at The House of Independents and Tor Miller at The Outpost. In February, they played to an audience of 2,500 when they opened for Netflix's "Stranger Things" star Gaten Matarazzo's South Jersey-based band, Work in Progress, at Starland Ballroom in Sayreville. Their music is in regular rotation on several college radio stations, including Brookdale's WBJB (90.5 FM), Rutgers' WRSU (88.7 FM) and Stockton University's WLFR (91.7 FM) ...
On July 14, ManDancing will celebrate the release of "Hands on 3," their first new record on Massachusetts-based Take This To Heart Records, which re-released their "Everyone Else" LP earlier this year. The show at FM in Jersey City also will feature Jersey label mates Hodera and Future Teens, a Mass. band with whom ManDancing have been touring. Other dates with them are July 12, Our Wicked Lady, Brooklyn, and July 13, Lizard Lounge, Philadelphia. Pre-order "Hands on 3" at mandancing.bandcamp.com, and receive a free instant download of the "Passing Out" single ...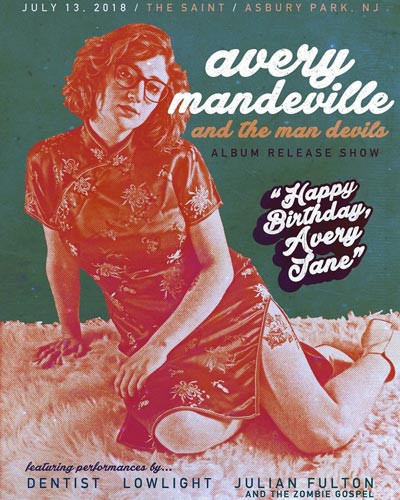 POSTER BY JULIAN FULTON
Adored Asbury songstress Avery Mandeville and her crackerjack backing band, the Man Devils, will celebrate the release of "Happy Birthday, Avery Jane," their full-length debut follow-up to last year's five-song EP, "Salty." And what a stacked lineup of headliners they have filled for their celebration on July 13 at The Saint with Dentist, Lowlight and Julian Fulton and the Zombie Gospel. As reported last week, Dentist will be playing "Night Swimming," their soon-to-be-released third album and label debut for L.A.-based Cleopatra Records in their last local gig before their first national tour ...

"OneMore with Brian Erickson," the weekly YouTube talk show that features interviews with and performances by two local music acts, has moved to a hot new spot at The Outpost between Lake and Cookman avenues in Asbury Park. A great hang no matter what is going on with its chill hammocks, tropical decor and artsy vibe, The Outpost should make for a great live venue for "OneMore" and the local music scene. Guests are welcome to the free Monday shows, which will continue with Chris Brown and Cranston Dean on July 16; Jessie McCormick and Deirdre Forrest, July 23, and Angie Sugrim and Above the Moon, July 30. Kudos to Monmouth Music in Red Bank for hosting "OneMore" for two years.
And kudos to Erickson for his busy schedule this month as a performer. He's playing shows with his band The Extensions, July 13, Stosh's, Fair Lawn, and July 27, The Asbury hotel, and solo, July 14, Dragonfly, Somerville, and July 17, The Downtown, Red Bank. And with his band The Paper Jets, Erickson is playing the Second Annual Makin Waves Roots Fest on Aug. 11 at Asbury Park Brewery with Cranston Dean Band, Levy & the Oaks, The Burns, and Tara Dente. He's also presenting shows July 21, John And Peter's, New Hope, Pa., with Lowlight, Tara Dente, Rhonette & the Smiths, and Jamie Coppa, and July 25, The Asbury, with Dave Vargo, The Successful Failures, and Brian Molnar ...
Congrats to Jersey acts Lex Rex and The Dragons and Best Ex, who'll share the Shiragirl Stage of fellow Jersey girl Shiragirl on July 14 at the last-ever Vans Warped Tour at PNC Bank Arts Center in Holmdel. The Oradell-raised punk-rock artist-activist strives to empower women by providing a platform for creative expression. Other Jersey acts playing the Warped Tour this weekend include Molly Rhythm, Inventure, latewaves, and The Stolen on the Full Sail University Stage ... 

 
The inaugural Queen City Film Festival will be July 13 at First Unitarian Society, Plainfield. The event is produced and will be screening films by city-based Nonstop Show Group and its partners: TryBoro Productions and Afrolombian Films. Committed to presenting the best projects from local filmmakers, festival organizers have curated short films produced in Plainfield. Scheduled screenings of projects crafted in and around the city include "The Shhfilm," "Moves We Make," "White Pickett Fence," and "Heroin(e)." A panel hosted by BKS 1 radio personality Latoya Dawson will feature Plainfield native cinematographer Kalani Mackson, production manager Allison McWilliams, and film and television production veteran Lamar David Mackson. Other panelists include actress-writer Okema T. Moore, writer Adam Wiesen and directors Patrick Coker and Jamal Hodge ...
The Skullers' jaunty new summer single is a cover of Richard Hell's "I'm Your Man" available on all digital platforms (and streaming above). With the track, the North Jersey band are donating proceeds to and raising awareness about a nonprofit called Career Gear that helps men in need enter or re-renter the workforce. The band met the Career Gear team at their offices in New York City and donated a few suits.
The Skullers will perform at Johnny Thunders Birthday Bash on July 15 at Bowery Electric in New York City with Walter Lure & the Waldos, Lenny Kaye, The Skelekasters, The Threads, Steve Fallon of Coyote Records and Maxwells as DJ and much more. Sandwiched by Lenny Kaye and The Threads, The Skullers' 20-minute set will feature "So Alone," "Alone in the Crowd," and "Downtown." Namesake frontman Jack Skuller also will perform a monthly residency with special guests July 14, Aug. 9 and Sept. 29 at Fox & Crow in Jersey City ...

We May Be Right bring their energetic Billy Joel tribute show to the famous Rocks Off Concert Cruise Series! Featuring a set of "We only play 80s Joel!" and a set of time-honored classics, the Central Jersey band will have you singing along all afternoon on a musical cruise of New York Harbor around the Statue of Liberty. Visit www.facebook.com/events/538719766529801/?ti=icl for more details. 

Bob Makin is the reporter for www.MyCentralJersey.com/entertainment and a former managing editor of The Aquarian Weekly, which launched this column in 1988. Contact him at makinwaves64@yahoo.com. And like Makin Waves at www.facebook.com/makinwavescolumn.
---
For more by this author, click here
---


Jann Klose and The Voice's Josett Diaz To Perform At Ethical Brew To Benefit A Cause Close To Home
(TEANECK, NJ) -- On Saturday, December 8th, singer-songwriter and recording artist, Jann Klose will perform at Ethical Brew on behalf of Mind-Builders Creative Arts Center, a community arts and cultural center for children and teens located in Bronx, New York.  Doors open at 7:30, show begins at 8:00pm.
---
Kenny Chesney To Perform At Hard Rock Hotel & Casino
(ATLANTIC CITY, NJ) -- Focusing on smaller venues and markets not directly impacted by his massive stadium tours, Kenny Chesney sought to make his Songs for the Saints 2019 Tour mirror the intimacy of its namesake album. Inspired by the resilience of the people around him, Chesney doubles down on the human connection for his 2019 tour by seeking those members of No Shoes Nation who have spent the past decade and a half making the trip to stadium markets for what is now a summer tradition. On Saturday, May 11, 2019 he brings the tour to Hard Rock Live at Etess Arena in Atlantic City, NJ.
---
State Theatre New Jersey presents Cirque Dreams Holidaze
(NEW BRUNSWICK, NJ) -- State Theatre New Jersey presents Cirque Dreams Holidaze on Friday, December 7 at 8:00pm, Saturday, December 8 at 2:00pm and 8:00pm, and Sunday, December 9 at 2:00pm. Cirque Dreams Holidaze, a division of Cirque du Soleil, has become a critically acclaimed, state-of-the-art Broadway musical, and a fun-filled, holiday family show. Tickets range from $35-$98.
---
NJSO presents 2019 Winter Festival, 'Music Speaks'
(NEWARK, NJ) -- A trio of renowned guest artists with distinct musical voices—pianists Emanuel Ax and Daniil Trifonov and soprano Dawn Upshaw—headline the NJSO's Winter Festival, "Music Speaks," in January 2019. The Orchestra's signature artistic event takes place across three weekends, January 10–27, in six New Jersey venues.
---
RVCC Chorale to Perform Annual Holiday Concert on December 8th
(BRANCHBURG, NJ) --The RVCC Chorale will give its annual holiday concert on Saturday, December 8 at 8:00pm in the Welpe Theatre at Raritan Valley Community College's Branchburg campus. The program will feature Johann Sebastian Bach's cantata, Das Neugeborne Kindelein, as well as a cappella pieces from by Sergei Rachmaninov, Zoltan Kodaly and Giuseppe Verdi. The program also will include an audience singalong of traditional carols.
---


"Great Music!" Tavares and Harold Melvin's Blue Notes LIVE! at the Strand Theater
The music of the 1970s is alive and well this Saturday, November 3, 2018 at Lakewood, NJ's Strand Theater with a concert by the '70's R&B and soul groups Tavares and Harold Melvin's Blue Notes!
---
"An Amazing Musical Genius!" Brian Wilson LIVE! at the State Theatre
In the music room in the back of our house, there's an electric bass and amp, two acoustic guitars, a microphone and PA speakers, several pieces of music recording equipment, and a bookcase filled with books on music, not to mention a slew of assorted music memorabilia. But, perhaps, one of the most highly prized items in the room is hanging directly above the piano next to the college music diplomas.
---
Jazz Saxophonist Don Braden LIVE! at Toms River's Grunin Center
It's a breezy day for a new installment of the Jazz On a Sunday Afternoon concert series at Toms River, NJ's Grunin Center of the Arts this Sunday Oct. 27, 2018 afternoon. Today's special 3pm performance is entitled Earth, Wind and Wonder and is presented by jazz saxophonist Don Braden.
---
Charlie Thomas' Drifters, The Classics IV, and The Brooklyn Bridge LIVE! at The Strand, Lakewood
The stars are out this Saturday Oct. 26, 2018 evening in Lakewood, NJ for a "Golden Oldies" concert featuring Charlie Thomas' Drifters, The Classics IV, and The Brooklyn Bridge!
---
PODCAST: Grammy Winner Terri Lyne Carrington At TD James Moody Jazz Festival
Drummer, leader, and composer Terri Lyne Carrington made history as the first woman to win a Grammy for Best Instrumental Jazz for her album "Money Jungle: Provocative in Blue." Now, she brings her interpretation of Duke Ellington's "Money Jungle" to the TD James Moody Jazz Festival at NJPAC on November 11, 2018, as part of a program called "Jazz Vinyl Revisited." Producer Susan Wallner talks to Carrington about her connections to the jazz greats Clark Terry and Max Roach; her newest project, the Berklee Institute of Jazz and Gender Justice; and why she thinks drummers make natural leaders.
---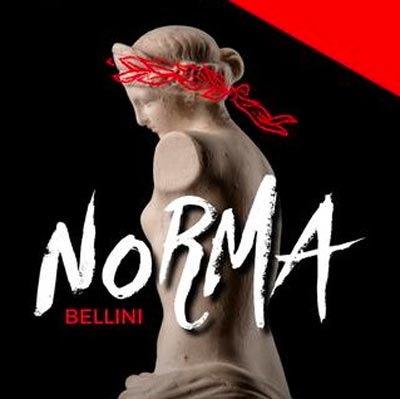 Beautiful Singing, Indeed: Bellini's "Norma" With Verismo Opera At BergenPAC
You might not know it, but starting this Friday, October 26, through Sunday, November 4 is National Opera Week. Looking for a way to celebrate? Try seeing Vincenzo Bellini's opera "Norma," presented by the New Jersey Association of Verismo Opera, at the Bergen Performing Arts Center (bergenPAC) this Sunday, October 28 at 3:00 p.m.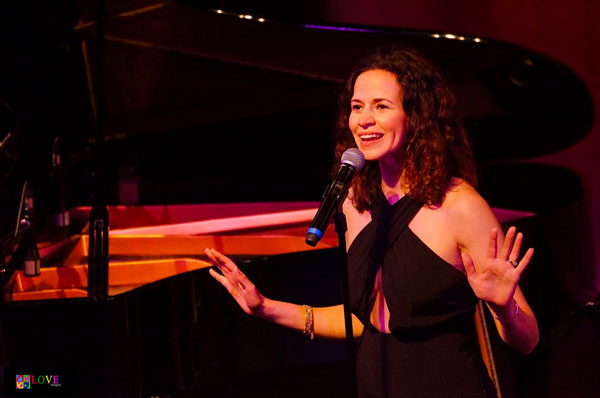 An Interview with Broadway's Mandy Gonzalez Who Performs at The Grunin Center Nov. 2
Broadway sensation Mandy Gonzalez (Hamilton, Wicked, In the Heights) brings her unforgettable Fearless show to Toms River, NJ's Grunin Center of the Arts on Friday, November 2, 2018 at 8pm.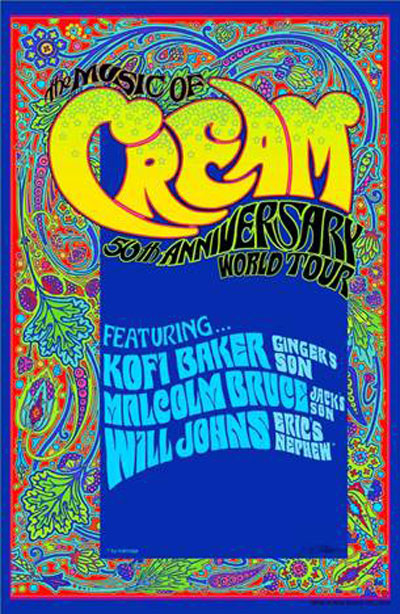 50 Years of Cream Comes to Count Basie Theatre
"It's going over really well I think," says Will Johns of Cream. "We've got a really nice range of age groups coming to the shows and a lot of young guitar players as well; which is really great to see; every young guitar player that I know plays that riff from, "Sunshine of Your Love."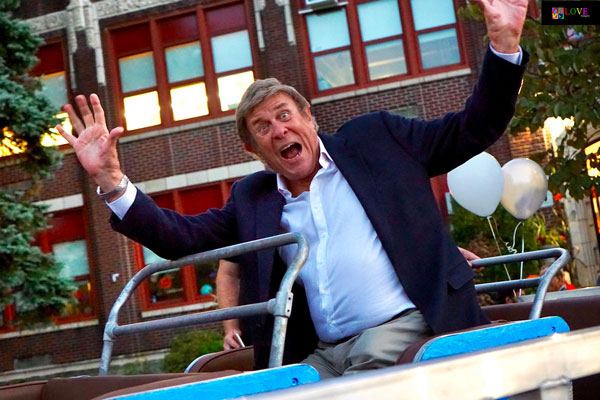 Cliffside Park, NJ Celebrates "Cousin Bruce Morrow Day!"
A crowd of local residents and dignitaries gathers outside Public School #6 in Cliffside Park, NJ on this beautiful fall evening. They are all awaiting the arrival of the "man of the hour" — celebrated radio DJ Bruce Morrow — since Mayor Thomas Calabrese has proclaimed today, October 5, 2018, "Cousin Bruce Morrow Day!"



Event calendar
Saturday, Nov 17, 2018
---
MUSIC

---
---
---
---
---
---
---
---
---
---
---
THEATRE

---
Annie

@ Broad Street United Methodist Church, Burlington - 8:00pm
---
---
Annie

@ Axelrod Performing Arts Center, Deal Park - 2:00pm and 8:00pm
---
Apples In Winter

@ Centenary Stage Company - Kutz Theater of the Lackland Center, Hackettstown - 8:00pm
---
---
---
Kiss Me Kate

@ Broadway Theatre of Pitman, Pitman - 2:00pm and 8:00pm
---
---
---
---
---
Into the Woods

@ Studio Playhouse Upper Montclair, Upper Montclair - 8:00pm
---
---
COMEDY

---
---
DANCE

---
---
KIDS

---
---
LECTURE

---
---
View all events
---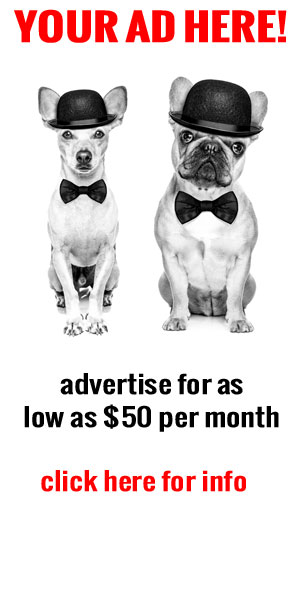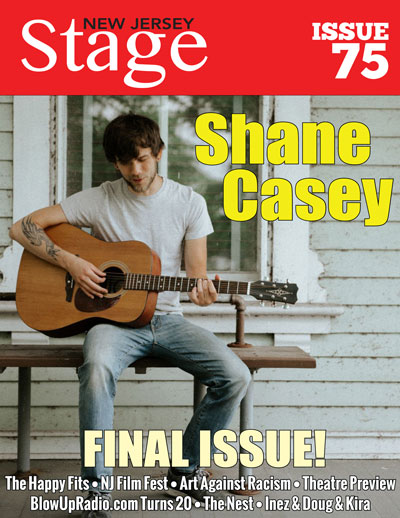 For more on our awards, click here
New Jersey Stage © 2018 by Wine Time Media, LLC | PO Box 140, Spring Lake, NJ 07762 (732) 280-7625 | info@newjerseystage.com

Images used on this site have been sent to us from publicists, artists, and PR firms.
If there is a problem with the rights to any image, please contact us and we will look into the matter.