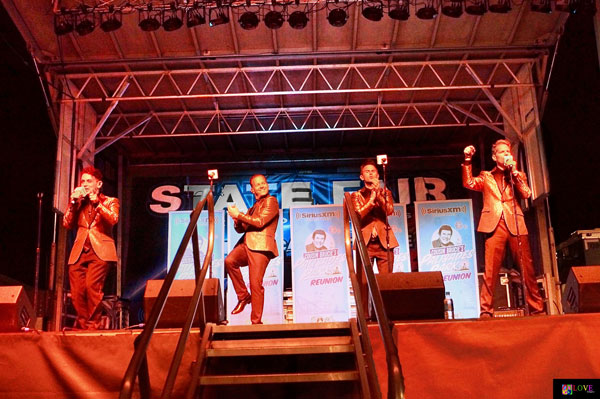 Even though the meteorologists predicted thundershowers in their forecasts, there's not a single drop of rain anywhere in sight on this cool and cloudy June 23, 2018 evening at the NJ State Fair!
As we enter the fair grounds — located just outside East Rutherford, NJ's MetLife Studium — we smell popcorn, pizza, and sausage and peppers as we gaze at the carnival rides, ferris wheel, and BatCoptor helicopter whirring above us.
We also hear the strains of 1960's-era music performed by the songs' original artists as they conduct sound checks in the outdoor theater set up for tonight's annual live radio broadcast by Bruce "Cousin Brucie" Morrow on SiriusXM '60s on 6 satellite radio.
The evening's musical presentation — the sixth installment of Cousin Brucie's Palisades Park Reunion Show — is set to be a nostalgic trip back to the past that features classic recordings and live performances from the kinds of artists who entertained audiences at NJ's Palisades Amusement Park during the 1960s. In addition to a line up that includes Freddie "Boom Boom" Cannon, The Dovells, Barbara Harris of The Toys, Lenny Dell and the Demensions, and The Fifth Estate, tonight's extravaganza also features a special appearance by The Midtown Men!
We take a moment to go backstage to chat with a founder of one of the groups on tonight's bill — Jerry Gross of The Dovells. A member of the group for 57 years now, Gross tells us that he was "born in Philly, but lived in Cherry Hill, NJ, since the age of 16," growing up with "neighbors including Frankie Avalon and Fabian."
---
The article continues after this ad
---
---
Originally starting out with the idea of becoming a doctor, Gross was a student at Temple University when he got a call telling him that a song he had recently recorded with The Dovells — a group he had started in high school with his buddy Mark Stevens — "was a hit record and I was going to appear the next day on Dick Clark's American Bandstand!"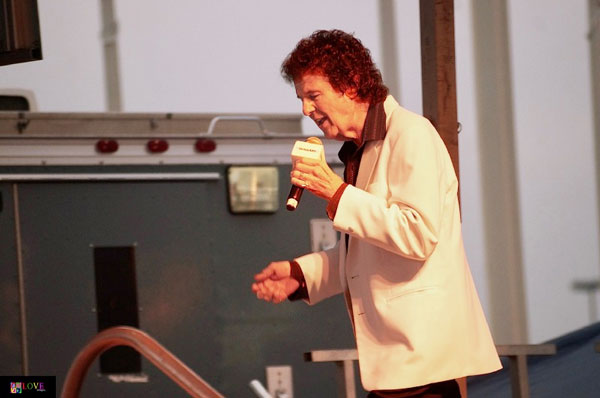 With The Dovells, Gross went on to score five Top 40 hits — notably "Bristol Stomp" — which changed the trajectory of his life and set him on a six-decade journey as a professional musician in which he had the opportunity to tour and record with such iconic artists as James Brown, Ray Charles, Chubby Checker, Jackie Wilson, and more.
For two and a half years, Gross also worked with a young guitarist in his band named Steven Van Zandt. According to Gross, "Whenever anyone would ask Steven a question, he would refer to me, saying 'Go ask The Boss.'" When Steven was offered an opportunity to play with a new bandleader, Gross gave him his blessing and sent him on his way stating, "I think that guy's gonna be big." Turns out, according to Gross, whenever anyone asked Steven a question around his new bandleader — Bruce Springsteen — he'd continue to say, 'Go ask The Boss' and it stuck!"
When asked about performing back here in the Garden State tonight, Gross says, "I love playing here. New Jersey audiences know the music and they love the music," before adding, "And people in South Jersey — especially — really know how to do the 'Bristol Stomp'!"
Next, we get a backstage chat with Tony winner Christian Hoff, a member of a group of performers which got its start as original members of the cast of Broadway's Jersey Boys — The Midtown Men.
A California resident, Hoff tells us he lived in New Jersey "for about six years," stating about his former home state, "In Jersey, the bands, the music, and the fans are one," noting, "Music is so much a part of New Jersey life, it's in the DNA!"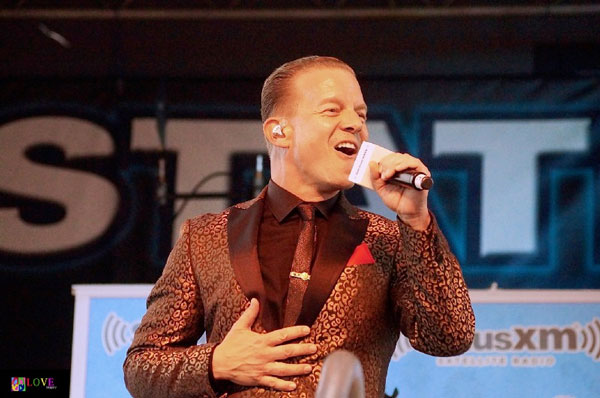 With regard to performing with his Midtown Men colleagues — Michael Longoria, Daniel Reichard, and J. Robert Spencer — on Broadway in Jersey Boys, Hoff recalls, "We would always know when people from New Jersey were in the house. They would relate in a special way," explaining, "You could just feel them saying, 'That's me'!"
A fan of classic music, Hoff believes "the tree of 1960s music is always green and growing." As such, he tells us that in addition to songs by Frankie Valli and the Four Seasons, in their shows, The Midtown Men also enjoy performing hits from such artists as Ronnie Spector, The Lovin' Spoonful, and Buffalo Springfield. Concludes Hoff, "It's this music that brings people together; it's the glue — the magic — the great unifier which allows us to go on a ride with the audience!"
As the time nears for tonight's Sirius radio broadcast to begin, we take our places in the open air theater just in time to see Cousin Brucie make his entrance wearing his leopard print suit and matching bowtie.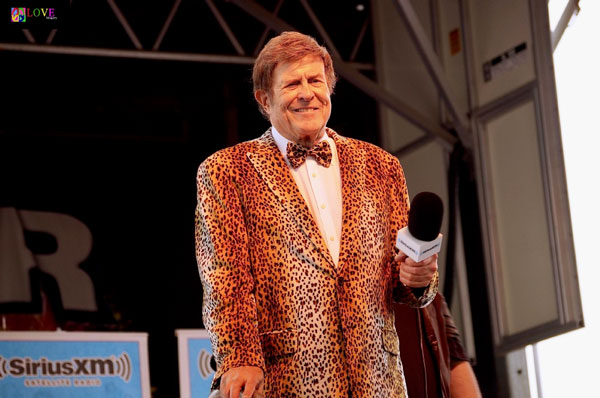 Greeting the live audience — in addition to the myriad of music lovers listening in via Sirius '60s on 6 satellite radio — Brucie welcomes the packed house to tonight's edition of this yearly summer event saying, "Let's get that feeling of Palisades Park!" before acknowledging that some of the "cousins" in the audience tonight have attended all six editions of the show!
For the first live act of the evening, Brucie introduces The Midtown Men. Opening with a medley of Motown songs, The Men launch into a series of hits from Detroit including The Temptations' "Ain't Too Proud to Beg," "My Girl," and "Just My Imagination," in addition to The Jackson Five's "I Want You Back," Smokey Robinson's "I Second That Emotion," and Marvin Gaye and Tammi Terrell's "You're All I Need to Get By."
In their brocade jackets with red pocket handkerchiefs, the group elicits cheers from the crowd for their sparkling vocal harmonies and precision dance moves!
Retaking the stage and reminding the live audience, "People are playing this show all over the world!" Cousin Brucie introduces tonight's next live performer — local music sensation Vinnie Medugno — who wows the crowd with his rendition of Jay and the Americans' "Cara Mia."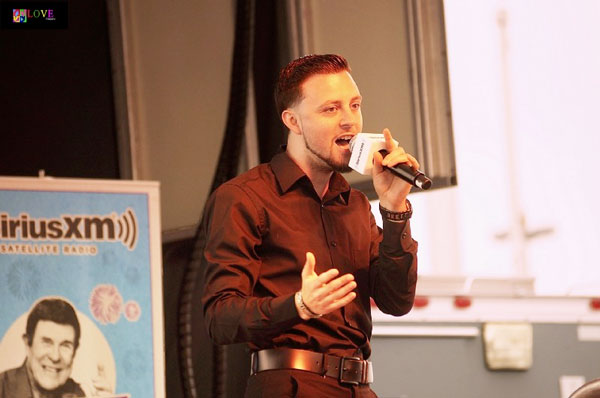 After clapping and singing along with Vinnie, audience members line up to meet and greet Medugno who shakes hands and signs CDs for his many fans here in the Garden State.
Cousin Brucie turns the stage over to Barbara Harris of The Toys, who opens her set shaking her tambourine and singing a soulful version of The Rascals' "People Got to Be Free."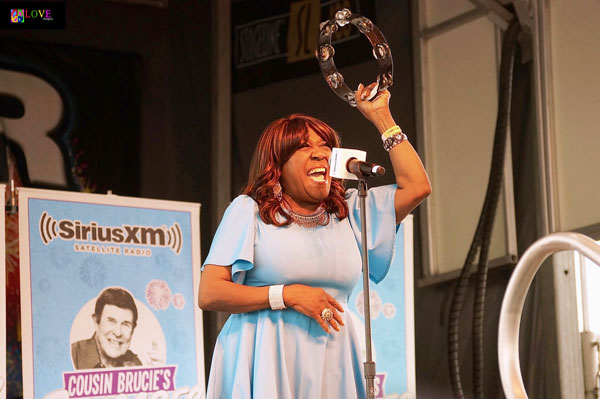 After noting, "Some people called The Toys a one-hit wonder, but our second release went to #10," Harris performs a rollicking rendition of "Attack."
Brucie retakes the stage stating about Harris' songs, "I have this music to keep me young, and this lady has such heart and soul!"
Brucie encourages Harris to reveal the story behind her biggest hit.
Recalls Harris, "In 1965, we were three young ladies from Queens, NY, who would sing after school." After going into the studio and recording four songs, however, she confesses, "The one we liked the least is the one that hit!"
Here, she launches into her biggest smash, "A Lover's Concerto," as Brucie snaps a photo of her.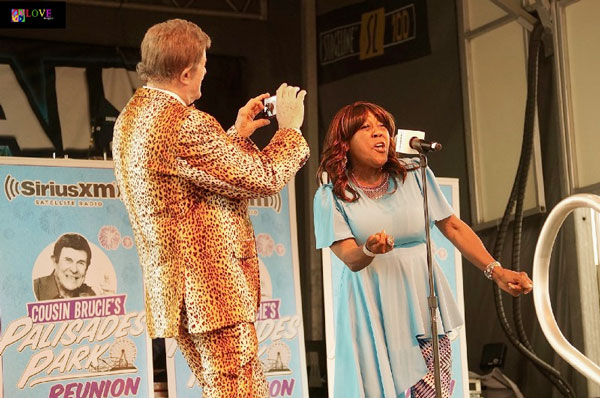 Singing the famous "How gentle is the rain/That falls softly on the meadow" lyric to Bach's eternal melody, the crowd responds by leaping to its feet for Harris' heartfelt performance!
Chatting on air with a member of the audience, Cousin Brucie learns that, with tonight's broadcast, music lovers in Paris, France are listening to his show for the very first time!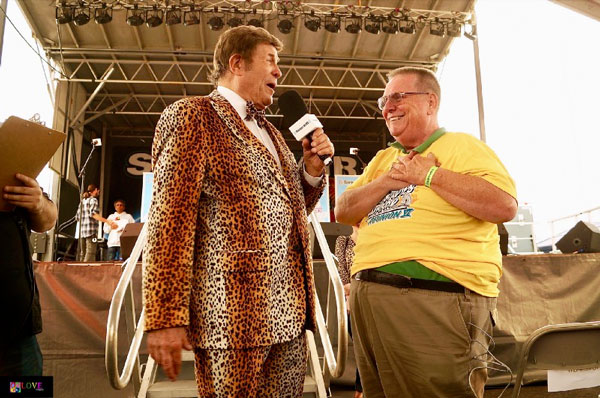 In between live acts, Brucie plays classic recordings for both the home and studio audiences and tells personal stories about the songs' original artists.
For instance, before playing "It's My Party," Brucie tells a story about how Leslie Gore — at the tender age of 15 — was set to perform at Palisades Park but "got her heel stuck in a gap in the floor." Thanks to Brucie, however, she was able to get her shoe unstuck and take the stage to launch her singing career!
After asking audience members to identify their favorite movies, Brucie reveals that his is The Wizard of Oz, before joking that "the witch was killed by water… from Bayonne!"
Here, he introduces a band — The Fifth Estate — that had a huge hit with a song from that film, "Ding Dong the Witch is Dead."
The trio takes the stage and opens their portion of the show with the rockin' "I Wanna Shout." Next, guitar, tambourine, and bass are featured on The Fifth Estate's performance of their groovy 1967 recording, "That's Love."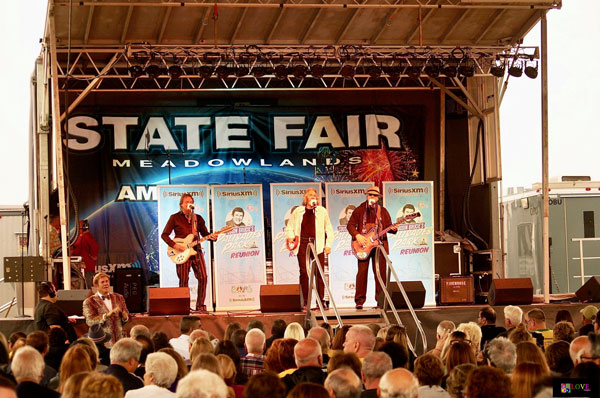 After avid applause, the guys explain how their most popular recording — "Ding, Dong the Witch is Dead" — came about as a result of a dare to "take a song from a movie and put a 15th-century harpsichord in the middle of it." Opening with a snare-drum marching beat, the group's rendition of the song features a syncopated melody, jazzy harmonies, a baroque-sounding bridge, and falsetto voices.
The audience cheers before Cousin Brucie spins some more music gold from the vault. Then, he introduces a group which he calls, "Fun — full of juice and rock and roll" — The Dovells.
Coming out swinging, The Dovells — Jerry Gross and Mark Stevens — perform a wild rendition of their 1961 gold record, "Bristol Stomp." In this number about Pennsylvania teens who do a new dance, the duo croons, "The kids in Bristol are sharp as a pistol/When they do the Bristol Stomp."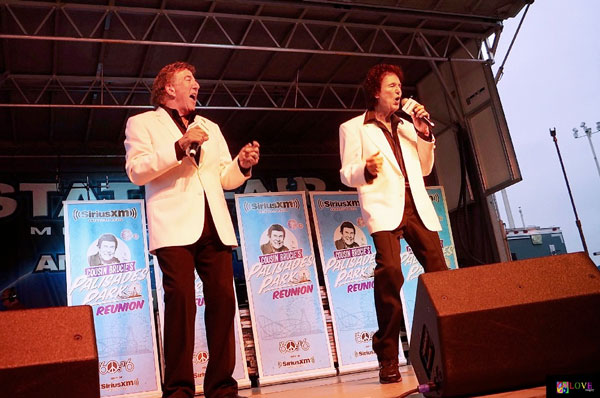 After segueing into "Bristol Twistin' Annie," the guys thank Cousin Brucie for "keeping the music alive." Then, they perform the catchy "Hully Gully Baby," to which Brucie exclaims, "The magic is still there!"
Gross and Stevens perform a new song — a twist on Kenny Vance's "Looking for an Echo" — in which they've rewritten the lyrics to tell their own personal story about The Dovells.
Lastly, they perform their huge 1963 hit, "You Can't Sit Down," the audience standing up and dancing along with the guys on this totally infectious number!
Cousin Brucie takes some time to chat with members of the audience and a few special guests including Lou Simon, host of The Diner on Sirius XM Volume 106 — a show about music which Brucie characterizes as "a love fest in the living room." Then, he introduces the next live group, Lenny Dell and the Demensions. This vocal quintet, comprised of four men and one woman, performs "Zing Went the Strings of My Heart" — the men in their satin suit jackets, the woman in her gown — as the audience claps along.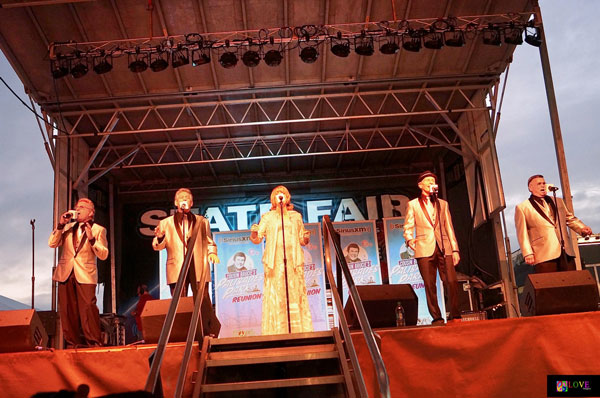 Moving on to "My Foolish Heart," the voices sing in crystal clear five-part harmony as the crowd cheers.
When group leader Lenny Dell explains, "We used to practice in the stairwell of an apartment building in the Bronx," the members of the audience are surprised to learn there is a man in the crowd who actually lived in that very same building! Moreover, in sharing the story behind the group's name, Dell says, "We wanted to have a dimension to the group" which explains why they added a soprano vocalist to their line up.
After thanking Cousin Brucie and referring to him as the "catalyst" which launched them into stardom as a result of his playing their next song on the radio back in 1960, The Demensions perform their biggest hit, "Over the Rainbow."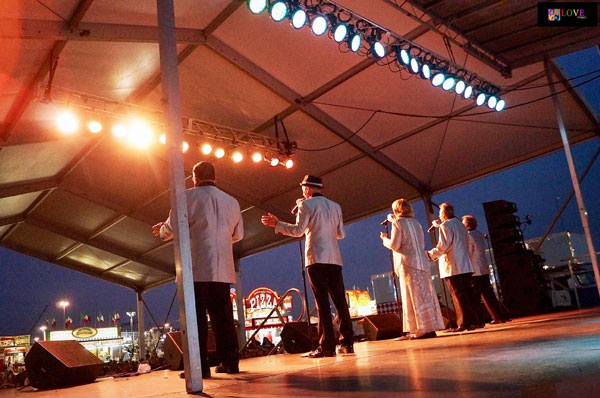 The crowd enjoys the group's smooth vocal harmonies and responds with enthusiastic cheers and applause.
"I love this crowd!" exclaims Brucie, before introducing tonight's next artist, Freddy "Boom Boom" Cannon.
"My mom and I wrote this next song in 1958," recalls Cannon before he performs a scorching version of his hit, "Tallahassie Lassie."
The audience hollers and Cannon follows up with the driving "Way Down Yonder in New Orleans." Here, Brucie joins him onstage exclaiming, "I've been trying for six years to get you here!" Asking Cannon where his "Boom Boom" nickname came from, Cannon tells Brucie it was originated by a DJ in his hometown, Boston, and "it just stuck."
After performing a rockabilly number which he recently wrote entitled "Boppin' the Blues," Cannon announces, "This is the song you've been waiting for, Tri-State Area. Thank you! You gave this hit to me and I dedicate this song to all of you."
Here, Cannon performs his 1962 smash, "Palisades Park."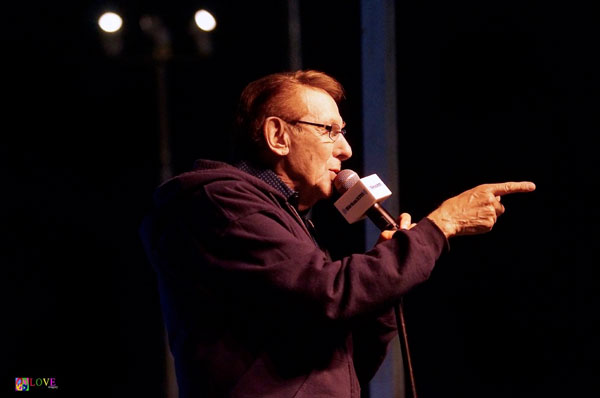 Singing, "Down like a roller coaster/Back like a loop the loop/And around like a merry go round" the years melt away for these fans of classic pop as they leap to their feet cheering — after which Brucie exclaims, "I knew that was going to happen!"
To wrap up tonight's show, Brucie reintroduces "The Broadway sensations who play all over the nation" — The Midtown Men.
Tearing up the house, the men perform a harmonious rendition of The Mamas and the Papas' "California Dreamin'" before infusing a pair of Frankie Valli and the Four Seasons' songs — "Big Girls Don't Cry" and "Sherry" — with their trademark Midtown Men attitude and style.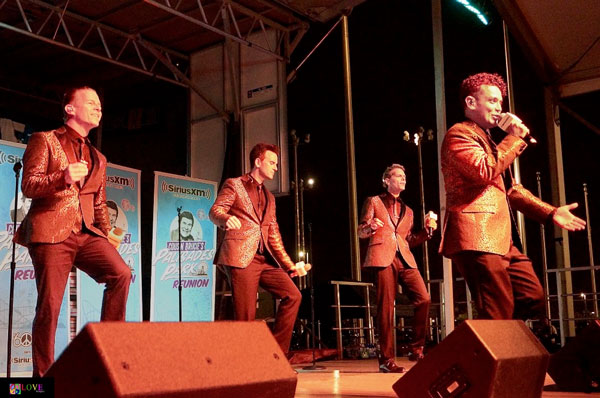 Explaining that this is their "ninth year of touring, doing 100 shows a year," the men take a selfie of Cousin Brucie's audience "to keep the memory alive" before confessing, "This whole thing is like a dream every night!"
Moving on to a funky and powerful rendition of The Ides of March's "Vehicle," the men sing and dance with verve. Inviting the audience to join them, they perform a number which they call "one of the greatest dance hits of all time" — The Four Seasons' "December, 1963 (Oh, What a Night)" — leaving the audience cheering and Cousin Brucie satisfied with yet another successful installment of his Palisades Park Reunion show!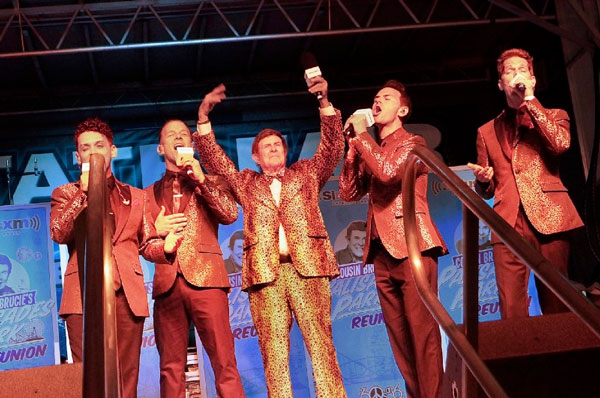 As audience members make their way out of the open air theater and back through the amusement park to a recording of The Platters' "Goodnight Sweetheart, It's Time To Go," we chat with several in attendance who share their thoughts about this evening's live radio broadcast with Cousin Brucie.
Rich from Clifton — who tells us he often visited the original Palisades Amusement Park — exclaims, "Cousin Brucie's show tonight was great!"
Gina from Paramus agrees, acknowledging,"I went to Palisades Park, too! It had the one and only saltwater pool and I went swimming there" before calling tonight's radio and live show "so much fun!"
Shannon from Nutley remarks, "Tonight was a fantastic night," citing "Vinnie Medugno, Freddy 'Boom Boom' Cannon, and The Midtown Men" as her personal favorite live performers.
Maria from Nutley comments, "This experience was unbelievable — the voices of the performers were unbelievable — they all stayed the same!" before adding, "and Cousin Brucie was incredible — he really came alive each and every time he put that microphone to his lips!"
Greg from Staten Island concurs, stating, "Cousin Brucie is the best! I grew up listening to Brucie's show. He's my mentor — he introduced me to all kinds of music, before concluding, "That's how I discovered rock and roll, which — besides my family — is the greatest thing in my life!"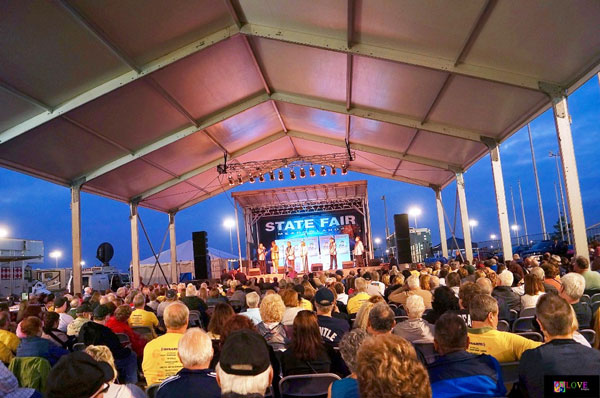 To learn more about Cousin Brucie's '60s on 6 radio program, please go to www.siriusxm.com.
To find out about Vinnie Medugno, please go to vincentmedugno.com. For more information on The Dovells, go to thedovells.com. To learn more about Barbara Harris, check out barbarastoys.net. For more on Lenny Dell and The Demensions, click on thedemensions.com. For information on The Fifth Estate, visit them at thefifthestateband.com. For info on Freddy "Boom Boom" Canon, go to freddycannon.com. To find out more about The Midtown Men, please click on themidtownmen.com.
Lastly, to find out more about the State Fair Meadowlands, visit njfair.com.
Photos by Love Imagery
Spotlight Central. Your source for Jersey entertainment news and reviews
Love Imagery Fine Art Photography. all you need. peace/love/flower/power