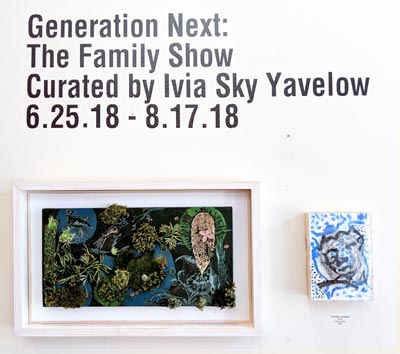 Sometimes the concept behind an art exhibition is every bit as creative as the work in the galleries. A good example of this is "Generation Next: The Family Show," on view now through August 17 at the West Windsor Arts Center in Princeton Junction.
The exhibition includes work by 13 visual artists, each part of a family in which two consecutive generations are visual artists. Curator Iyia Sky Yavelow based the show on an idea from her mother, artist Joy Kreves, for an exhibition where parents and children who are artists show together. "At the time, I think the inspiration came from both of us wanting to show together more often," said Yavelow.
"I fine-tuned my mother's idea a bit by having the artists be just one generation apart and selecting adults who were working artists," she said. "I thought this distinction would make it easier to examine how growing up around art and creativity, and seeing each other's techniques and concepts, may have influenced each artist's work."
Yavelow, a 2014 Bard College graduate, clearly exemplifies the exhibition's premise. "My mother is a working artist," she explained, "and I grew up around her work."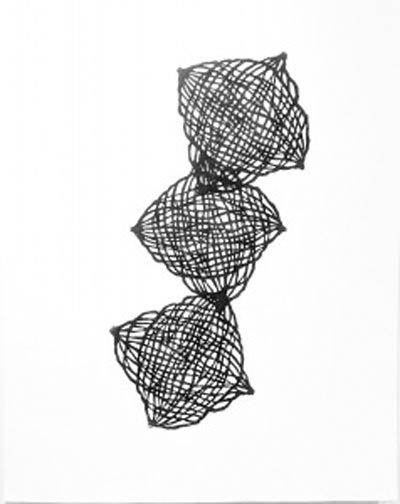 This was anything but a passive experience, Yavelow emphasized.
"My mother was always very encouraging. When I was about 5, she was having a show and overlaid my scribbles onto one of the pieces she was including in the exhibition."
It was her mother's early and ongoing support that sent Yavelow a powerful message – that art is something that people do.
So, Yavelow did.
She majored in Studio Art in college, and she was a studio assistant and a volunteer instructor with nonprofit arts groups. She served on the Exhibition Committee at WWCA. She created her own art. And now Yavelow has taken another step by curating this year's "Generation Next" exhibition.
"I started by choosing a few artists whose work I knew and liked, and then also included others I didn't know as well," she said. But her main objective was to showcase artists for whom making art is not just a creative pursuit, but a primary part of their lives.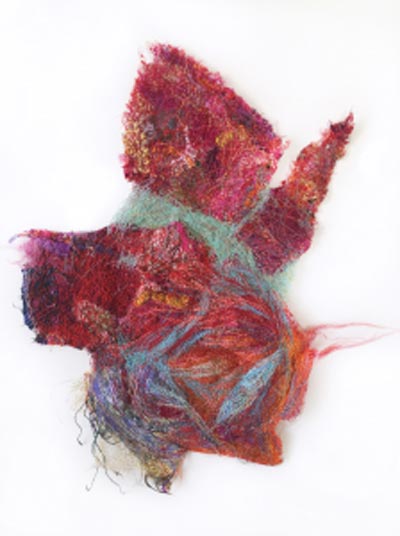 I asked about her installation process and how she decided what went where. She said she is a planner by nature and had made a detailed design showing where things would be hung and what would go next to what.
But, once all the pieces were in the gallery, some of her plans changed. The scale of the real-life objects was one factor to be considered. And, as the installation process progressed, Yavelow discovered that using her intuition – being more flexible and relying on the visual aspects – was a better way to go.
"When I finally saw everything in person," she said, "I noticed things like the similarities in technique, even with different media, across the families.
"The Generation Next" series began in 2012 as a spotlight on artists under the age of 30. But two years ago, the theme got a makeover. In 2014, they presented "Continuum," which featured the pairing of an experienced artist with an up-and-comer of their choice. Last year's "Graphica" focused on graphic and comic arts and included a group of students from Raritan Valley Community College. And this year, it's "The Family Show.""The groupings definitely create a family portrait."
In addition to allowing for more programming diversity, the broader themes also help the group fulfill its stated mission, "to provide professional quality arts programming in order to support, educate, inspire and promote the arts and art appreciation for all."
Another important consideration is keeping strong the connection between the arts center and the greater Mercer County community.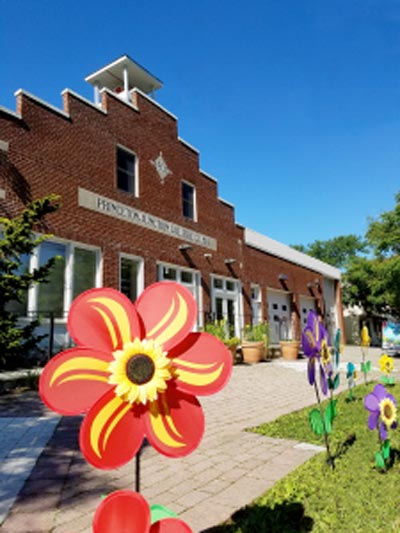 It was, after all, the community, led by then-Mayor Shing-Fu Hsueh, that created the Arts Council in 2004 and then lobbied tirelessly to restore the historic Princeton Junction Firehouse for use as an arts center, which opened in 2010.
"It's a beautiful space," said Aylin Green, Executive Director of the West Windsor Arts Council. "We do six shows a year in the gallery and offer a variety of live performances and classes in the multi-purpose room."
And, Green told me, the WWAC has partnered with Pegasus Theater Company, who is now the resident company and performs at the arts center.
Not surprisingly, the two organizations have many common goals and philosophies, foremost to create art that is thought-provoking and inspiring and accessible to everyone.
"The arts provide a necessary platform for expression," Green said. "These are the things that restore faith,"
Artists in the "Generation Next: The Family Show" exhibition are: Nancy Azara, Megan Biddle, Michel Biddle, Liz Biddle, Susan Hoenig, Joy Kreves, Nana Olivas, Alice Shockey, Gwen Shockey, John Shockey, Elise Whittemore, Ella Whittemore Hill and Ivia Sky Yavelow.
An artists reception will be held on Sunday, July 8, from 4:00 p.m. to 6:00 p.m. at the Arts Center at 925 Alexander Road, Princeton Junction, NJ, 08550.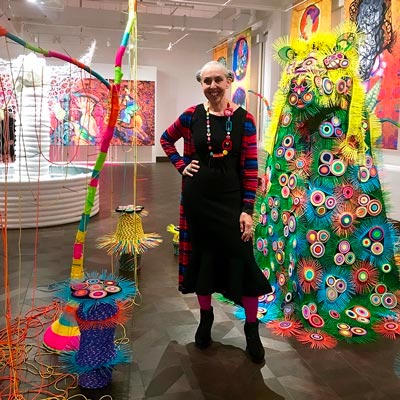 Heather Ujiie Explores "Terra Incognita" At Rowan University Art Gallery
"My life's mission is to challenge myself to go to new places," said Heather Ujiie, a Bucks County, PA, multimedia artist whose latest work, "Terra Incognita," is on display at the Rowan University Art Gallery now through November 17, 2018.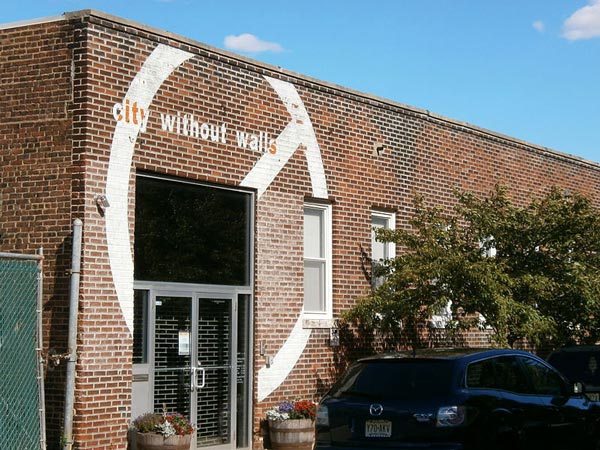 City Without Walls and Aljira To Shine At Newark Arts Festival
Two long-running art spaces, City Without Walls ("cWOW") and Aljira, A Center for Contemporary Art ("Aljira"), will house pop-up exhibits during the Newark Arts Festival, October 4-7, 2018.  Though both spaces are now in a period of transition, through the support of Newark Arts, they will activate with fresh exhibits during Newark's citywide annual festival of the arts.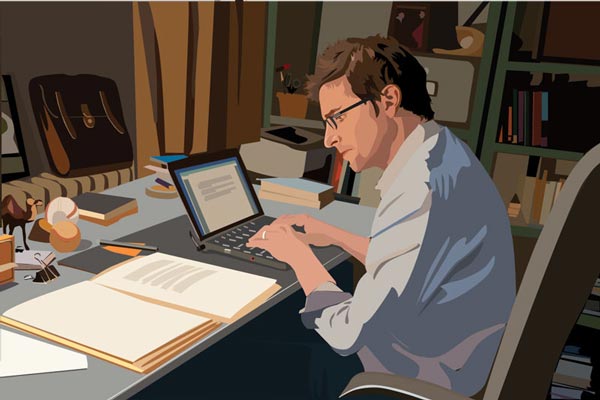 Meet The Writers Behind NJ Stage
Each month, New Jersey Stage runs about 50-70 articles on our daily site in addition to the articles found in our monthly magazine.  We recently ran its 14,000th story online and thought our 50th issue was a good time to showcase the people behind the content in the magazine and the daily site.  We are always adding new writers and have recently welcomed Ilana Rapp and Lisa Annitti to the team as well. None of the writers get paid, so this is a labor of love for us all.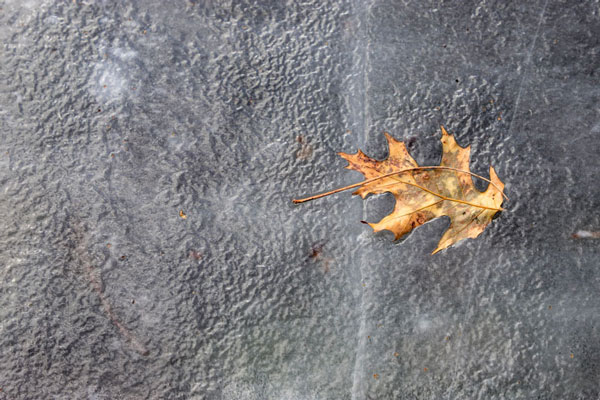 The Healing Power of Art
Entering the office to see a neurologist can be a terrifying experience.  I know because I've had to do it for years.  Thankfully, when I see my doctor I am surrounded by his photographs on the walls. It's more than a hobby for Dr. Noah Gilson, it's a lifelong passion.