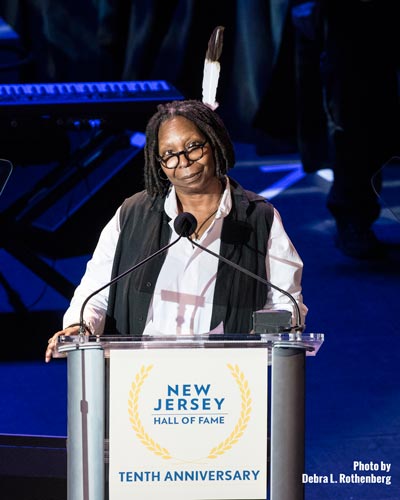 "First some comments about New Jersey," said Whoopi Goldberg, the surprise host of the 10th Annual New Jersey Hall of Fame induction ceremony.  "I live here.  It's a wonderful state and what most people don't know is that the amount of brain power that comes out of New Jersey is extraordinary!  The musicians and their prowess is amazing! When you look at the amount of folks who are here - this is your city; this is your state; these are your people.  Maybe you will be up here at some point."
Many people from New Jersey have a love/hate relationship with the Garden State.  We grow up hearing comedians rattle off jokes about us; we hear locals complain about everything from taxes to overpopulation; and we live sandwiched between New York City and Philadelphia and often looked down upon by people in both cities.
But on Sunday, May 6th when the New Jersey Hall of Fame inducted its Class of 2017, there was nothing but Jersey Pride in Asbury Park's Paramount Theatre. 
One thing people cannot take away is the vast amount of success stories to emerge from this state.  For every person who cracks a joke about New Jersey, chances are they will flip through the channels of their tv tonight and pass several movies starring actors from the Garden State; their radios will be spinning musicians from the state; and their homes will be utilizing inventions that came from here as well.
In other words, we've got a lot to brag about!  How many states can boast their Hall of Fame features musicians like Steven Van Zandt, Debbie Harry, Gloria Gaynor, and The Four Seasons; authors like Harlan Coben and journalist Anna Quindlen; sports heroes like Al Leiter and Carli Lloyd; a pair of twin astronauts (Mark and Scott Kelly); legendary nurse Clara Maass; politician Millicent Fenwick; real estate executive Jon Hanson; publishing executive Steve Forbes; businessman Joe Buckelew; and Buddy Valastro "The Cake Boss"  — all within one inductee class?
---
The article continues after this ad
---
---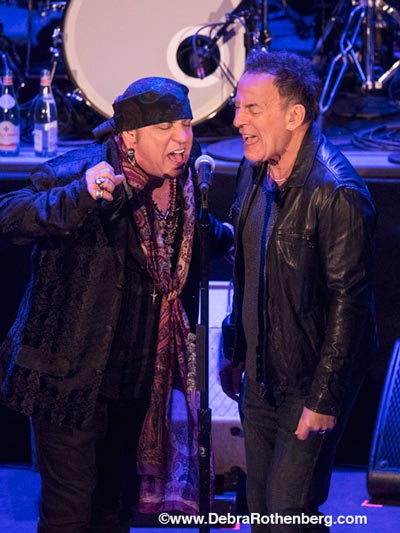 Not to mention who else could have Whoopi Goldberg be the surprise host of the evening? Or have Bruce Springsteen not only induct Little Stevie but jam with him on stage? Who has could have the future Hall of Fame (and arguably the best reliever in baseball history) Mariano Rivera once again enter the spotlight to "Enter Sandman" to provide the introduction to the Cake Boss? Or NFL Hall of Famer Harry Carson introduce author Harlan Coben? Or Joe Piscopo introduce inductee Al Leiter?
Or have Buzz Aldrin, one of the last living astronauts to walk on the moon, not only introduce Scott & Mark Kelly alongside Whoopi Goldberg… but actually do the moon walk on stage!
Only Jersey baby!
The Hall of Fame induction ceremony has become New Jersey's own Oscars Night.  It's a history lesson, a red carpet extravaganza, extraordinary live performances, and a night of pride - Jersey pride.
"We may be one of the smaller states, but we have always carried our weight," said New Jersey First Lady Tammy Murphy.  "Our output of influencers and history makers is more prolific than states many times our size.  Their lives and careers have given vibrant color to the great tapestry of New Jersey.  A famous bridge near the statehouse reads: 'Trenton makes, the world takes' but literally that can be said New Jersey makes tonight's honorees and the world has benefited from their talents."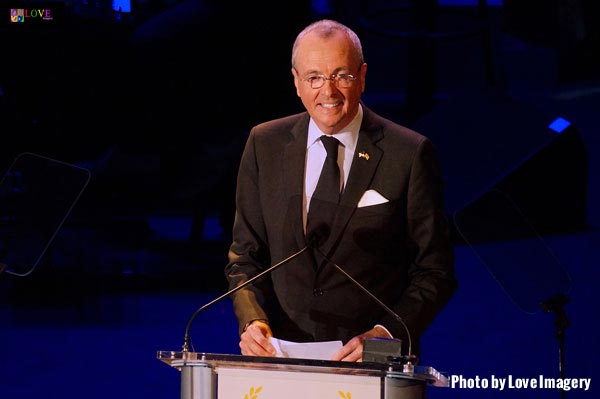 Her husband, Governor Phil Murphy added, "Since our very founding, New Jersey has been the crossroads of America, where some of the most celebrated names in the arts learned the power of the written word or found their voice; where leaders in business built their fortunes and built our state; where dreams of athletic glory grew from backyard games and races; and where leaders in public service know it isn't about what you get, but is about what you give back.  The New Jersey Hall of Fame is where stories of these lives are told and retold.  The Hall of Fame is here to inspire future generations of New Jersians to strive for their own glory."
In our magazine, we take you inside the inductee speeches, the performances on stage, and a look at the red carpet.  At the end of this article there are links to our coverage online. Please check out the magazine for even more photos and videos. We were fortunate to have several photographers on hand and have plenty of slideshows showcasing the event.  After experiencing the New Jersey Hall of Fame induction ceremony for the first time, I can honestly say get your tickets for next year early! This is quickly becoming one of the hottest tickets of the year and for good reason.  
2017 Inductee Harlan Coben may have put it best when he said, "New Jersey is dense and diverse. New Jersey has attitude and swagger.  New Jersey has color and texture. New Jersey has a chip on its shoulder and New Jersey is loaded with hope.  If you look at a map, we are wedged between two of the biggest cities in the country, and yet where that wedge is that's where life is lived." 
---
Here are the members of the Class of 2017 broken down by section:
Performing Arts: The Four Seasons, Steven Van Zandt, Gloria Gaynor, Debbie Harry
Arts & Letters: Harlan Coban, Anna Quindlen
Sports: Al Leiter, Carli Lloyd
Public Service: Mark & Scott Kelly, Clara Maass, Millicent Fenwick
Enterprise: John Hanson, Steve Forbes, Joe Buckelew, Buddy Valastro - "Cake Boss"
---
For more on the New Jersey Hall of Fame, visit www.njhalloffame.org