By Gary Wien
originally published: 07/01/2018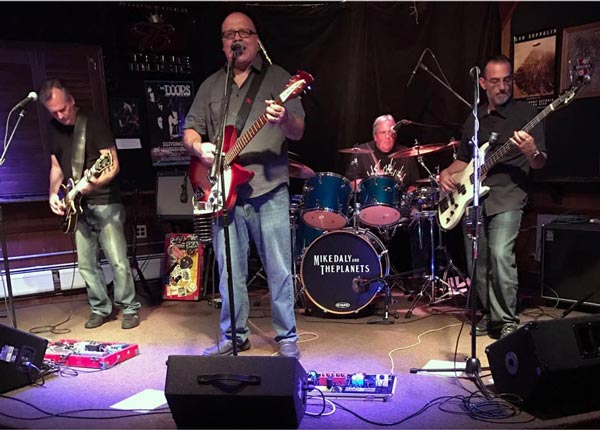 For a long time, Mike Daly had trouble envisioning himself as a lead singer.  He knew his baritone range was much deeper than the majority of singers heard on the radio and rarely heard anyone who sounded like him. Until one day when the late Pat DiNizio,  a fellow North Jersey artist who fronted The Smithereens, entered the picture.
"Pat comes out and I'm like here's a guy who sings in my range!" said Daly who started out in bands simply for fun.  His initial bands played lots of covers, but weren't what you would normally think of as a cover band - partly because Daly wanted to do original music and partly because of his vocal range.  When he first heard The Smithereens, everything changed for him.
"When you're in cover bands, you go out and sing other people's music and unless you change the key, you're generally singing in somebody else's range," explained Daly. "It's not necessarily good for your voice and not good for the performance.  So when I heard somebody come out that sounds like me with a deep voice - it was like I guess I'm not in a key that's not commercial or that people don't want to hear.  That was a great thing.  It inspired me to be able to write in my key and have it be accessible.  He was definitely an inspiration for me."
Daly was born in Passaic and raised in Prospect Park. Early bands included Nightwing, Mixed Company, The Fuse, and Every Damn Day.  The bands mainly played a couple of Daly's originals alongside classic rock covers and popular hits.   This is more or less a second stage of Daly's musical career.  He actually stopped playing music for several years in his twenties due to frustrations with an ever-changing drum core (a situation reminiscent of Spinal Tap without the spontaneous combustion) and lack of commitment from others.
"My experience at that time was that drummers were the hardest to find - especially good ones," said Daly.  "And if you have a bad drummer, you have a bad band; there's no mistaking that.  So, it got to the point where it was like everybody else seems to be thinking this way and I've hit adulthood; maybe it's time to discard childish things and just go get beaten down by the man as quickly as humanly possible."
---
The article continues after this ad
---
---
So Daly joined the workforce, but he never left music.  In fact, he spent many years working for The Aquarian Weekly - a popular music newspaper.  One might think this would have been an advantage for a musician, but everyone working there knew they had to separate their own musical aspirations from the job.  Daly still works in community papers, writing human interest stories, but music is returning to focus.
His band, Mike Daly & The Planets, includes Daly (lead vocals, guitar), Jim Van Sickle (bass), Jim "Smitty" Smith (drums), and John Reynolds (lead guitar).  The band's debut album took so long to create and be released that it contains songs on it which were originally recorded 7 to 8 years ago. Daly says life simply got in the way for the members of the band who had jobs, families, and young children that took precedent over music.  Now that the children are a bit older, the band members have more free time.  "Our schedules have opened up a bit," explained Daly.  "So, that kind of enables us to act like kids again!" Daly says the band might even have new music released before the end of the year.
The influence of DiNizio can be heard in the music and lyrics found on the self-titled debut album by Mike Daly & The Planets.  Released last year, many of the songs feature the same type of power pop vibe (something akin to a mix of 60s British Invasion and Jersey rock) made famous by The Smithereens.  It features songs that should appeal to fans of that band as well as artists like Marshall Crenshaw and Fountains of Wayne.  Some of my favorite songs on the album include "Hero's Trial," "Never Too Late", "Mikey's Lament," and "Letter From The Front."  The latter was inspired by watching war movies on television.
"I tried to put myself in the place of one of those kids out there, thousands of miles from home, taking on fire part of the time and wondering when the next time will be," said Daly.  "Which of their friends are going to make it home and which aren't? Whether they are going to make it home or not.  To kind of empathize with those people and think about what it would be like to be in that situation.  While watching Saving Private Ryan one night, the song just kind of poured out of me.  It's the kind of thing where it almost has more of a general meaning.  Even if you were never a soldier and cannot relate to what that person is saying, we all have our metaphorical battles that we're dealing with.  When we finally got it recorded and got a good version of it, I decided we were going to use it to try raising money for veteran's assistance."
According to the band's bandcamp page, all net proceeds from the sale and streaming of "Letter From The Front" will be donated to Project Help, an organization based in Sussex County that serves homeless veterans in northern New Jersey.  Their services include such things as financial support and legal assistance.  One of their major initiatives involves job/career placement and housing - especially for veterans suffering for Post-Traumatic Stress Disorder (PTSD) and/or Traumatic Brain Injury (TBI).
"There are people in this world who run towards danger and people who run away from it," adds Daly.  "I would say the people who run toward it are in the minority, so you've got to tip your hat to people like that."
Daly has a knack for writing lyrics that can easily have dual meanings - a trait that makes them appear personal to many people for very different reasons.  A good example is "Never Too Late" - a wonderful pop song that can be seen as the story of Daly returning to music or a tale about a guy re-entering the dating world after a long period.
"I got sidetracked for a while, but that was yesterday / And now I'm getting back into the game, hope I still know how to play / Well, they say it's never too late, but I guess I've had my doubts / Yeah, they say it's never too late, but I guess we'll soon find out"
As with the Smithereens, the pop sounds of Mike Daly & The Planets also contain a layer of sneering guitars and songs that transverse a myriad of musical styles. All nine of the songs on the band's album sound very different from each other; yet they all sound as though they are coming from the same band.  It's a rather difficult tightrope to walk, but the band pulls it off.
"Salvation" kicks off the record by beautifully illustrating the world we live in via lyrics like "In a world where bullies plot their evil schemes, protected by computer screens, I thank God for you."  The choppy intro of "Hero's Trial" sets the stage for a tale of a cafe where hot beverages and heartbreak are served up in equal measure.  "Coffee… Cigarettes / Sadness… and regret. Served up with a smile, I have to leave here for a while." Some songs like "Kill A Clown (No, Not Really)" straddle multiple musical genres within the same tune.  It begins with a blast of hard rock guitars and then adds '60s background vocals for the chorus.  The song has flavors of rock, doo wop, sixties pop, and a touch of rockabilly with lyrics that are painfully funny. "I am a peaceful man, I do the best I can; But when the pain starts rainin' down, I find me a circus and I kill a clown." 
A fondness for songs about heartbreak is something both Daly and DiNizio also have in common. Both often mask depression with upbeat music and humor. One such song is "Slack" - the band's latest release, which is included on a new compilation by International Pop Overthrow.
"That song, in particular, is kind of the extreme version of trying to find humor in your suffering," explained Daly. "Trying to not necessarily make a blues song out of it, but there's an underlying darkness to the whole thing. That's something that Pat (DiNizio), as a songwriter, truly mastered - the idea of putting a sunny spin on hard times.  With 'Slack' for example, you're talking about anybody who slacks or is called 'lazy' by society - there's some trauma inside that is causing that to happen.  As you go further in the song, I'm making jokes about being lazy and then ask not to be judged. 'I'm as serious as a heart attack, because eventually we fade to black. So I need you people off my back because I'd rather have a shot of Jack, but more than anything I want to slack.' It's saying,  I've been part of the rat race just like you.  It's been hard and I need some time to recover, regroup, and recharge.  Maybe the next step will come to me… whatever the next thing I'm supposed to do will come to me."
"For me, it was a period of joblessness and job searching which was an exercise in futility," continued Daly.  "The stress of where's the next paycheck going to come from - the stress of that can be staggering.  So, I think in the kind of songs Pat used to write and that I try to write, there's still a small sense of enthusiasm behind a defeatist, beaten-down kind of attitude.  There's another song we're working on for the next album called "Find The Pleasure" which says, 'In all laughter, there's hurt.' I think some of the best humor comes from pain because past a certain point you can continue to be miserable about it or you can find the humor in it. And that's what I try to do.  My songs are therapeutic.  Most of them are me trying to work something out, getting my feelings on paper, and putting my feelings to music.  It's not all super depressing sounding - there's a market for that too - but going back to The Beatles, they sang happy songs and sad experiences.  There's a pretty wide field of artists who do that and I try to be one of them."
Even though Daly appears to be getting into a nice musical groove with the long-awaited album finally available and a new one in the works, he's still very much playing music for fun more than anything.  He's older, wiser, and if he learned anything during his years at The Aquarian, it was to be realistic.
Daly recalls members of The Aquarian staff who were part of a band that signed a major record deal and about to go on the road, opening for one of the biggest artists at the time.  He says outsiders would have thought the guys in the band had it made and wouldn't have to work another day in their life; but, in reality, one of the guys had to sell his car to pay for several months rent on his apartment just to ensure it was still there when he got back.
"I learned to take nothing for granted," said Daly.  "I learned to have different expectations of what it would be like to be a 'successful musician' - basically what it took at that time to crack the industry at all; how to be heard by people, much less have people come out to see you play.  The whole thing has changed with the advent of digital, now it's even harder and the expectations become different.  You think, 'Hey, I can get my music on iTunes and Amazon' without thinking about how thousands of other musicians can do that as well. How do you stand out from the crowd? How do you even let people know you exist? And how do you get the ones who know you exist to download your songs rather than stream them?"
"You learn there's no ideal situation and you can't go into it with stars in your eyes and expect someone to open the vault for you and magically transform your life," adds Daly.  "It's hard work.  Some of it is luck.  And ultimately, you have to do it because you love it.  If you're doing it with dollar signs and stars in your eyes you're going to be disappointed.  I wake up with music in my head and if I didn't put it out, it would stay in my head and I'd go insane! There's the hope that other people will hear it and relate to it, and it will have some sort of universality to it."
You can catch Mike Daly & The Planets at The Stanhope House on Friday, July 20th.
---
Gary Wien has been covering the arts since 2001 and has had work published with Jersey Arts, Elmore Magazine, Princeton Magazine, Backstreets and other publications. He is a three-time winner of the Asbury Music Award for Top Music Journalist and the author of Beyond the Palace (the first book on the history of rock and roll in Asbury Park) and Are You Listening? The Top 100 Albums of 2001-2010 by New Jersey Artists. In addition, he runs New Jersey Stage and the online radio station The Penguin Rocks. He can be contacted at gary@newjerseystage.com.
---