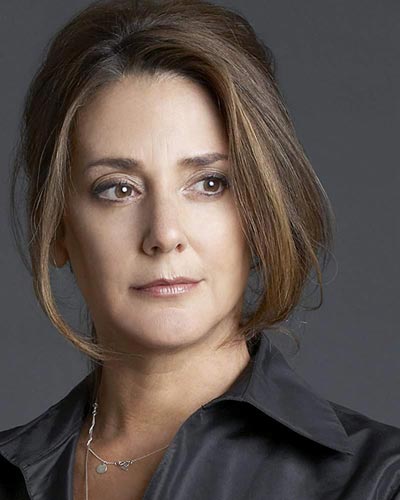 If acting were to come naturally to anyone, it would come to Talia Balsam.
Balsam, who will appear in a reading of Eugene Pack's play "Night with Oscar" on June 8 at the George Street Playhouse in New Brunswick, is the daughter of two very successful actors—the late Oscar winner Martin Balsam and Joyce Van Patten.
Unlike her mom, who made her stage debut at the age of 9, Talia Balsam was 18 when she got her first part, a small one, in a TV movie. "Both parents were actors, so it was just a matter of time," she said. "I knew early on that I wanted to pursue it.''
So she studied, as her parents encouraged her to do, and in the same year as that small part, 1977, she landed a recurring role in "Happy Days," one of the iconic series of that period.
---
The article continues after this ad
---
---
"My friends make fun of me," she said, "because I was in the 'jump the shark' episode"—a reference to a scene, thought by some to be the nadir of "Happy Days," in which Fonzie, on water skis, jumps over a shark. 
"Jump the shark" ever since has referred to a TV series that has lost its bearings, but for Balsam, those three episodes were the start of something big.
She went on to appear in more than 120 individual television productions—including major series that have included "Dallas," "Taxi," "Hill Street Blues," "Cagney & Lacey," "Magnum PI," "Murder, She Wrote," "Thirtysomething," "Law and Order," and "Divorce" which is currently running on HBO.
In the multiple award-winning AMC series "Mad Men," she and her husband, John Slattery played a married couple, Roger and Mona Sterling. She and her dad also played a father and daughter on the series "Archie's Place."
"I'll always be grateful to Carroll O'Connor for that opportunity," she said. "It was a good way for us  to meet as actors, rather than as a kid and her father. It was a different stretch, something special."
Talia Balsam has also worked in many films and stage productions, the latter including Neil Simon's "Jake's Women," in which she and her mother appeared on Broadway in 1992.
Balsam said she had one opportunity to work with her uncle, the late Dick Van Patten, who—in addition to his stage and film work—had a television career that stretched from 1949 to 2011.
But, she said of that one occasion, "It was a pilot. Nobody saw it!" 
Balsam laughed when a comment attributed to her on the International Movie Data Base web site, to the effect that she considers herself shy, was called to her attention.
"You never know who writes those things," she said, chuckling all the while. "As I'm older, I'm less shy. I was always very quiet when I was young; that might be perceived as shy. Now I'm just a big loudmouth."
The occasion for Balsam's first visit to the George Street Playhouse is a benefit for the theater, a staged reading of Pack's comedy by a large cast that also includes Rob Morrow (an Emmy and Golden Globe nominee for his role in "Northern Exposure"), and Emmy winning writer-actor Robert Wuhl, creator of the series "Arliss."
In "Night with Oscar," a Long Island couple (Balsam and Morrow) are hosting a gathering to watch the Academy Awards ceremony. The fact that Morrow's character, who now operates a bagel shop, was once tight with the winner of the Oscar for best supporting actor, is the flashpoint for an exposition of  the ambitions and desires of everyone at the party.
The performance is at 8:00pm, June 8. Tickets start at $58,  A limited number of seats are available starting at $99 that include a post-play reception and meet-and-greet with the cast.
For tickets, call the George Street Playhouse box office at 732-246-7717 or visit www.GeorgeStreetPlayhouse.org.
The George Street Playhouse is temporarily located at 103 College Farm Road, just off southbound Route 1 in New Brunswick. A new arts center that will house the theater is under construction on Livingston Avenue.