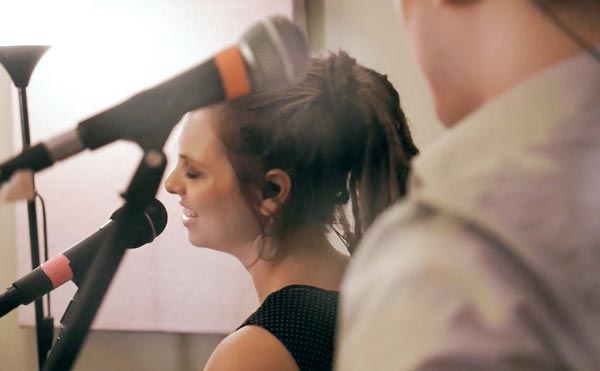 (NEW BRUNSWICK) -- A special event honoring Israel's 70th anniversary will be held at Rutgers-New Brunswick on April 19. The program will feature a lively panel discussion, "New Trends in Israeli Music and Dance," followed by a rocking concert by the Israeli cover band ISRABAND. Free and open to the public, the program is presented in partnership with NJPAC, Rutgers' Allen and Joan Bildner Center for the Study of Jewish Life, and Rutgers Hillel. It is funded in part by the Ruth and Alvin Rockoff program fund. The event will be held at Rutgers Hillel, 70 College Avenue, New Brunswick, with free campus parking in Lots 11, 26, 30 & College Avenue Deck.
The panel discussion begins at 7:00pm and features two experts on the topic of Israeli music and dance: Dr. Galeet Dardashti, assistant professor of Jewish music and musician-in-residence at the Jewish Theological Seminary of America, and founder of the renowned all-woman ensemble Divahn; and Dr. Dina Roginsky, a senior lecturer of modern Hebrew language and culture at Yale University, who specializes in Israeli culture, folklore, dance, and ethnicity. The discussion will be moderated by Professor Yael Zerubavel, professor of Jewish studies and history and the director of the Bildner Center.
At 8:30pm, ISRABAND will take the stage for a concert performance. An Israeli cover band based in New York City, ISRABAND specializes in providing the audience with an authentic and refreshing experience through a variety of the biggest hits of Israeli and Jewish music. Their repertoire includes popular hits by Arik Einstein, Shlomo Artzi, Kaveret, Mosh Ben-Ari, Eyal Golan, Yehudit Ravitz, and others.
Advance registration is requested by emailing rsvpBildner@sas.rutgers.edu, calling 848-932-2033, or on the Bildner Center's website. For more information, visit the website BildnerCenter.Rutgers.edu.
The Allen and Joan Bildner Center for the Study of Jewish Life connects the university with the community through public lectures, symposia, Jewish communal initiatives, cultural events, and teacher training.
---