originally published: 03/22/2018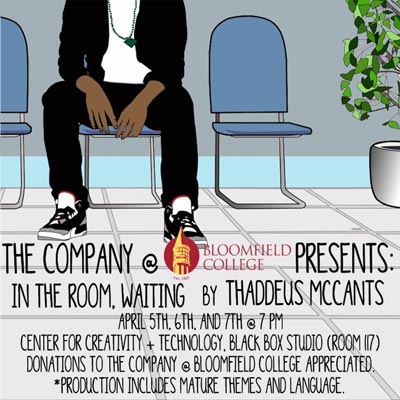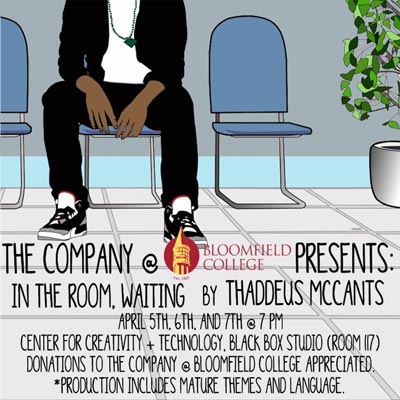 (BLOOMFIELD, NJ) -- The Company @ Bloomfield College focuses on presenting fresh, contemporary works by emerging and underrepresented artists. As The Company's first full length production, In the Room, Waiting is written and directed by Thaddeus McCants and features a multi-racial cast of talented Bloomfield College students and alumni. The play is a funny and moving look at fate, choice, and compassion. Productions run April 5-7 at 7:00pm in the Center for Technology + Creativity's Black Box Studio on campus.  
The play focuses on Malcolm and Aisha, a young couple who get into a tumultuous disagreement over whether or not to bring a child into the world. As denizens file in from every strata of society, and corner of crazy, they unknowingly help the couple find their way, even if they aren't always friendly about it. The play is a bawdy and intelligent look into how each decision we make changes our path through the universe.
"I can really relate to this play," echoed Naja Long '20, who plays the role of Aisha. "It has so much to offer in terms of current reality."
According to Founding Director and Producer and Assistant Professor of Rhetoric, Dr. Freddie Harris, In the Room, Waiting is the perfect play to launch The Company.
"I want to produce plays that are new and fresh and that speak to the issues that are students care about, not what we think that they should care about, but art that speaks to them and represents them. In the Room, Waiting is that play," Dr. Harris stated. "In this political landscape, it is becoming increasingly apparent that young people are picking up the slack and challenging the status quo. And many, especially students at Bloomfield College, are doing that through their art."
---
The article continues after this ad
---
---
"This show is important because it speaks to issues that at times are over-politicized and therefore dehumanized," said McCants. "The question of when the right time to bring a life into this world is one that has raged for eons. This play doesn't take a stance on the issues that it presents; rather it presents the way real people deal with them."
McCants is a Brooklyn-based writer, performer, and producer originally from Madison, Wisconsin. As a playwright, his flagship work, In the Room, Waiting, has been workshopped as part of the Broadway Bound Theatre Festival and recorded as part of the Parsnip Ship New Play Podcast. His Web Series Fakers was an official selection of the 2017 Downtown LA Film Festival, where it won Best Web Series. His spoken word play Speak was selected for the Bridge Production Group's One Act Festival at the Robert Moss Theatre and is in continued development. As a performer he has worked Off-Broadway, regionally, and around the world with Disney Cruise Line. On-screen he has worked with HBO, MTV and FYI; in addition, he is committed to writing and producing his own small and large screen content. As a comedian, he performs around the tri-state area and works with Upright Citizen Brigade, where he is a Diversity Scholar.
"I couldn't be more impressed at the talent, professionalism, and energy of the students at Bloomfield College," added McCants. "I am in awe every day in rehearsal and I can't wait for these young adults to share their time and talents with an audience, who will no doubt be floored by the incredible show they have put together." 
The play is free for Bloomfield College students and the public. Donations are welcome to support the continuing work of the Company. This production contains adult language and mature themes and may not be suitable for children under the age of 14.
About Bloomfield College
A comprehensive, liberal arts institution located in Bloomfield, New Jersey serving just under 2,000 students with inspiring stories. Bloomfield College offers over 40 academic programs, Division II athletics, and co-curricular clubs and organizations. The College is committed to enabling students, particularly those who have been historically excluded from higher education, to realize their intellectual and personal goals. More than half of the student body identify themselves as first-generation and are the first in their families to enroll in college. The College was ranked No. 1 in NJ and No. 20 nationally in promoting the social and economic mobility of its low-income students to high economic achievement, including top economic quintiles. U.S. News & World Report ranked Bloomfield College the 14th most diverse National Liberal Arts College in the United States.