originally published: 03/05/2018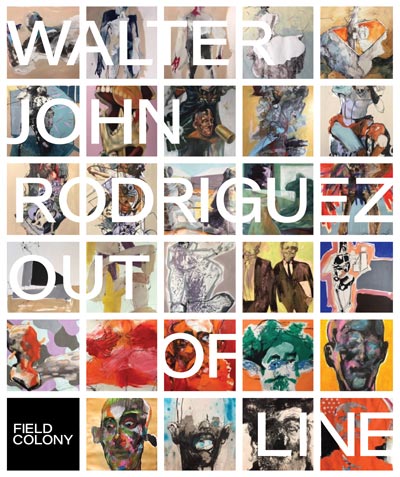 HOBOKEN, NJ) -- Field Colony is currently exhibiting drawings and paintings in the exhibition Out of Line by Walter John Rodriguez, a multidisciplinary conceptual and figurative artist whose work showcases the diversity of his range and includes mixed media drawings on paper and canvas and large-scale oil paints on canvas. His research-driven approach has produced bodies of work that fuse pop culture icons and known works of classical painting creating layers of meaning recognized through a collective knowledge of pop culture. There will be a closing reception on Sunday, April 8th from 5:00pm to 8:00pm
In Out of Line (2018), Walter includes mixed media drawings with a smaller number of paintings that reference internal reflections conceptualized through a lens of irony and irreverence. Most of his drawings are responses to moments of inspiration when the urge to draw took hold with spiritual presence. In some, the human figure is featured as going through some experience of profound change. In others, the portrait becomes the tool to project a universal and majestic sense of humanity where faces seem simultaneously in a state of divine grace and vulnerability. Moreover, the painted works on the walls are anamorphic compositions that invoke world culture and ancient roots through human anatomy, cartoons and animal features developing a narrative that can synthesize provocative ideas about how we place the ancient side of ourselves against the world today. 
Walter John Rodriguez was born in Havana, Cuba in 1981 and has spent most of his life in New Jersey. He earned a BFA degree from the University of the Arts in Philadelphia in 2002. Since then, his work has been included in many private collections and used for other public commissions. He has participated in multiple group exhibits in the New York City area over the last ten years and his themes derive from reflections on life, social issues, politics and power relationships. His style employs experimentation with mixed media, drawing, anatomy and expressive brushstrokes to develop meaning in his compositions. 
Walter's work has exhibited in group shows at Una Sola Isla, Qbava Gllery, Union City (2008), Union City Arts, Union City Town Hall Gallery, Union City (2008), Open Doors, Newark Arts Council, Newark (2008), Marti, Gallery 21, Newark (2009), Una Sola Isla II, Qbava Gallery, Union City (2009), Cuba, Therese A Maloney Gallery, Morristown (2009), La Virgen de Todos, Qbava Gallery, Union City (2009), Una Sola Isla III, Qbava Gallery, Union City (2010), Contemporary Cuban Art Exhibit, Rogue Space, New York (2011), Listen to What They See, Distillery Art Space, Jersey City (2012), Parallax Art Fair, Prince George Ballroom, New York (2013), 4x4 Exhibit, Park PAC, Union City (2014), Open Doors, Newark Arts Council, Newark (2014), WPA Live, Washington Park Association, Jersey City (2015), Momentum, Washington Park Association, Jersey City (2015), Cuba Show, The Statuary PAC, Jersey City (2016), and at Introductions 2018, Trestle Gallery, Brooklyn (2017).
Field Colony is located at 1001 Bloomfield Street in Hoboken, New Jersey.
---
The article continues after this ad
---
---
Image: Field Colony, Exhibition Poster for Walter John Rodriguez, Out of Line, (2018) includes all 29 works of art in the show.