By Gary Wien
originally published: 02/26/2018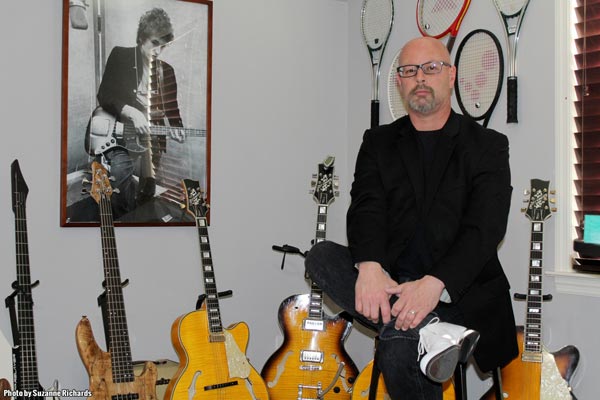 You won't find Tom Richards' name in many history books.  His bands from The Slices to The Baby Seal Club never had a Top Ten record.  He describes himself as a musician's musician - a guy who has been a professional for decades and one working on his first ever solo album.  It's more than just something he hopes to put out into the world.  This is more than just a statement from an artist.  This is his chance to leave something for the world to remember.
Tom is dying of cancer.
A few of his trusted friends know, but many will probably be learning this for the first time.  He was originally given just four months to live, but after responding well to chemotherapy they gave him another year.  Tom's doctor now puts him in the 2-5 year category, "but probably closer to 2-3."
It all started when Tom and his wife, Suzanne, moved to Tennessee.  He was taking a physical as a new patient with a doctor there, feeling and looking completely healthy.  A few days later the doctor asked him to do an ultrasound just to follow up on something that he said was probably nothing.  But three days later he had a localized CAT Scan and then was asked to do a full CAT Scan of his upper and lower regions.
And then came the news.
---
The article continues after this ad
---
---
"The doctor said, 'You have cancer and it's spread everywhere,'" recalled Richards.  "I was in complete and utter shock.  I felt numb.  Here I was: I didn't feel bad, I didn't look bad, and I hadn't had any health issues.  At first I didn't believe it, saying it's got to be something else.  But they showed me the scans and it was like 'woh!' I literally have a massive spread from my lungs, my liver, the area right outside the intestinal and abdominal area, and lymph nodes. You look at the scans and the doctors are staring at me like, 'Why don't you have any blood coming out of any orifices? Why aren't you on oxygen?"
Suzanne was stunned, but immediately started looking for an answer.  She led the way into 3rd, 4th, and 5th opinions. Tom had consultations from six separate oncologists and every one of them gave virtually the same diagnosis.
"I would say honestly, she probably took it worse than I did," recalled Richards.  "Which I would expect because the very first two doctors we saw said that he needs to start chemo right away and if it stays the way it is he might live four months.  Tell that to your relatively new wife (at that point, they were married five years) who was planning on spending the next 30-40 years with her husband in a nice place, building a life again… and now someone just told you that in four months it could be all over."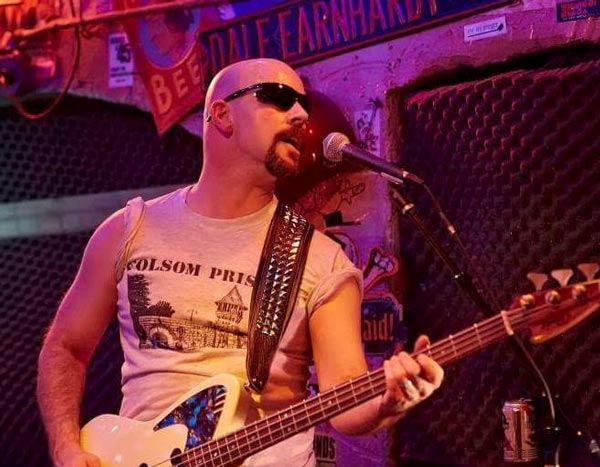 They moved down south for a variety of reasons.  Tom was offered a position that would take advantage of his engineering degree; it was a chance to live in an area where the cost of living is much better; and he would be closer to Nashville - a far better location for older musicians.  And since he is turning 56 this year, retirement and the ability to keep performing/recording was extremely attractive.
Richards has been part of the Nashville Musician's Union for nearly a decade.  When Garry Tallent recommended it to him, he switched from the Asbury Park Musician's Union to Nashville.  Even living in New Jersey, the Nashville union found work for him.
"It was a natural move because I knew people in the union," explained Richards.  "Musically, it made sense to start transitioning to a different location where an older musician can still have a relatively active career and still get opportunities that you're not going to get in the Jersey Shore scene.  Unless you're already famous, the old guys aren't gigging out much."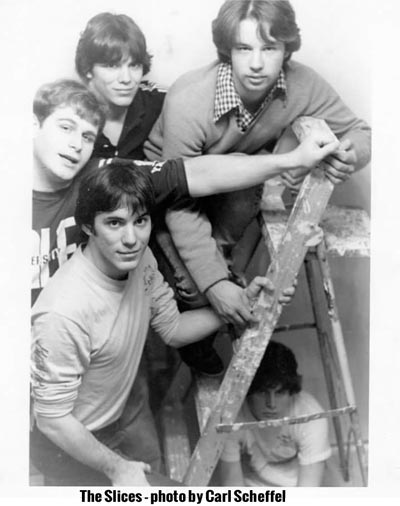 Richards may have grown up and lived along the Jersey Shore, but his first bands came up at a time in which there were few places to play original music in New Jersey.  So they played all over New York City.  His first band was known as The Slices and they played punk music.  Some thought the name was punk inspired, but it was named after pizza.  The band was formed at Martell's on the boardwalk in Point Pleasant.
He still remembers the ideas they had for the band.  "We had the concept all planned out.  Every album would be like a pizza box.  It would have stuff like, 'You've tried all the rest, now try the best' on it.  When you pulled out the dust jacket, one side would be a full pizza; the other would be a pizza with slices missing and our faces and who we are there instead.  We had great marketing stuff set up, but that band never hit it."
Richards describes The Slices as falling somewhere between The Clash and Joe Jackson.  His influences at the time ran from UK bands like The Jam and The Stranglers to CBGB bands like The Cramps.  He says they weren't "ahead of our time or behind the time, we were just in it.  The names have faded into history and nobody even remembers or cares."
When the band fizzled out, he tried putting something together called "Tom Richards' Rockets" which didn't do much.  But then came his best chance at something big - The Baby Seal Club.
The Baby Seal Club was actually Dan Webster's band, but it was struggling until Richards and two fellow members of The Slices came on board.  From then on, things started happening for the band.  They became a big part of the scene at The Brighton Bar in Long Branch.  Richards says they were slightly ahead of several bands to be signed at that time. The names include bands like Eve's Plum, The Churchills, and Monster Magnet.  The Baby Seal Club signed with Relativity Records - a label that launched in the 80s.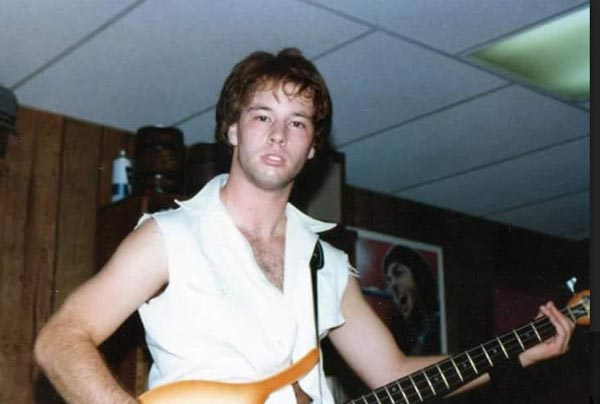 "The original music scene was starting and it was cool," recalled Richards.  "There were a limited number of venues, but I think that's part of the reason a lot of us got more attention from labels, promoters, and publicists.  It was a rather contained, small scene but one that brought in known or rising acts that people could follow."
Since his early days, Richards always wrote songs.  Even long after having a steady original band, he kept writing.  
"I've got hard drives full of things I've never released or are in early demo form," said Richards.  "I've always written.  I've actually been more of a lyricist first with the music second.  Words in my life have always flown - they just flow out of me.  But then trying to tie the musical ideas together has always been hard. A lot harder.  I think most songwriters would probably agree with me when you say it's somewhat of a cathartic thing.  It's something you do; you're drawn to it; and you get a good feeling when you complete a song and you like it."
I mention to him that we've had a rather strange period in music with albums by David Bowie, Leonard Cohen, Warren Zevon, and Gregg Allman serving as final statements by the artist.  Each had releases either shortly before they died or afterwards.  I wondered if he felt that same sort of commitment.
"After I finally came to grips about my diagnosis and the fact that I have an expiration date, I thought back immediately to the old Sounds of Asbury Park and one of its founders, John Luraschi," said Richards.  "When John realized his time was becoming short, he recorded and put out that final album.  That was John's statement.  He wanted to put something out and leave a legacy and get it out there because Johnny himself had never put anything out."
"My first thought was I want to leave a legacy," continued Richards.  "For me, it's been almost 20 years since there's been anything distributed on a cassette or vinyl.  I immediately said I want to leave something so people understand who I was, what music meant to me, and to leave something for people to remember and possibly remember me by."
Richards says he hasn't become more creative since the diagnosis, but he has become more focused.  He's more determined than ever to put out a finished product.  Ever the working musician, he does not want any charity from fellow musicians - he wants them to be paid.  He has been recruiting some of Nashville's finest for the record.  The biggest problem is a combination of finances and time itself.
"Unfortunately, one of the things with my particular diagnosis is that I'm on what they call life extension chemotherapy," said Richards.  "So, I'm getting it regularly every other week.  You get your infusion, you fight through all of the after effects for 3-6 days and then, for me, that leaves only about another 5-7 days to do everything I've got to do.  On top of that there's the phrase 'chemo brain.'  What I find now is that it's almost like I've got a scratch in my mental record.  There are times when I get on to something and I just cannot get past that line or phrase or anything.  I struggle and I fight and I'm determined as hell to hopefully have an album available by the end of 2018 for release or download… God, I would love to have it on vinyl if I could."
Richards is currently writing and recording demo versions of the songs.  He has a small home studio in his new home where he records his songs and ideas onto a 16-track Zoom digital recorder.  If they start morphing into more of a song, he drops them onto his Apple Logic Studio and starts adding instruments that he doesn't play to the mix.
One of the benefits of where he lives is being 48 minutes from Muscle Shoals and one hour from Nashville.  Most people know Nashville and its history, but Muscle Shoals has tremendous history of its own. Artists like The Rolling Stones, Lynryd Skynrd, The Allman Brothers, Eric Clapton, Aretha Franklin, and Rod Stewart recorded classic songs there.
"There's a feel and a vibe in that room that's just incomparable," said Richards.  
Between the costs of hiring top-notch performers and finding the time to record while having good days and a lot of bad days, creating this album is quite a challenge. But it's something he not only wants to do, he feels he has to do.  When word gets out about a musician having cancer, people change around him.  It's only natural.  They generally don't know what to say or how to act, but they're worried about hiring him for gigs they can't be sure he will be able to perform.  Isolation becomes the norm.
"I don't blame people for it, but the first thing people think if you're being treated for cancer is you're sick, you might not be reliable, and you probably can't do this or do that," continued Richards.  "Even if you see them twice a week every week while doing something active, they're looking at you as a patient.  It's one of those things.  I'm hoping, in a way, that people who read this understand that those of us who get these diagnoses know it's going to get us.  But, my gosh, do not forget that we're still vibrant and viable musicians until that day comes.  We still have plenty to offer."
He adds, "When you get a diagnosis, suddenly you become isolated through no fault of your own.  We've noticed people don't stay in touch as much.  It's more, 'How are you doing? Hope you're feeling good" instead of "Hey, how are you doing? Let's go get a drink."  It's such an isolating diagnosis - even though you're still basically the same person for a long, long time.  And when they see you out and about - for many moments they don't even realize that you're sick.  But the minute you leave their sightline, suddenly you're that person."
"So you've got to tell people because you don't want to lose the closeness with them and you want some interaction before you go," said Richards.  "People with this diagnosis live in a constant state of fear.  It's the combination of isolation, fear people will go away and disappear, fear they will treat you differently, and fear that everything you knew and loved will suddenly dry up.  I really struggle with that.  I came to grips with it pretty early on, but you're never content because there are always days where it's like maybe they'll find a cure for it tomorrow.  Or maybe tomorrow they'll find something that won't cure me, but will give me another ten years."
Richards ponders what he's just said.  It's almost as if he's hearing himself say these words for the first time - words and thoughts that have undoubtedly rattled inside his brain for months.  Somehow hearing them out loud makes them more real.
"I want to be here to write and finish this album," he continues.  "I want to be here to stay active in the music business.  I want to be here for my lovely wife Suzanne as long as I can.  The only way to honestly do that is to come to grips with it and not forget about it.  I don't pretend it doesn't exist, but I'm not going to live in it every day.  I got dealt a hand of cards I never would have expected.  I can't win with the deck of cards I've got, but I've still got to play them."
---
Gary Wien has been covering the arts since 2001 and has had work published with Jersey Arts, Elmore Magazine, Princeton Magazine, Backstreets and other publications. He is a three-time winner of the Asbury Music Award for Top Music Journalist and the author of Beyond the Palace (the first book on the history of rock and roll in Asbury Park) and Are You Listening? The Top 100 Albums of 2001-2010 by New Jersey Artists. In addition, he runs New Jersey Stage and the online radio station The Penguin Rocks. He can be contacted at gary@newjerseystage.com.
---