By Gary Wien
originally published: 02/07/2018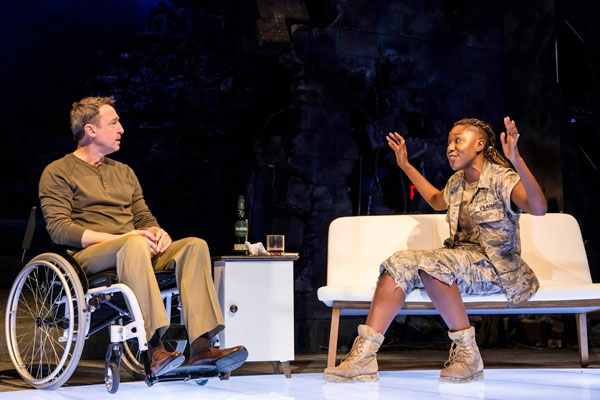 (NEW BRUNSWICK, NJ) — One of the best plays last year in New Jersey was American Son by Christopher Demos-Brown at George Street Playhouse.  He returns with American Hero - the second in what will be a trilogy of plays exploring American injustice.  From the explosive opening scene until to the end one thing is clear - George Street has found an emerging voice that truly has something to say.
American Son is a powerful tale about the post-war lives of a pair of veterans: Rob (played by Armand Schultz) and Mary (played by Laiona Michelle).  The former was a marine who saved a half dozen people.  The latter saved his life. 
Their experiences in the Iraq War formed a bond that nothing could break, or so they thought.  That bond is put to the test when Rob is up for the Congressional Medal of Honor and an incident involving both of them rears its ugly head.
American Hero begins by placing the audience literally in the middle of a war zone.  It's an utterly unforgettable opening scene with soldiers placed around the stage and in the rafters.  It's a scene that would not have been nearly as effective in George Street's former home, but in their temporary residence for this season and next it is incredibly effective.  The set designers take full advantage of the intimate space to make the audience feel as though they are caught in the middle of the fighting rather than watching it on stage.  The end result is a jarring opening that fully captures your attention.
We then shift to the modern day where Rob is teaching his daughter Shawn (played by Kally Duling) how to drive.
---
The article continues after this ad
---
---
"When did you get so religious?" asks Shawn.
"When you started driving," replied her father.  He is wheelchair bound after being paralyzed during the war, divorced, and raising his daughter alone.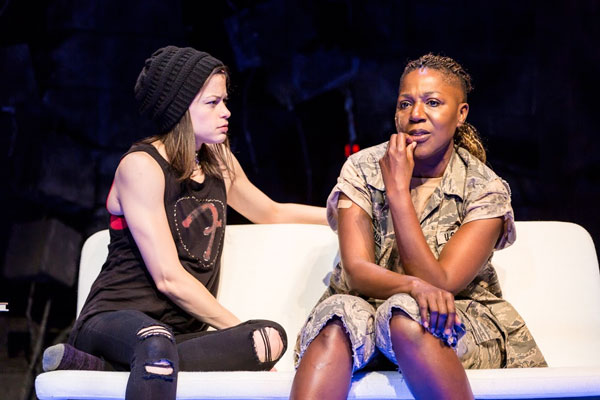 We are soon introduced to Mary. It's been a while since Rob has seen her, but she was given a key and told that his door was always open.  Shawn, however, was never told of that plan or of Mary and is nearly scared to death at the sight of a soldier somehow inside the house. 
"Daddy never mentioned me?" asks Mary.  "'Cause, I'm kind of unforgettable."
Her father never speaks of the war or what he went through, but Mary cannot avoid thinking about it.  As an African-American lesbian, the army was her way of leaving the south and the bigotry she faced behind.  Outside the battlefield, her face forever carries the scars of war. And inside the battle continues to wage via insomnia, anger, and posttraumatic stress disorder.
The two have an awkward conversation while waiting for Rob to get home and one gets the feeling that Shawn is afraid to leave the visitor in the house alone.  
"Don't you have a fantasy?" asks Shawn.
"Yeah, but mine involves Halle Berry and a role of duct tape."
When Rob finally appears, he and Mary start sharing war stories as if no time had passed at all. Mary admits, "I can't talk to people who weren't over there." In addition to their time in war, the two also share the unfortunate truth of ruining relationships due to violence.  It's something they've both brought back from the battlefield. And we soon learn that Mary hasn't dropped in just to visit, she has come seeking help.
"The army's got an arrest warrant out for me for that girl," she tells him.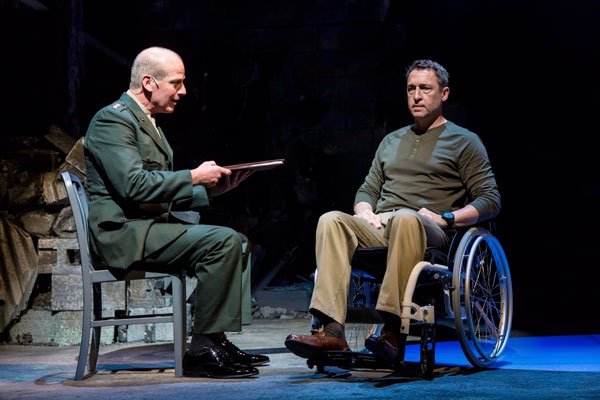 The play does a masterful job of moving back and forth between time periods.  We go from war to the present; from early post war to much later, and so on.  The playwright and director David Saint skillfully weave these changes in a way that the audience can follow quite easily.  Many of these scenes feature John Bolger in a variety of military roles. One of his characters even pokes fun at the changes when he asks Rob if he really thinks the general (another character he plays) is funny looking.
Despite very heavy subject matter ranging from the horrors of war, the politics that goes on between the various branches of the armed services, and orders that are hard to stomach, the play is often very funny.  Demos-Brown has a gift for dialogue that is extremely rare.  At first, it seems like the two characters on stage have great chemistry, but as the chemistry continues regardless of who is on stage you begin to realize that as wonderful as this cast is, it's the dialogue that simply flows so well.  His words create great chemistry.
One interesting twist by David Saint and the playwright involves many scenes with multiple people talking or screaming (in battle) simultaneously.  As my wife said, "It forces you to decide who to follow." It also offers insight into the madness of war - both in battle and in the aftermath.
George Street has assembled a truly wonderful cast led by a tour-de-force performance by Laiona Michelle.  Her performance gives the word "intense" a new meaning.  She doesn't so much steal every scene she's in, but hijacks them, making it difficult to look away.  David Saint does a terrific job with his direction - letting the play move at a breakneck speed, while never moving too fast.
You will leave the theatre knowing that you saw something amazing - a play that dares the audience to ask, "What makes a true hero?" Is it the soldiers who risk their lives following orders? Or those who believe some orders should not be followed?
American Hero runs now through February 25th at George Street Playhouse (103 College Farm Road, New Brunswick).  This play is an absolute must see.  Honestly, it was one of the best plays I've seen in the past decade. It runs about 90 minutes without an intermission and will have you on the edge of your seat the entire time.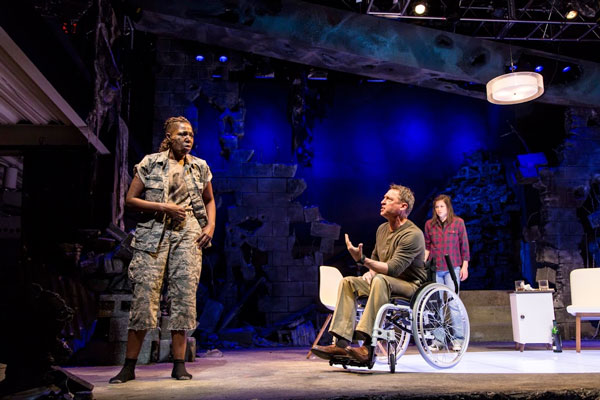 PHOTOS BY T. CHARLES ERICKSON
---
Gary Wien has been covering the arts since 2001 and has had work published with Jersey Arts, Elmore Magazine, Princeton Magazine, Backstreets and other publications. He is a three-time winner of the Asbury Music Award for Top Music Journalist and the author of Beyond the Palace (the first book on the history of rock and roll in Asbury Park) and Are You Listening? The Top 100 Albums of 2001-2010 by New Jersey Artists. In addition, he runs New Jersey Stage and the online radio station The Penguin Rocks. He can be contacted at gary@newjerseystage.com.
---