By Gary Wien
originally published: 01/12/2018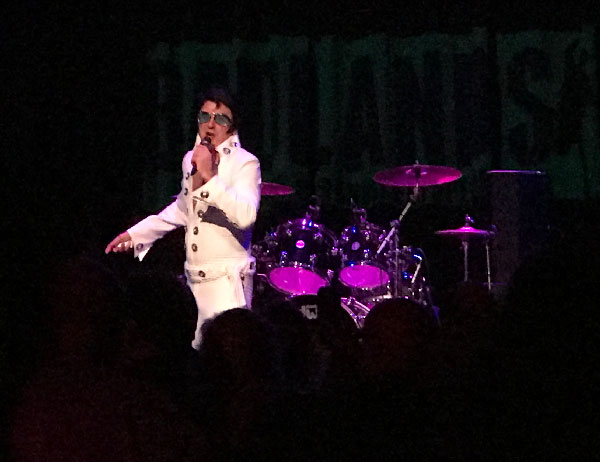 (ASBURY PARK, NJ) — I've always been fascinated by the idea of time travel and I think I actually experienced such a trip when Light of Day Winterfest 2018 kicked off at the House of Independents on Thursday, January 11. The night featured performances by Mark Wright, Joe D'Urso and Stone Caravan, Dramarama, and Bobby Bandiera playing tribute to Tom Petty. For me, it was like reliving my musical past.
I once ran a monthly music series in Asbury Park called "Twisted Covers." The idea behind it was several artists all covering the work of a particular artist in the same show. One show I always wanted to do was one in which artists would cover songs by another artist as if they were performing them in yet another artist's voice. So, somebody might cover a song by Neil Young as sung by Johnny Cash.
On Thursday night, I saw that concept in action.
U.K. artist Mark Wright began the night with a set of Bruce Springsteen songs done as sung by Elvis Presley. I had heard about what he was going to do, but my expectations going in were pretty low. Yet when he came out on stage - dressed in a white jump suit like Elvis - his performance blew me away!
During the set, Wright reminded us how Springsteen once climbed over the wall at Graceland, headed to the door, and tried to meet Elvis. In Wright's sketch, Springsteen also left a cassette tape of his songs, which Elvis turned out to like.
---
The article continues after this ad
---
---
Some songs like "Badlands" and "Pink Cadillac" worked well as might be expected (Joe D'Urso has recorded a Cajun version of the former and Natalie Cole did a rather un-Springsteen like cover of the latter) but the big surprise was how well songs from The Rising fit in an Elvis Vegas act.
Wright ran through a medley of Springsteen hits and many sounded pretty good in this format. Highlights for me included "I'm on Fire," a song that I always thought could have been done by the King (and which Wright completely rescued from the creepy version done by Johnny Cash), "Rosalita", and "Hungry Heart" (a song I still can't imagine The Ramones ever doing).
Worlds truly collided for me during the set because when I was a young kid I loved Presley's music at around the same time I began becoming a Springsteen fan. To see them both intertwined like this was truly something special. A bunch of Springsteen fans, from across the pond were at the show courtesy of Badlands, appeared to enjoy the performance as well. With Springsteen on Broadway, could an Elvis singing the Boss be in Vegas' future?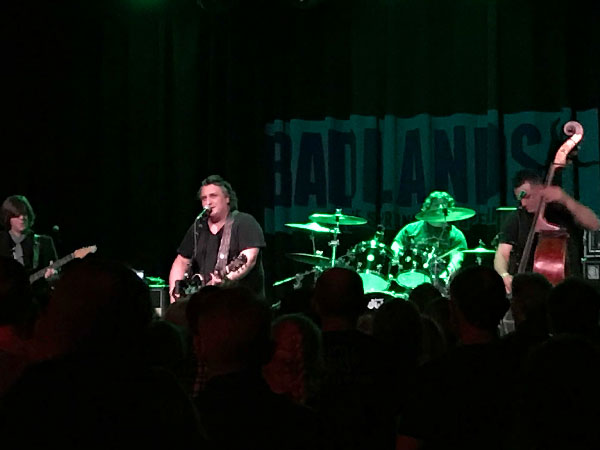 Up next was Joe D'Urso and Stone Caravan. There is no better ambassador for Light of Day than Joe. Bob Benjamin was Joe's manager and good friend. The Light of Day shows, which raise money for Parkinson's research, originally began to celebrate Bob's birthday after he was diagnosed with the disease and Joe is always a part of them - an amazingly BIG part of them. If you head to Asbury Park this weekend, it might be more difficult to MISS a performance by Joe than to catch one. He literally gives his all during the Light of Day week.
On a personal level, Joe was one of the first people I interview for my book, Beyond the Palace. Seeing him on stage had me think back to my original trip out to Rockland County to interview him, and how kept missing the turn and went over the same bridge at least three times before finding my way to his office.
Joe opened his set with "Beyond the Wall of Sleep" by The Smithereens, dedicated to Pat DiNizio who passed away in December. Pat had been a part of the Light of Day family for years, along with a Jersey music icon.
Lou DeMartino, his long-time bassist who passed away in 2015, was also on Joe's mind. This was his birthday week and Joe told a story about running into a guy that looked like a much older version of Lou. He wound up running into him three times in the same day and thought Lou must have sent him. For Lou, he dedicated "Let it Go."
"This will be four days of music and drinking and sexual fantasies... and helping to raise money for Parkinson's," said D'Urso who was upbeat and full of energy as usual. He always looks like he's having a ball on stage and that energy feeds the crowd. Joe and the band sounded terrific. Sometimes I forget just how good the band is in concert, but they always sound terrific.
The band has a new album coming out called Jersey Diner and gave the crowd a taste of it with the track, "Just Once." As Joe put it, he's been fortunate to be able to tour across most of the world and has seen plenty of wonderful things, but the Jersey diner ranks up there with all of the sights he's seen.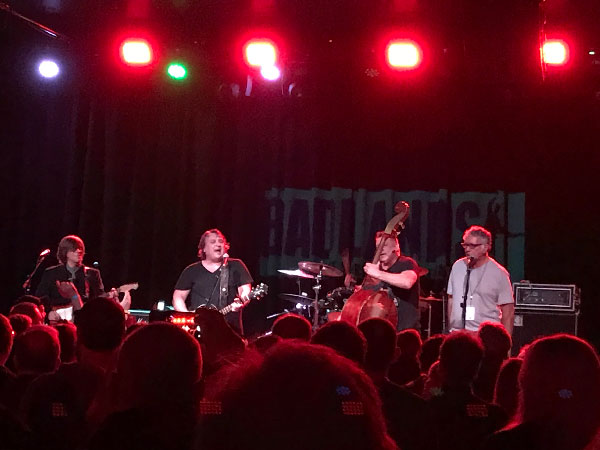 "One Guitar" was the highlight of the set. It's a song that is bound to be heard often throughout these four days as it rightfully has become the unofficial anthem of Light of Day. Originally written by Willie Nile, it has been recorded by The Alarm and Joe D'Urso and Stone Caravan. Joe dedicated the track to Bob Benjamin and all of the Light of Day friends with Parkinson's. Making the song even more special this time was the addition of Alan Jackowitz (the author of No, I'm Not Drunk!: Taming My Parkinson's With Humor, Music and Charity) on backing vocals.
I'm a soldier marchin' in an army
Got no gun to shoot
But what I got is one guitar
I got this one guitar
(full lyrics at the bottom of this article)
"One Guitar" has not become the anthem of Light of Day, it was born to be the anthem. The inspiring lyrics show how music can change the world for good - pretty much the concept behind the Light of Day shows.
"Though I believe in the power of one guitar. I believe in the power of 100 guitars and 1000 guitars…" said D'Urso towards the end of the song, reminding the audience that we all have to play a role in helping to find a cure.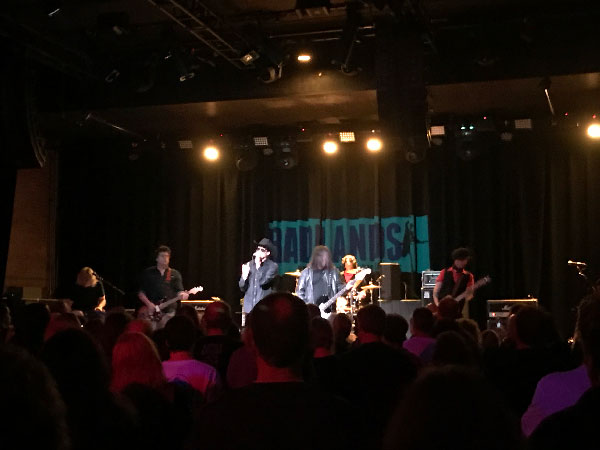 Dramarama was the third act of the night. Every time I see them I'm transported back to the 1980s when I would see them on back to back (and sometimes back to back to back) nights at the old Fast Lane. I've always considered them one of the best bands to ever come out of New Jersey and it took about ten seconds of "Visiting The Zoo" before goosebumps began running across my arm. Some things never change.
Wearing his trademark hat with cans of Tab in tow, lead singer John Easdale ran through an abbreviated set for the band, which led to a different setlist than normal - apparently unusual enough that John joked about actually having a setlist on stage for a change.
The band began with tracks from the band's 1985 debut, Cinéma Vérité, from "Questions" to "Scenario" (a personal favorite) to the classic "Anything, Anything (I'll Give You)" - the song which is the namesake of the popular radio show by Rich Russo.
The set would eventually move to tracks from other albums as well. Highlights for me included "Incredible," an utterly explosive version of "Work for Food" and the classic "Last Cigarette" which closed the set.
Back in the day, Dramarama shows were filled moshing and one could easily judge how good a show was by the bumps and bruises discovered the next day. With the fanbase older (and maybe wiser?) the floor seemed devoid of moshing, but was filled with dancing. Based partly on habit and partly due to absolutely loving the songs, I struggled to stand and move a bit on a couple of songs. Those who know me know how hard it is for me these days to do so, but it's a testament to how much I love the band that they are one of the few to get me to challenge my body these days to do so. A day later, I'm hurting but eternally glad that I got to see this great band one more time.
As I was leaving the venue I heard talk that Dramarama might be back in the summer. I hope so. I once wrote that back in the 80s when they were playing at the Fast Lane there wasn't a better show taking place anywhere in the world. I still believe that. There has to be something magical in the formula for Tab because Easdale sounds just as good today as he did in the mid-1980s. No wonder he never leaves home without it.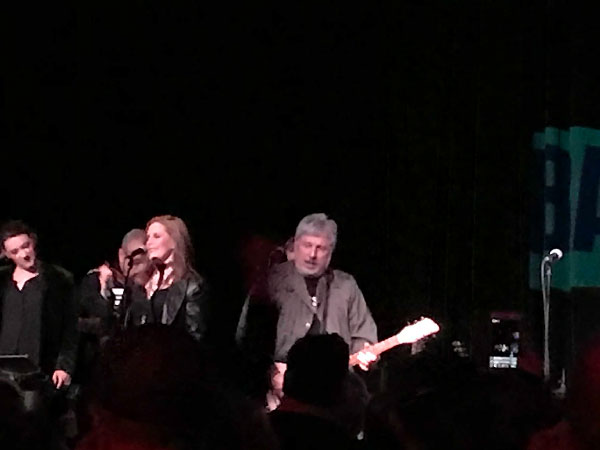 The final act of the night was Bobby Bandiera's tribute to Tom Petty. The stage was full with incredible musicians as they ran through the Hall of Famer's catalog. Seeing Bobby on stage, I realized the time travel had sent me back all the way to my teenage years when I would see him play with Southside Johnny & the Jukes and solo shows at the Pony and in clubs along the Jersey Shore.
Bandiera is, without a doubt, one of the most important musicians in Jersey Shore history. From his days in Holme to the Jukes to his solo work and stints with Bon Jovi to his all-star collections that pay tribute to artists, Bandiera has remained one of the Shore's best guitarists. Growing up, we used to call him the human jukebox because it seemed like he knew every song ever recorded. Among the many artists he's paid tribute to, I think his work covering Petty is among his best. Sadly, I was only able to catch a few songs before my legs started killing me and I had to bail.
All in all, it was an incredible kick off to this year's Winterfest. With great music Friday, Saturday, and Sunday, Asbury Park is the place to be. For full event listings visit lightofday.org or download the new LOD app for your phone. And never forget that as great as these shows are, the cause is even greater. Please donate above and beyond the admission price. Let's all help to find a cure for Parkinson's and other neurological diseases. It's a cause very near and dear to me, and it's great to see so many musicians offer their time and performances to help reach that goal.
---
"One Guitar" by Willie Nile
It is the middle of the night right in the middle of the street
It could be uptown, downtown but I can feel the beat
There is a marchin' drum there is a song unsung
It is the middle of the night right in the middle of the street
It could be uptown, downtown but I can feel the beat
There is a marchin' drum there is a song unsung
It could be your dream, my dream it's not the only one
I'm a soldier marchin' in an army
Got no gun to shoot
But what I got is one guitar
I got this one guitar
I see the risin' smoke I hear a heartbreak joke
Hey all my brothers and sisters I think it's time we spoke
I've only got six strings but like a bell they ring
Its like a jet plane, insane crashin' in my brain
I'm a soldier marchin' in an army
Got no gun to shoot
But what I got is one guitar
I got this one guitar
And it goes... na na na...
So if you get knocked down you gotta take a stand
For all the outcast, dead last who need a helping hand
So get your tambourines and turn your amps up loud
And raise your voices, voices up above this crowd
---
Gary Wien has been covering the arts since 2001 and has had work published with Jersey Arts, Elmore Magazine, Princeton Magazine, Backstreets and other publications. He is a three-time winner of the Asbury Music Award for Top Music Journalist and the author of Beyond the Palace (the first book on the history of rock and roll in Asbury Park) and Are You Listening? The Top 100 Albums of 2001-2010 by New Jersey Artists. In addition, he runs New Jersey Stage and the online radio station The Penguin Rocks. He can be contacted at gary@newjerseystage.com.
---