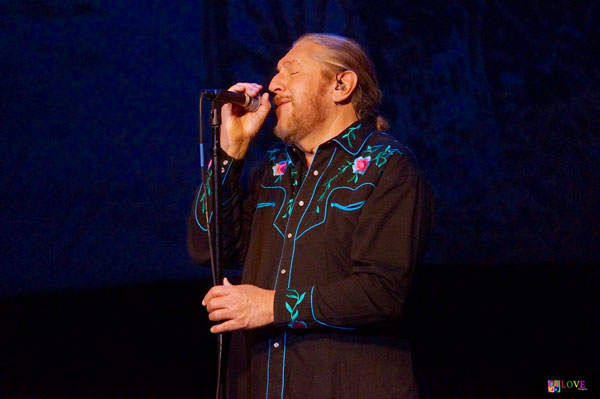 It's Saturday, December 2, 2017, and the crowd at the historic Strand Theater in Lakewood, NJ is getting ready for a rare New Jersey appearance by the legendary Southern rock group, The Marshall Tucker Band.
Jane and Pete from Wallingtown and Gail and Bob from Manalapan are long-time friends and fans who came to tonight's concert together because, as Gail explains, "It's nostalgic! This band is our youth. The four of us always went to see The Marshall Tucker Band together, so when we heard about tonight's concert, we just had to buy tickets."
Friends Yvonne and Aubrey are also long-term fans. States Yvonne, "We like Southern rock, but we've never seen The Marshall Tucker Band." And, adds Audrey, "We love coming here to see the MTB at the Strand. We come here often because it's easy, affordable, and close — and they have such great shows."
Eugene from Brown Mills concurs, commenting, "I love coming to this gorgeous theater. It's easy to get to and the prices are reasonable. It's like a little pearl in the oyster," before acknowledging, "And I love Southern rock. I used to listen to The Marshall Tucker Band back in the '70s. They had their own place in music because they had a flute and horns so, for me, they're not your typical Southern rock band."
The opening act for tonight's show is The Magnificent Mancini Brothers, a Jersey band that's been together for about a year. Two of their members were formerly in a group called Citizens Band Radio which previously opened for The Marshall Tucker Band.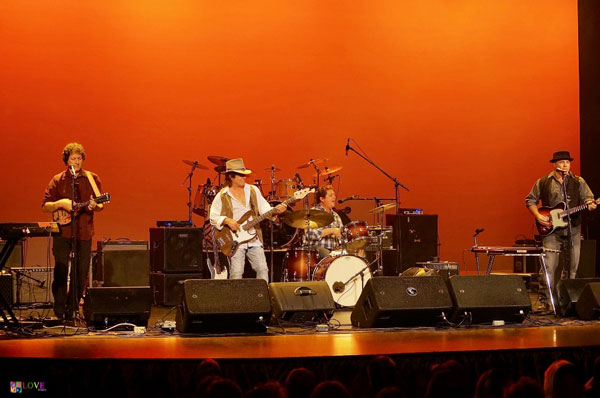 ---
The article continues after this ad
---
---
As audience members listen to the quartet perform, some get out of their seats and dance to the feel-good vibe coming from the musicians on the stage. Not a cover band, all of the Magnificent Mancini Brothers' songs are originals, including one number which gets the audience's attention — their funky blues-influenced "Black Cat Bone."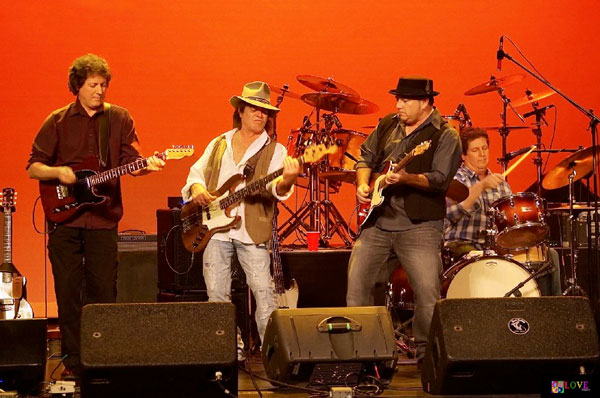 Following The Magnificent Mancini Brothers' set, there's a short intermission, at which time, Jill — a fan from Pennsylvania — states about the group, "I like their bluesy rock music — to me, this band just feels like family."
Soon, the lights dim and concert producer James D'Amico welcomes the crowd to The Strand to introduce tonight's headliners, The Marshall Tucker Band.
As the MTB takes their places, an enormous backdrop of a runaway stagecoach with horses in mid-gallop is unfurled behind them.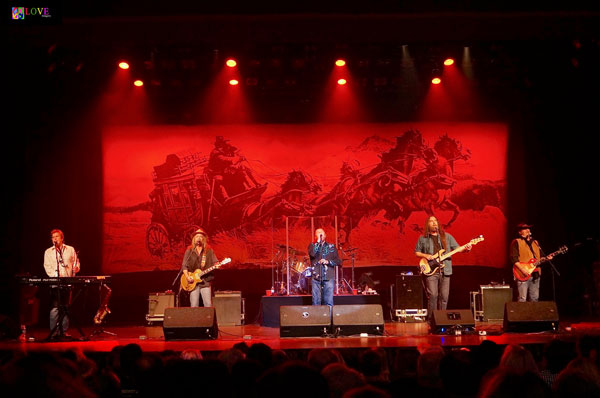 Members of the crowd stand and cheer as MTB lead singer, Doug Gray, inquires, "How you all doing tonight?"
Before the group even plays a note, Gray takes a moment to explain, "I might look like I'm moving the wrong way tonight due to a back injury from a car accident." Then, jokingly, he points to several folks in the front row and warns, "You're designated to catch me if I come over that side of the stage!"
The group — Kenny Anderson on flute, sax, and keyboards, Chris Hicks on guitar, Barry Borden on drums, Tony Black on bass, and Rick Willis on guitar, in addition to founding member Doug Gray on vocals and tambourine and special guest guitarist Kevin Cunningham — opens the show with a dynamic rendition of their 1979 tune, "Running Like The Wind."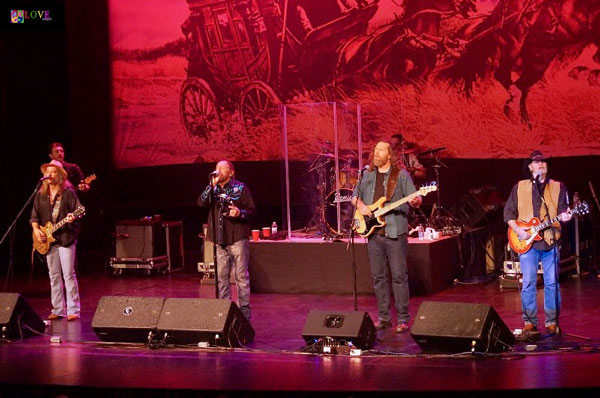 Anderson's flute solo gets the audience cheering right away, and the band's tight four-part harmony vocals clearly impress the crowd. For their performance, the group is rewarded with even more cheers, hollering, and excited applause.
Moving on to their 1977 tune, "Desert Skies," the MTB pleases the audience with their old-time Western sound, founding member Doug Gray's voice never sounding better.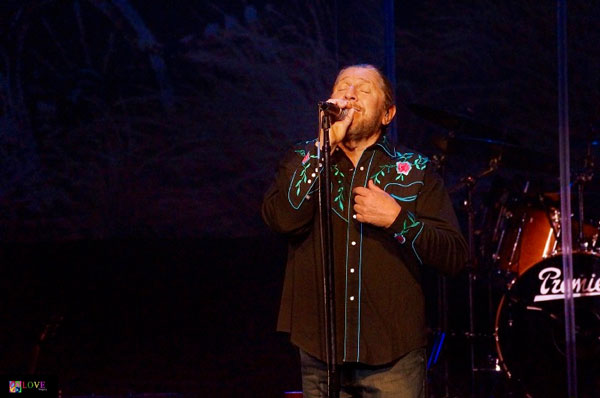 Featuring a pair of guitar solos by Chris Hicks and Rick Willis, the group manages to evoke an almost jazzy feel within this cowboy song. Their unique instrumentation cleverly intermingles the sounds of flute, sax, and keyboards with the more traditional country-rock sounds of electric guitars, electric bass, and drums.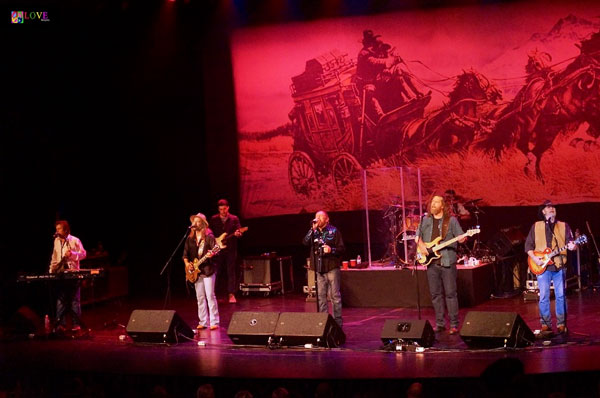 When Gray asks again, "How you all doing?" this time he adds, "I'd like to see who I'm talking to," at which point the lights come up and the audience stands and hollers to Gray's delight.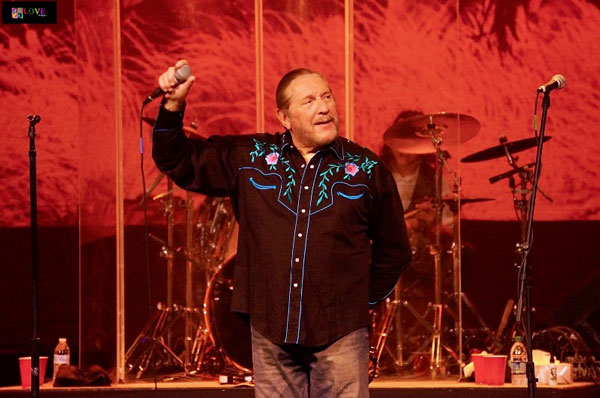 "How many of you people have dogs?" inquires Gray, to which many respond in the affirmative. After asking, "How many people have cats?" he announces, "Well, it's a dog eat dog world!" before the group launches into their up-tempo country-funk number, "Dog Eat Dog World."
As Doug Gray plays his tambourine, long-time band member Chris Hicks is featured on lead vocals and lead guitar.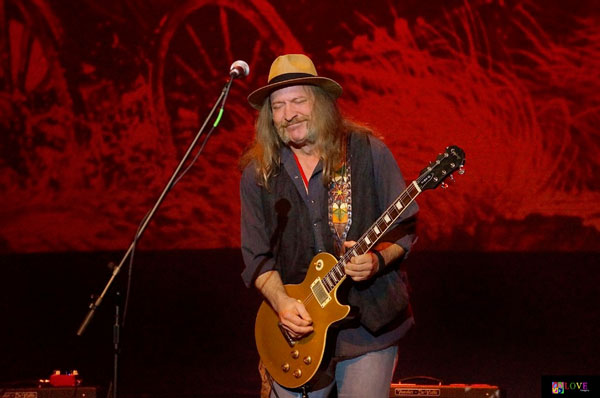 Before long, guest guitarist Kevin Cunningham takes a solo, supported by Kenny Anderson on keyboards, Chris Hicks on guitar, and Tony Black on bass.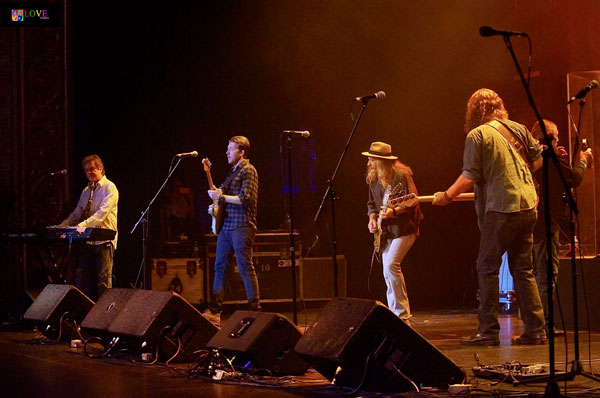 Cunningham's solo is followed by a Kenny Anderson sax solo and then by a dueling guitar sequence.
"How does it sound out there?" asks Gray, to which the audience cheers.
"I like to change things around," announces Gray. "I'm 69 years old! Let's see if we can get grooving to this completely unrehearsed song."
After introducing Kenny Anderson on sax — revealing he's played with Tower of Power, among other groups — the band commences to jam, not sounding unrehearsed at all!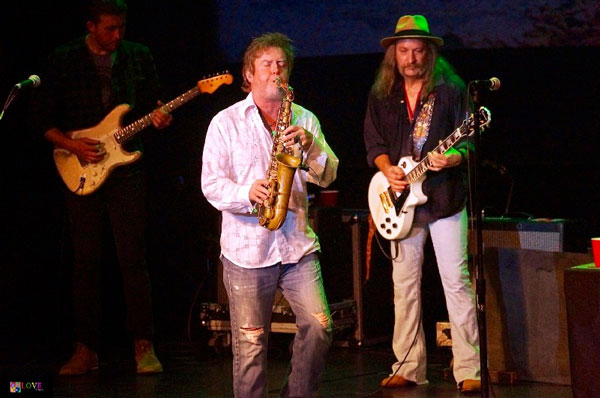 Trading solos in this blues-inspired jam, Kevin Cunningham, Chris Hicks, and the rest of the MTB musicians show off their seasoned chops, the crowd cheering its approval.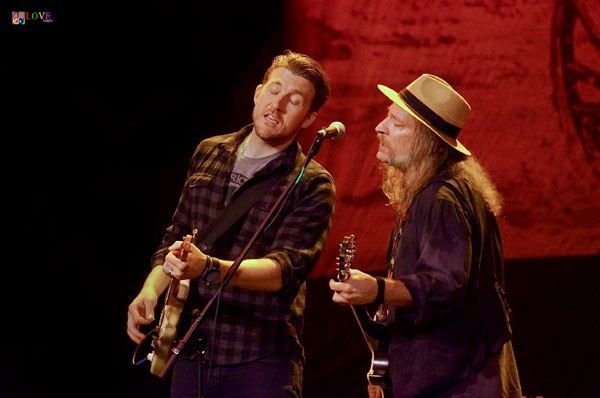 After thanking the audience "for over 50 years of the Marshall Tucker Band," the group launches into their classic 1975 tune, "Fire on the Mountain." Featuring solid five-part vocal harmonies and a flute solo, colored lights dance over the band as they perform this tasty country-flavored rocker.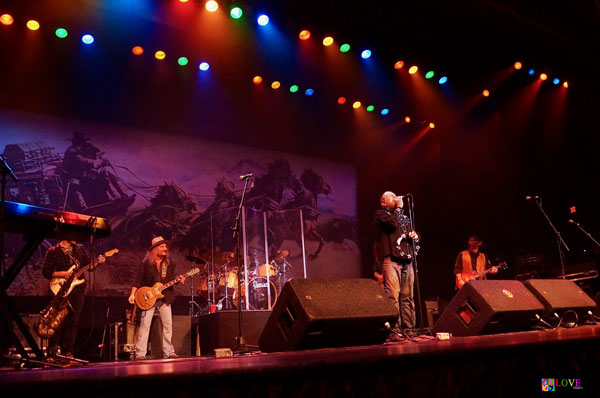 After the vocal harmonies and wailing guitars of 2004's "Midnight Promises Don't Mean A Thing" fill the air, the group segues into a rollicking no-holds-barred rendition of 1973's "Hillbilly Band."
Then, featuring just voice and acoustic guitar, MTB performs a bouncy version of their 1975 rockabilly number, "Bob Away My Blues."
"Here's something we don't usually do," says Gray before the group plays their 1973 classic, "Ramblin'."
They open the number with Grey singing a slow blues rendition of the tune.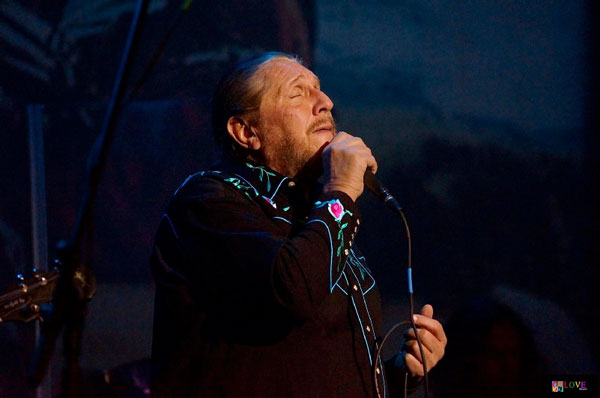 Then, the band shifts into high gear as Chris Hicks picks it up double time and rocks out on lead vocals and guitar.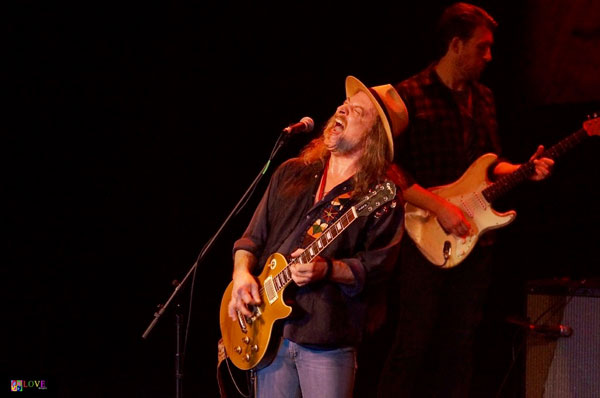 Announcing, "This is for all of the old fans who have been with us all the time," Grey keeps the rhythm going on tambourine, bassist Tony Black sings harmony, and guitarist Rick Willis expertly handles the lead vocal on "Blue Ridge Mountain Sky."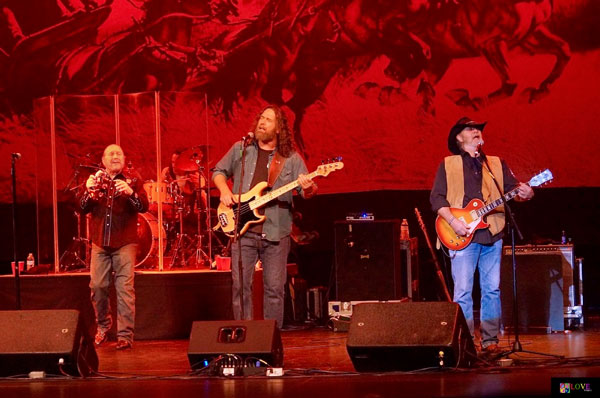 Following a Kenny Anderson sax solo, Willis' guitar solo channels The Allman Brothers' Dickey Betts. As a guitar duet turns into a guitar trio, Anderson joins in on sax as all four musicians echo and play off of one another, trading licks and building in intensity and excitement as Grey on tambourine entices them on.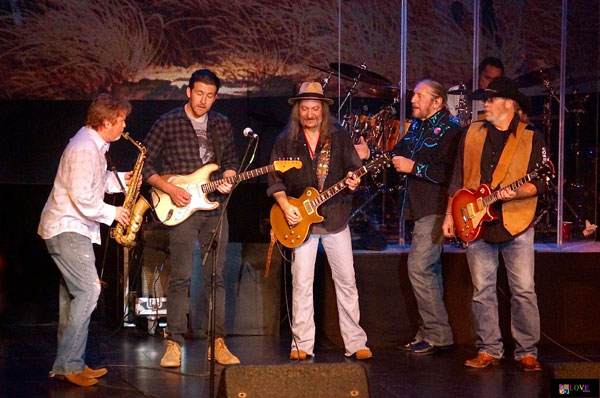 After Tony Black plays a killer bass solo, audience members joyfully dance in their seats, clapping along to this fusion of blues, country, jazz, and rock.
Following cheers and whistles, Gray announces, "I got one for you!" 
The audience shouts at the opening strains of the guitar and flute on the band's debut single, 1973's "Can't You See." The crowd joyfully sings the chorus, "Can't you see/Can't you see/What that woman's /Been doin' to me," and they continue to sing as he rattles his tambourine and performs a countermelody above.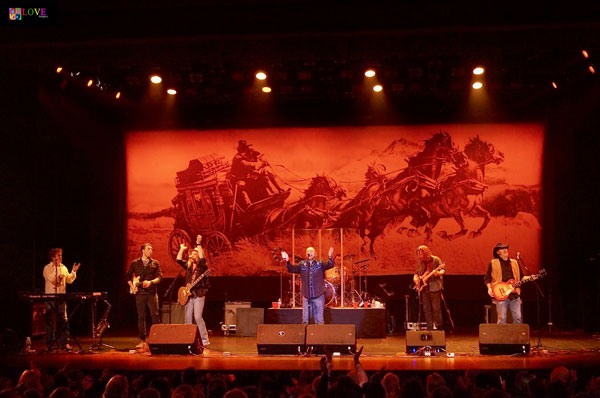 Ending the tune with a Kenny Anderson flute solo, the crowd goes wild!
Concluding the show with a highlight number of the evening — the group's highest-charting hit, 1977's "Heard it in a Love Song" — the band fills the auditorium with their crystal clear sound, bringing back memories of a time gone by to their many fans in the crowd and bringing them all to their feet.
The group leaves the stage, but sustained cheering on the part of the audience soon brings them back.
"I want to end the night with one of my favorite songs in the whole world," announces Gray. Here, he takes a seat as Chris Hicks performs a show-stopping rendition of the gorgeous "Georgia Moon," providing a fitting end to this evening of classic Southern rock.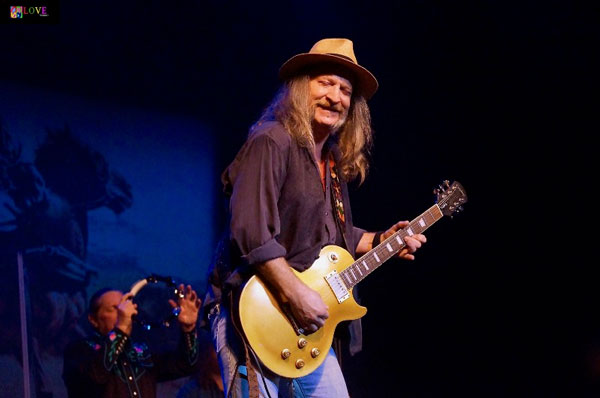 As the crowd makes its way out of the auditorium, we chat with several concert-goers who share their opinions of tonight's performance by The Marshall Tucker Band.
Recalls John from Matawan, "I saw The Marshall Tucker Band for the very first time in 1978 at the Garden State Arts Center — it was my first concert ever," before noting, "Today is my birthday and this concert was a gift. I enjoyed every minute of it!"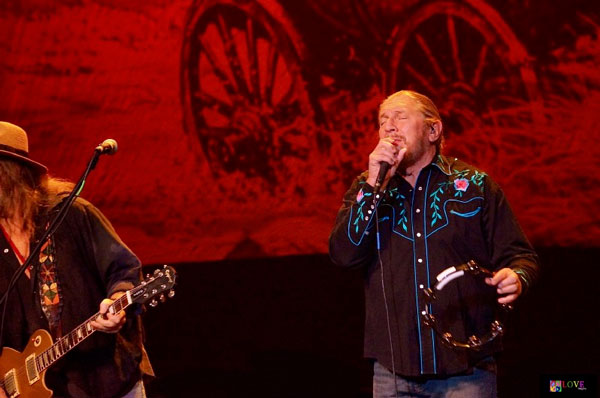 April from Lakewood chimes in, "The Marshall Tucker Band sounded amazing tonight! Their songs always bring me back to my younger days," before adding, "And I really loved the sax player."
George from Howell agrees commenting, "The Marshall Tucker Band is a beautiful American blues group. The flute and horn make them cool," asserting, "For me, that's what's so appealing about them."
Lastly, Angela of Marlboro concludes with a smile, "I'm a fan of the Marshall Tucker Band for life! They've been playing together for over a half century now, and they still sound great!"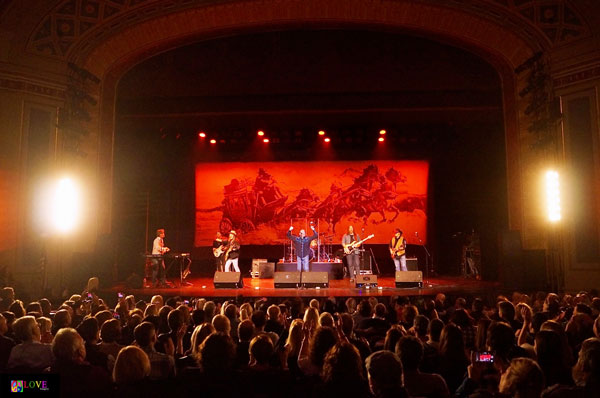 To learn more about The Marshall Tucker Band, please go to marshalltucker.com. For information on upcoming concerts at The Strand Theater — including Elvis! Ready to Rock starring Elvis tribute artist Richie Santa on Jan. 6, 2018, The Cast of Beatlemania on Jan. 27, 2018, and Three Dog Night on Feb. 9, 2018 — please go to strand.org.
Photos by Love Imagery
Spotlight Central. Your source for Jersey entertainment news and reviews
Love Imagery Fine Art Photography. all you need. peace/love/flower/power