By Gary Wien
originally published: 10/23/2017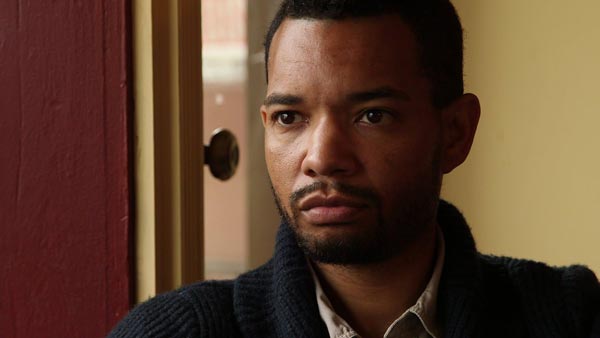 What happens when a filmmaker has too much material for a feature film? That's the situation Jersey native Keith Chamberlain found himself in with the project Herrings. His solution was to turn it into a serial web series.  He shot six episodes for the first season and has launched a crowdfunding campaign to help shoot season two.
Herrings is an episodic thriller that explores methods of manipulation and the limits of morality. It follows the exploits of Frank Briggs, a former skip tracer, who now acts as a skip maker. According to www.bountyhunteredu.org, skip tracing is an industry term used to describe the process of locating a fugitive that can't be found at their place of residence or usual hangouts. "Skip" refers to the person being searched for (derived from the term "to skip town") and "tracing" meaning the act of locating the skip. Skip making serves opposite purpose.  It seeks to help people become invisible.
Along with his colleagues, Milo Gephardt and Darby Shaffer, Frank provides people who are feeling threatened or overwhelmed, peace of mind by disguising their internet identity whether it be from a vengeful ex-lover, an abusive partner, eyewitness intimidation or unscrupulous family members looking for their share of a financial windfall. Frank's methods allow his clients to basically disappear in plain sight. However, as Frank soon learns, there are some people who should not be allowed to disappear.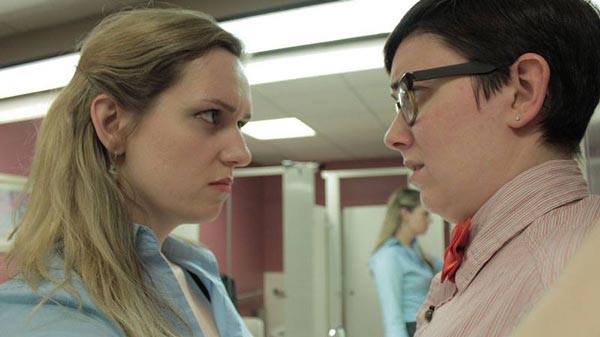 "Herrings was originally meant to be a feature, but I had too much material for a feature and felt it would be better suited as a episodic serial," explained Chamberlain.  "I also wanted to challenge myself with a larger cast and story than I had in the past."
The series stars Dax Richardson, Dave Polgar, and Samantha Simpson and can currently be viewed on stareable.com and YouTube. The quality of the show is very good - especially for something created on a limited budget. One aspect behind the show's distinctive style is the use of an array of fresh, new, and skilled talent from the tri-state area.  
---
The article continues after this ad
---
---
"As a black filmmaker, it was an active choice in our casting to display people of all shapes, races, ages, and skin tones," said Chamblerlain.  "We wanted to be able to show the diversity amongst people of color like the communities we live and work in everyday."
Their casting work has been rewarded with screenings at several film festivals, including a pair of awards at the WWA - Web Series & Short Film Competition: Best Actor-Drama Award for Dax Richardson and Best Cast-Drama Award. Next on the list is an official selection at the Baltimore New Media Web Fest taking place in Baltimore, MD, in November.
Hoping to build off of the success of season one, they've partnered with Seed & Spark to help raise the production levels, obtain better locations, and hire more recognizable actors from stage and screen.  
"As our audience has grown, so should the quality of the show and Seed & Spark has the highest crowdfunding success rate in the world for moving pictures of all kinds," said Chamberlain. 
Chamberlain was born in Wildwood, but later moved to Pleasantville, NJ. After college he lived in Philadelphia for a few years before moving to Blackwood where he formed his production company, Aquariarts Pictures, in 2011.  That company has launched several short films including Relationship Status, The House of the Wicked and the award-winning shorts, The Friend of Mine Who is Apparently Not My Friend and The Burning Tree.
He says his interest in film began with movies like The Empire Strikes Back, Halloween, and Do The Right Thing.  He counts David Fincher, Spike Lee, and Paul Thomas Anderson as three of his favorite directors.  
Working on a series means facing challenges such as finding shooting locations and coordinating the schedules of the actors, both which factor into the script for each episode. In season two of Herrings, the audience will be immediately drawn into a world of politics, deceit, and crime.  Chamberlain is currently in discussions to direct a short horror film, but says the series has his undivided attention.
"This show has been my life for the past five years and it's been an absolute pleasure to see this low budgeted web series amass such a large following," said Chamberlain.  "The ultimate goal is to bring the show to cable networks like Starz, FX, or online platforms like Amazon, Crackle, or Netflix. As a black writer-director with a black lead actor, I feel a responsibility to tell the stories of people who fall outside of the mainstream. It means a great deal to present the complexity and humanity of characters and communities that do not get as much exposure to an audience as they should."
The gritty series seeks to provide audiences with a thrill each week.  Chamberlain says that nothing is a given with any of the character. Some will live, some will die.  He strives to install a driving tension throughout each episode.
"Our goal for the first season of the web series was to create a quality story and make it easily accessible for our audience," he added. "Now one of our primary goals is to become a standard for dramatic narrative storytelling on the web series platform. I have unwavering faith that our second season can do that. The intent of the second season is to have a larger scope, more intimate story-lines and more dynamic, complex characters than the first season. Simply put, we are looking to outdo ourselves. The exciting part in all of this is that we have an established audience that is expecting all of this from us."
You can help by contributing to the show's crowdfunding campaign.  The campaign features several perks depending on the donation level ranging from signed screenplays to directing a scene from an episode to even having the showrunner get a tattoo of the contributor's name.
---
Gary Wien has been covering the arts since 2001 and has had work published with Jersey Arts, Elmore Magazine, Princeton Magazine, Backstreets and other publications. He is a three-time winner of the Asbury Music Award for Top Music Journalist and the author of Beyond the Palace (the first book on the history of rock and roll in Asbury Park) and Are You Listening? The Top 100 Albums of 2001-2010 by New Jersey Artists. In addition, he runs New Jersey Stage and the online radio station The Penguin Rocks. He can be contacted at gary@newjerseystage.com.
---