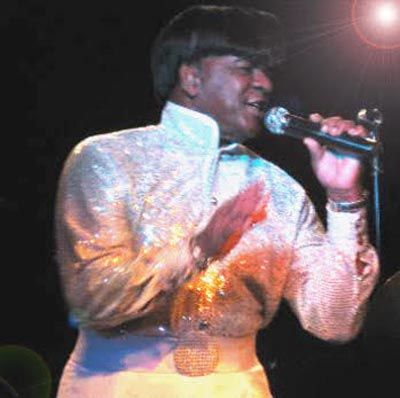 (ASBURY PARK, NJ) -- New Jersey's own James Brown - Leon Trent - has recorded his latest release "Hangin On By A Thread" at SONY Studios in Nashville, TN.  Trent, one of "The Creators of S.O.A.P." (the Sound of Asbury Park) had his record produced by fellow Asbury legend and Creator, Doc Holiday - a three-time Nashville Universe Award "Producer of the Year" and his Nashville Studio "A" Team.
Trent was born and raised in Asbury Park, NJ, where he still lives today in a luxury high rise overlooking the Atlantic Ocean. After traveling all over the world as a military policeman with the US Air Force, Leon decided to follow in the footsteps of his life-long hero, James Brown, and pursue a life of music by using his incredible voice to sing in front of an incredibly funky horn band.
In the 70's, after several years singing with an R&B vocal group known as The Broadways, he put together an 8 piece band and named it Waterfront. That band featured a solid, driving rhythm section and a tight, flashy horn section and covered such great music as that of; Earth, Wind & Fire, Rick James, Parliament Funkadelic, The Gap Band, Ohio Players and many more of the artists that dominated the R&B music scene in the 70's and 80's. Waterfront was famous for their shows which were fully costumed and choreographed and presented with a tight, professional flare. Leon has long been known for his passion for stage clothes. His wardrobe has included some of the classiest, fashionable and flashy outfits to ever hit a stage over the years. He continues that tradition to this day.
---
The article continues after this ad
---
---
One day, Leon got the chance to meet James Brown in Atlantic City. The two became instant friends and before he passed on, James Brown made a point to have lunch with Leon whenever he performed in AC.
Today, The Leon Trent Waterfront Duo puts on a show that entertains musically and visually, great sounds, and smooth stage presence, and tasteful lighting to give atmosphere with a repetoire that ranges from the Vegas lounge standards, of Louie Prima, Sinatra, Harry Connick, Bobby Darin, Tom Jones, and Lou Rawls to the easy listening classics from Billy Joel, Elton John, Jimmy Buffet, Beatles, Beach Boys, and the Doors. Leon's tribute to the great James Brown with choreography and the cape never fails to bring the house down. Also in this show are all the great doo wop classics and hits from the Motown era.
A graduate of Asbury Park High School, Leon has a Daughter who has a succesful business career in Boston.