By Gary Wien
originally published: 07/23/2017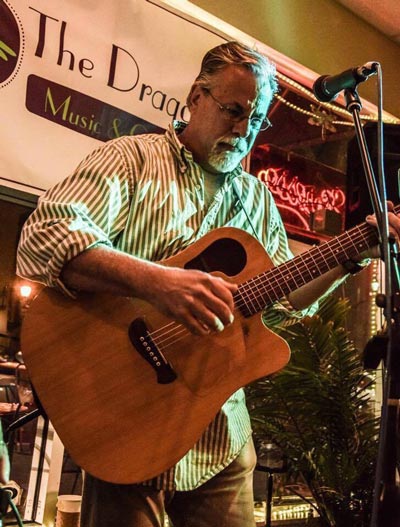 What do you do when your music doesn't quite fit into any particular genre? 
In an industry that lives on nicely packaged descriptions like rock, jazz, and country, what happens when your music is all three? 
Somerville's Peter Prasa found himself in that situation with the release of his second album, Poets & Heroes.  On CDbaby.com, he chose to describe the record as Avant Garde and Avant-Americana.  Both make sense.  Songs on the album blend the sophistication of jazz with the wordsmith approach of a singer-songwriter.  They are like wonderful short stories that grab the listener and create a world of their own.
'ÄúIt'Äôs hard to classify my music,'ÄĚ explained Prasa.¬† 'ÄúSinger-songwriter is what a lot of people said to do, but they say that area is saturated. It'Äôs kind of Americana but there are different styles of music too.'ÄĚ
As the owner of Pianos Plus and a partner with Dragonfly Music & Coffee Cafe (Somerville), Prasa has been surrounded by various genres of music throughout his career.  A gifted piano tuner, he has worked for some of the biggest names in the business, often performing his own songs while soundchecking a piano before a show.  Every now and then the artists will listen to what he's playing or even jam alongside him.  Moments like these are as rewarding as album sales.
---
The article continues after this ad
---
---
'ÄúWhen someone stops and says, 'Äėthat song'Äôs pretty cool'Äô and they'Äôve made it, it'Äôs rewarding for me,'ÄĚ said Prasa.¬† 'ÄúThere are more songwriters and it'Äôs more competitive now than its ever been.¬† It'Äôs hard making a living in music.¬† It really is.¬† That'Äôs why I'Äôm a piano tuner and have my music shop.¬† It'Äôs kept me on the fringe of music.¬† I always wanted to be a performer and write and share my music.¬† That stuff kept me in the loop.¬† I'Äôm still on the fringe and I don'Äôt know if I'Äôll ever jump in completely, but I jump in with my music this way.'ÄĚ
Prasa is hoping licensing his songs might be the trick.¬† He'Äôs currently talking with music companies and has licensed his song 'ÄėTrouble'Äô to a motorcycle commercial.¬† With any luck, this will just be the start for him.¬† Yet getting to this point is an achievement.¬† For years, Prasa found himself watching from the outside.¬† He wrote songs but wanted others to handle the vocals, never trusting his own voice. He was eventually convinced by others to give it a try. After taking vocal lessons and learning breathing techniques, he gained enough confidence to start performing live at open mic nights 'ÄĒ something that would play a large role in his development.
Prasa hosted an open mic night at a bar in Bridgewater for 8 years.  He keeps that tradition going at Dragonfly where Thursday nights have become something special.  Long-time Jersey artists like Bruce Tunkel (Red House) and Mark Nuzzi (Soul Engines) not only take part in the open mics, but created The Susan Rumors band from those meet ups.
The open mic at Dragonfly is often packed with musicians.  The cafe has established a strong reputation throughout the state as a place with great sound that treats musicians with respect. Knowing how open mics helped him become a better performer, Prasa says he doesn't say no to anybody and makes sure everyone gets to play.
'ÄúWe get beginners, we get intermediates, and we get people who are knee knocking like I was when I first started,'ÄĚ continued Prasa.¬† 'ÄúThey'Äôre stuttering because they are so nervous, but the open mics get you through that comfort zone where you can continue and come back every week.¬† It'Äôs a cool vibe.'ÄĚ
The idea that everyone can develop into a better musician brings us back to the title of Prasa'Äôs latest record, Poets & Heroes.¬† The soft, wistful song begins by declaring that, 'Äúeveryone'Äôs a poet'ÄĚ and offers the mantra of hope for a divided nation: 'ÄúI pray the truth finds us all in time.'ÄĚ
Prasa says he wrote poetry years ago, but found it was easier for him to hear a song and its melody and then work on the lyrics based on whatever mood he was in at the time. The title track itself is a political statement inspired by a real life hero.  The inspiration was Shannon Johnson, a 45-year-old health inspector who was shot trying to shield a co-worker from gunfire during a terrorist attack in San Bernardino, California.  Prasa still remembers seeing CNN's Anderson Cooper interviewing the woman saved by Johnson - a woman whose name was pronounced like his, but was spelled differently (Peraza).
'Äú'ÄėPoets & Heroes'Äô is about whoever you believe in.¬† They'Äôre lying to us all of the time,'ÄĚ said Prasa.¬† 'ÄúYou'Äôre just looking for some truth from someone.'ÄĚ
Even though this album is only a few months old, Prasa is already laying down tracks for his next album with Bruce Tunkel. Some are brand new songs, while others were written long ago and recently rediscovered on a compilation created by his son as a birthday gift.  The compilation included songs recorded in Prasa's home on a 16-track Yamaha recorder years ago.  Out of the 30 odd songs, a few will be rerecorded for his next album.
Chances are that album will surprise people who think of Prasa as a solo artist.  Despite often performing by himself, his recordings are generally fleshed out with wonderful layers of instrumentation.  And thanks to years of open mics, he knows plenty of musicians to create those layers.  He's paid his dues and still has the same passion he did when he first starting playing.  For him, there is no other way.
'ÄúI'Äôve always got to be in it,'ÄĚ said Prasa.¬† 'ÄúIt'Äôs part of who you are and it'Äôs a passion that has to be in you in order to survive whether you make it or not.'ÄĚ
Photo by Edward Pampani
---
Gary Wien has been covering the arts since 2001 and has had work published with Jersey Arts, Elmore Magazine, Princeton Magazine, Backstreets and other publications. He is a three-time winner of the Asbury Music Award for Top Music Journalist and the author of Beyond the Palace (the first book on the history of rock and roll in Asbury Park) and Are You Listening? The Top 100 Albums of 2001-2010 by New Jersey Artists. In addition, he runs New Jersey Stage and the online radio station The Penguin Rocks. He can be contacted at gary@newjerseystage.com.
---