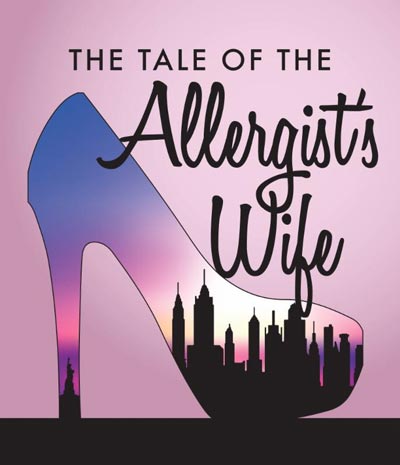 (CAPE MAY, NJ) -- Cape May Stage presents The Tale of the Allergist's Wife by Charles Busch from June 29th-August 4th. Directed by Roy Steinberg, The Tale of the Allergist's Wifei s a comical social satire about passion and obsession.
Marjorie, the wife of philanthropic allergist, Dr. V. Ira Taub is immersed in a life crisis when her therapist dies suddenly and her mother obsessed with bowel movements, spends her days getting on her nerves. Marjorie finds herself in a spiral of self-pity and self-doubt until her spirits become renewed when a mesmerizing and worldly friend from her childhood appears on her doorstep. Unfortunately, the friend quickly becomes an unwelcome and menacing guest in the house.  
The cast includes Barbara Weetman (Marjorie), Jeff Gorcyca (Mohammed), Marc Geller (Ira), Jan Leigh Herndon (Lee), and Andrew McCullough (Frieda).
The New York Times calls it "a window rattling comedy of mid-life malaise...it earns its wall too wall laughs." The Tale of the Allergist's Wife runs June 28ththrough August 4th. There will be a Best Value Night on July 7th, a talk-back on July 16th and a Pay-What-You-Wish Performance on July 21st. The show runs Tuesday-Sunday at 8 PM. For ticket information visit capemaystage.org or call the box office at 609-770-8311.
---