By Gary Wien
originally published: 04/12/2017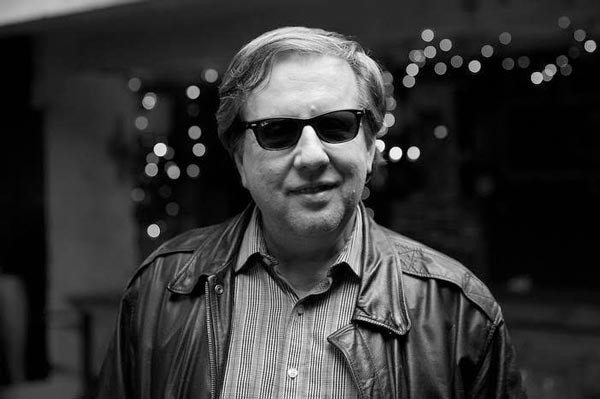 Jersey Beat has long since morphed from a print zine to an online blog (with a podcast) and remains of the most influential music publications in the Garden State.  Created by Jim Testa, Jersey Beat will celebrate it's 35th anniversary at Maxwell's Tavern in Hoboken on Friday, April 14.  The show includes performances by many of the artists who inspired Testa to create Jersey Beat including Richard Barone of the Bongos, Glenn Morrow (Individuals, Cry for Help), Mod Fun, The Cucumbers, Tammy Faye Starlight & Keith Hartel, Prosolar Mechanics, Balloon Squad, Karyn Kuhl & Alice Genese, Paul Richard (Adrenalin OD), Marc Maurizi (Cropduster), and Tris McCall. Admission is $12 at the door and $10 in advance.  Proceeds will benefit The Project Matters, a local NJ charity that mentors and supports young musicians.
If you're not familiar with the history of the publication, check out the Jersey Beat Story Vol. 1 to learn how a column in a fanzine led to the creation of the zine, its early days, and what led it to move solely online.  New Jersey Stage spoke to Jim Testa about the show and highlights from the years.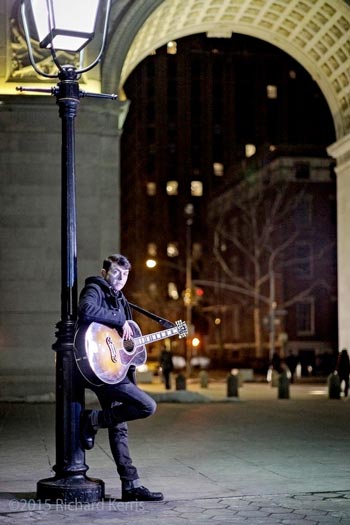 How does it feel for Jersey Beat to turn 35? Did you ever imagine it would last this long? Of course not. But I can go further than that. In the 25 years I did the print zine, I never looked further ahead than the next issue.  It's always been one day at a time. Which might be the secret of my longevity.
I was wondering about having the show at Maxwell's (where it sort of all began).  How thankful are you that the venue returned?  Could you imagine holding this anniversary party somewhere else? It's not the same Maxwell's, of course, but then it's not 1982 anymore either. But it does feel really good to be able to do it there, because Maxwell's really is where my career as a music writer took hold.  I've done Jersey Beat Nights at other venues, like the Saint and Court Tavern, and even quite a few in Manhattan and Brooklyn, so doing this somewhere else isn't unimaginable. But being able to do it at Maxwell's is really nice.  A lot of people are telling me that this show will be their first time back since Todd Abramson's final show in 2013.  So maybe this will get a few old-timers back to frequenting the place.
Tell me about the show.  Have you written about or had all of the acts play shows for you in the past? Yes. Everyone on the bill has been in Jersey Beat, some of them voluminously, and most of them going back to the Eighties.  Glenn Morrow, Richard Barone, the Feelies, the Cucumbers, and Gutbank were some of the first friends I made in 1982  (along with Ira Kaplan and Georgia Hubley, who'd later form Yo La Tengo.) Three members of my old band The Love Pushers will be on stage together for the first time since 1986.
---
The article continues after this ad
---
---
I think Foggy Otis is the "new" kid and I've been friends with him since 2003.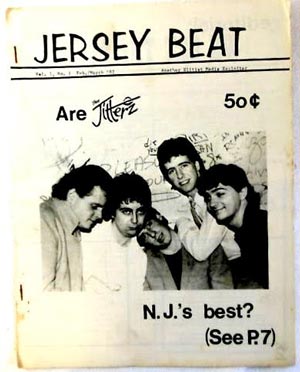 On you web page where you tell the story of the mag, you have a picture of Jersey Beat #2 (with the Bongos on the cover).  Who was on the cover for the first issue? It was a skinny-tie new wave band called The Jitterz who were very popular at the Dirt Club and other suburban venues at the time. (There was also an interview with Johnny Dirt, the owner of the Dirt Club, in #1.) There were already a couple of publications that had very close ties to Maxwell's, like New York Rocker and the Soho Weekly News (where Ira Kaplan had a column,) and I was probably afraid that people would think this was just another Maxwell's house organ, so I went another way with the first issue.  Early on we had theme issues about New Brunswick and the Jersey shore too, but Maxwell's was always a focus for the first 20 years or so.
What were a few of your favorite interviews over the years? A few stand out.  Mike Watt, because he's the last American beatnik and a total original. There's one with Greg from the Bouncing Souls that I think did a really good job of explaining how they used their band's success to build a real community and find a lot of their friends permanent jobs. I did a great interview with Jawbox in the Nineties that I think was really one of the best they ever did. J Robbins was actually in tears during part of it. Another standout from those days was the interview I did with Quicksand when their first album came out. The band liked it so much, they used my interview as their presskit for their second album.  I did quite a few good interviews with Ben Weasel of Screeching Weasel too, back in the heyday of Nineties pop-punk.
Who was an artist you always wanted to interview but never got the opportunity to speak with? A lot.  Michael Stipe, Paul Westerberg, Bob Mould... all of which I probably could have landed back in the Eighties if I had pushed hard enough or just had the moxie to show up with a notebook and tape recorder at a show.

Alex Chilton.  Robyn Hitchcock. Roky Erickson.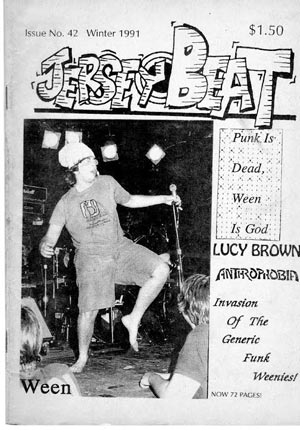 What do you think was your most popular piece? I can't speak to that, but the most popular issue we ever did was #37 with Agnostic Front and a lot of NY/HC bands on the cover. It sold out faster than any other issue. I think I have one copy left in my "archive."
What piece might have gotten you in the most trouble? Probably a live review of Dramarama in which I criticized them for being a bit boring and saving their only two hits for their last two songs, which I found very cliched.  Let's just say that someone in the band who wears sunglasses took great exception.
Ever get tired of reviewing CDs? No, but I'm lucky in that I do it in bunches, only when I'm in the mood. Since Jersey Beat has never paid the bills, I've never been on the kind of soul-crushing deadlines that can turn a fun hobby into a painful grind.
Finally, You're one of the "deans" of Jersey music journalists.  How does it make you feel to know you have inspired so many publications and websites over the years? I don't even know if that's true. If I'm the "dean" of Jersey rock criticism, it's because I've been around so long and also because - for whatever reasons - I'm one of the few Jersey writers who has a bit of a national profile, having written for Rolling Stone, Request, Guitar World, and other publications over the years, as well as being a long-time attendee of festivals like SXSW and CMJ.  People know me as "that Jersey guy" in a lot of circles.
I think my most meaningful contribution, if anything, has been to encourage and nurture the musicians I've written about.  I guess there have been a decent number of writers who got their start writing for Jersey Beat, some of them pretty big names, like Jim DeRogatis, Karen Schoemer (of The NY Times and Spin,) Ben Weasel (who wrote for Maximum Rock n Roll for decades,) and Brandon Stosuy (who ran Pitchfork.com for a while).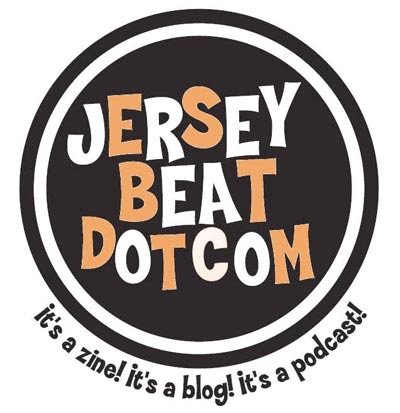 ---
Gary Wien has been covering the arts since 2001 and has had work published with Jersey Arts, Elmore Magazine, Princeton Magazine, Backstreets and other publications. He is a three-time winner of the Asbury Music Award for Top Music Journalist and the author of Beyond the Palace (the first book on the history of rock and roll in Asbury Park) and Are You Listening? The Top 100 Albums of 2001-2010 by New Jersey Artists. In addition, he runs New Jersey Stage and the online radio station The Penguin Rocks. He can be contacted at gary@newjerseystage.com.
---