By Gary Wien
originally published: 04/05/2017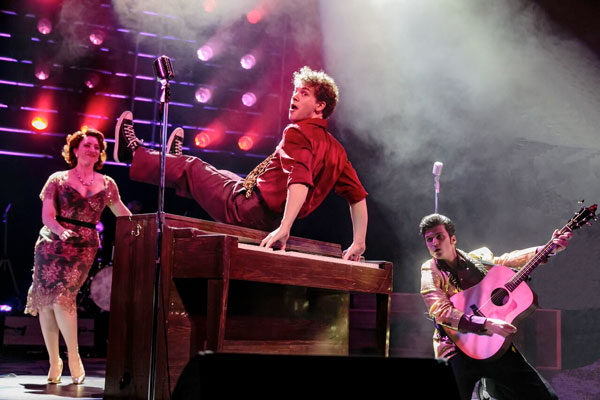 (MILLBURN, NJ) — Imagine being a fly on the wall during one of the greatest moments in rock and roll history… that's the premise behind Million Dollar Quartet, which lets you see an impromptu jam session with Elvis Presley, Johnny Cash, Jerry Lee Lewis, and Carl Perkins.  Paper Mill Playhouse revives this play with an amazingly talented cast. As to be expected, the music is sensational.  What I didn't expect was how much comedy would be in the play as well.  Million Dollar Quartet is often described (and generally derided) as a jukebox musical, but it has created a rather fascinating back story as well.  As Johnny Cash warns, "An atom bomb is about to go off in there tonight." There is more to the story than just the music and calling it merely a jukebox musical fails to do it justice.
The play takes place on December 4, 1956 inside the legendary Sun Records studio in Memphis. Sam Phillips - the man who discovered these four artists and many more - opens the play by giving a little history lesson about himself.  He knows many people consider him a fool for selling the contract of Elvis Presley to RCA before he became the biggest star in the world, but he defends the move as saving Sun Records itself.  Sam knows he has a unique ability to find and nurture musical talent that the major record labels all wish they had — in fact, RCA has offered him a boatload of money to come work for them and Elvis again.  He hasn't said yes and hasn't said no, but tells them he will make his decision tonight.
"It is hard as hell working for somebody else," admits Sam (played by Jason Loughlin in a terrific performance).
The setting is a recording session for Carl Perkins. Along with Sam, the play aims to place Carl back where he belongs as one of the founders of rock and roll.  His song, "Blue Suede Shoes" was one of the most important and popular tracks of the early days.  Unfortunately, as Perkins points out during the play - the minute Elvis sang it on the Ed Sullivan Show, the world thought Carl was covering Elvis rather than the other way around.  On December 4, Carl is there to record "Matchbox," which he and Sun hope will be his next big hit.  To give the song a little extra kick, Sam has brought in his new studio pianist to play on the track.  His name is Jerry Lee Lewis.
Perkins is late for the session, so Sam asks Jerry Lee to start playing something while they wait.  As he busts into "Wild Child," the play switches from the live performance to a flashback of how Sam met Lewis.  When he appears without an instrument, Sam asks him where his guitar is.  Lewis tells him he doesn't play guitar, he plays piano.
---
The article continues after this ad
---
---
"88 keys got 6 strings beat every time!" exclaims Jerry Lee.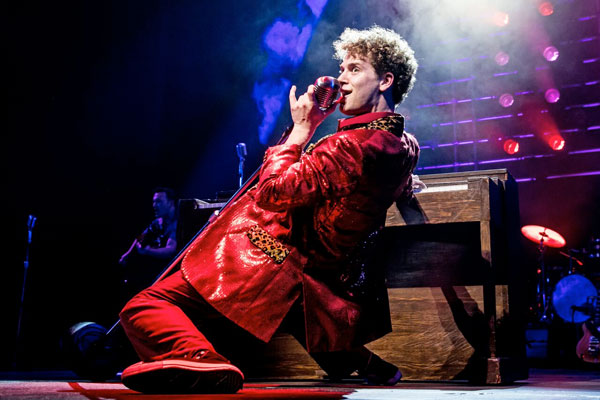 One of the most magical aspects of the play is watching Jerry Lee play piano.  True to form, Nat Zegree (who plays Jerry Lee Lewis) plays standing up, lying down, facing the piano, facing away - even hitting the keys with his nose on occasion.  Jerry Lee's character has to be the most important to cast.  During the true life jam session, Jerry Lee surprised his fellow stars by showcasing talent that was about to explode. It is said that nobody wanted to follow him. In this play, Nat Zegree not only has to show that type of immense talent, but supplies about 70% of the comedy.  His character is completely wired, egotisical, naive, and absolutely hilarious.  With Zegree, Paper Mill has chosen wisely.
Carl Perkins (played by James Barry) shows up by the end of the song and the band begins to record "Matchbox."  It doesn't take long for Jerry Lee's piano playing to get on Carl's nerves though.  He stops the song because he doesn't think it should even have piano on it. When Sam tells him that Jerry Lee Lewis is a budding star, he retorts, "Hey boys, we got Jerry Lewis on piano! I saw your last movie and it stunk up the theatre.  I want my 50 cents back!"
"If I had 50 cents, I wouldn't be doing no session for a has-been!" replies Jerry Lee.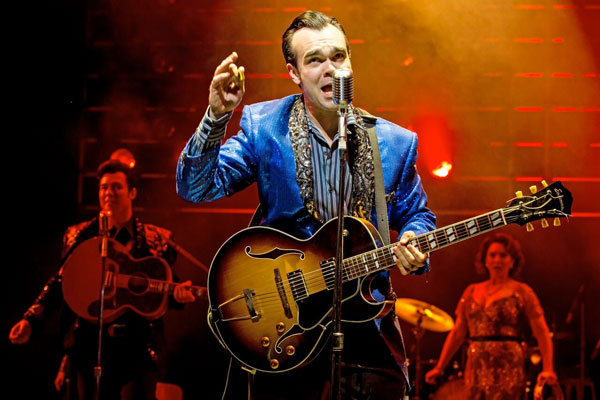 We soon move to a flashback of the first time Carl and Sam met.  Carl tells him he wants to play him his song, "Blue Suede Shoes."
"You wrote a song about your shoes?" says Sam.  "You must really like your shoes!"
Million Dollar Quartet does a good job of letting people who may not know just how important and how big of a star Carl Perkins was in the early days of rock and roll. When you talk about the five most important songs in the early days of the genre, "Blue Suede Shoes" makes the list every time.  And Loughlin does a wonderful job of showing a guy who feels he has been mistreated by history and misled by people he thought were his friends.
Johnny Cash is the next to arrive.  When Sam tells him, "I had a hard time tracking you down lately," Johnny (played by Scott Moreau) answers, "I've been everywhere." — you don't need to be a fan of these four artists, but if you are you'll find humorous lines are thrown in throughout the play.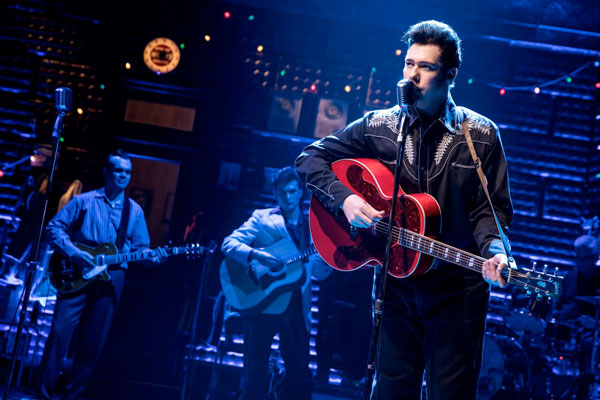 They coax Johnny into playing "Folsom Prison Blues." An excited Jerry Lee says, "My momma loves that song… it reminds her of my daddy."
During the song, we move to a flashback of how Sam and Johnny met.  All of the flashback scenes are extremely well done and the stop and start of the music is done to perfection, keeping everything crisply moving along.
Moreau provides spot-on vocals for Johnny Cash, excelling in a rather challenging role.  Long before Johnny faced the demons you're likely familiar with, he is at a stage of his career in which he needs to make very big decisions — one of which he will have to make tonight.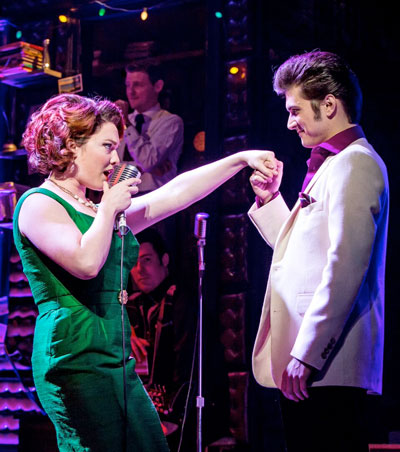 Elvis Presley (Alex Boniello) arrives with his girlfriend Dyanne (Bligh Voth).  They have stopped by to present Sam with a Christmas gift and to convince him to take the job at RCA.  Dyanne is a singer and the boys all want to see what she can do.  She asks them if they know how to play "Fever," a song best known by Peggy Lee.
"Fever" is one of the show's standout tracks.  In a room full of guys, Dyanne's sultry voice is a nice change of pace.  Dripping with sexuality, Dyanne's voice and swaying hips offer an all-star performance of their own.
We then move to the final flashback - the day Sam and Elvis first met.  Long before he was the King of Rock and Roll, he auditioned at Sun as if he was trying to be a Dean Martin cover artist, but Sam had other ideas.
"I knew if I could just stop him from impersonating Dean Martin he might amount to something," said Sam.
Sam asks Elvis to play him something he wouldn't expect to hear from the young artist. We then see Elvis slowly perform "That's All Right" - starting with a whisper, gradually becoming more confident, eventually singing louder and playing faster.  Watching the emergence of the Elvis Presley we all know is one of the highlights of the play.  But it's only one of many.  Johnny Cash singing "Folsom Prison Blues" and "16 Tons," the jam feel of "Brown-Eyed Handsome Man," "Fever" and the four artists' beautiful take on the gospel song "Down By The Riverside" are all stand-outs - and that's just in the first act!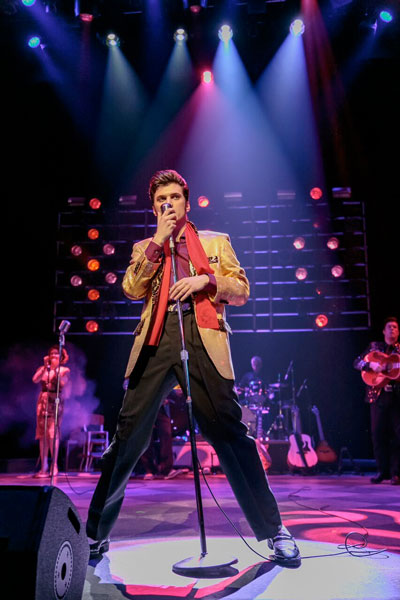 The real-life jam session which inspired the play was full of gospel tunes, songs these four southern boys all grew up with.  The play wisely chose to take some liberties with the story and fills the play with hits and songs that the audience would know.  Ironically, this actually makes the gospel songs stand out more.  The slower paced tunes are all passionately sung and even with a night full of rock and roll classics, the sweet harmonies of "Down By The Riverside" was the song that stayed with me after the show.
Million Dollar Quartet surprised me with its humor.  It's an extremely funny play - even more so if you're a fan of these artists.  The cast is both terrific and very experienced in these roles.  Scott Moreau, Bligh Voth, David Sonneborn (Fluke), Sam Weber (Brother Jay), and Nat Zegree all have been part of the show before - either on national tours or in regional theatre - and their familiarity with the roles clearly shows.  Hunter Foster who directs this production was the director at Ogunquit Playhouse, which featured several of the cast members as well.  In addition to the four artists, Sonneborn and Weber are excellent musicians with the former offering a steady drumbeat and the latter providing superb upright bass - in both music and acrobatic form!
Obviously, you go to see Million Dollar Quartet for the music, but the backstory is quite interesting.  In addition to RCA Records pushing Sam to close up Sun Records and work for them in New York City, you've got the early days of Jerry Lee before he exploded on the charts; Sam trying to sign Johnny to a new contract; a disgruntled Carl thinking that Elvis stole his trademark song; and a wistful Elvis longing for the days he was still signed to Sun.
Will Carl be able to record "Matchbox" and get his next hit? Will Jerry Lee win over the other artists with his talent or be thrown out of the room for acting like a lunatic? Will Johnny sign a new contract with Sun? Will Elvis and Dyanne convince Sam to move to RCA?  These questions are all answered in the second act.
Million Dollar Quartet has had a Broadway run, a national tour, and became one of the longest running shows in Chicago history.  This revival at Paper Mill Playhouse shows it might be time for another run. It's a tremendously fun show with wonderful music, excellent actors, and brings the excitement of watching a moment in time that truly was historic for rock and roll.  Catch it while you can!
Million Dollar Quartet runs at Paper Mill Playhouse Wednesdays through Sundays until April 23. Paper Mill Playhouse is located at 22 Brookside Drive in Millburn, NJ.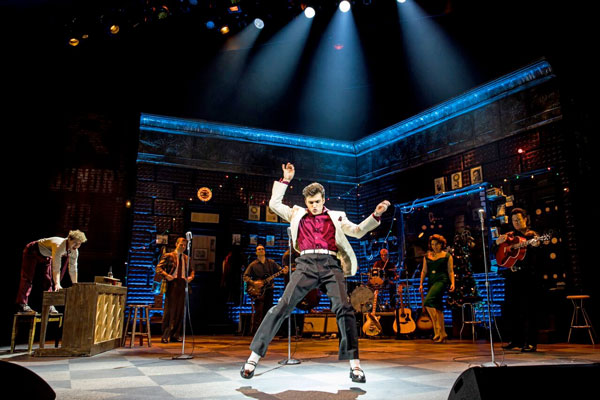 PHOTOS 1 & 6 by Jerry Dalia.  All other photos by Matthew Murphy.
---
Gary Wien has been covering the arts since 2001 and has had work published with Jersey Arts, Elmore Magazine, Princeton Magazine, Backstreets and other publications. He is a three-time winner of the Asbury Music Award for Top Music Journalist and the author of Beyond the Palace (the first book on the history of rock and roll in Asbury Park) and Are You Listening? The Top 100 Albums of 2001-2010 by New Jersey Artists. In addition, he runs New Jersey Stage and the online radio station The Penguin Rocks. He can be contacted at gary@newjerseystage.com.
---