originally published: 11/30/2016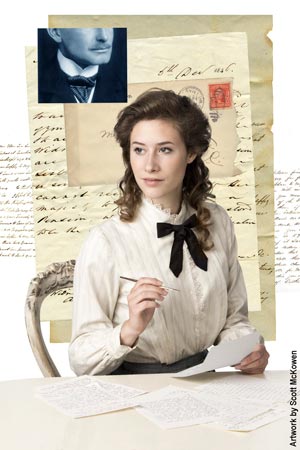 In this era of emails and instant communication, there is something beautiful about the art of letter writing. It harkens back to a period when people put more thought into every word, when future correspondence was looked upon with anticipation, mystery and intrigue. The question of whether or not someone could fall in love simply because of words themselves is one of the aspects of "Daddy Long Legs," a musical based on the classic novel by Jean Webster. George Street Playhouse presents the show from November 29 through December 24.
The play begins in 1908 when Jerusha Abbott, a young woman raised in an orphanage, gets the opportunity to go to college thanks to Jervis Pendleton, a wealthy benefactor. She is instructed to follow a series of rules, which include writing him a letter each month to let him know how she is doing; never thanking him; never expecting him to write back; and knowing that he will remain anonymous.
"So she writes him her letters every month to let him know what's going on," explained director Michael Mastro. "He reads them, but he's never writing back to her. She imagines that he's a sweet, elderly gentleman with white hair or is bald. And she nicknames him Daddy Long Legs."
The audience learns early on that Jervis is neither old nor bald. In fact, he's rather young and attractive. Jerusha soon becomes friends with a pair of girls at the school, including Jervis' niece. As he reads her letters each month, Jervis finds himself intrigued by the way she writes. Against his will, he begins to fall for her.
"It's 1908-1912, and we always think of women in this time period as sweet and nice, but she's got pluck, a wry sense of humor, and she's got spunk," said Mastro. "He comes to visit his niece, but also because he would like to see this young woman who's been writing him these letters. So he gets to know her, but only as her friend's uncle. He never tells her that he's Daddy Long Legs.
"Over time, he visits her again and spends time with her. She starts writing to Daddy Long Legs about this nice man she's met. And so what happens is that he becomes stuck because he's falling for her, but he's let it go on too long and is terrified to tell her that he's the man she writing the letters to because it's almost like reading someone's diary."
One of the aspects Mastro loves most about the play is the way it celebrates the education of a young woman during a period of time in which few women went on to college. Jerusha not only gets educated, but becomes empowered by her education and Jervis falls for her because of that.
In many ways, this is a story ahead of its time, but one that was a huge hit for Webster in 1912. The author turned the novel into a very successful play. The story then became a silent movie in 1919 starring Mary Pickford, a talkie in 1931 starring Janet Gaynor and Warner Baxter, and the popular 1955 film with Fred Astaire and Leslie Caron. In 2009, a new musical version was created, one that closely follows the original novel – something the films did not do.
The musical features a book by two-time Tony Award winner John Caird ("Les Miserables," "Nicholas Nickleby") and music and lyrics by Tony Award nominee Paul Gordon ("Jane Eyre"). George Street's production stars Ben Michael as Jervis and Elise Vannerson as Jerusha, and features musical director Darren Cohen on piano, Sam Quiggens on cello, and Luke McGinnis on guitar. Mastro once again teams up with set designer Alexis Distler and lighting designer Christopher Bailey who were part of last year's production of "Nureyev's Eyes."
Mastro, George Street Playhouse's Resident Artistic Director, has a long history with the theater. As an actor he was seen on stage in such productions as "The Sunshine Boys," "The Pillowman" and "Inspecting Carol." This will be his fourth time directing at George Street, following runs of "The Subject Was Roses," "The Fabulous Lipitones" and "Nureyev's Eyes." Mastro is excited to be directing his first full-fledged musical.
"When we started 'The Fabulous Lipitones,' we were thinking of it as a play with music instead of a musical," recalled Mastro. "And then we learned in rehearsal that it was a musical and needed to be treated as a musical. So that was my accidental first musical, but this is actually my first musical with a band… And I'm loving it. I feel like I'm almost having a second childhood directing this. The two actors are absolutely lovely and have beautiful voices. They've been fun to work with.
"I like comedies, dramas, musicals and I've done them all as an actor," continued Mastro. "As a director, I'm finding I love all of them; what you learn directing a drama sometimes helps you when you're directing a comedy because dramas require an emotional rootedness; but then you learn comedies aren't really funny unless the actors are deeply emotionally rooted with their relationship with the other characters. And music just raises it all to a higher level. You've got the music itself affecting the actors and the audience in addition to the words. It's fantastic."
It's actually unusual for George Street Playhouse to be presenting a play during the holiday season. While "Daddy Long Legs" isn't exactly a Christmas play, it does contain some scenes that take place at Christmas and George Street believes it carries the uplifting feeling of the season.
"It's a moving, lovely, beautiful and funny new musical," explained Mastro. "It's sure to warm the hearts of our patrons this holiday season. We're calling it a 'holiday valentine.'"
"Daddy Long Legs" runs November 29 through December 24 at George Street Playhouse, 9 Livingston Avenue, New Brunswick, NJ. For more information, visit www.georgestreetplayhouse.org.