By Gary Wien
originally published: 08/20/2016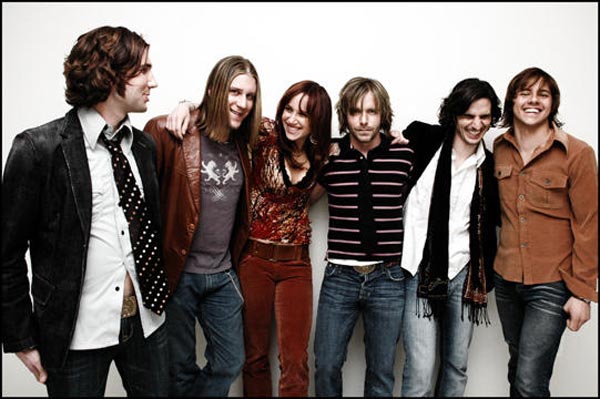 2016 may go down as the year of reunions that many thought would never happen. Earlier in the year, Guns & Roses began their Not In This Lifetime tour and, on September 30, Days Awake will perform together for the first time in about 7 years at House of Independents in Asbury Park - a reunion that was nearly as difficult to put together.
Days Awake was one of the most exciting live bands in New Jersey from 2004 to 2009. The band developed an almost cult like following based on their original songs like "Day After Day" and incredible covers such as their show stopping version of "With A Little Help From My Friends." They took home a boatload of Asbury Music Awards during their run; watching them perform, one could instantly see how talented the band members were. History has proven that to be true.
The original band included Chuck Schoomaker (lead vocals, guitar, keyboards), Jay Cagna (bass guitar), Sarah Tomek (drums, percussion, backing vocals), Jeremy Korpas (lead guitar, backing vocals), Eric Safka (keyboards), and Dominic Lacquaniti (rhythm guitar, backing vocals). That's the cast that who will be together on stage this September. Long time friend Remember Jones will open the show. New Jersey Stage was able to catch up with everyone except Cagna to hear about their memories, what they're looking forward to, and to find out what they've been doing since the band broke up.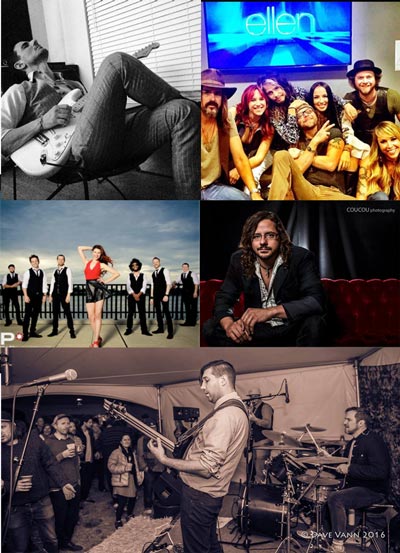 What have you been doing since Days Awake?
Sarah - I was sweating it out for years doing a 9-5 and playing in different projects and different genres. Got to go on my first European tour with a band called Lez Zeppelin in 2010. Then country artist, Maggie Rose moved me to Nashville where we started touring in 2012. Since then I have gone on to play with incredible musicians and acts such as rock band Them Vibes, punkabilly artist Raelyn Nelson, my Americana band I'm currently in, Loving Mary. And then most recently, that singer guy from Aerosmith.
Eric - Mainly the Matt O'Ree Band with occasional guest spots here and there. I still continue to work in my union job as well as I did during the Days Awake years.
Jeremy - I moved out to San Francisco back in '08 to start a new life. I joined a psychedelic indie rock band called Big Light and played a ton of gigs with them for almost 3 years until it fell apart. I now play in a band called The Loyal Scam. We play instrumental versions of covers songs and jam the hell out of them. It's just for fun and it's the most rewarding musical situation I've ever been a part of. I also manage the best music venue in San Francisco called The Independent. I absolutely love my job and it turned out to be a great way for me to land on my feet and support myself once the musical dust settled.
Dominic - Where to start? Even during all the shows, tours, and countless gigs we played, I tried to maintain my job in NYC as a fashion textile agent. I am currently living in Naples, FL and own a custom clothing boutique. It's something that goes along with music. If you ask any of the band members, it makes perfect sense since I use to torture them for our stage appearance!
Chuck - The Nines.

Many Days Awake members have gone on to play in successful bands. Do you follow what your former bandmates are doing? When you see their success, do you ever wonder what if?
Dominic - Of course! My heart is so happy to see my friends successful and so and make dreams come true.
Sarah - I try to follow everyone. We've all went our separate ways. I'm totally supportive of everyone and their endeavors in and outside of music. I've learned in this business you can't sweat the "what ifs" or you can make yourself go crazy.
Chuck - Yes, I follow them. I love watching their success whether in the music world or 9-5 world. I don't wonder what if because I am extremely happy with the path I chose.
Jeremy - Both my social and work life are surrounded by musicians and people in the industry. Because of this there is not a day that goes by that makes me wish I played the guitar for a living. It was and still is a tough decision for me: paying my bills or struggle hard while trying to live the dream.
Eric - Whatever endeavor any member has taken on whether it be music or not, I am happy to know that they are doing things they enjoy. Obviously it's beyond exciting to see Sarah living a dream that, in my opinion, may be one of the most unique success story in rock and roll, like winning the mega millions twice kind of success. We were very much a family-style band so it is only fitting to be rooting each member on. As for "what if?", I'd say that for me was more of a question early on after we stopped playing. Life rolls on and I believe you should respect and learn from your past but not live in it. One of life's ironies is that they say hindsight is 20/20 but I say it can also be blinding.
---
The article continues after this ad
---
---

You all were so young when Days Awake started. Looking back, was that sort of rock and roll school for you?
Eric - Days Awake was certainly like school. The business of it was like dealing with that overbearing, dimwitted "teacher" but the real lessons were learned in the hallways and after school let out.
Sarah - It was. It was also life schooling.
Dominic - I was the old man in the group so for me it was an amazing time and a glimmer of a chance to become something that I dreamed about as a kid. What a great schooling not just for me but I believe it all made us stronger.
Jeremy - I was in a few bands before I joined Days Awake and learned valuable lessons from all of them, but in Days Awake I learned how terrible the music industry really is.

What are some of your best memories during the Days Awake run?
Jeremy - Some of my favorite memories were the all night after parties we used to throw at the Berkeley Carteret Hotel--somehow we got away with all of it! I also always loved headlining the annual 4th of July party in in Bradley Park with the stage set up in front of the Convention Hall. The sun was setting and we were lit up with the giant "Greeting From Asbury Park" sign on the Convention Hall and the fireworks blowing up over the ocean.
Chuck - Bus rides, practice, hanging at Sarah's, and Dom's milk shake issues.
Sarah - We played in Vermont and had a band house where we all took the beds off their frames and made forts like little kids. There was also a 4th of July where we played outside under fireworks. And parties. We threw great freakin' parties!
Dominic - Vermont... No brakes... Icy road... Trailer full of equipment... Green lights!
Eric - I cannot specify any particular moment. I think the overall experience of finding out who we were, being in a rock band, the whole package was just an amazing time. Even the hard times are now something I look back at with positive nostalgia.
Did you ever think a reunion like this would happen?
Chuck - Never.
Sarah - No. Is it really happening?!
Jeremy - I knew eventually things would line up and we would play a show again but I wouldn't exactly call it a reunion.
Eric - In my gut, yes. Logistically speaking, I wasn't so sure. Sarah, Dominic, and Jeremy live in far off lands, Sarah is constantly touring, Jay continues to live a life of mystery to me (I'm convinced he's a hitman), Chuck has 28 children, and I still work my job and have spent so much time traveling with MOB. I tried actually to make it happen last year during Thanksgiving break when Status Green had its reunion show with Last Perfect Thing. I thought that would be an epic reunion not only of bands but of an important era in Asbury Park's music history. Obviously though the logistics didn't work out.
Dominic - Yes. We all get to a point in our lives that we want to relive for even one night the fun we all had... It's always about timing.

What are you most looking forward to with the show?
Chuck - Just seeing the family/band members and staff again. Life has taken us all in so many directions.
Dominic - Rehearsals... That first note together.
Jeremy - The hours of laughter that are going to ensue during the rehearsals. Plus I'm excited to make this music again for my parents. They were super supportive of the band and its music and were probably more heartbroken about the breakup than I was at the time. They barely missed a gig back in the day and let me live in their house rent free while I was out playing rock star. I'm happy they are happy about the show and it was a major reason I said yes.
Eric - Seeing all the old faces in the same venue again along with new ones who want to see what it was all about or who are fans of ours as individuals now.
Sarah - Seeing all our old friends and seeing if I can play as fast and as hard as I used to.
Do you ever wish the band had released a full CD? Is that one of your biggest regrets?
Chuck - 100% my biggest regret. It would have been special, even if nothing ever came from it. When I hear the live tracks it's like listening to a journal. Good times and bad.
Jeremy - It's hard to regret something that was completely out of our hands. The record companies didn't like what we had to offer and we were beyond broke as an organization so we felt like our options were limited.
Eric - It would have been nice to see what some money and proper studio time would have allowed us to create because Chuck writes such strong material but we were broke....always, and a live band more than anything. I have no regrets - I highly recommend this.
Sarah - Huge regret. This band was its worst enemy in a lot of ways, that being one of them. There's still so many unfinished demos makes me sad.
Dominic - Absolutely... But in turn it makes for a great story of the why... Why didn't we?!

Finally, if you had the opportunity to record that CD - would you want to do it? It could be something like Tom Petty going back to Mudcrutch.
Chuck - Absolutely.
Dominic - When do we start?
Eric - I think that would be great. I would like to see what it would sound like... What we could create in both old and new songs. It's been a long time. We each have had so many experiences that I'd be curious to see how that plays out. I feel like the music deserves the respect of being added to the audio pages of history properly.
Sarah - I got to see Mudcrutch twice and the joy it brought back to Tom playing with his first band. I think it would do the same for me. I would love to make a record one day.
Jeremy - Only if we got the same budget that Mudcrutch had to work with.
---
Days Awake along with Remember Jones will be at House of Independents (572 Cookman Avenue, Asbury Park, NJ) on Friday, September 30.
---
---
Gary Wien has been covering the arts since 2001 and has had work published with Jersey Arts, Elmore Magazine, Princeton Magazine, Backstreets and other publications. He is a three-time winner of the Asbury Music Award for Top Music Journalist and the author of Beyond the Palace (the first book on the history of rock and roll in Asbury Park) and Are You Listening? The Top 100 Albums of 2001-2010 by New Jersey Artists. In addition, he runs New Jersey Stage and the online radio station The Penguin Rocks. He can be contacted at gary@newjerseystage.com.
---