By Gary Wien
originally published: 07/08/2016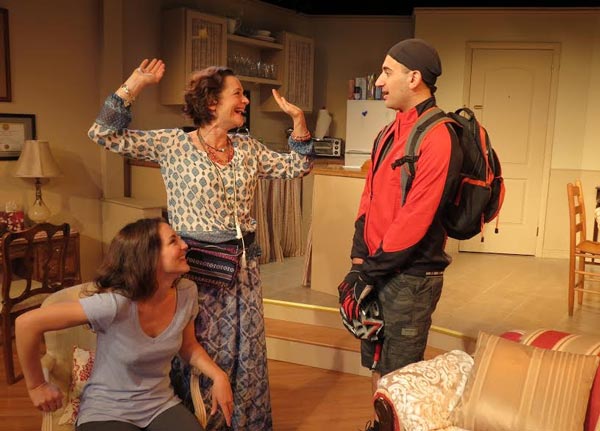 (LONG BRANCH, NJ) — The latest World Premiere at New Jersey Repertory Company is Struck by Sandy Rustin.  On stage now until the end of the month, the play is a comedy involving a woman who was "struck" by a young bicyclist in New York City who works for ancestry.com. As the play opens, we see the injured Vera Resnick hobbling into her apartment on the Upper West Side, helped by her husband Nate. She's in good spirits.  In fact, she feels oddly connected to the biker and wonders if the accident might have had a higher purpose.  
Vera (played by Susan Maris) and Nate (played by Adam Bradley) evaluate the situation as she lies on the couch. Her legs are badly cut and Nate gets her ice to help reduce the swelling.  As a lawyer, one of his first thoughts involves taking a picture in case they need to sue the bicyclist.  Vera not only is against taking the kid to court, she sort of feels sorry for him.  In fact, she decides to learn more about the bicyclist on Facebook and finds a rather limiting profile.  His lack of friends seems to make her feel even more sorry for him.
"He was born in 1993," said Vera.  "I was already having sex in 1993."
"Is that how you measure time?" replied her husband.
Falling somewhere between mystical and flighty, Vera wonders if this might be the universe's way of waking her up.  She's an actress, although judging by her upcoming auditions it doesn't seem like she's going places.  In her mind, there's some sort of a connection between her and the bicyclist.  She decides to call him and invite him to the apartment — something her husband recommended NOT doing and a decision her quirky Texan neighbor, Vicky, could not believe.
---
The article continues after this ad
---
---
"You gave the bike murderer your address?" Vicky exclaimed.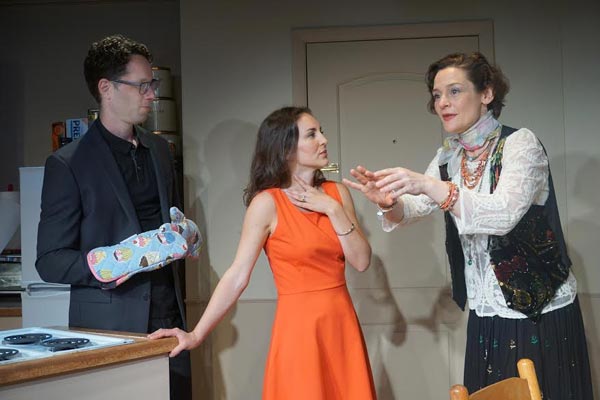 Vicky, played by Jenny Bacon, steals nearly every scene she is in.  An incredibly quirky, spiritual/mystic type person, she believes Vera is pregnant.  This is news to Vera even though her and Nate have been trying.  Vicky says she is never wrong about these things and rattles off a few examples.  She seems protective of her neighbor and wants to be there when he arrives.
"Do you think he rode his bike here?" asked Vera.  "I hope he didn't stop riding his bike because of me.  It's so good for the environment!"
"You don't even recycle," said Vicky.
James, the bicyclist arrives, in full bike gear.  He is glad that Vicky is doing better and gives her a small gift. It's a free pass to ancestry.com where she can look up and learn about her family's history.  Vicky asks if he's ever looked up his own family history, which he had, and she persuades him to tell his story to the two of them.
It's a story that seems very familiar to Vera.  In fact, it sounds like her own family's story — one that changed dramatically during the Holocaust.  Could James be a missing link in her family's history? You'll have to see the play for yourself.  It contains a myriad of twists and turns — many that are completely unexpected — and, with the help of comedy, manages to touch on some very sensitive issues.
NJ Rep has another winner with Struck, a very funny comedy that features an excellent cast behind fine direction by Don Stephenson.  Susan Maris and Adam Bradley are wonderful as Vera and Nate, while Benjamin Puvalowski does a terrific job as James. Mathew Shepard is very good playing the straight man in a limited role.  And Jenny Bacon's performance is worth the price of admission alone.  This is one of those plays in which a supporting actor gets the best material to work with and shines the whole way through.   
Highly recommended! Struck runs until July 31 at NJ Rep (179 Broadway in Long Branch, NJ).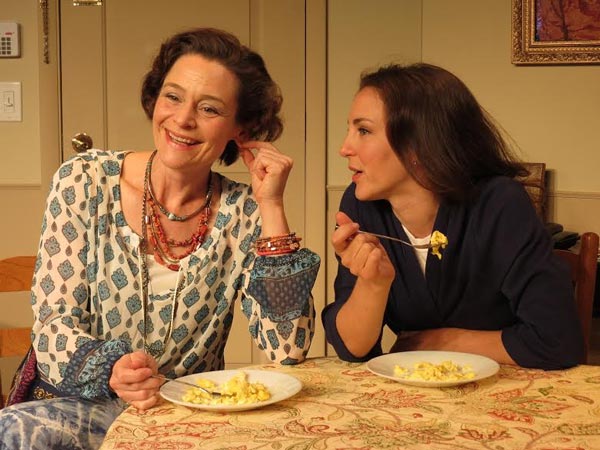 PHOTOS BY SUZANNE BARABAS
---
Gary Wien has been covering the arts since 2001 and has had work published with Jersey Arts, Elmore Magazine, Princeton Magazine, Backstreets and other publications. He is a three-time winner of the Asbury Music Award for Top Music Journalist and the author of Beyond the Palace (the first book on the history of rock and roll in Asbury Park) and Are You Listening? The Top 100 Albums of 2001-2010 by New Jersey Artists. In addition, he runs New Jersey Stage and the online radio station The Penguin Rocks. He can be contacted at gary@newjerseystage.com.
---