originally published: 04/11/2016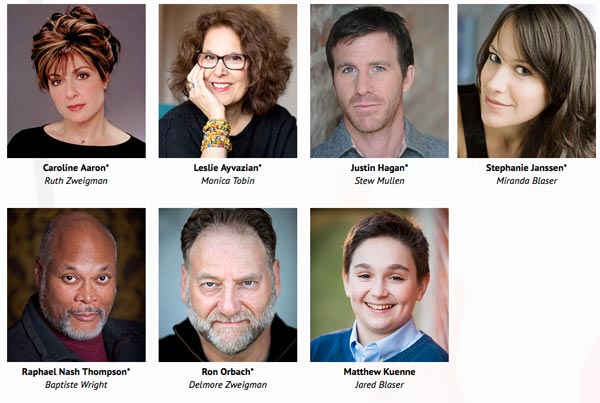 (PRINCETON, NJ) -- If it's not one thing, it's your mother. McCarter Theatre Center presents the World Premiere of Sharyn Rothstein's All the Days, a blend of drama and comedy about the hectic history among eccentric mother, her grown daughter, and extended family. With works described as "a force of nature" by The New York Times, Rothstein represents a powerful new voice in the American Theater.  All the Days runs April 29 – May 29 on the Berlind Stage. 
All the Days follows Ruth (Caroline Aaron) from Long Island, whose deteriorating health leads her to stay with her grown daughter Miranda (Stephanie Janssen), who is trying to make a new life for herself in Philadelphia all while planning her son's bar mitzvah. As if that wasn't enough - Ruth's sister, ex-husband, a new love interest, and Miranda's boyfriend all find their way through the front door. With all the family in one place, it's anyone's guess if they'll all stay in one piece.  Sharyn Rothstein's uniquely heartfelt view of the modern Jewish-American family holds a mirror up to all who know the pain and pleasure of families dealing with life, with loss…and with each other.
The cast also includes Leslie Ayvazian (Monica Tobin), Justin Hagan (Stew Mullen), Rahael Nash Thompson (Baptiste Wright), Ron Orbach (Delmore Zweigman), and Matthew Kuenne (Jared Blaser).
About the playwright, director Emily Mann said:  "All the Days was my first introduction to Sharyn's work and I laughed out loud reading her fiercely funny characters, exquisitely wrought, struggling with dilemmas at once heartbreaking and hilarious. Sharyn's talent lies not only in her biting dialogue, but also in her ability to infuse her characters and story with depth and humanity. The mother-daughter relationship at the core of the play is both bitterly critical and deeply moving. I can't wait for our audiences to see it."
All the Days is directed by McCarter Theatre Center's Artistic Director and Resident Playwright Emily Mann, and boasts a design team of McCarter veterans including scenic designer Dan Ostling (Antony & Cleopatra, Ken Ludwig's Baskerville: A Sherlock Holmes Mystery); costume designer Jess Goldstein (Agatha Christie's The Mousetrap, Charles Dickens' A Christmas Carol); lighting designer Jeff Croiter (Five Mile Lake, Mrs. Packard); and sound designer Mark Bennett (Proof, Vanya and Sonia and Masha and Spike).
About Sharyn Rothstein (Playwright)
---
The article continues after this ad
---
---
Sharyn Rothstein is a playwright and television writer. Her play By the Water was produced by Manhattan Theater Club/Ars Nova and received the 2015 Francesca Primus Prize for an emerging woman playwright. Her play The Invested has been published in New Playwrights: The Best Plays of 2012. Her work has been produced and developed by Williamstown Theater Festival, Ensemble Studio Theater, Ars Nova, New Georges, and other theaters across the country. She is a graduate of Vassar College and holds a Master's Degree in Public Health from Hunter College as well as a Masters Degree in Fine Arts from NYU. She is a proud and grateful alum of many of New York's best emerging writer groups. Sharyn is currently in her second season writing for the USA television drama Suits. 
About Emily Mann (Director)

Multi-award-winning Director and Playwright Emily Mann is in her 26th season as Artistic Director and Resident Playwright of McCarter Theatre Center where she has overseen 150+ productions. Under Ms. Mann's leadership, McCarter was honored with the 1994 Tony Award for Outstanding Regional Theater and celebrated the Best Play Tony Award win for Christopher Durang's Vanya and Sonia and Masha and Spike.
Ms. Mann wrote and directed Having Our Say, adapted from the book by Sarah L. Delany and A. Elizabeth Delany with Amy Hill Hearth premiering at McCarter before it moved to Broadway (Dramatists Guild Hull-Warriner Award; Tony nominations for Best Play, Best Direction of a Play, and Best Performance by a Leading Actress in a Play along with Drama Desk and Outer Critics Circle nominations; NAACP and Joseph Jefferson Awards; Peabody and Christopher Awards for her screenplay). Ms. Mann directed the world premieres of The Convert by Danai Gurira (winning six Ovation Awards, including Best Director of a Play); Phaedra Backwards by Marina Carr; Sarah Treem's The How and the Why; Edward Albee's Me, Myself & I (also Off-Broadway); and Christopher Durang's Miss Witherspoon (also off-Broadway).  Other favorite plays directed at McCarter are: Nilo Cruz'sPulitzer Prize-winning Anna in the Tropics  (also on Broadway), David Auburn's Proof, Edward Albee's A Delicate Balance; Rachel Bonds' new play Five Mile Lake; Antony and Cleopatra, All Over (also off-Broadway; Obie Award for Directing), Three Sisters, A Doll House, Glass Menagerie, and Mrs. Warren's Profession. In 2012, Emily directed A Streetcar Named Desire on Broadway with Blair Underwood, Wood Harris, Nicole Ari Parker, and Daphne Rubin-Vega.
Emily's plays include: Execution of Justice (Guggenheim Fellowship; Helen Hayes and Joseph Jefferson Awards; Drama Desk and Outer Critics Circle Award noms.); Still Life (six Obie Awards); Greensboro (A Requiem); Meshugah; Annulla, An Autobiography; and Mrs. Packard (recipient of the Kennedy Center Fund for New American Plays Award). Her current writing projects include two new plays: Hoodwinked and Gloria (Steinem) Live at Lincoln Center.
Her adaptations include: Baby Doll; Scenes from a Marriage; Antigone; The House of Bernarda Alba (recently staged in London at the Almeida); and three Chekhov plays (Uncle Vanya, The Cherry Orchard, and A Seagull in the Hamptons).  Emily is a member of the Dramatists Guild and serves on its council. 
She is the recipient of an Honorary Doctorate of Arts from Princeton University; was named the 2011 Person of the Year from the National Theatre Conference; received the 2015 Helen Merrill Distinguished Playwrights' Award; and was awarded the 2015 Margo Jones Award given to a "citizen-of-the-theatre who has demonstrated a lifetime commitment to the encouragement of the living theatre everywhere".

About McCarter Theatre Center

Led by Artistic Director/Resident Playwright Emily Mann and Managing Director Timothy J. Shields, McCarter Theatre Center is a leading destination for playwrights, actors, and directors to collaborate on ambitious world premieres, re-imagined classics, adaptations, and developmental workshops. Awarded the 1994 Tony Award for Outstanding Regional Theatre, McCarter has evolved into a nationally and

internationally acclaimed theatre recognized for its first rate productions, daring world premieres, and lasting contributions to the American theatrical canon.  The theatre is celebrated for its emphasis on the creation and development of new work, marked especially by an on-going program of commissions, an annual artists retreat, and the fostering of long term relationships with emerging and established playwrights.

Among the noteworthy dramatists whose work has received world premieres, developmental productions, and workshops at McCarter are: Tarell Alvin McCraney, Edward Albee, Sarah Treem, Marina Carr, Lydia Diamond, John Guare, Nilo Cruz, Christopher Durang, Regina Taylor, Beth Henley, Danai Gurira, and Athol Fugard. Many, including Eclipsed, Vanya and Sonia and Masha and Spike, Having Our Say, Anna in the Tropics, Crowns, Valley Song, and Yellowman, received original workshops at McCarter before moving on to Broadway

and/or become some of the most frequently produced plays in the American theater. McCarter is equally recognized for its reinvestigations of the classic canon (currently, Agatha Christie's The Mousetrap) including Fiasco Theater's reimagined production of Into the Woods, Stephen Wadsworth's acclaimed adaptations of the Marivaux Trilogy and Beaumarchais' Figaro plays, Brian Friel's Translations, and Emily Mann's adaptations of Chekhov's The Cherry Orchard and Lorca's The House of Bernarda Alba. 

McCarter is supported by Princeton University, the New Jersey State Council on the Arts, and over 3,000 individuals, corporations, and foundations. McCarter Theatre is located at 91 University Place in Princeton, NJ. For more information, www.mccarter.org.