By Gary Wien
originally published: 03/22/2016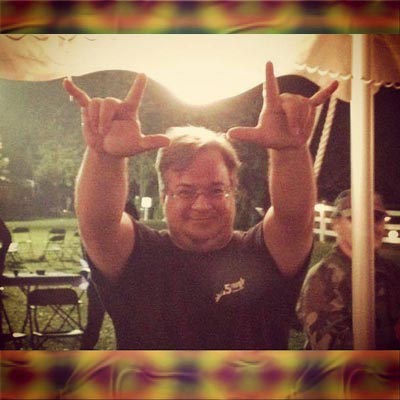 For over 25 years, New Jersey native Jeff Raspe has been one of the most visible DJs in the state.  He's been the host of prominent events such as the Light of Day concerts and the Asbury Music Awards, and has been involved in organizations like Musicians On A Mission.  He recently turned 50 and will be celebrating the milestone with a special show at The Strand in Lakewood on Friday, April 22.  The lineup includes Jesse Malin, Mark Erelli, and Val Emmich - three artists that are all special friends of his.
Raspe grew up in Cresskill in Bergen County and went to Hofstra University.  He originally was undecided about his major but leaned towards a business degree.  After noticing he was spending most of his time in the college radio station, he decided to switch to Communications/Radio in his second semester.  As a die-hard music fan, the radio station called out to him.
"In high school, me and a friend or two had achieved the reputation that if you wanted to know about a new band to ask them," he recalled.  "I was always the guy if you asked me something like, 'Hey, have you ever heard of this band R.E.M?' The next day I would have a 90-minute mixtape of R.E.M. and R.E.M.-related stuff for you."
He remembers riding his bike from Cresskill to the Disc-O-Mat store in Paramus (a distance of 7-10 miles) to purchase vinyl albums.  The trek involved crossing Rt. 4.  Thankfully, there was an elevated walkway.  Unfortunately, it meant carrying the bike up and down a flight of stairs.  The ride home took place with LPs clamped onto the back of his bike.  The mission was to make it home without breaking the records.
As with many DJs, his first on-air experience came in college.  He worked the Friday night shift shift at Hofstra for his final 3 1/2 years.  After graduation, he landed a job at WHTG (FM 106.3) in Eatontown, NJ — a station that included DJs like Matt Pinfield (who would go on to MTV) and Mike Marrone (now on Sirius/XM); and one that earned Rolling Stone Magazine Readers' Poll Awards for Top Local Station.  He stayed there until 2001 and moved to WBJB (90.5 The Night) where he's been for 15 years.  In a strange twist of fate, several of his fellow WHTG colleagues wound up working at WBJB as well.
---
The article continues after this ad
---
---
"To be able to work in radio at a station where you like anywhere from 90% to 100% of the music you play is in and itself a rare thing," he noted. "We don't do it because it's a job, we do it because we like playing the music that we play."
Somewhat ironically, his playlist has evolved much like that of Jesse Malin who will be playing his birthday show.  Malin was in the band D Generation when Raspe was spinning them on the alternative rock station WHTG.  As that band broke up and Malin became a solo artist, his music began veering more towards the Triple A format (carried by radio stations that often feature a diverse playlist of rock, folk, and Americana artists).  As luck would have it, that's exactly the type of music Raspe now plays at WBJB.
All three of the artists on the bill for the Strand show have known Raspe for a long time, but none longer than Malin.  The two met at the "kiddie table" in 1982 when Malin's uncle was marrying Raspe's aunt (technically a cousin of his mother's, but treated as an aunt).  He jokes that Jesse's from the Jewish side of his family, "When, in fact, he is the Jewish side of my family!"
Growing up, Raspe heard stories about his cousin playing in bands, but he never realized how much Jesse's career was taking off until a conversation with his aunt and uncle one day.
"Oh hey, your cousin Jesse's band just put out an album and we went to the record release party," they said.  "It was so loud!" He asked them what was the band's name.  "They said D Generation and I remember stopping them in their tracks.  Wait a minute, Jesse is Jesse Malin from D Generation?"
Since then, the two have had fun with their music industry relationship.  "If I was walking down Avenue A in one direction and he was walking up Avenue A in the other direction it was like, 'Hey cuz!' and whoever he was with and whoever I was with would just look at the two of us like, 'What are you guys talking about?'"
Mark Erelli was one of the Raspe's first on-air interviews at WBJB and has become a friend and favorite of his over the years.  Erelli was actually booked to play The Strand on April 22 in what they call a "Backstage Pass" show where the performers and audience both sit on stage, creating a more intimate experience in the theatre.  When Raspe got word from Jesse Malin that it was one of the nights he was available to play, he asked Erelli if he would mind literally turning the show around into a true theatre night and sharing the bill.  "Much to my delight, he immediately said 'Absolutely, of course, I'll do that.'"
The third artist on the bill is Val Emmich, someone Raspe has known ever since he was a student at Rutgers University and playing in some of his earliest bands.  The prolific Emmich has released a ton of critically praised albums in the last 15 years, while finding time to act in movies and television shows like Ugly Betty, 30 Rock, and his latest - a recurring role in HBO's Vinyl, which is produced by Martin Scorsese and Mick Jagger.  Emmich doesn't do many live shows these days, so it's a special treat for Jeff to have him do a solo acoustic set at The Strand.
"He was always one of those young kid singer-songwriters, even though he always had a band around him, that those of us who have been doing it for a long time would look at and say 'This kid's got something'" said Raspe.  "I think Val has proven it through the years and the timing might work out well because of his character in Vinyl."
The Strand show is also a fundraiser which will benefit WBJB 90.5 The Night and The Strand itself.  After the show, the party continues in the GALLERY with performances by Framing Dakota, Cortney Metzler from Harper's Fellow, and Lowlight.  Raspe, who took piano and drum lessons for a brief period growing up, says being a musician is just about the only thing in the music industry he hasn't done and he's fine with that.
"As it turns out, I actually have a lot more fun putting shows together and creating lineups that I think will work," said Raspe.  "Lineups in which the artists - even if they don't know each other - will like each other and become friendly.  And no matter who on the bill brought you to the show, you in the audience will like the other people playing as well."
---
Gary Wien has been covering the arts since 2001 and has had work published with Jersey Arts, Elmore Magazine, Princeton Magazine, Backstreets and other publications. He is a three-time winner of the Asbury Music Award for Top Music Journalist and the author of Beyond the Palace (the first book on the history of rock and roll in Asbury Park) and Are You Listening? The Top 100 Albums of 2001-2010 by New Jersey Artists. In addition, he runs New Jersey Stage and the online radio station The Penguin Rocks. He can be contacted at gary@newjerseystage.com.
---