originally published: 02/22/2016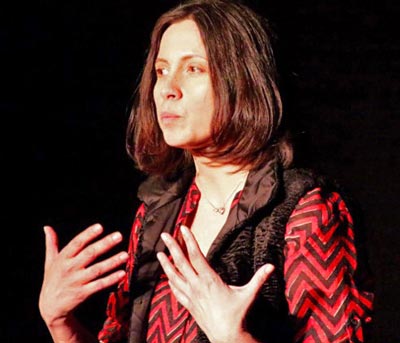 Before you can ask who are we, you must answer, who am I?
Identity – the new series by Jersey City Theater Center (JCTC) – looks at the many ways individuals define themselves and each other – and how our definitions of self are affected by the world we live in, and in turn, influences both our culture and our community.
Through theater, performances, readings, film, dance and a visual arts exhibition – and Talk-Back sessions featured as part of most events – JCTC takes audiences on a multi-faceted journey of inquiry about the meaning of self and its relationship to society.
Identity, like the previous JCTC series on Justice, Happiness and Origins, utilizes multiple art forms and disciplines to unwrap a topic global in scope but relevant to the lives of everyone in their community. Identity – which was funded in part by a grant from the Hudson County Department of Cultural Affairs – runs February 26 through May 13 at Merseles Studios, 339 Newark Avenue, Jersey City, NJ 07302.
The first series of the 2016 JCTC Season, Identity promises more than a dozen thought-provoking, compelling and often controversial evenings. Race, ethnicity, gender, sexual orientation, social expectations – and other issues the theme of Identity inspires – will be explored by an extraordinary assortment of talent, both regional and international in scope.
---
The article continues after this ad
---
---
 Identity showcases new collaborations between JCTC and other arts organizations, theater companies, dance ensembles and individual performers, writers and artists. According to Olga Levina, Artistic Director, JCTC, the complexity of Identity required that JCTC access as many new voices as possible.
"To really do a topic like Identity justice, you need a range of perspectives," said Levina. "We purposely sought out a diversity of distinct and talented voices to gain a better understanding of what identity truly means. We are giving equal opportunities to different artists, theater companies, performers and organizations to present their expression of what identity is."
The Identity series examines the many personal, sociological, historical and psychological factors the concept inspires. "The programming we've selected deeply delves into the question of identity," said Levina. "In terms of scale, Identity is the largest project JCTC has so far undertaken. We couldn't even consider without the support of artists and the Hudson County community."
In addition to the 20+ individual visual artists featured in the Identity Art Show, the opening features two performance art pieces by participating Identity Art Show artists. JCTC is presenting other Identity events in collaboration with Golden Door International Film Festival; the Writers Theatre of New Jersey & Speranza Theatre Company; I'Wante, a JCTC artist in residency; Barry Levey, an Award-Winning Performance Artist, Producer & Actor; Sonya Donaldson, Assistant Professor, World Literature, New Jersey City University;  Sally O'Neill & Tuva Hildebrand, dancers and multi-media artists from Sweden and currently JCTC Artists in Residency, and DRIGGproductions, a Jersey City dance & film company.
Identity (March Highlights)

 
---
Identity Art Show (opening 2/26)
The Identity Art Show opens the Identity Series with a gallery reception, Talk-Back and performance art. Nearly two dozen are featured in this visual exploration of self, a uniquely compelling exhibition whose opening sets the foundation for the subsequent Identity events. The gallery at Merseles Studios will be open throughout the Identity series.
 "The work in this show is powerful because it prompts viewers to question what goes into forming their own identity," said Lucy Rovetto, Curator of the Identity Art Show. "There is an innate conflict between who we think we are, and who society either wants us to be or wants to define us as being. Conflict also arises from the tension between the person we are and the person we think should be."
The many facets of Identity are depicted through an eclectic range of mediums: photography, video, assemblage, printmaking, papermaking, oils, acrylics, collage, and illustration. Most of the artists have never shown at Merseles Studios before, and many are new to the growing Jersey City arts scene.
Identity Artists Include: Luis Alves, Ricardo Barros, Carlos Bautista, Allyson Block, C Ray Borck, Jenny Brover, Luca Cusolito, John Delaney, Junia Flavia, Rita Flores, Cory Ford, Carlos Frias, Grigory Gurevich, Daniel Hilton, Andrea Artemis Morin, Anh-Thuy Nguyen, Alex Pergament, Jeanette Sperone, Nikita Polyansky, Clara Richardson, Theda Sandiford, Giovani Santoro, Carol Scavotto, and Fay van Eeden.
In addition, the opening features  two performance art pieces by participating Identity Art Show artists.
Gurevich will perform "Umbrella" and "Characters," two pantomime performances.
The Body Project is a performance piece combining movement, music and masks. Scavotto created the different masks, which were part of an earlier performance piece of the same name, the documentation of which is her contribution to Identity Art Show. For the opening, actors wearing her masks, use movement, voice and improvisation, both subverting and expanding preconceptions of Identity. The Body Project is directed by Olga Levina, Artistic Director of JCTC and features regional actors and performers: Claudia Godi, Karlhey Frederic, Madalyn J. Pedone, Robert C. Armstrong, Sarah Haruko, Ellen Ko, Daniel Rutz and Steven L. Coard.
---
Leah Guy/Lecture/Discussion (2/28)
Leah Guy, a Holistic Lifestyle Expert, noted speaker and owner of Modern Sage (351 2nd St, Jersey City), a Wellness & Healing Center & Boutique, moderates To Eat Meat or Not to Eat Meat, That is the Question, a panel discussion about the benefits and drawbacks, especially as it relates to nutrition and the environment, of being a carnivore. Other panel members include: Kristin Reisinger, MS RD CSSD, Iron Plate Studios; Ron Mirante, Bone-In Food; Michael Ferranti, Gotham Ayurveda, and Scott Rowe Nature's Own Farm. This special event will explore and analyze the current information and data on food, diet, nutrition, ecology and wellness. $15 at door/preregistration available at Modern Sage.
---
Identity Film Screening (3/04)
JCTC-FILMS & Golden Door International Film Festival presents: Identity – an evening of independent cinema exploring the relationship between Self & Society.
This collaboration explores identity through very distinctive films from four separate genres, all originally screened at the 2015 Golden Door festival: Connected a documentary about young girls exploring their identities through new media; Mommy, a romantic-comedy about a mother's whose controversial past is discovered by her son; Mother, a drama about a stepmother as seen through her relationship with her troubled stepson; and Sid's New Glasses, a dramedy following an elderly man who suddenly sees the world and his true self, anew.
 "We are proud to collaborate with the highly respected Jersey City Theater Center to present a special Identity themed film event at Merseles Studios in conjunction with the current art exhibition of the same name," said Bill Sorvino, Founder/President, Golden Door. "This should prove to be a tremendous way of opening fine arts to a new segment of the community while creating a bridge for film lovers to experience the Jersey City arts scene through JCTC."
---
New Play Readings/ Writers Theatre of New Jersey (3/05, 3/11, 3/18, 3/25)
For four nights in March, Jersey City audiences will experience works in progress from emerging New Jersey playwrights . This theatrically innovative partnership between JCTC and the Writers Theatre of New Jersey focuses on issues of women's identity through JCTC's ongoing New Play Reading program.
JCTC New Play Reading/New Jersey Writers Theatre presents :March 5/Midwives by Suzanne Trauth; March 11/Ends of the Earth by Lia Romeo; March 18/Hielo by Dania Ramos and March 25/Written on Her Face by Stacie Lents. The featured plays were initially developed by Writers Theatre of New Jersey's New Jersey Women Playwrights Project. This program – a continuing collaboration with Speranza Theatre Company, a woman's theatre company based in Jersey City –  is part of the New Jersey Theatre Alliance Stages Festival, an annual month-long celebration of New Jersey Theatre.
The plays – which will be having their Hudson County premier in a staged reading by Speranza actors – were selected for Identity because each looks at a woman's identity from different angles. Midwives examines the personal relationship between Eleonora Duse and Isadora Duncan; Ends of the Earth examines how women identify – and not identify –  with their role as mothers; Helio depicts women play in a small business in Puerto Rico; and Written on Her Face tells the story of female college professor and her failing student.
"We are grateful for the opportunity Jersey City Theatre Center has provided to further development with Jersey City's diverse and sophisticated audiences," said John Pietrowski, Artistic Director, Writers Theatre of New Jersey. "We are also grateful to the Speranza Theatre Company for bringing their championing of women in theatre to the collaboration."

​​​​​
---
Yass, I'm Cumming (3/12)
Yass, I'm Cumming is a one man show, written and performed by I'Wante, that asks, what does it mean to be different?
Darkly funny, often heartbreaking, and always honest, the story follows the personal awakening of a Gay African American male, who when caught at the center a love triangle, must choose between the security of a Corporate Job or risking it all on a chance to pursue his true calling.
I'Wante – the stage name of Steven L. Coard – is a rising star in the worlds of theater, comedy and music. His previous one-man shows have sold out in off-Broadway theaters and as well as in venues nationwide, and he is the winner of Best Comedy Music Video at the 2013 RightOUT TV video Awards  The genesis of the controversial Yass, I'm Cumming – which will be receiving its New Jersey premier at Merseles – was his need to find an outlet "to say all of the things that I can't say during polite conversations," said I'Wante. " I love to take the audiences on an emotional journey painting pictures through song my with specific situations and vivid memories".