By Gary Wien
originally published: 01/30/2016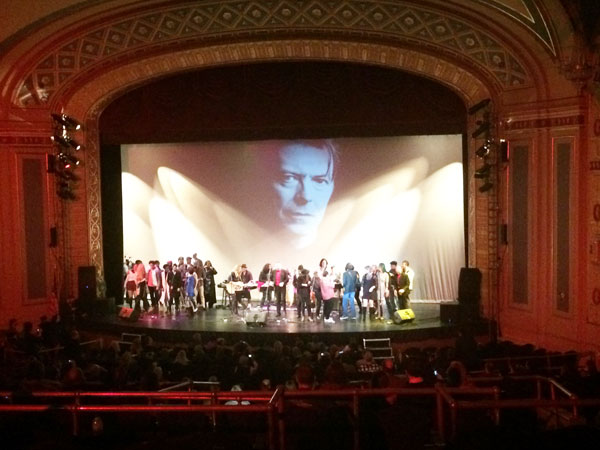 Dozens of artists paid tribute to David Bowie at The Strand Theater on Friday, January 29th during an event that did much more than showcase Bowie, the Artist.  It showcased the vision Anthony D'Amato has for the Strand.  A vision that is exciting and long overdue for the Lakewood venue.
Last August, D'Amato was named the producing artistic director of the Strand Theater.  Since that time, he has changed the course of the venue significantly, bringing in creative shows, launching new series, and morphing the gallery into a venue in its own right.  On Friday, the Strand took a giant leap forward to his vision with its beautiful tribute to David Bowie.
Within 24 hours of Bowie's passing, D'Amato (who performs under the stage name Remember Jones) had begun setting up an amazing lineup of artists to perform songs from throughout Bowie's career.  But that was only part of the vision.  The Strand is now Anthony's playground and between his creativity as an artist, his ability as a performer, and the beautiful architecture of the Strand, the possibilities are endless.
The show featured dozens of artists, often performing solo or accompanied by a musician or two.  Many paid tribute to Bowie's own creativity by performing the songs very differently than the recorded versions. Stripped down, his lyrics took center stage, adding an extra layer of poetry to his words.  Occasionally, a full band took to the stage, which brought out the pure, raw energy of Bowie's music.   The end result showed two distinctly different sides of David Bowie as a songwriter.  Strung together across several hours, fans heard plenty of hits, some rarities, and left wanting even more.
In a night full of highlights, here are ten that stood out for me:



Lindsey Desena's sultry vocals on "Ashes to Ashes"




David Ross Lawn's beautiful piano instrumental version of "Heroes" -- a perfect choice for a song I could see many fighting over to sing




Airacuda's explosive cover of "Ziggy Stardust" — I forgot how much I love that band




Remember Jones with Joe Russo and Steven Leonard (from Almost Queen) on incredible versions of "Life on Mars" and "Under Pressure."




Alex Biese and Friends with "Lazarus" off of Bowie's last album.  "David wrote this song to say goodbye, we're playing it to say thank you."




Jette Hetherton's insanely brilliant version of "I'm Afraid of Americans"




Kayla Dillons' emotional romp through "John (I'm only Dancing)"




"Starman" featuring amazing vocals by Trevor McQueen




The Sunday Blues with "Moonage Daydream" complete with stunning guitar solos




And the closing numbers "All The Young Dudes" and "Young Americans" which featured just about everyone on stage



---
The article continues after this ad
---
---
Throughout the night the Strand took full advantage of the theater setting, projecting videos on to the big screen ranging from interviews throughout Bowie's career to clips from music videos and his acting work.  Every now and then Anthony D'Amato would read memorial posts from people like Yoko Ono, Mick Jagger, and Paul McCartney.  This was the type of event that simply could not be pulled off in a bar, it needed the grandeur of a theater.
The one constant throughout the night was the personal relationship each artist had to Remember Jones and to Bowie himself.  From the performers to the members of the audience it was clear that many had grown up feeling like an outsider.  Bowie's music told them it was ok to be outside the norm.  For some, his music opened their eyes to creativity and to their own artistic expression; for others, it opened their lives to live freely however they chose.
I didn't intend to write a story about this show.  I was simply there as a music fan; a guy that grew up wearing out David Bowie cassettes from too much use as a teenager.  In many ways, Bowie was one of the artists that introduced me to a world outside of top-40 radio, even though he had tons of hits himself.  So, I went simply to enjoy a night of his music and to say goodbye in my own way.  For many reasons, I no longer cover live shows.  I'd much rather tell people about a show that's going to happen so they can attend rather than tell them what they've missed, but this night was something special - so much so, I needed to share it. 
I've always been a fan of the underdog and that's what The Strand is.  It's a truly beautiful venue that's easy to get to, but unfortunately is surrounded by a downtown that doesn't offer the traditional bars and restaurants nearby to hit before or after a show.  For years, I think people needed a reason to go there.  I would imagine hundreds of those in attendance were likely either visiting the venue for the first time or making their first trip back in years.  What they experienced is hopefully something that will bring them back.  
Anthony D'Amato is an Ocean County native who clearly wants to see something special happen there. And he  believes it can.  He reminded people that a decade ago, people didn't think Asbury Park would ever come back.  If the Bowie Tribute is a hint of what Anthony D'Amato brings to the Strand Theater, he might be able to pull off the unexpected. He might actually make Lakewood hip.  An artistic director with a vision is a powerful thing.  He's off to a good start and, on this night he made the town the best place in the state to be. 
---
Gary Wien has been covering the arts since 2001 and has had work published with Jersey Arts, Elmore Magazine, Princeton Magazine, Backstreets and other publications. He is a three-time winner of the Asbury Music Award for Top Music Journalist and the author of Beyond the Palace (the first book on the history of rock and roll in Asbury Park) and Are You Listening? The Top 100 Albums of 2001-2010 by New Jersey Artists. In addition, he runs New Jersey Stage and the online radio station The Penguin Rocks. He can be contacted at gary@newjerseystage.com.
---