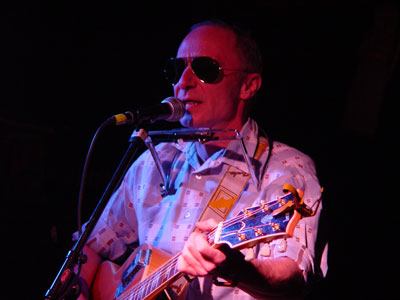 (ASBURY PARK, NJ) -- It's never easy asking for help, but dire times call for dire measures.  The Saint, a rock and roll club in Asbury Park, has set up a GoFundMe crowdfunding page to help raise funds for its stability and growth.  The club, which launched in November 1994, is one of the oldest, continously run rock and roll venues in the state.  While larger places like the Stone Pony get the majority of press, The Saint has always been the place to see artists on their first go around through town.  For many years, it was also my home away from home.  
I've seen hundreds of artists and bands perform there over the years.  It's always been the type of club where music writers, DJs, and musicians would hang out at.  The type of venue where you could see touring bands from across the country perform even though they were unlikely to have any draw at all.  Where you could pop in any night and see a great show.  Scott Stamper, the owner of The Saint, has always been a true music fan and a die-hard supporter of independent musicians.  He's made many long-standing relationships with bands early on in their careers, which would bring them back to the tiny (about 150 person capacity) club years after they should have graduated to larger venues.
"Asking for help is a difficult thing to do," said Stamper on the GoFundMe page. "While some venues withstand the test of time, many of our historic venues haven't fared as well. Many of music's most iconic venues have been lost. It is with great humility and much respect for the music and arts community that I am reaching out for support on behalf of THE SAINT. I have been and remain devoted to providing an intimate stage for local artists and the touring road show, across all ages and genres. We are in the process of developing a sustainable business model for The Saint so that moving forward we can continue to bring live original music to New Jersey while providing a state-of-the-art haven for music and the arts."
In recent years, I've had a bit of a love/hate relationship with the club. Stamper and The Saint have been the driving forces behind some of the most important events in the Asbury Park music scene and some of my best memories from the Wave Gathering Music Festival to the Asbury Music Awards. The club has experimented with everything from the Asbury Cafe shows which turn the club into a listening room of sorts to comedy, poetry, and storytelling nights. It's the type of club that inspires a loyal following.  With its small staff, regulars often feel at home there.  However, the club has also turned down help from people over the years. For every moment that looks like they are visionaries, there are equal amounts of moments when they follow the standard procedure of Asbury Park -- a city that rarely innovates for as much potential it offers.  I think it all comes back to not wanting to ask for help and not recognizing when help was being offered.  Sometimes I wonder if they realize just how much support was available to them over the years.
In a perfect world, venues like The Saint would be around for generation after generation, but this isn't a perfect world.  It has also been a horrible period for music venues in the tri-state area.  We've seen legendary clubs like CBGB's and The Bottom Line shut their doors since the turn of the century.  Garden State venues like Maxwell's and the Court Tavern have reemerged with new owners after shutting down, but showed how vulnerable they are.  In Asbury Park, the future of Asbury Lanes is still in doubt despite being a venue that was so unique and beloved that it often garnered national press in tourist publications.  
---
The article continues after this ad
---
---
The message is clear: any venue can close, regardless of its history.
People just don't go out to clubs the way they used to.  You can blame it on the changes in radio, the dawn of the Internet and music streaming sites, or even the threat of DWI -- but it's harder and harder for clubs to have the type of crowds they need to survive.  If you ever spent any time at The Saint or if you believe in independent music, I urge you to donate if you can.  Some things are worth saving.  The Saint is one of them.
"We hope to raise $25,000 through this fundraising effort, which will allow us to keep The Saint on track and ensure stability and growth," the club said on the GoFundMe page. "To the many friends that know and love The Saint, we sincerely appreciate any contribution - no matter how big or small, whether it's one dollar or one-hundred dollars. We humbly thank you in advance for spreading the word with those whose lives The Saint may have touched."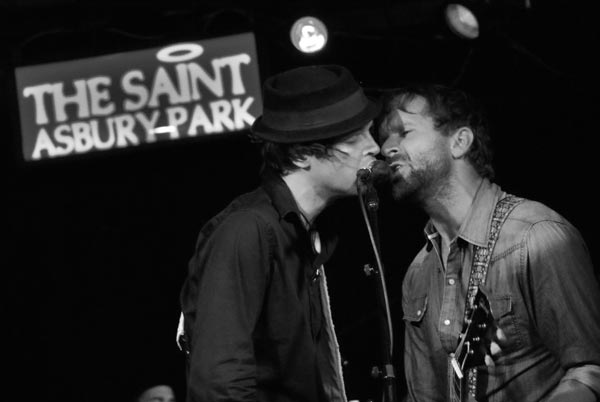 ---
Gary Wien has been covering the arts since 2001 and has had work published with Jersey Arts, Elmore Magazine, Princeton Magazine, Backstreets and other publications. He is a three-time winner of the Asbury Music Award for Top Music Journalist and the author of
Beyond the Palace
(the first book on the history of rock and roll in Asbury Park) and
Are You Listening? The Top 100 Albums of 2001-2010 by New Jersey Artists
. In addition, he runs New Jersey Stage and the online radio station
Asbury Music
. He can be contacted at
gary@newjerseystage.com
.
---