By Gary Wien
originally published: 11/01/2015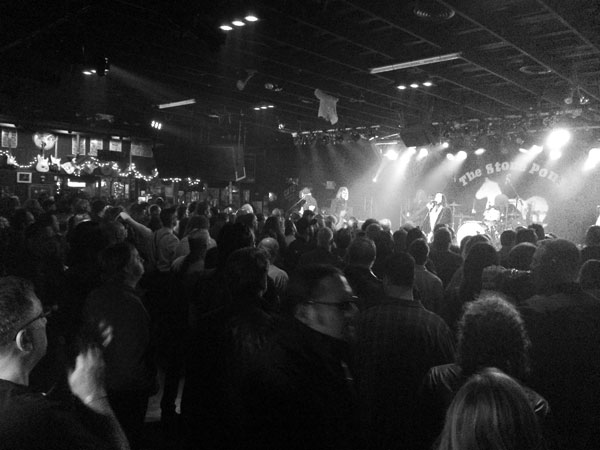 (ASBURY PARK, NJ) — "I can't tell you how great it felt to be on the other side of the world and to open up Facebook and see so many people saying they were happy for me," said Matt O'Ree on stage at The Stone Pony in Asbury Park.  The show on Friday, October 30 was a homecoming for O'Ree who was fresh off a tour of Asia with Bon Jovi.  The tour went over so well, he was officially named the band's new guitarist soon after.
Originally known for the blues, Matt O'Ree now fronts a band that plays high energy classic rock as if it's a runaway train powered by the spirits of Jimi Hendrix and Stevie Ray Vaughn.  They don't play sit down and drink your bourbon blues, they play the blues on steroids.  Even their older tracks seemed to have more of a snarl behind them.  It's rock and roll with an attitude.
For well over a decade, O'Ree has been dazzling crowds throughout New Jersey — from Jersey Shore bars to some of the biggest venues in the state opening for classic rock legends like Kansas, Paul Rodgers, Deep Purple, Blue Oyster Cult, and Marshall Tucker to name just a few.  First came the local accolades, piles of Asbury Music Awards — everything from best guitarist to best blues band to best local release — and winning an Acoustic Showdown competition in Red Bank.  Then came the big one… In 2006, O'Ree beat out thousands of guitarists around the country to be named "King of the Blues" by Guitar Center.  
The Matt O'Ree Band truly took shape sometime around 2008 when Eric Safka joined the band on the Hammond B3.  Along with Safka on keyboards and organ, the band includes Scott Bennert on bass and John Hummel on drums.  At the Stone Pony, Eryn Shewell and Layonne Holmes provided outstanding backup singing support.
Long-time fans came out in support to welcome Matt home.  The Stone Pony was completely packed, which was great to see.  I don't get a chance to see many shows these days, but I remember when packed houses like this rarely happened for local artists.  But, then again, I guess it's fair to say that Matt is no longer a local artist.  He belongs to the entire world of Bon Jovi fans in the same way that Bobby Bandiera outgrew the Jersey Shore once he started playing guitar for Bon Jovi about a decade ago.
---
The article continues after this ad
---
---
The night kicked off with the Taylor Tote Band and they couldn't have picked a better opening act.  Taylor and her band were in top form; they not only sounded great, but looked far more comfortable on the Pony stage than when I last saw them at the Two River Theater for their last ep release.  Here, they looked and sounded like a kick ass rock and roll band.  While its great to headline a venue, sometimes being an opener makes you have to work a little bit harder.  In this case, Taylor and her band were up to the challenge.  Their set was so good that I can see them facing a new challenge soon — making sure they don't get typecast as the perfect opening act.  They clearly know how to work a room and they had a packed house from their first song to work with.  They were followed by Colossal Street Jam whose fine set of classic rock sound got people anxious for the main event. And then it was time…

The Matt O'Ree Band came out firing with a blistering version of "Black Boots" a song that will be on their upcoming release (due out in 2016).  Throughout the night, they mixed songs from the next record along with favorites from his previous releases.  A terrific version of "Saints and Sinners" from Shelf Life was one of the highlights of the night for me.
The band took a brief break between sets to premiere their new single.  This was the recorded version of "Black Boots" which happens to feature a fellow Jersey guy named Bruce Springsteen on guest vocals.  It was a real passing the torch kind of moment  and nice to see.  The song will surely find its way on to radio stations across the world and between having Bruce on the new single and the Bon Jovi gig, 2016 is setting up to be one amazing year for Matt.
After the single, O'Ree spoke of how people come in and out of your life, but occasionally one comes into your life and changes it dramatically.  David Bryan (keyboardist for Bon Jovi) is one that has done that for Matt.  He brought out his new bandmate to play keyboards next to Safka for a few songs.  The first was Bon Jovi's "Wanted Dead or Alive" which featured Bryan singing lead.  The next was a track that I think was called "My Everything is You" that was written by David Bryan and O'Ree.  The song is expected to be on the upcoming release.
In addition to their own brand of classic rock, the Matt O'Ree Band included a few stellar covers including Rick Derringer's "Rock & Roll Hoochie Koo" and Humble Pie's "Thirty Days In A Hole" to their set.
Matt has been one of the truly good guys in the Jersey music scene for a long time and it was wonderful to see everyone come out to support him. The night was solely to support Matt and bask in his good fortune and the local music community came out.  People I saw wandering around in the crowd included Drew Wajnert from PhanPhest, Jon Leidersdorff of Lakehouse, Rich Robinson of WBJB, Scott Stamper of The Saint, Rob Dye, and Williams Honor (Gordon Brown and Reagan Richards).
"As long as I'm breathing, I'm going to be up here playing for you," said O'Ree.
And as long as he's up there on stage, we'll have his back. He's paid his dues, he's got the talent, and now it's his time to be in the spotlight. I guess we're ready to share another superstar with the world.  After all, we've had some practice.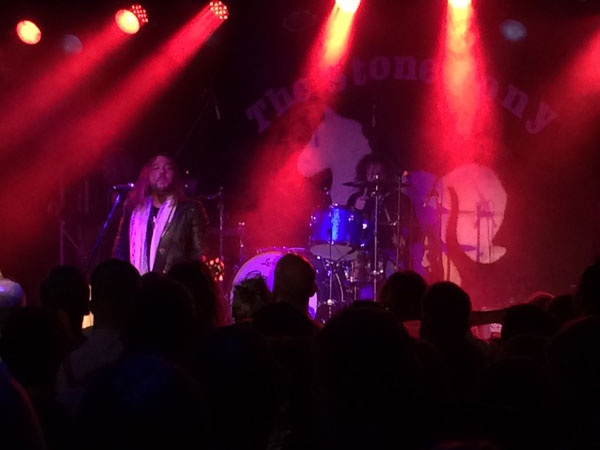 ---
Gary Wien has been covering the arts since 2001 and has had work published with Jersey Arts, Elmore Magazine, Princeton Magazine, Backstreets and other publications. He is a three-time winner of the Asbury Music Award for Top Music Journalist and the author of Beyond the Palace (the first book on the history of rock and roll in Asbury Park) and Are You Listening? The Top 100 Albums of 2001-2010 by New Jersey Artists. In addition, he runs New Jersey Stage and the online radio station The Penguin Rocks. He can be contacted at gary@newjerseystage.com.
---