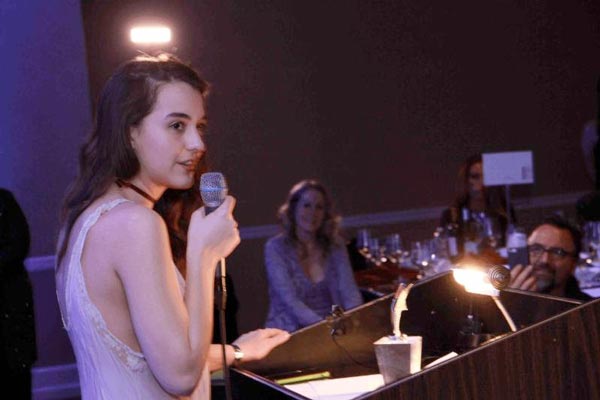 (ATLANTIC CITY, NJ) -- Are you or someone you know a talented up and coming actor with ties to New Jersey? The Garden State Film Festival (GSFF), the state's largest and most respected film festival, is looking for accomplished actors on the rise that were born, raised or now reside in New Jersey for their 2016 Rising Star Award. The final deadline to submit is November 15, 2015. The award will be presented on April 3, 2016 at the festival's Black Tie Awards Dinner at the Claridge Hotel in Atlantic City. The fourteenth annual GSFF runs from March 31- April 3, 2016 in Atlantic City, NJ. More information on the event is available at  www.gsff.org.

The Garden State Film Festival's Rising Star Award is open to all present or former New Jersey actors, regardless of age of union affiliation. Eligible candidates must have a proven passion for the art form and have made inroads to the industry through hard work and determination. The deciding committee will be looking for a progression of work in theater, commercials, television and film.

Applicant must be available to attend Black Tie Awards Dinner on April 3, 2016 in Atlantic City to accept the award. Entry should include a headshot, resume, references and demo tape or DVD if sent by mail. Please send submissions electronically to risingstar@gsff.org or by mail to GSFF 711 Boston Blvd., Sea Girt, NJ 08750. Mailed entries need to be postmarked no later than November 15, 2015 and submitted materials will not be returned to applicants.

The recipient of last year's Rising Star Award was the very talented New Jersey born and raised actress, writer and filmmaker Quinn Shephard.  At nineteen years old, Shephard's impressive feature film credits included Windsor, Unaccompanied Minors, Harrison's Flowers, From Other Worlds and Assassination of a High School President. Her television credits included a series regular role on Hostages, with guest-starring appearances on hit series Law & Order: SVU, The Blacklist, Believe, Made in Jersey and Person of Interest. As a writer/filmmaker, Shepard's first feature-length screenplay Blame was selected as a finalist for the Sundance 2014 Screenwriters Lab, her short story Brighter was runner up for the 2014 One Teen Story Writing Contest and her past directorial work has been featured at the Garden State Film Festival.

The Garden State Film Festival is also accepting entries until November 15, 2015 for independent films, movie music categories and screenplays from around the world. There are competitive categories in documentary, animated, narrative short and feature length films, as well as music videos, commercials, trailers and student projects.  The winners of all competitions will be recognized at The GSFF Black Tie Awards Dinner held on April 3, 2016 at the Claridge Hotel.  Submission instructions and more information can be found on the festival's website at www.gsff.org.
In 2015, the festival featured 180 films from 19 countries, hosted an open talent casting call, held engaging panel discussions, opening and closing ceremonies and inspired the next generation of filmmakers.  Ed Asner, Lieutenant Governor Kim Guadagno, Armand Assante, James Wilder, Siobhan Fallon Hogan, and Chance Kelly were among the celebrities and honorees that attended.  The long running event is a staple in the independent film festival circuit and celebrates its historic 14th anniversary in 2016.
---