By Gary Wien
originally published: 08/20/2015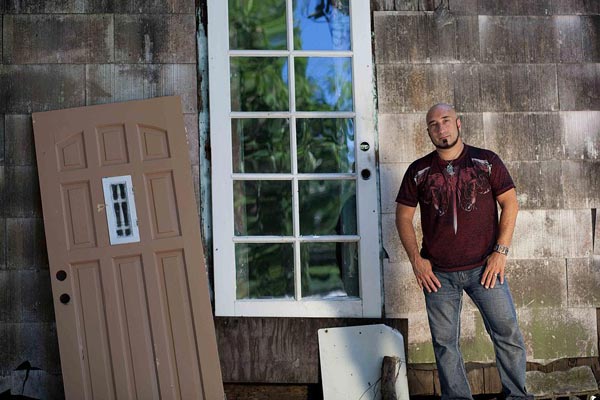 Many musicians are afraid to have that honest conversation with themselves about their career.  The one in which they take a look at what has worked for them and what hasn't; when they try to envision what the next decade or two will look like; and when they realize it's time to stop comparing themselves to their idols and start comparing their income to a regular paycheck.
You know the conversation.
Even though John Taglieri has been a rather successful independent artist for many years, he admits to having that conversation in 2008 and it helped him ensure that playing and recording music would be his only job.
Taglieri released five solo records by that point. This was due to his experience as a multi-instrumentalist, recording engineer (he earned a degree in audio engineering from the Center for the Media Arts in New York City), and his knowledge of various aspects of the music industry (he formed Leap Dog Music, an independent record label and publishing company in 1999). Taglieri was the epitome of a DIY artist. To others, it looked like his career was going well, but Taglieri realized he was still trying too hard to be something he wasn't.  
"I was trying so hard to be what I thought I should be instead of what I was," he explained.  "I had gotten so many fortunate opportunities from opening for bands like Squeeze and the Gin Blossoms, and I was trying hard to be that guy; the guy who gets on stage and just plays his songs.  But I'm not that guy, I'm a goofball.  I'm a far better entertainer than I will ever be an artist.  I'm not the guy who wants the room to be quiet so you can hear a pin drop with the crowd hanging on my every word.  I want us to have a lot of fun because one day I realized that I couldn't remember a lot of the shows that I'd gone to where I had seen those artists.  But I could remember every single show where I had a fun time.  So, I made the conscious decision to stop trying so hard and just be."
---
The article continues after this ad
---
---
He calls it definition.  He needed to define what was truly important to him, what he wanted, and what were the goals he wanted to reach.

"When you're not honest with yourself, you sort of throw everything against the wall and see what works, and then you go after that haphazardly" said Taglieri.  "But when you can define your goals, you can define your direction, and focus your gameplan on making it happen."
Taglieri has definitely been making it happen ever since the conversation.  Born in Hoboken, he grew up in North Bergen and called New Jersey home until a few years ago when he moved to Massachusetts.  He also has a residency in Key West, Florida where he spends six months of the year.  Over the years he has developed a nice following up and down the mid-Atlantic states to go along with a Key West audience that changes each week with a new influx of tourists.  All total, he did more than 200 shows last year.
His career hit a new level two records ago when Southern Paradise landed Taglieri on Billboard's New Artist Chart.  He entered at #134 and kept rising, ultimately cracking the top 75.  The following release, Days Like This, spent time on the Billboard charts as well.

True Believer, his 13th release, came out on August 14, 2015.  With so many releases to his name, it might surprise people to learn that Taglieri has no problems playing covers in his set.  
"The other thing with the conversation is that I do covers," said Taglieri.  "I make no bones about that I do covers, but I also do originals.  I treat it as 'I'm John Taglieri.  Come to my show and I'm going to play some songs you know and some songs I wrote.  We're going to laugh a lot, drink a bit, and hopefully you will go home saying you had a good time.'  It was about honing in on an identity as opposed to saying I don't want to be a covers guy.  I'm not a covers guy, I'm an entertainer.  I'm going to come out and make you have a good time, and I sell more CDs now than I ever did when I was an 'artist.'"
"I never understood the guys who would rather work in a mall than play covers because honestly I'd rather be on a stage playing guitar every day of the week than ever going in to work," continued Taglieri.  "If I've got to play a cover show like in Key West, I play the first 10-15 minutes to warm up my voice and from there on I do all requests.  So I have no idea what I'm doing on that stage day to day.  And the fun part is I've got to be ready and able to play a thousand different styles.  I can't just be a rock guy, I've got to play pop, 50s, 60s, hard rock, country, metal — I've got to be able to do everything.  What it's done for my chops over the years is make me a much better player.  And as a songwriter, it's brought so many influences into my writing that I never would have had if I stayed just one thing."
Years of playing hard rock by request led Taglieri to return to that style on his latest release.  He describes the record as Extreme meets Godsmack.  The songs have growling vocals, blazing guitar solos, and an anger that wasn't shown on his last several records.  During his live performances, he has always been able to show his guitar licks when playing hard rock covers, and he admits to missing that with his own tunes.  One night while playing guitar in his studio, he started noodling the chords that led to "Don't Ask Why" from the latest release.  Within a half hour, the song was written.  Taglieri loved the anger in the song and knew it was a signal for the direction of the record.
The six-song EP is available on iTunes, Amazon, and most other digital download websites. Taglieri began releasing EPs instead of full albums in 2008 when he noticed that putting out a record each year kept his fans more engaged and helped with building a solid relationship with them.  Since then, he's released 9 records including a greatest hits disc and has put out a new EP each year since 2012.
"A lot of people want to be famous, I didn't," said Taglieri.  "I wanted to make a living.  That changes your whole priority set when the goal is not to become famous.  My goal is to make a living for the rest of my life and never have to work again.  I'm not even a blip on the musical radar of the big leagues, but I wake up every day and I don't have to go to work.  That, to me, is all the success I'm ever going to need."
---
Gary Wien has been covering the arts since 2001 and has had work published with Jersey Arts, Elmore Magazine, Princeton Magazine, Backstreets and other publications. He is a three-time winner of the Asbury Music Award for Top Music Journalist and the author of Beyond the Palace (the first book on the history of rock and roll in Asbury Park) and Are You Listening? The Top 100 Albums of 2001-2010 by New Jersey Artists. In addition, he runs New Jersey Stage and the online radio station The Penguin Rocks. He can be contacted at gary@newjerseystage.com.
---