By Gary Wien
originally published: 06/24/2015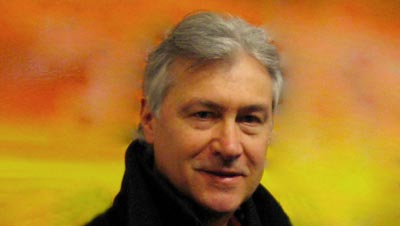 The Comedy of Errors is one of the Bard's funnest and funniest shows, beloved by audiences for over  400 years.  In the play, Two sets of identical twins separated at birth, an old merchant with a short stay of execution, a goldsmith itching to get paid, sisters in love with the same man (or so they think), a hideous kitchen maid, a high maintenance courtesan, henchmen and hired goons, mishaps and loads of mistaken identity...and it all happens over the course of a single day!
Bergen Shakespeare brings this play to life with four performances (July 24, 25, 31 and August 1 — all at 8pm) at the Amphitheater at Overpeck County Park in Ridgefield Park, NJ.  Best of all, the shows are completely free admission!  Just bring a chair or blanket and enjoy the words of The Bard under the stars!  Unfortunately, being outside, the shows are at the mercy of the weather and any performance date that gets rained out will not be made up
New Jersey Stage caught up with director Vince Parrillo to learn more about the play and the challenges of directing a cast in an outdoor production versus a traditional stage.  
I know you've been involved with the Players Guild of Leonia for a long time.  Have you ever directed an outdoor production before? Yes, I directed several outdoor musicals in Wood Park, Leonia, for the Players Guild play-in-the-park productions in the 1990s.
What are the challenges you face that you don't face in a regular theatre setting? With an indoor play, you're in a controlled environment. Besides not worrying about the weather, you also have advantages in blocking out extraneous sounds, in building more elaborate sets and in using special lighting effects, among other theatrical devices. Outdoors, we are more limited in all these areas, so we have to create a production in which the characters—in their deliveries and movements—are so compelling that the audience experiences such vicarious pleasure that those limitations become irrelevant to one's enjoyment of the play.
---
The article continues after this ad
---
---
Tell me about the play.  What is it about The Comedy of Errors that makes it a great choice for a summer evening production? Summer is a fun time for everyone, and this show is most definitely a lot of fun. Comedy of Errors is one of Shakespeare's shortest plays and also one of his most silly comedies. Laughs come from both slapstick comedy and the audience delighting in the onstage confusion over mistaken identities involving two sets of twins. On a more subtle note, there will be knowledgeable smiles in the audience's recognition of Shakespeare's frequent puns and playing with words. Also, I've adapted the script for a modern audience while retaining the familiarity of rhyme and iambic pentameter. Whether you're a Shakespeare fan or know nothing about him, a delightful evening awaits you, AND you can set your picnic basket down on blanket or sit in a lawn chair. You can't do that in an indoors theater!
Do you know if any of the cast members have experience on an outdoor stage before? We have a terrific cast, more than half commuting to our rehearsals from New York City. Although most are theatrically trained and experienced actors, only a couple of them have previously performed in an outdoor setting. We took everyone to the amphitheater so they could get a sense of the stage and the wide, sloping lawn where our audience will be.
The director has so much to worry about each night as it is and now you've got to keep an eye on the weather as well.  What would you say is your biggest worry for each night? The weather? The sound? Lighting? No question, the weather will be the greatest concern because we have no control over it. Hopefully, we'll be okay. Sound and lighting are no worry whatsoever. We tested the amphitheater sound system and it's really great. All actors will have body mikes and the audience will easily hear them. It's the same with lighting. We're working with two tall lighting towers out front and more than two dozen overhead stage lights. With a trained and experienced stage manager and technical professionals, I'm very confident about those aspects of the production.
Finally, you're obviously someone who understands and believes in the value of theater to a community.  What would you say is the value of letting people experience outdoor theater? Do you feel this really takes theatre back to its origins? Outdoor theater is a really special experience, as anyone who's ever seen an outdoor production will tell you. There's something immensely pleasurable in relaxing under the night sky with a lighted stage before you as live actors perform an entertaining story. For thousands of years, theater was performed outdoors, including first productions of many of Shakespeare's plays, this one as well. So, yes, an outdoor play brings us full circle back to the origins of theater, bonding us in a way with those theater-goers of the past, as we "modern folk" enjoy a production under the (hopefully) stars.
---
Gary Wien has been covering the arts since 2001 and has had work published with Jersey Arts, Elmore Magazine, Princeton Magazine, Backstreets and other publications. He is a three-time winner of the Asbury Music Award for Top Music Journalist and the author of Beyond the Palace (the first book on the history of rock and roll in Asbury Park) and Are You Listening? The Top 100 Albums of 2001-2010 by New Jersey Artists. In addition, he runs New Jersey Stage and the online radio station The Penguin Rocks. He can be contacted at gary@newjerseystage.com.
---