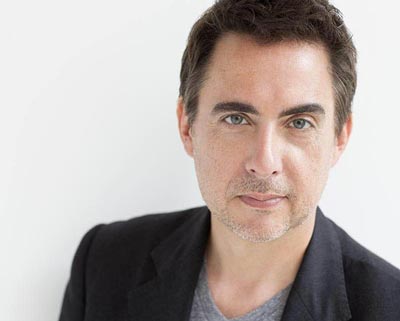 This month the National Geographic Channel is presenting a brand new series called American Genius, turning the spotlight on some of our nation's most brilliant innovators and the rivalries that contributed to their technological advances. The final installment is titled Edison vs. Tesla, and celebrates the quintessential American inventor Thomas Alva Edison and his rivalry with European colleague Nikola Tesla. New Jersey Stage sat down to talk with the actor playing 'The Wizard of Menlo Park,' New Jersey's own Eric Rolland.
Hi Eric! Like Edison, you weren't born in the Garden State, but you make your home here. Tell me where you were raised and how being a 'Jersey Boy' may have influenced you.
My family is from Pennsylvania and I was born just northwest of Philadelphia. We moved to Freehold when I was just a preschooler. Aside from college in Philadelphia and a few years living in Passaic County in the '90s, I've been here at the Jersey Shore pretty much all my life. Growing up in Freehold in the '70s and '80s was a great time - schools and recreation programs were very arts friendly plus we had the new phenomenon of this local guy named Bruce. His exploding success inspired and supported tons of local misfits, I'm sure. Monmouth County wasn't nearly as developed then - more woods, more farms, far fewer homes. When I wasn't at the beaches between Asbury Park and Island Beach or sailing on Barnegat Bay, I was playing Planet of the Apes in the woods, building tree houses, or catching turtles up at Durand's Pond.
When did you first start acting?

I got my first acting and writing experience in a 4th grade stage adaptation of The Hobbit - I played Thorin. The reading class also wrote and performed monthly radio plays broadcast over the school's intercom.
Were you in your high school plays?

I was extremely active in high school plays. I went to Freehold High School - the Boro - and we performed unusual stuff for a high school: plays by Capote, Inge, Tennessee Williams, musicals like The Apple Tree, The Boy Friend, and Little Mary Sunshine.
Did you study acting in college or go to an acting school?

I went to Temple University in Philadelphia for a theater degree. I worked with excellent coaches there and had truly great theatrical experiences. Actors, like any other artist, should always be working - so when I'm not on a project I'll take different types of classes at various schools and studios in New York. Anything from vocal production to scene study to script analysis, new techniques, or improvisation.
Did you start acting right out of school or did you take time off to do other things?

In college I performed at the local Six Flags Great Adventure theme park over summers. Post-college, I didn't go after an acting career in the sense of going to New York for stage or Los Angeles for film. I stepped away from acting completely for about 15 years.
---
The article continues after this ad
---
---
I know you've done a lot of stage acting. Do you have a favorite kind of play?

In terms of work, my favorite kinds of plays are good plays! I don't instinctively characterize things as comedy or drama - for me, that can be distancing to the work.
Was there ever an experience that made you want to give up? Or one that was particularly encouraging and made you want to keep at it?

The only time this career has felt like a 'job' was a gig I had one winter with a very long daily commute - that was very tiring. Another time there were some problems with a small theater willfully misinterpreting the terms of its Equity contract. Difficulties, yes - but problems tend to have an end date in this business so nothing disheartening. In terms of keeping at it: it's what you do as an actor. Every time you land a gig it's encouraging.
What was your first professional job?

I think it was back in 2010. I played Greg in A.R. Gurney's Sylvia at the Highlands Playhouse in Highlands NC - a gorgeous little resort town in the Smoky Mountains. Katie Hayes, who you can see nowadays on TMZ, was Sylvia - she's pretty brilliant.
I see from your Instagram that you toured Europe in West Side Story! That must have been quite an adventure.

Yes, it was an adventure in every sense of the word. Where to start? You have the chance to work on a unique piece of theater (there's nothing else like West Side Story) in collaboration with Joey McKneely, who learned the show from Jerome Robbins himself; Maestro Donald Chan who has conducted more performances of West Side Story than anyone else; and a cast of incredible dancers, singers, and actors from all over the world. The tour lasted 11 months, playing legendary opera houses and performance venues, with long stands in London, Dresden, Frankfurt, Tel Aviv, Zurich, Munich as well as playing Belgium, France, Monaco, Naples, and Luxembourg.
Wow! Would you do it again?

I'd still be doing it if the tour hadn't ended - it was a perfect life for me! There's rumblings of new productions and upcoming tours - so fingers crossed. There's so much to learn there - it never felt old or stale for me, even after 282 performances.
Before tackling Edison for American Genius you played J.P. Morgan on The Men Who Built America on the History Channel. Did that experience help when playing Thomas Edison?

It absolutely helped. As great an experience as shooting The Men Who Built America was, it was a huge learning curve for everyone involved. Stephen David Entertainment was pioneering a new version of this genre - extensive acting script, complex special effects, world-class direction and cinematography. As an actor, I didn't have a clue what the final product was going to look like. I'm not certain too many people other than Stephen David and director Patrick Reams had a grasp of the vision. Of course, the show went on to win multiple awards, including two Emmys, and to be broadcast all over the globe.
Returning to work with them on American Genius was like the best reunion ever - not only did I get to collaborate with old friends, but everybody had upped their game in remarkable ways. We were all confident and at ease because we had an idea of where we were headed. This time, I had a full script prior to shooting plus I was working with Hollywood veteran Paul Abascal as director and Independent Spirit Award nominee Milton Kam as cinematographer. It was an incredibly creative and rewarding experience. And I think I did some good work - we'll see.
Which makes me wonder if you prefer stage or screen acting?

Does a musician prefer concerts or recording? It varies from moment to moment. They are two very different mediums requiring complementary skill sets. Acting in any medium comes down to 'be truthful, be present, be simple, tell the story.'
I know you've just finished Proof for Holmdel Theatre Company. What's next for Eric Rolland?

I'll probably stop by the market - I'm low on yogurt. And I have some laundry to fold.
Professionally, it's easy to keep up with what I'm doing by following me on Facebook, or @ejrolland on Twitter and Instagram. I'm an enthusiastic, yet restrained, self-promoter!
American Genius: Edison vs. Tesla airs June 22nd at 10:00pm on the National Geographic Channel. For more information visit http://americangenius.nationalgeographic.com