By Gary Wien
originally published: 05/20/2015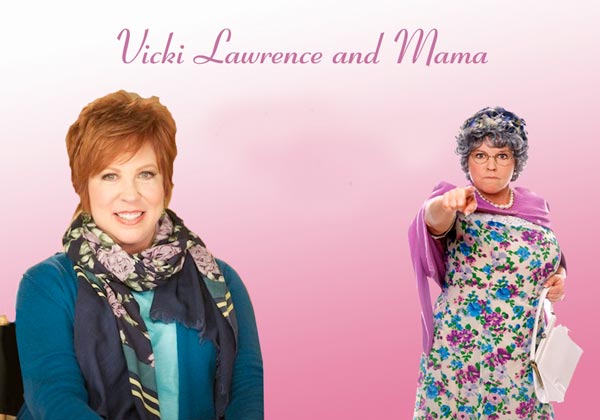 Vicki Lawrence will probably always be remembered for the character of Mama — that endearing old lady who was never afraid to speak her mind — that she created on the Carol Burnett Show.  The character was so beloved that it went on to star in Mama's Family from 1983 to 1990.  
In the years that followed, Lawrence realized she would never fully be separated from the character, so she learned to embrace it.  After the success of the Carol Burnett Showstopper Special in 2001, Lawrence created a touring production entitled "Vicki Lawrence and Mama: A Two-Woman Show" which was one of the unique shows presented at The Theatre at Raritan Valley Community College (RVCC Arts) this past season.  
"CBS played that special shortly after 9/11", recalled Lawrence.  "The world was in such a place that when I put the show together I wanted to take people away from everything that's going on for 90 minutes and make them laugh."
The live show is a combination of Lawrence presenting autobiographical material first (and she's had quite an interesting life) followed by Mama coming on stage.  When Mama appears, all bets are off.  She provides cover for Lawrence to say all of the things she wishes she could say  — many of which the audience probably is thinking too.  It's anything but politically correct.  As Lawrence has performed the show throughout the country over the years, she's learned that people still respond to Mama and that seeing the character on stage is a unique experience.
"I can't think of anywhere where you can actually see a character from television come out on stage live like this," said Lawrence.  "Maybe a person from a sitcom, but not a character like Mama.  She's so much fun to write for.  I feel she's my chance to be Chris Rock.  Maybe she's not quite as raunchy as Chris Rock, but, in my mind, she's my chance to cut loose and say everything I'm thinking about and that we're all thinking about."
---
The article continues after this ad
---
---
Part of the show's charm is seeing Mama in parts of the country in which you would never expect her to be.  It's the classic fish out of water scenario. But the main charm lies in Mama's humor.  Lawrence laments the current television landscape, believing that the humor found on The Carol Burnett Show and Mama's Family is still loved by many yet rarely understood by the industry.  Considering that Mama's Family only ran two of its six years on network television (with the rest on syndication), Lawrence speaks from experience.
"On television, the executives are mostly either in California or on the East Coast," said Lawrence.  "They just are not aware of what's going on in the real world — in the rest of the country.  Some of our best, most beloved old sitcoms are rural, but they don't get it.  When my show went on the air, not only did they not understand rural comedy but they didn't understand a young woman playing an old woman.  It was like a double dose of 'What are we going to do with her?'
"I think people are hungry for the good old days," she continued.  "I think comedy was written better back then and I think people just love those old classics — shows you can sit down with your family and watch together.  You can pass them on to your Grandkids without worrying about it.  My granddaughter is hooked on Mama's Family and there are far worse things!"
The success of stations like MeTV and TVland suggest that Lawrence has a point.  Both stations build upon the concept of classic television that Nickelodeon's Nick at Night made popular and can be found on many cable systems throughout the area.  Lineups are filled with popular shows from the fifties through the eighties — MeTV even runs  Carol Burnett and Friends show.
In a strange twist of fate, both Lawrence and Carol Burnett performed in New Jersey within a few weeks of each other, further proof that fans of rural humor are alive and well even in the Garden State.  In June, Lawrence says Burnett is expected to see her live show for the first time.  She thinks Burnett might be surprised at how the character has evolved over the years.
"Mama is very hip and with it," explained Lawrence.  "My intention was to push her into the new century — just throw this old lady from the Midwest into the middle of the modern world and let her comment on the whole thing.  She's probably edgier now than she ever was, but she's still the same great character that you can throw into the arena and people buy the way she comments on it.  She's got that old Southern / Midwestern mentality and values, and that's the place she comes from.  So, although she's more modern, she's coming from the same heartland that she always did."
If you miss Mama's Family, every episode is available on DVD and the show still occasionally run on syndication.  With any luck, maybe a television executive will catch Lawrence's show sometime and hear the laughter throughout the theater.  A character this intriguing deserves another chance in mainstream media.
---
Gary Wien has been covering the arts since 2001 and has had work published with Jersey Arts, Elmore Magazine, Princeton Magazine, Backstreets and other publications. He is a three-time winner of the Asbury Music Award for Top Music Journalist and the author of Beyond the Palace (the first book on the history of rock and roll in Asbury Park) and Are You Listening? The Top 100 Albums of 2001-2010 by New Jersey Artists. In addition, he runs New Jersey Stage and the online radio station The Penguin Rocks. He can be contacted at gary@newjerseystage.com.
---