By Gary Wien
originally published: 04/01/2015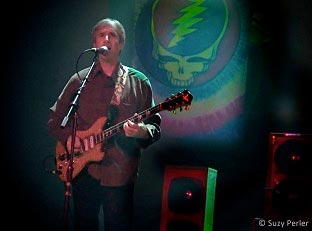 In honor of the Grateful Dead's 50th anniversary, Dead On Live is paying tribute to this milestone by performing the band's music in full production, both as heard on the band's commercial releases and as performed live in some of their most famous shows throughout the years.  On Friday, April 10 at 8PM, Dead On Live marks their first appearance at the South Orange Performing Arts Center (SOPAC).  Tickets range fro $25-$35.

Dead On Live is led by touring and recording veteran Marc Muller (Shania Twain, Bruce Springsteen, Disney).  New Jersey Stage caught up with Muller to learn more about the show.

 

How did Dead On Live first come about?

I was part of Glen Burtnik's annual Beatle show that covered Beatle records every year they had a 40th anniversary. While working at the Count Basie Theater doing the Rock The Basie program I was offered to do a show of my own. Went home brainstorming about 1970, 40 years before. As a young developing musician, the 70's were all about the Grateful Dead for me.  Bam! Workingman's Dead and American Beauty BOTH 1970! Presented the idea and they loved it. We were asked back to the Basie and have been traveling with each show ever since.  It's been a really great experience going back to my roots. I feel like I'm 17 again, but without the pimples.

What makes Dead On Live different from other Grateful Dead tributes?

While starting to work on the songs for the show I realized how important each part of the puzzle was to the overall picture, sonically, to these 2 classic records. Without Phil's rootless syncopated bass, Jerry's pedal steel and the quirky drum soup, to me, the songs just wouldn't be represented with the class and dignity I thought they deserved. So, for the next 9 months I painstakingly dissected all the parts, all the instruments and all the equally quirky vocal harmonies. Yikes…. I don't think there's been another tribute act, or even the Dead themselves that have reproduced the records, note-wise and production-wise besides us. Both unique and surreal to hear/play these classics as released on the records.You'll be playing SOPAC for the first time.  What will the set cover?  Are you doing a specific album or all over the place?

While we had annually been presenting basically 2 year eras of the Dead's recording history following the success of the initial show (71-72, 73-74, etc), I decided for the Dead's 50th anniversary it would be cool to pick some favorites from each record, maybe best representing each era, and do a nice timeline of their incredible and musically diverse career. So tough to put a set list together and not have the show be 6 hours long! I do think we came up with a really fun, yet adventurous show.In the past you've had Jersey musicians like Nicole Atkins perform with you.  Are there any Jersey musicians joining you at SOPAC that might not be part of the regular crew?

Indeed, we're almost less a "band" and more a "cast" depending on records/shows being reproduced.  I have a good core group of guys, most all from NJ, that will be joining me for this show. John Pittas – keys, Paul Avrutin – bass, Lee Finkelstein – drums, Tom Circosta – guitar, Brian Kolins – percussion, with guests Sandy Mack – harmonica, vocals and thrilled to have my daughter joining me on stage Erica Muller – vocals.



In your opinion, what is it about the music of the Dead that endures so well decades later?

Joy, freedom, family.  What other type show can you look out and see so many generations of people dancing, with big smiles on their faces for the entire show.  That's been a really cool thing, seeing older fans that were there back in the day with their kids next to them, singing along. Awesome.

You've had a pretty solid career and have performed or recorded with many big names, have you ever had the chance to jam with members of The Dead?  

I did get to do a few songs with Donna Jean. There I was, singing Eyes of The World and Scarlet Begonias with DJ standing right next to me singing the parts I heard her do so many times at shows back in the 70s.  I was thrilled.  I did get to speak with Phil while my band was doing a tour of CA last June. I told him I transcribed everything and have a band that plays everything live. He took a step back and said he thought I was crazy with a smile. Hoping, thinking he meant crazy in a good way maybe.One look at your touring schedule and it looks like Dead On Live is hitting lots of venues for the first time in upcoming weeks.  Where do you hope to take this band?

Hoping to keep widening our coverage. We really had a great turnout and response to our CA trip. Seeing the look on people's faces when they hear the records they grew up with live for the 1st time is always great, but seeing the faces of the people that were THERE in San Francisco when they came out was really special.  Hoping for a CA return as well as other parts of the country. For now we're mostly in the NE with some nice big shows coming up this year.Tell me about Marc Muller's Hippie Jazz — you've got a couple of shows coming up.  What are those shows like?

While being a little hippie teenager/musician, a friend in 1979 suggested I go see this guy Jeff Beck at the Palladium in NYC. No tix, my friend and I drove in cold, sold out. Last second before leaving disappointed we scored 2 6th row center tickets at face value!  Stood there blown away seeing Jan Hammer, Simon Phillips with Jeff Beck making sounds on a guitar I could have never imagined.  Within 2 years I was at Berklee College of Music in Boston discovering Miles, Monk, Jaco, etc. (Thank you Rick Blakemore for good suggestion!)  With my instumental music I think I've fused my early influences with my later influences in perhaps a unique kind of way. It's really fun to play and hopefully to listen to also. I've had some great musicians on my 2 CD's including Victor Wooten, Rod Morgenstein, Anton Fig, David Mann, Adam Holsman, etc.Finally, you're an Adjunct Professor at Monmouth University.  Did you ever imagine your road leading to teaching at a university?

Coming off the road after 10 years with Shania I was asked by a professor at the university to come into one of his music production classes as a session musician. I really enjoyed the experience.  He asked if I might be interested in coming in for a lecture too. Terrified by the new experience at first, I settled in and found it really fun and the kids seemed to enjoy too.  Soon after I was offered teaching a Rock N Roll history class as well as a Songwriting class. 8 years later and really enjoying it. Thanks in part to my old friend Rick's concert suggestion, I'm now teaching History of Jazz too!


---
Gary Wien has been covering the arts since 2001 and has had work published with Jersey Arts, Elmore Magazine, Princeton Magazine, Backstreets and other publications. He is a three-time winner of the Asbury Music Award for Top Music Journalist and the author of Beyond the Palace (the first book on the history of rock and roll in Asbury Park) and Are You Listening? The Top 100 Albums of 2001-2010 by New Jersey Artists. In addition, he runs New Jersey Stage and the online radio station The Penguin Rocks. He can be contacted at gary@newjerseystage.com.
---
---