By Gary Wien
originally published: 03/19/2015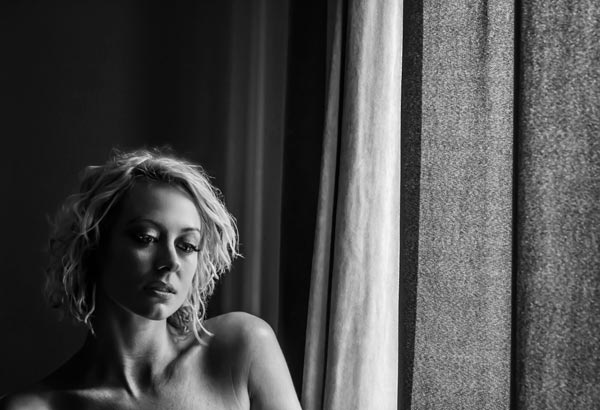 A few years ago Anjelia Pelay celebrated the release of her first CD with a giant show at The Stone Pony in Asbury Park.  In the years since, she's moved away from the pop/rock sound of her first release to one of country and has left the Jersey Shore for California.  
New Jersey Stage caught up with her to talk about the move, her upcoming EP, and the Cali Country sound.
So let me get this straight, you left playing pop/rock along the Jersey Shore to move to California to play country? I've always been a country singer, my first album was my foray into the Music industry, and I was told and advised to stay more of a pop/rock route.  My first label even told me that I sing with a little too much of a "twang", which I had to suppress to fit the mold.  I'm no longer fitting the mold, and am being true to my inner voice, which is country.  I am a country singer, first and foremost.  I always have been, always will be.
My decisions follow the title of my new album The Heart Decides. All I did for each decision was truly follow my heart while never forgetting the importance of being a doer rather than just a dreamer.
Unlike other generations of artists like Springsteen that left NJ for California, you are able to stay in touch with your friends and family back home via social media.  Has this made the transition easier or harder? Oh, I am so blessed (as funny as this sounds) to have Facebook. I get to keep my friends and fans at home updated on my shows, upcoming projects, and career. And my Twitter, now has all these new fans that are stoked for the release of my album, they may not have heard of me at first if it wasn't for Twitter.
---
The article continues after this ad
---
---
A lot of people think or feel that with social media being such a forefront in our lives that "art is dying" or "art is dead" but I think just the opposite. I wish I could summon Shakespeare from the grave so he can tell everyone every reason why he wishes he were born in a time where he could have a Facebook account. We are so blessed to be alive in a moment where we can literally Google anything..we can listen to any music we are in the mood for and within seconds it will be playing. We are blessed, I wish more people could see this.
As an artist today, I have much more engagement with my fans as well because of social media. So I'm very grateful for that.

There's something about Jersey that can tear you apart enough to be creative, and then lift you back up in a different way. It's a pretty enigmatic state. I like that still to this day, it made me have a lot to say in my music.
It also has this thing about it where you get to a point that, I feel as an artist, makes you need to get the hell out of there and explore life outside of your comfort zone. Just like Paulo Coehlo says. "If you think adventure is dangerous, try routine; it is lethal."
I don't want to be born, live, and die all in the same place. I'm a writer, I've always needed to experience more.
What is the California Country sound?  The California Country sound is more of a concept, or an idea rather than a genre itself.  

It's the feeling you get when you're driving on the Pacific Coast Highway with your 3 best friends, singing songs that make you feel good, songs that make you feel everything or anything at all.  
It's the crossover between country music and your favorite music.  It's the feeling you get when your favorite song comes on at a local dive, as much as it is the feeling you get when your friends jam on the acoustic near the campfire.  
It's the quintessential fusion of American rock and indie bands that no one's heard of with hypnotic melodies that draw you into the songs true meaning. It's not all about trucks and clydesdales, but about the heart and our shared experiences.  It's the music that your friends haven't heard yet, but want to.
I don't feel as if it's a response, or an extension of anything.  I think it's an organic evolution of our collective feelings and emotions as artists and songwriters.  It has its roots in the era of flaming guitars and national anthems played upside down, and it grows in its own natural way much as the way that we as people have and continue to grow organically.  It captures the same energy and climate of the 70's rock gods and goddesses, but with a more modern approach.  It's all about the story, not the ending, and holds true to its roots with it always being about the journey, not the destination.
Tell me about the songs on the new EP.  These songs are based on my life, and my life has never stopped being written, no matter where I lived.  Some of them are about events that happened when I lived in NJ, some are about events in CA, others are reflections on things that have happened in both places.
"Kiss My Ass" is about becoming as strong as you already know you are, but were afraid to allow yourself to be.  It's about owning your strength and integrity, allowing what you know is inside of yourself to come out and speak on its own, finally.  It's about feeling empowered and overcoming the limitations you put on yourself in an abusive relationship.  It's about walking out the door, and making sure it closes behind you forever. Knowing and owning that you are so much stronger on your own.
"Heart Of Gold" is the most important song to me that I've written yet. I cannot wait for you all to hear it, especially my fans from home. It tells the story of my father and I, since I was a child, up until his passing.
He is the reason I play music today.  He is the reason I breathe and feel each lyric and melody so passionately. Losing him was the hardest thing that has happened to me but it has also made me fearless in my music, career, and performances. Being raised by such a wonderful person and then experiencing the loss of him forever, gives you some life experiences and qualities that can never be taught.
All the songs on the album tell a story.  Here's the one that I feel tells the most accurate depiction of my story.  Listen now though, because I'm only going to have that one up for a limited time!  
You've got a couple cool things coming up -- your video for "Kiss My Ass" and opening up for John Carter Cash at Molly Malones in Hollywood on April 16.  I know the Cash's were among your influences, who else has inspired your music? Johnny Cash and June Carter are two of the biggest inspirations I've had musically since a child. So I am beyond excited to be opening for JCC. All the music (counting Johnny & June) that my dad raised me on: Eric Clapton, The Beatles, Freddy Mercury (Queen), Elton John, Patsy Cline, Joni Mitchell, Buddy Miller..to name a few.
As I was growing up, I always loved The Dixie Chicks and today I'm digging Miranda Lambert and The Band Perry like no other, but the classics I grew up with will always hold the number one spot for me.
Finally, you hinted on social media about big news coming up... can you give any details?  You'll have to subscribe to find out ;)
http://www.facebook.com/anjelia

http://www.facebook.com/anjeia.music

http://www.twitter.com/anjelia
---
Gary Wien has been covering the arts since 2001 and has had work published with Jersey Arts, Elmore Magazine, Princeton Magazine, Backstreets and other publications. He is a three-time winner of the Asbury Music Award for Top Music Journalist and the author of Beyond the Palace (the first book on the history of rock and roll in Asbury Park) and Are You Listening? The Top 100 Albums of 2001-2010 by New Jersey Artists. In addition, he runs New Jersey Stage and the online radio station The Penguin Rocks. He can be contacted at gary@newjerseystage.com.
---