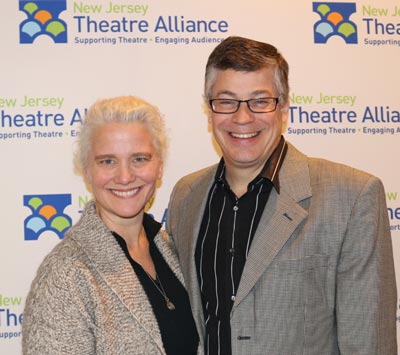 (West Orange) New Jersey Theatre Alliance, a service organization for the state's Equity producing theatres, is proud to announce that Jersey City Children's Theater (JCCT) has been accepted for membership in the Alliance as an Emerging Equity Member. JCCT is now recognized, together with the 34 other professional theatre companies that are members of the Alliance, as a major force in bringing the joy and power of professional theatre to all residents and visitors of New Jersey.
"JCCT is an exciting addition to the New Jersey Theatre Alliance for many reasons," said John McEwen, Executive Director of the Alliance. "Their programming focuses on young people, instilling in them a familiarity with and love of theatre from an early age. Also, they are located right in the heart of the state's most diverse community. Working with JCCT will help us fulfill our goal of making theatre accessible to all."
New Jersey Theatre Alliance is the hub for the state's not-for-profit, professional theatres, providing assistance with audience development, fundraising, advocacy, and capacity building. The Alliance also serves as a catalyst for collaboration among member theatres, and provides public programming such as the annual Stages Festival (a statewide festival of theatre in March), the discount ticketing service NJArtsTix, and the Cultural Access Network Project, which helps arts and cultural institutions make their venues and events accessible to people with disabilities.
Kathy Hendrickson, Artistic Director and Founder, considers JCCT's membership an opportunity to become more fully immersed in the New Jersey professional theatre landscape: "It is important to give jobs to New Jersey artists—to focus on bringing more actors and educators with diversity into the community. I look forward to our theatre becoming more Jersey-centric—becoming a deeper member of the New Jersey theatre family."
Founded in March, 2011, and located in the historic Barrow Mansion at 83 Wayne Street, JCCT is a not-for-profit production and educational theater company that has served over 11,000 children and their families in the Jersey City community. Hendrickson founded JCCT to address the community's need for world-class theatre-arts programming and education for the city's growing, young, and diverse population.
With a population of over 250,000, Jersey City is the second largest city in the state of New Jersey, and, according to a 2013 article in NJ.com, the second most diverse in the nation. Like its hometown, JCCT is multicultural, with a curriculum that utilizes the literature and poetry of different eras and cultures from around the world, such as multicultural fairy tales, Shakespeare, Greek and Roman Mythology, the Brothers Grimm, and Native American legends. JCCT's dual-language program launched in January 2014, and the theatre collaborates with teaching artists and performers from around the world.
Affordability of theatre is another core value of JCCT. In 2014 the theatre launched Play in the Parks (in cooperation with the Jersey City Parks Coalition), which allows the theatre to present its main-stage shows in the parks of Jersey City, free of charge. In partnership with the Jersey City Board of Education, JCCT offers 100 "gift tickets" to each of their main-stage productions, allowing families to have theatrical experiences regardless of financial means. In addition, JCCT has awarded over $30,000 in scholarships to its students.
JCCT has a very distinct mission: to enrich youth, families, and the community by engaging them physically, intellectually, and intuitively through play, offering performance and training based on the games of Viola Spolin and the "Story Theater" technique of Paul Sills.
"The focus in all we do is spreading the word of Viola and Paul," said Hendrickson. "Their philosophy is to start with the physical, and not depend on the emotional or intellectual. Viola believed that when you engage the physical, then and only then can you get to intuition. That is what we are all striving for—the players, the audience, the guides: collective intuition."
Founded in 1981, New Jersey Theatre Alliance was the first statewide service organization for professional, not-for-profit theatre companies in the United States, and is now a leader in developing model programs that foster collaboration, cooperation, and audience development. For arts patrons, the Alliance provides a variety of services, such as The Stages Festival, a statewide festival of theatre in March offering free or discounted performances and programs.
Funding for New Jersey Theatre Alliance, a not-for-profit organization, is provided in part by the New Jersey State Council on the Arts/Department of State, a Partner Agency of the National Endowment for the Arts, as well as contributions from individuals, corporations, and foundations, including the Geraldine R. Dodge Foundation, The Blanche and Irving Laurie Foundation, Prudential Foundation, Bank of America, New Jersey Cultural Trust, and The Horizon Foundation for New Jersey.