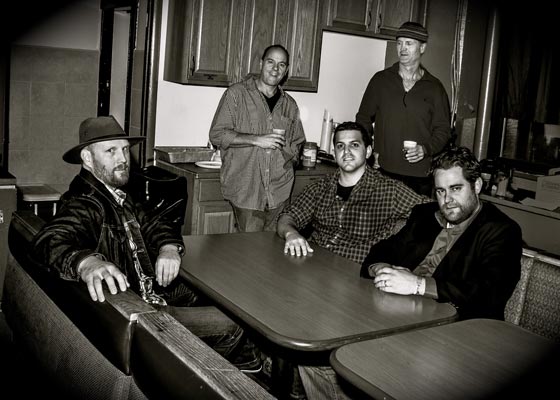 Two guys were walking down the street carrying guitars when a limousine pulled up, a window rolled down, and a guy who appeared to be Sylvester Stallone said, "You guys looking for a wayside shakeup?" The window then rolled up, the limo drove away, and a band was named.
Of course, it may or may not have actually been Stallone, but who cares? It's the perfect story for a band from Philly.
The Wayside Shakeup includes founding members Chris D'Antonio and Rob Volansky along with John Mcleod, Eric Raible, and Mike Leger. Three of the guys grew up just outside of the city in nearby Haddon Township, NJ.
The band members range from their thirties to fifties — a range that make the "Rocky" underdog comparison apt. It's difficult to get people out to the clubs these days no matter who you are, but especially when band members are of the age when their friends are all getting married, having kids, and generally staying home. To get around this problem, the band has chosen to play out less, but play the bigger venues in Philadelphia. In essence, turning every show into an event.
"We need to schedule gigs months and months in advance," explained Rob Volansky whose band has played venues like the World Café Live, the Trocodero Theatre, The Legendary Dobbs, and Ardmore Music Hall. "We tell them to put the shows on your calendar. You're coming out on May 1 or whenever it is. We can't just call them on a Friday night and say, 'Hey, we're playing tomorrow night, come on out.' They need to get babysitters and rearrange schedules and stuff. So we try to be sparingly with our gigs so we can make each one count. We give everybody time to get it on their schedule and prepare. And then we make sure it's heavily attended; we have a good showing; and we make a little money."
Philly can be a tough place to be a musician. While the major music venues are great for bands, they are few and far between. It's not the type of city where every bar or restaurant features live music and there are tons of opportunities for musicians. Bars often are places friends simply go to hang out and drink and watch sports on tv.
"It means there are a lot of bands competing for precious Friday and Saturday night slots," said Volansky. "Instead of being able to play anywhere on any night of the week, making a little money, and having the bar owners happy to have us, you have to schedule shows, get on a bill with bands with similar sounds, and make sure you bring your audience with you."
Finding bands to share bills is a bit difficult for groups like The Wayside Shakeup who incorporate rock, funk, country, pop, and a bit of jam band into their sound. In a way, the band's sound is reminiscent of the reasons guys like Volansky love living in Philly. On any given night, you could hit an open mic which includes a guy playing acoustic guitar, one playing piano, someone rapping, and jazz and funk acts. Volansky loves the diversity and how everybody influences one another — exactly how his band's sound emerged.
In 2011, the band released its self-titled debut album. They followed it up two years later with Optimistic and are currently working on a new record. The guys in The Wayside Shakeup are in it simply for the love of music. They all come from similar musical backgrounds and connect well when they perform together. Music doesn't have to fulfill a dream of being a rock star or someone's job, sometimes it can be best as an escape from a job. For Volansky, that job is writing about infectious diseases as a medical writer.
"I was overseas for many years and came home and needed a job," recalled Volansky. "I wanted to write and a buddy of mine worked at this medical publishing company. I started at zero, I knew nothing, but I've been doing it for 7 years now and kind of feel I have a pretty good handle on how medical research goes. I'm writing about hepatitis right now. I don't think I even took a science course in college. When I first started working at the company, my buddy who got me the job said, 'You'll drown if you try to understand the science of what you're writing. You basically need to understand if there's a study or a new drug and how the testing went. If you try to understand what's happening in the cells or the biology or any of that you're going to drive yourself nuts.'"
The band just finished recording a new single with Reed Kendall from the Philadelphia band Up The Chain. Look for more singles and shows in the area in the next few months. For more info visit www.thewaysideshakeup.com