By Gary Wien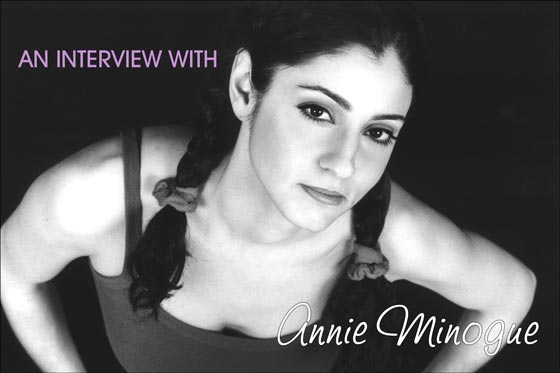 This March marks the return of Annie Minogue to the area in a big way. She's got several shows lined up in New York and will be coming to New Jersey later in the year. Originally from the Bronx, she now lives in North Jersey and is focusing on this region after years of touring nationally. In addition, she's been in the studio recently and looks forward to releasing her next record (called Suburbia) on the Varese Sarabande record label and distributed through Fontana Universal.

Chances are you may have heard Annie's music even if her name doesn't ring a bell. Among the many places her songs have been played include MTV's Real World, Lifetime Television, the TV Guide Channel, and New York radio stations Q104.3 and 93.3FM. Constantly working on this side of the business, her songs are still being placed on television on a regular basis. She's also been the opening act on tours for artists like David Lee Roth and Chris Whitley, and has played major festivals such as Summerfest, Sturgis Music Festival, and Sundance Film Festival.

"I think I've found my rhythm as a songwriter and have been able to refine what I'm trying to say," explains Minogue. "I was in a band prior to becoming a solo artist and it was a band that I started and co-founded. Towards the end, the dynamic sort of shifted and it changed to where I wasn't as much of a part of it as I used to be. I wasn't really saying the things that I wanted to say. On the last record we did I didn't even write any of the songs, I was just the voice of the record. It had nothing to do with what I wanted to say or how I was feeling or anything like that. It just wasn't the right situation anymore so I decided to branch out on my own and the music has changed from more folky-pop to rock and roll."

The move towards a stronger rock and roll vibe clearly suits Minogue. Her favorite bands are staples of classic rock radio like Led Zeppelin, The Faces, The Doors, Aerosmith, and The Rolling Stones. She also loves bands like The Black Crowes that harken back to the classic rock sound. Minogue says her band aims for a bluesy rock sound that would feel at home on 70s rock radio.

"That's a period when music was at its height in my opinion," said Minogue. "We're going back to the music of bands that really meant something. There just aren't bands like those anymore."

Minogue got an up close view of classic rock bands when she was the opening act for a David Lee Roth tour a few years ago. The experience was so interesting that she tried pitching a reality show about it called "Rock Star and Me." Minogue actually wanted to have David Lee Roth star in the show and call it "David and Me" but despite some very good meetings with industry executives, and the interest of a couple of production companies, the show never got off of the ground. It did, however, help lead her to a different avenue for her creativity. She's since begun working on a screen play for a movie and produced her first music video (a cover of "Jet" by Paul McCartney and Wings).

Music is still her first love and she says she doesn't see herself as a solo artist. She admits to being a bit shy in person — a side of her that is completely opposite of her stage persona — and considers her band to be a real band, not just one in name only. The band, which includes Nunzio Signore, Nick Saya, Dave Archer, Craig Dreyer, Tony Tino, and Brett Bass, is an integral part of her records.

"I've always wanted to be part of a unit," said Minogue. "I've never felt comfortable as a solo artist. There are a few records under my name, but I don't know if that means I'm a solo artist because they were always band projects and it sounded like a band when we made the record. I always ask the opinions of my bandmates of what they think and they are definitely part of the production. 'Do you think this could be better? Should the arrangement be different?' It's not all about me."

Over the years, the band has played quite a few big time shows. In addition to opening tours for David Lee Roth and Chris Whitley, they've opened for the Black Eyed Peas, Soul Asylum, and Steve Miller Band. They've headlined the Texas State Fair and played numerous gigs at the top clubs in Los Angeles — so much so that they were once named National Artist of the Year by the LA Music Awards. After years on the road and taking a bit of a break, Annie and her band are ready to build up again. New dates are being lined up so be sure to check http://www.annieminogue.com for the latest updates.
---
Upcoming Shows
| | |
| --- | --- |
| Thursday, March 5 at 8:00pm Daryl's House Restaurant Pawling, NY | Thursday, March 26 at 8:30pm Space At Westbury (Lounge) Westbury, NY |
---
Gary Wien has been covering the arts since 2001 and has had work published with Jersey Arts, Elmore Magazine, Princeton Magazine, Backstreets and other publications. He is a three-time winner of the Asbury Music Award for Top Music Journalist and the author of Beyond the Palace (the first book on the history of rock and roll in Asbury Park) and Are You Listening? The Top 100 Albums of 2001-2010 by New Jersey Artists. In addition, he runs New Jersey Stage and the online radio station The Penguin Rocks. He can be contacted at gary@newjerseystage.com.
---