By Gary Wien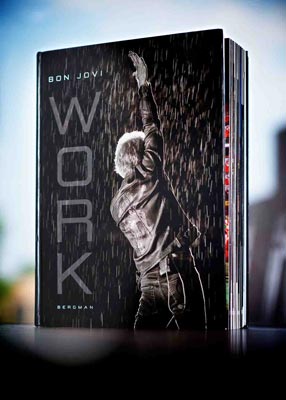 In 2010, photographer David Bergman began the job that he dreamt of his entire life. In a career in which he's shot everything from Sports Illustrated magazine covers to hundreds of major events and had shots like the one he took of President Obama's inauguration go viral and seen by millions around the world, his dream was to one day be on a tour around the world with a major band.

That band turned out to be Bon Jovi and led to a partnership on several world tours which are chronicled in the new book BON JOVI: WORK. It contains stunning live photos, behind the scenes shots, and even a look at Jon Bon Jovi's personal life that he rarely lets people see. The book is available exclusively at www.bonjovi.com. New Jersey Stage had the opportunity to talk to Bergman about the book and the stories behind its photos.

How did you get your start as a photographer?
I was a big wrestling fan when I was a kid. This was in the early '80s when I was a teenager in Miami. I used to bring my camera and back then you could bring cameras in. There were no rules against it. So I used to get front row and would shoot pictures of Hulk Hogan and Dusty Rhodes which started my love of documenting events. Then I became more of a musician. I originally went to Berklee School of Music to study music production, but transferred back to Miami after a semester. I literally stumbled into the school newspaper one day and started shooting for them. I became the assistant photo editor, then the photo editor and the editor in chief of the yearbook. I changed over to photo journalism major and became a stringer for the United Press International (UPI) after school. I went on to the Associated Press and eventually the Miami Herald. In 2001, I moved to New York City and became a freelancer.

You've been on tour with several bands before, but was this your first world tour?
Yeah, you could say that. I toured with Bare Naked Ladies on and off for many years and that was sort of all over North America, but I never traveled the way Bon Jovi does. I mean, the band is on a private jet. And I was literally on the plane with them every day, going from country to country. I think in 2011, we did a European tour that was something like 18 countries in 7 or 8 weeks. Every day you would just do a show, get on a plane, and fly to another country. That kind of life, that kind of tour, was nothing I had done before at that level. And Bon Jovi plays in stadiums in front of 80-100,000 people. I had never had that kind of access before. It was an incredible experience.

There are so many amazing shots in this book. Let's talk about a few of them, starting with the incredible shot from Italy with the entire crowd holding signs.
That was insane. The local Italian Bon Jovi fan club actually organized that on their own. The band had no idea. This was in 2011 and right before the show somebody said they were going to do something special. Honestly, people say things like that all of the time, so I had no idea how big it was going to be. But this was massive. The whole stadium was like a Super Bowl half time show. They held up cards with different words and had the American flag across the entire stadium at the same time. Jon literally just stopping singing and was blown away. The whole band couldn't believe that fans had done this. They did it again in 2013 at a different stadium in Italy. Because I had access, I was able to go on stage and shoot a multi-shot panoramic photo. I think there were 8 to 10 images that I shot and stitched together to make this really wide panoramic photo. The book contains a fold out photo that's about 42 inches wide and when you flip it over it shows the 2013 version. I hope it does justice for what the fans did. It's a testament to how much they love this band.

The behind the scenes shots are fascinating. Did Jon have any reservations about the shots of him in the hospital?
The hospital story is interesting. Jon tore the meniscus in his left knee during a show in Helsinki in 2011. I immediately went into journalism mode; that's what I do. So I documented everything.

First of all, he stayed on stage. He didn't come off. I don't know about you, but if I tore my meniscus, I'd be on the ground calling an ambulance immediately! But he stayed on stage and didn't stop the show. He couldn't put any weight on his knee and didn't know what was wrong, he just knew something was bad.

He finished the show, came off stage, hobbled to the dressing room, and sent everyone back to the hotel. Everyone was gone except for his doctor, a security guard, and me. They're working on him and I'm just trying the best that I can to be a fly on the wall and document everything. He's one of the biggest rock stars in the world and we didn't know if this was going to be the end of the tour or even his career. Who knows?

Over the next several weeks, they didn't cancel a single show. There were about 7 more shows over the next 2 weeks and I documented as much as I could. I had shots of him getting acupuncture, doing all kinds of rehab, and in immense pain - all things he normally wouldn't want people to see about himself. And then he had surgery in Ireland. We had a week off and he had surgery on his knee. I was in the operating room wearing scrubs shooting the whole thing. I actually photographed him in the operating room while he was unconcious having surgery. In the hospital, the nurses would ask 'What are you going to do with these photos?' and he'd always say, 'Oh, they'll do a book after I'm dead!"

Jon gets it. What I like about working for him is that he gets it. You've got to at least shoot it. If you don't shoot it, you don't have the choice. If you shoot the pictures you can decide not to run them, but if you don't shoot the images then you don't even have the option of publishing them one day. So let's just document them and figure it out later.

I never thought these would see the light of day and I kept them close to the vest. Jon came up with the title "Work" and the book is really about the band's work ethic, their hard work, and the effort they put into everything they do. To me, this was a good part of his story — about how he pushed through injury and came back and didn't miss a single show. So I kind of said, 'Jon, the knee story is really important here and I'd love to get it in.' He agreed. He said something really great. He said 'If this inspires one kid to push through the pain and come back stronger on the other side then it's worth it." That was pretty cool and I was pleasantly surprised that he was willing to put out such intimate photos of himself. It's a side of him that he doesn't usually show because he knows the impact that he could have on people's lives. Obviously as a photographer, I was thrilled to get these images out. It's my favorite part of the book.

Were there any shots that he simply said 'Don't use'?
There was one from the hospital when he's on the gurney unconscious with his eyes closed and doctors working on him. He said he didn't want his kids to see that, so we killed that one, but, for the most part, he's been pretty good. We were doing the approval process throughout all of the 4 years I was shooting, so I sort of know what he likes and what he doesn't like and I genuinely keep that in mind. But he trusts me and has let me document these moments and put them out in a way that he's never let anybody do before.

The book even contains some shots that were taken by Jon himself.
He's always had a great eye and is a very creative person, but he didn't know the technical part of photography - apertures and shutter speeds and all that. We were spending so much time together on the plane, for example, we would start talking about photography. He'd ask me questions and he's very curious and likes to learn new skills. We began doing photo workshops together. I've held private workshops occasionally and he instantly became my highest profile client. We'd be in Vienna, for example, and he would call me and say, 'Hey, let's go shoot." So the two of us would just go walk around a park in Vienna taking pictures of flowers and machinery and talking about light and shadow, shutter speeds, and apertures. It was fun for me to be the boss. I'd be grilling him, 'No, no that's not the right aperature' or ask 'Which way do you go in this exposure?'

We wanted to have a little section in the book with those shots. Jon gives me a hard time because his section is kind of small, but there is a section of personal photos that he's taken. Some were taken when we were together and some when he took a vacation with his family. There are pictures of his kids. He keeps his private life away from the public eye and to put these shots in a very public way was very cool. It gives a good look at his life.

Was there ever a time when you watched a major event on TV and said to yourself, 'I wish I was there, shooting that?'
Oh God no! To be honest, this is a gig that I've dreamed about for years. I feel like my whole career has led up to this point. I used to tell my friends that one day I was going to be traveling the world on a private jet with a big rock and roll band. I didn't know who it was going to be, but I'd tell that to my friends. They'd say, 'Yeah, whatever.'

I'll never forget the first show. I started out traveling on my own to the shows. I was just an independent contractor and then they put me on a tour bus for a little while. Then they moved me to the private jet where I was literally sitting next to the band every day. I'll never forget the first time I got on the plane and looked around, and it hit me - I'm actually doing this! I kind of privately gave myself a little pat on the back, like this is what you've been working towards.

Now, of course, I have to top it! I have to come up with my next big one. I'd love to do another tour, but there aren't too many bands at this level. I just love touring, it combines all of my loves - journalism, travel, and music. It's everything I love to do at one time.

---
Gary Wien has been covering the arts since 2001 and has had work published with Jersey Arts, Elmore Magazine, Princeton Magazine, Backstreets and other publications. He is a three-time winner of the Asbury Music Award for Top Music Journalist and the author of Beyond the Palace (the first book on the history of rock and roll in Asbury Park) and Are You Listening? The Top 100 Albums of 2001-2010 by New Jersey Artists. In addition, he runs New Jersey Stage and the online radio station The Penguin Rocks. He can be contacted at gary@newjerseystage.com.
---