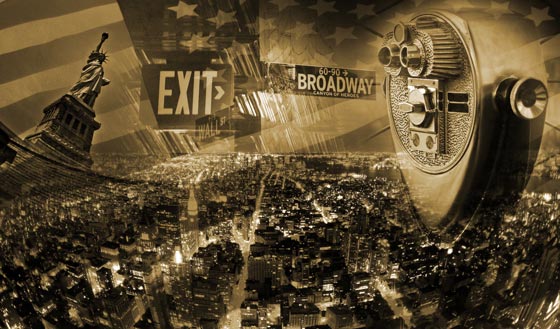 (NEWTON, NJ) -- The Big Apple Comedy Club returns to The Newton Theatre on Friday, November 21st, 2014 at 8:00 pm, featuring four hilarious comedians, Robin Fox, Rodney Laney, Paul Virzi and Dan Wilson for an evening of high energy and big laughs!
Robin Fox spent 17 years as a New Jersey stay-at-home mom. This "Real Housewife" was the funniest lady at the PTO and bus stop but one day decided to move her act to the comedy stage and has audiences roaring ever since. She can be seen regularly at Gotham Comedy Club and Broadway Comedy Club. Robin is the 2010 Grand Prize winner of the 11th Annual Gilda's Club Laugh-off, host of the 2011 Lucie Awards at Lincoln Center and was a finalist at several prestigious comedy contests and festivals including The Bud Light "Ladies of Laughter." She also has been seen at the NJ Comedy Festival and at The NY Underground Comedy Festival. Robin can be heard on SiriusXm Satellite Radio and has been a guest numerous times on the "Joey Reynolds Show" on WOR coast to coast. On Television, Robin appeared on stand-up series "Nickmom Night Out!
Rodney Laney was born and raised in Paterson New Jersey, and his comedy career started capriciously in 1988. While in the Air Force, stationed at Wright Patterson Air Force Base in Dayton Ohio, he accompanied a fellow airman, an amateur comic, to a comedy club. His friend bombed, but Rod took the stage and received thunderous applause. It was instant addiction. Rodney has since gone on to kill 'em in clubs from New York to California. This funny, dynamic performer is a regular at all the best New York City clubs including Comic Strip Live, Gotham Comedy Club, Stand Up New York, and Caroline's On Broadway. On television, Rodney has been seen on many shows including most recently HBO's "Bad Boys of Comedy," CBS' "Late Late Show with Craig Ferguson, Comedy Central's "Premium Blend and TBS's "Just For Laughs Chicago."
In the year 2000, Paul Virzi entered The Hudson Valley's Funniest Man Competition and to his surprise was runner-up. Inspired from this, he has gone on to win many other contests. With an edge all his own, Virzi comes up with his own creative solutions to some of society's problems. Paul touches on issues such as family, race, relationships, current events, politics, and his Italian and Greek heritage. Paul, a hot, young talent, regularly performs at New York City's best clubs including The New York Comedy Club, Stand-Up New York, Comic Strip Live, Caroline's on Broadway and The Laugh Factory. He has been heard on XM Satellite Radio and performed at The Las Vegas Comedy Festival and at Town Hall as part of the New York Comedy Festival. On TV, Paul has appeared on Fox's "Red Eye," Spike TV's "Best Gang Ever," TBS and AXSTV Gotham Comedy Live. He has shared the stage with some of America's hottest acts including Tracy Morgan, John Pinette, Bill Burr, Dave Attell and Lisa Lampanelli.
Dan Wilson is one of those breezy, gentle types that will hit you like a building collapsing if you're not paying attention. He is one of the great "class clowns" in the business. This is good-time comedy, clean and inoffensive but still mondo humorous. Dan is a comedic force to be reckoned with. Long a favorite on the college and club circuits, Dan began to branch out with an appearance at Budd Friedman's American Comedy Convention, in Las Vegas. With that industry exposure under his belt, he began a string of television appearances including "Star Search," A&E's "Evening at the Improv," MTV's "Half Hour Comedy Hour," ESPN, Lifetime and Comedy Central. His rubbery face and keen ear for voices earned him status as a recurring sketch performer on HBO's "Hardcore T.V." Dan has opened for Dana Carvey, Richard Lewis and Richard Belzer appearing at showrooms in Las Vegas, Atlantic City and Reno. He continues to headline comedy clubs nationwide as well as entertaining many families aboard Royal Caribbean Cruises. His quirky style mixes keen observations with outrageous physical humor, all delivered in a genial "I'm-only-trying-to-fix-the-world-before-it's-too-late" deadpan.
Tickets for Big Apple Comedy Club are $25.00 for the Orchestra and $20.00 for the Balcony. Tickets may be purchased by visiting www.thenewtontheatre.com or contact the Box Office at 973-383-3700.
The historic Newton Theatre, located at 234 Spring Street in Newton, NJ, was founded in 1924. Revitalized and fully renovated, Sussex County's premier entertainment venue reopened in 2011 as a 605 seat capacity live performing arts center. With it's rich history and diverse programming The Newton Theatre is essential to the buoyancy of New Jersey's Skylands region. More information about The Newton Theatre may be found by calling 973-383-3700 or by visiting its website at www.TheNewtonTheatre.com.