By Gary Wien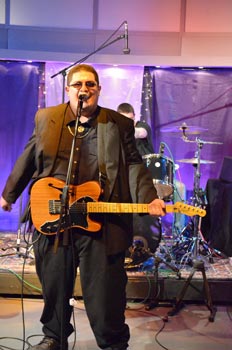 This article was originally designed to be read in the September 2014 issue of New Jersey Stage magazine. To read it in its original format, click here


Few local bands ever get a 45-minute set, much less an hour to showcase their own tunes at the rock and roll clubs in the area. On Saturday, October 18 at The Saint in Asbury Park, Diego Allessandro and Lot 25 will buck that trend with a special 90-minute set of originals from all 3 of their full-length releases. The show will also be professionally filmed and recorded as part of something they're calling "The Losin' Kind Virtual World Tour" which will be available on YouTube.

"The original idea was to simply cut a live album but the requests from our national and international fans moved me to think outside the box," explained Allessandro. "The idea to use it in lieu of a physical world tour came to me about two months ago. We have fans all across the country and all over the world who have asked us to come and play for them, but, at this time, we do not have the resources to do that."

The music industry appears to be headed in the direction of live and recorded concert videos. There are websites where you can see an artist perform live over the web like ustream.com, stageit.com, and lifestream.com, but Allessandro believes this is the first time someone is using a prerecorded concert video as a stand in for a world tour.

"We're not looking to reinvent the wheel," said Allessandro. "Nothing can ever replace or duplicate attending a live rock show, but we feel we can bring a proper representation of ourselves to the viewer and with properly mixed and mastered audio, they'll have 'the best seat in the house.' We hope that the virtual world tour will not only bring us to a wider audience here and across the globe but that we can in some way fill the demand to see us live."

On October 18, the band will be playing a set of songs from each of the three studio releases, including a heavy dose of cuts from "The Losing Kind," which was released in late June. You won't hear the songs in the order they appear on the albums, although the band has tried that before.
"I've never quite liked playing an album in its entirety," said Allessandro. "We actually did it twice that I can remember off hand with "Magical" last year and it felt weird to play 'Little Queenie' mid-set. I think when you mix it up, it allows you to surprise the audience, control emotional peaks and valleys, and use your entire catalog to tell the story you want to tell within the body of the performance. We have a story to tell on October 18th and we look forward to sharing that with our audience."
Born in Bogota, Columbia in 1984, Allessandro was adopted and came to America at 4 months old. He says he came to New Jersey first by way of Staten Island, New York and has been living in Old Bridge since Reagan was President. "I'm a proud Latino-American though I speak no Spanish with an Italian-American last name, which I am very proud of. I am a LatinoItalian-American!" he says.
After dropping out of high school, Diego earned his G.E.D. at 18 and enrolled in Brookdale Community College as a part-time student. Eight years later he earned his A.A. in Liberal Education and completed his B.A. degree at Monmouth University where he graduated as a Communication major in 2013.
Allessandro says he chose The Saint for the special show because the club's owner, Scott Stamper, has been a huge supporter of the band since the beginning. They've played the club several times and watched as the crowds have grown and staff members began requesting their own favorite songs.
"Scott is an amazing person and true warrior for New Jersey music, we are thankful for his support and the support of everyone else at The Saint," said Allessandro.
His band, Lot 25, includes James McIntosh on drums, Reid Weinman on bass, Brian Morelli on keyboard, and Marissa Cohen on vocals. The name comes from a phone call with James in which Allessandro was complaining about the parking in Lot 25 at Monmouth which is usually full. "The words 'I've spent less time in class than looking for a spot in Lot 25" prompted the name," said Allessandro. "It still makes me laugh to this day, I kinda wonder from time to time if it's just them breaking my chops."

---
Gary Wien has been covering the arts since 2001 and has had work published with Jersey Arts, Elmore Magazine, Princeton Magazine, Backstreets and other publications. He is a three-time winner of the Asbury Music Award for Top Music Journalist and the author of Beyond the Palace (the first book on the history of rock and roll in Asbury Park) and Are You Listening? The Top 100 Albums of 2001-2010 by New Jersey Artists. In addition, he runs New Jersey Stage and the online radio station The Penguin Rocks. He can be contacted at gary@newjerseystage.com.
---