By Gary Wien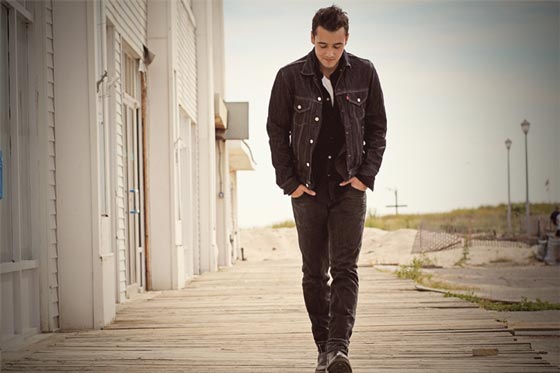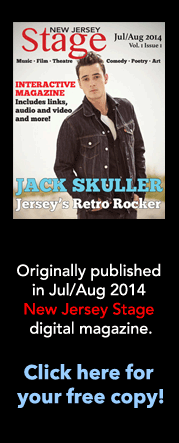 Buddy Holly was one of the true legends of rock and roll whose short but brilliant career included such hits as "That'll Be The Day", "Peggy Sue", and "Oh, Boy!" His death in a plane crash on February 3, 1959 was immortalized in the Don McLean song, "The Day The Music Died". In 2009, the Songwriters Hall of Fame began recognizing upcoming songwriters while honoring Buddy's legacy with The Holly Prize. This year's recipient was Jack Skuller of Weehawken.
Skuller is not only an appropriate choice for the award, he's a bit of a throwback himself with a look and style that beckons back to the early days of rock and roll. He describes his sound as "vintage-pop" with a mixture of classic rock-and-roll. One listen to a track like the recently reissued "Tell Me Your Heart" and you can hear influences like a Duane Eddy rockabilly twang guitar blending with the ebullience of the sixties British invasion acts. The indie label Mint 400 Records reissued that track in late June in honor of Skuller receiving The Holly Prize — an award that clearly resonates with the young artist.
"It's incredible to be recognized like this, in honor of such a legendary man--especially someone who has influenced me so much," said Skuller. "I'll have this with me for the rest of my life, and I'm grateful beyond description.
"Some of the most important influences to me would be Little Walter, The Everly Brothers, and Buddy Holly," he continued. "By studying them and their music as I got into this business, I picked up so many aspects of melody, feeling, and performance. It has really shaped me a lot. I like to go for both classic and contemporary. I would never make an artistic decision to sound exactly like one of my heroes or the music of a certain time period. But when I emulate, rather than imitate, that sound that I love so much and blend it with my own performance style, that's when I feel like I'm really making something that matters."
Skuller wrote his first fully realized song ("Love Is A Drum") at age 11. Two years later, he won first place in the teen division by performing the song in a NJ 101.5 FM radio sponsored Big Joe Henry Jersey Talent Show. From there he went on to perform the song on FOX TV's "Good Day New York" and catch the eye of Radio Disney executives who gave him the opportunity to tour the US.
He recently made his acting debut as a villainous time traveler in "Trapped", a short produced by Kevin Napier and Hilary McHone for the NYC 24 Hour Film Race.
"That film was such a blast.," said Skuller. "I loved being the taciturn, time-traveling '50s villain. Music is always my number one priority and passion but I have always liked to do other things, acting being one of them. I'll probably always do a little of everything outside of my music."
Only 18, he's already got the discipline to be a good songwriter, recognizing the balance between inspiration and forcing the issue. "I try to meet in the middle between following a schedule and getting inspired," explained Skuller. "It's incredible when inspiration hits (and allows me to write a good song in twenty minutes), but I find that I experience more of those breakthrough moments the more I just make myself do it, even when I'm not feeling it. But I can't lock myself into a set time either. It's got to be that time of day when I think, 'Okay, I'm gonna walk out of this room with a finished song.'"
His next single will be released on November 4 by Mint 400 Records. The track was produced by Joel Hamilton, the Grammy nominated producer who has worked with Pretty Lights, the Black Keys, and Tom Waits.
Skuller says he loves that feeling of achievement when he finishes a song that he's particularly proud of. He enjoys the fun of being in the studio and working to create the sounds that are in his head, but what he likes most of all is knowing that there's going to be at least one person out there listening that's affected by his music in some way. "That's what I'm really in this for," he says.

---
Gary Wien has been covering the arts since 2001 and has had work published with Jersey Arts, Elmore Magazine, Princeton Magazine, Backstreets and other publications. He is a three-time winner of the Asbury Music Award for Top Music Journalist and the author of Beyond the Palace (the first book on the history of rock and roll in Asbury Park) and Are You Listening? The Top 100 Albums of 2001-2010 by New Jersey Artists. In addition, he runs New Jersey Stage and the online radio station The Penguin Rocks. He can be contacted at gary@newjerseystage.com.
---